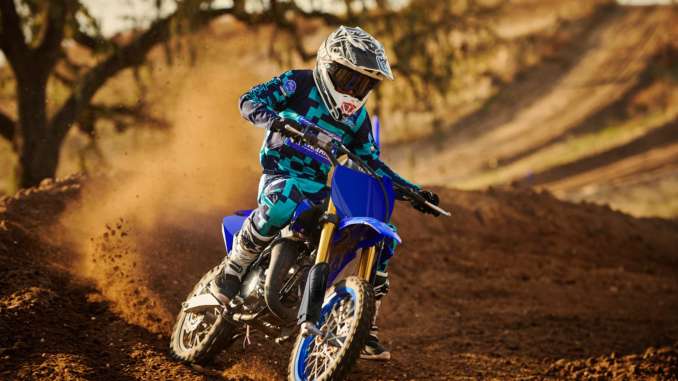 2021 Yamaha YZ65 : WELCOME TO THE VICTORY ZONE.
2021 Yamaha YZ65:
Designed for the discriminating mini moto racer that wants to win and propel themselves into the victory zone.
Designed for the discriminating mini moto racer that wants to win and propel themselves into the victory zone, the Yamaha YZ65 offers youth riders with the same top-notch performance and reliability of bigger YZ models.
The time has come to get out there and prove yourself on the race track. The future is all yours. And you know that you're going to give it 100% in every race. So you need a bike that delivers winning performance together with proven Yamaha durability.
Welcome to the victorYZone!
That bike is the YZ65 – and it's been built to the same high standards as Yamaha's range of adult race bikes. Its potent 65cc liquid-cooled 6-speed engine features Yamaha's race developed YPVS for race-winning power – and the semi-double cradle steel frame with aluminium subframe is light and strong.
Adjustable 36mm upside down front forks and link-less Monocross rear suspension give stable handling over rough terrain, and the adjustable handlebar position enables the YZ65 to grow with you. Equipped with wave discs for powerful braking, as well as a long comfy seat and high-grip footrests, the YZ65 is equipped to take you to the VictorYZone!
At a glance
Powerful 65cc liquid cooled engine
Race-developed Yamaha Power Valve System (YPVS)
Digital CDI for delivering a precise spark
High overall specification, winning capability
6-speed transmission with light-pull clutch
Semi-double cradle steel frame, aluminium subframe
36mm diameter upside down front forks
KYB Monocross suspension, aluminium swingarm
60/100 14" front- and 80/100 12" rear tire sizes
Tapered handlebars, aluminium handlebar crown
Ergonomic seat design for easy weight shifting
YZ450F-inspired body panels
Welcome to the victorYZone!
Yamaha won its rst World MX Championship before most of today's aspiring young motocross riders were
born – and we've always believed in building strong and durable dirt bikes for everyone, from kids through to seasoned pros.
Featuring a race-bred speci cation that's inspired by the agship YZ450F, the YZ65 youth motocross bike is the perfect start for every rider who is serious about racing.
With a smooth running 2-stroke engine, slick-shifting 6- speed gearbox and compact, easy handling ergonomic chassis with powerful wave-type disc brakes, this hightech youth race bike is the ideal introduction to the world of motocross.
Adjustable front suspension makes it easy to set the bike up to suit every rider, and its dynamic YZ-family styling and new Icon Blue bodywork with Yamaha blue rims shows that this little bike has the winning DNA.
Potent 65cc Motocrosser
Built to win, the YZ65™ is ready to tackle the track with winning performance right out of the gate. And, of course, this compact machine features Yamaha's renowned off-road competition quality and durability just like the bigger YZs.
YPVS™ Powerplant
The 65cc two-stroke engine features the legendary Yamaha Power Valve System (YPVS), a mechanical power valve system that delivers a broad spread of power and torque across the entire RPM range.
Adjustable Chassis
With a strong steel frame and adjustable front and rear suspension, the YZ65 offers riders the traction, confidence and tunability of full-size motocross machines in a compact package.
Yamaha Announces Full Lineup of 2021 Motocross Bikes
Race like a Champion with Yamaha's Redesigned YZ250F and Monster Energy® Yamaha Racing Editions
Yamaha Motor Corporation, USA, introduces its complete lineup of race-ready 2021 motocross bikes including the updated YZ250F. Featuring a thoroughly refined engine, revised frame, new suspension settings and new brakes, the YZ250F continues to dominate the competition with the best balance of power and handling.
"The YZ250F is clearly the leader in its class, winning back-to-back Monster Energy AMA Supercross West Coast 250SX Championships, dominating media shootouts year after year, and by offering industry-exclusive features like the free Power Tuner app, which allows riders to wirelessly tune engine performance for changing track conditions," said Derek Brooks, Yamaha Motorsports Motorcycle Product Line Manager. "For 2021 the YZ250F gets significant engine, frame, suspension and brake updates to deliver more class-leading power and offer a superior balance of nimble yet confidence-inspiring handling. Yamaha's entire 2021 motocross lineup continues to raise the bar of competitive performance."
Also new for 2021, the YZ250F and YZ450F will be offered in special Monster Energy Yamaha Racing Editions, pairing Yamaha's legendary YZ performance with a new, race team-inspired aesthetic.
In addition to the updated YZ250F and the Monster Energy Racing Edition models, the full two-stroke lineup consisting of the YZ65, YZ85, YZ125 and YZ250, as well as the four-stroke YZ450F, all return for 2021 with the next-generation Team Yamaha Blue color and graphics scheme to further accentuate the advances of the YZ series.
Welcome to the victorYZone
Yamaha's off-road competition bikes offer the very latest in technology with performance features designed to help racing enthusiasts reach their maximum potential, win races, and stand on top of the podium.
New 2021 YZ250F: Tune, Race, Win
The new 2021 Yamaha YZ65 has been redesigned for a more competitive, greater performing motocross experience. The new 250cc, liquid-cooled, four-stroke, electric start engine features an all-new cylinder head with an improved intake port shape and new camshaft profile, as well a new airbox and intake track, a new silencer, and an updated ECU. These modifications, along with other refinements like an updated transmission and shift cam, a revised clutch design and improved water pump impeller, all help to produce stronger mid- to top-end power and increased peak power, while retaining its class-leading low-end torque.
Tuned specifically for the 2021 YZ250F, the updated lightweight aluminum, bilateral beam frame, and new engine mounts have been redesigned with all-new flex characteristics to improve bump absorption, traction, and cornering performance. The industry-leading, fully adjustable KYB® coil spring-type fork, with enhanced speed-sensitive damping, provides an exceptional balance between comfort and bottoming resistance while the link-type rear suspension features a KYB shock with revised damping characteristics to match the updated chassis. Other chassis components such as the top triple clamp, handlebar mounts, and front axle were also redesigned to complement the new frame. Improved braking performance is achieved with newly engineered lighter weight front and rear brake calipers, larger surface area brake pads, and redesigned front (270mm) and rear (240mm) discs.
The 2021 YZ250F gives racers the edge right out of the gate. Standard equipment includes electric start, a lightweight lithium battery, advanced fuel injection, a front-positioned intake, and rear-positioned exhaust layout to deliver the widest spread of power with reliable performance while balancing the weight for excellent mass-centralization. Racers can adjust their engine performance straight from their phone using the onboard wireless connectivity through the industry's only free-of-charge complete tuning system, which is highlighted by the Yamaha Power Tuner App. Once settings are dialed in, racers can then choose between two user-defined ECU maps on the fly via the handlebar mounted dual-mode engine map switch. Complemented by new next-generation Team Yamaha Blue color and graphics, the 2021 YZ250F showcases Yamaha's race-winning pedigree.
New for 2021: Monster Energy Yamaha Racing Editions
Stand out from the crowd. The 2021 YZ250F and 2021 YZ450F now come in new Monster Energy Yamaha Racing Editions. With a factory team-inspired color and graphics package, riders can feel as if they too are part of a Yamaha championship-winning Supercross team.
2021 YZ450F: Tune into Victory
The 2021 YZ450F returns with all of the class-leading features first introduced on the 2020 YZ450F, including an updated engine, cylinder head, frame and technology features for a more powerful and better handling motocross experience. Racers can achieve quicker, smoother race starts through Yamaha's Launch Control System, adjust their on-track performance using the onboard wireless connectivity through the free-of-charge Yamaha Power Tuner App right from their phone, and choose between two user-defined ECU maps on the fly through the handlebar-mounted dual-mode engine map switch.
2021 YZ125 and YZ250
Yamaha's YZ125 and YZ250 models return for 2021 to complete Yamaha's full-size lineup of motocross bikes. With their modern styling, lightweight aluminum frame and industry-leading KYB Speed Sensitive System front forks and KYB fully-adjustable rear shock, the 2021 YZ125 and YZ250 continue their outstanding performance and durability with a rider-friendly chassis and race-ready features.
2021 YZ65 and YZ85
The 2021 youth models are once again ready to tackle the track. The YZ65 and YZ85 are powered by confidence-inspiring 65cc and 85cc two-stroke engines. Featuring the Yamaha Power Valve System, these engines deliver a broad spread of power and torque across the entire rev range, without losing any power at high RPM. Fully adjustable, industry-leading 36mm KYB spring type forks and KYB rear shock contribute to class-leading handling and performance in a wide range of conditions. Four-way, adjustable handlebar positioning, as well as lever-reach adjustability are designed for ultimate rider comfort, regardless of size. Finally, with two-stroke ease of maintenance and Yamaha's proven durability, the 2021 YZ65 and YZ85 are built to keep kids on the track.
Yamaha bLU cRU Off-Road Racing Contingency Program
All 2021 YZ models are eligible for Yamaha's current 2020 bLU cRU Off-Road Racing Contingency Program, which features nearly $5 million for Yamaha bLU cRU riders competing in off-road motorcycle racing. YZ riders can earn contingency payouts via a bLU cRU debit card, receive a 10 percent rebate on GYTR parts and accessory purchases of up to $1,000, and receive an instant $45 credit.
2021 Yamaha YZ65 Totalmotorcycle.com Features and Benefits
Potent Two-Stroke Engine
The 65cc two-stroke powerplant features the same advanced technologies found in Yamaha's race-winning YZ125 and YZ250 motocrossers.
Race-Developed Intake
With a carefully tuned Keihin® PWK28 carburetor to meter fuel flow, the proven reed-valve induction improves acceleration and throttle response across the entire powerband.
Yamaha Power Valve System
Patented YPVS™ combines crisp bottom-end torque with potent midrange and free-revving top-end, making the most of the compact engine and lightweight chassis.
Close-Ratio Transmission
Six-speed, close-ratio transmission optimizes gear ratios for maximum performance, giving riders the right gear for every race condition.
Digital Ignition
Digital CDI system delivers precise spark and monitors engine speed to ensure optimal timing for excellent response.
Efficient Cooling System
Compact radiator delivers maximum cooling efficiency even in the toughest racing conditions.
Compact Steel Frame
The YZ65 offers light, neutral handling built on a strong steel cradle frame. Designed around the rigidity balance required for the 65cc class, this frame delivers excellent bump absorption in the roughest track sections, jump landings and whoop sections.
Lightweight Subframe
Removable aluminum rear subframe is constructed of square-section tubing for reduced weight and convenient maintenance, just like the full-size motocross bikes.
Adjustable Suspension Systems
Up front, a 36mm KYB® coil spring fork offers excellent compliance with settings based on Yamaha's extensive testing experience. Out back, a link-less shock design is light and compact and works through a swingarm with YZ125-style chain adjusters. Both front and rear suspension systems are tunable for both rebound and compression damping.
Dual Wave-Type Disc Brakes
Wave-style brake rotors are lighter than conventional rotors and have that full size YZ family style.
Maxxis® Tires
Maxxcross SI tires offer good grip across of a variety of track conditions, utilizing 60/100-14 front and 80/100-12 rear tire sizes.
Adjustable Ergonomics
With a four-position adjustable aluminum handlebar clamp, adjustable position clutch and front brake levers, grippy foot pegs and long seat design to help riders move across the bike, the YZ65 is highly tunable to fit riders of various sizes.
Aggressive YZ Family Styling
The YZ65 may be the smallest member of the family, but it packs in the same aggressive styling as the larger YZ and YZ-F siblings. Even down to the slick blue Excel® wheels.
2021 Yamaha YZ65 – Totalmotorcycle.com USA Specifications/Technical Details
US MSRP Price: $4599 USD
Canada MSRP Price: Starting at $5,599 CDN
Europe/UK MSRP Price: £ See Dealer GBP (On The Road inc 20% Vat)
Engine Type 65cc liquid-cooled 2-stroke; reed-valve inducted
Bore x Stroke 43.5mm x 43.6mm
Compression Ratio 8.1~9.1:1
Fuel Delivery Keihin® PWK28 carburetor
Transmission 6-speed; multiplate wet clutch
Final Drive Chain
Suspension / Front 36mm KYB® coil spring, adjustable compression
and rebound damping; 8.5-in travel
Suspension / Rear Single shock, adjustable compression and
rebound damping; 10.6-in travel
Brakes / Front 198mm hydraulic disc
Brakes / Rear 190mm hydraulic disc
Tires / Front 60/100-14 Maxxis® Maxxcross SI
Tires / Rear 80/100-12 Maxxis® Maxxcross SI
L x W x H 63.5 in x 30.0 in x 39.5 in
Seat Height 29.5 in
Wheelbase 45.0 in
Rake (Caster Angle) 26.4°
Trail 2.5 in
Maximum Ground
Clearance
10.5 in
Fuel Capacity 0.9 gal
Wet Weight 134 lb
Warranty 30 Day (Limited Factory Warranty)
Color Team Yamaha Blue
2021 Yamaha YZ65 – Totalmotorcycle.com Canada Specifications/Technical Details
ENGINE
| | |
| --- | --- |
| ENGINE | 2-stroke, liquid-cooled, crankcase-reed-valve single |
| DISPLACEMENT | 65 cc |
| BORE AND STROKE | 43.5 x 43.6 mm |
| COMPRESSION RATIO | 8.1-9.6:1 |
| FUEL DELIVERY | Keihin PWK28 |
| IGNITION / STARTING | CDI / Kick |
| TRANSMISSION | Constant mesh, 6-speed |
| FINAL DRIVE | Chain |
CHASSIS
| | |
| --- | --- |
| SUSPENSION (FRONT) | Fully adjustable 36 mm inverted fork / 215 mm (8.5″) wheel travel |
| SUSPENSION (REAR) | Fully adjustable Monocross / 270 mm (10.6″) wheel travel |
| BRAKES (FRONT) | 198 mm wave disc / twin-piston caliper |
| BRAKES (REAR) | 190 mm wave disc / single-piston caliper |
| TIRES (FRONT) | 60/100-14 |
| TIRES (REAR) | 80/100-12 |
CRITICAL DATA
| | |
| --- | --- |
| LENGTH | 1,615 mm (63.6″) |
| WIDTH | 760 mm (29.9″) |
| HEIGHT | 1,000 mm (39.4″) |
| WHEELBASE | 1,140 mm (44.9″) |
| GROUND CLEARANCE | 265 mm (10.4″) |
| SEAT HEIGHT | 755 mm (29.7″) |
| FUEL CAPACITY | 3.5 litres (0.8 imp. gal.) |
| WET WEIGHT | 61 kg (134.5lb) |
| COLOUR(S) | Yamaha Racing Blue |
2021 Yamaha YZ65 – Totalmotorcycle.com European Specifications/Technical Details
Engine
Engine type 2-stroke;liquid-cooled;reed valve with YPVS
Displacement 65cc
Bore x stroke 43.5 mm x 43.6 mm
Compression ratio 8.1 : 1
Lubrication system Premix
Clutch Type Wet;Multiple Disc
Ignition system CDI (digital)
Starter system Kick
Transmission system Constant Mesh;6-speed
Final transmission Chain
Carburettor Carburettor
Chassis
Frame Semi double cradle
Caster Angle 26.25º
Trail 63.5mm
Front suspension system Telescopic forks
Rear suspension system Swingarm
Front travel 215 mm
Rear Travel 270 mm
Front brake Hydraulic single disc, Ø198 mm
Rear brake Hydraulic single disc, Ø190 mm
Front tyre 60/100-14 Maxxis® Maxxcross SI®
Rear tyre 80/100-12 Maxxis® Maxxcross SI®
Dimensions
Overall length 1615 mm
Overall width 760 mm
Overall height 1000 mm
Seat height 755 mm
Wheel base 1140 mm
Minimum ground clearance 265 mm
Wet weight (including full oil and fuel tank) 61 kg
Fuel tank capacity 3.5L
Oil tank capacity 0.5L
Manufacturer Specifications and appearance are subject to change without prior notice on Total Motorcycle (TMW).