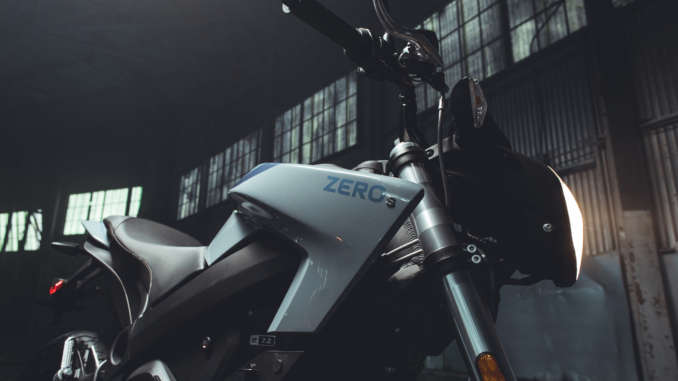 2021 Zero S : STUNNING.
Introducing the 2021 Zero S…
What street riding is meant to be. Stunning acceleration at any RPM, sharp lines and sporty ergonomics transform your daily ride into a thrill. With an aerodynamic riding posture that helps deliver up to 223 miles in the city and 112 miles on the highway, the Zero SR offers the highest range in the Zero lineup.
PURE PERFORMANCE
Transform performance profiles with the press of a button to perfectly conquer city streets, urban arteries or twisty back roads. The Zero S is pre-programmed with Eco or Sport modes. Connect using your mobile device to customize performance or get stats on your ride.
PERFORMANCE PROFILES
Pure stealth. Propelled by the industry's most advanced tech, the Z-Force® powertrain slingshots you forward. No shifting. All torque. Just smooth acceleration at the twist of a throttle. The Zero S strips away the noise, fumes and vibration so all you feel is the uninterrupted flow of the ride.
Transform performance profiles with the press of a button to perfectly conquer city streets, urban arteries or twisty back roads. The Zero S is pre-programmed with Eco or Sport modes. Connect using your mobile device to customize performance or get stats on your ride.
CHARGE UP TO 6X FASTER.
The Charge Tank option funnels up to 85 miles of riding into the Zero S for every hour of charging when plugged into a Level 2 charge station. One cup of coffee now equals ~30 miles of riding. Or, charge fully in as little as an hour depending on battery size.
CHARGING. MEET HOUSEHOLD OUTLET.
No special charging equipment required. Your standard household outlets just became "fueling" stations that deliver daily rides at a fraction of the cost of gasoline. Plug in at night and start every day with a full "tank."
RIDE MORE. MAINTAIN LESS.
Goodbye costly powertrain maintenance and stale waiting room donuts. Sophisticated. Simple. The Z-Force® powertrain eliminates the greasy mess of fossil burners. No oil, spark plugs, clutches, filters, chain adjustments or expensive tune-ups. Instead, a carbon fiber belt directly connects the rear wheel to a motor that uses a single moving part to deliver torque at levels beyond conventional superbikes.
Always advancing. Code for the Z-Force® powertrain is constantly refined to deliver improved performance. The Zero App easily delivers the upgrades using your mobile device.
LONGEST RANGE ELECTRIC MOTORCYCLE
The Zero SR is our farthest traveling model (and the longest-range production electric motorcycle on earth). At its core is the highest power and energy density battery in the EV industry. The higher the battery capacity, the more range.
Select the battery size that works for you. Ride over 200 miles city / 100 miles highway using the highest capacity Zero SR ZF14.4 battery coupled with the Power Tank accessory (adds an additional 3.6 kWh). Or, shed weight and gain storage space with the Zero S ZF7.2.
BATTERY
Zero Motorcycles' Z-Force® battery is the most power and energy dense in the EV industry. The Zero S comes with the ZF7.2 battery. The Zero SR comes with the ZF14.4 battery. Add a Power Tank accessory to expand battery capacity by 3.6 kWh.
The battery is designed to last and backed by a five-year, unlimited mileage warranty. The Zero S also features Long Term Storage Mode to optimize the battery's state of charge and further improve long term battery health.
MOTOR
The impressive Z-Force® motor produces smooth power and up to 116 ft-lb with a design so efficient it only requires passive air-cooling. Roll on the throttle for massive acceleration. Roll off the throttle to progressively channel energy back into the battery.
No heavy, complicated or expensive liquid cooling. No fuss. No routine maintenance. This is the industry's most efficient, powerful, and compact brushless motor.
DASH
Minimalist. Cool blue LCD. The Zero S dash projects the specs you need: speed, state of charge, power output, selected riding profile, projected recharge time. Synch with your smartphone to turn it into a secondary customizable dash or view detailed ride stats.
SUSPENSION
Zero collaborated with Showa to develop smooth suspension with superior small bump compliance and predictable control of bigger impacts. The entire suspension system can be fully and easily adjusted to glide over any city street or rip down your favorite twisty roads.
WHEELS AND TIRES
Corner with confidence. Pirelli Diablo Rosso II tires are mounted on stylish cast alloy wheels to form a system that delivers maximum grip. A hollow front axle shaves unsprung weight to improve handling.
BRAKES
The Bosch anti-lock brake system (ABS) delivers confident braking. Tested for just about any situation you can imagine, the system optimizes deceleration when you hit your brakes hard. Braking is actuated via levers that can be adjusted for improved ergonomics. ABS can be switched on or off by the rider.
DIRECT DRIVE
Strip away clutches, gears, shifting, chains and all their weighty complexities. Seamlessly rocket to speeds in excess of 100 mph with pure efficiency as energy quietly transforms into propulsion. The Zero S is direct drive. Its state-of-the-art motor connects directly to the rear wheel using a carbon fiber belt.
STANDARD CHARGE PORT
Simple. Subtle. The standard charge port is discrete. A lightweight cable easily connects the onboard charger to any standard household outlet. No additional charging equipment required.
THE TANK
No motorcycle "tank" on earth is more versatile. The standard Zero S tank is equipped with spacious lockable storage. Interested in faster charging or greater range? Swap the standard tank for either the Charge Tank option or the Power Tank accessory.
2021 Zero S – Totalmotorcycle.com USA Specifications/Technical Details
US MSRP Price: $10,995 USD
Canada MSRP Price: $ 14,495 CAD
Europe/UK MSRP Price: £14190 GBP (On The Road inc 20% Vat)
STANDARD / PREMIUM
Range
ZF 7.2
City
89 miles (143 km)
Highway, 55 mph (89 km/h)
54 miles (87 km)
Combined
68 miles (109 km)
Highway, 70 mph (113 km/h)
45 miles (72 km)
Combined
60 miles (97 km)
Motor
ZF 7.2
Peak torque
78 ft-lb (106 Nm)
Peak power
46 hp (34 kW) @ 4,300 rpm
Top speed (max)
98 mph (158 km/h)
Top speed (sustained)
80 mph (129 km/h)
Type
Z-Force® 75-5 passively air-cooled, high efficiency, radial flux, interior permanent magnet, brushless motor
Controller
High efficiency, 550 amp, 3-phase brushless controller with regenerative deceleration
Power system
ZF 7.2
Power pack
Z-Force® Li-Ion intelligent integrated
Max capacity
7.2 kWh
Nominal capacity
6.3 kWh
Charger type
1.3 kW, integrated
Charge time (standard)
5.2 hours (100% charged) / 4.7 hours (95% charged)
With Charge Tank option
1.5 hours (100% charged) / 1.0 hour (95% charged)
With one accessory charger
3.1 hours (100% charged) / 2.6 hours (95% charged)
With max accessory chargers
1.6 hours (100% charged) / 1.1 hours (95% charged)
Input
Standard 110 V or 220 V
Drivetrain
ZF 7.2
Transmission
Clutchless direct drive
Final drive
90T / 18T, Poly Chain® HTD® Carbon™ belt
Chassis / Suspension / Brakes
ZF 7.2
Front suspension
Showa 41 mm inverted cartridge forks, with adjustable spring preload, compression and rebound damping
Rear suspension
Showa 40 mm piston, piggy-back reservoir shock with adjustable spring preload, compression and rebound damping
Front suspension travel
6.25 in (159 mm)
Rear suspension travel
6.35 in (161 mm)
Front brakes
Bosch Gen 9 ABS, J-Juan asymmetric dual piston floating caliper, 320 x 5 mm disc
Rear brakes
Bosch Gen 9 ABS, J-Juan single piston floating caliper, 240 x 4.5 mm disc
Front tire
Pirelli Diablo Rosso II 110/70-17
Rear tire
Pirelli Diablo Rosso II 140/70-17
Front wheel
3.00 x 17
Rear wheel
3.50 x 17
Dimensions
ZF 7.2
Wheelbase
55.5 in (1,410 mm)
Seat height
31.8 in (807 mm)
Rake
24.0°
Trail
3.2 in (80 mm)
Weight
ZF 7.2
Curb weight
313 lb (142 kg)
Carrying capacity
404 lb (183 kg)
Economy
ZF 7.2
Equivalent fuel economy (city)
477 MPGe (0.49 l/100 km)
Equivalent fuel economy (highway)
240 MPGe (0.98 l/100 km)
Typical cost to recharge
$0.81
Pricing
ZF 7.2
MSRP
$10,995
Warranty
ZF 7.2
Standard motorcycle warranty
2 years
Power pack warranty
5 years/unlimited miles
Manufacturer Specifications and appearance are subject to change without prior notice on Total Motorcycle (TMW).