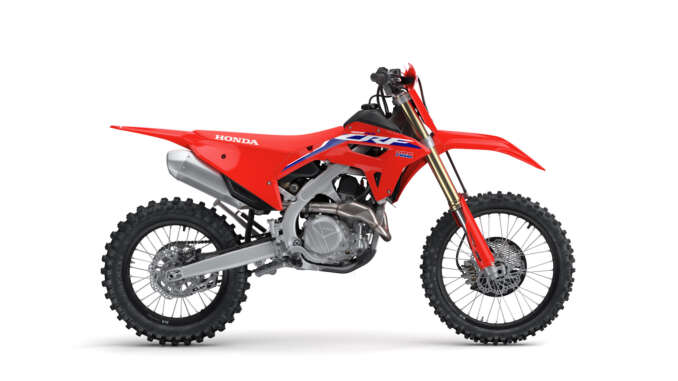 2022 Honda CRF450RX: TRIUMPH OVER ANY TERRAIN.
Introducing the 2022 Honda CRF450RX…
When the going gets tough, nothing helps you go the distance like the 2022 Honda CRF450RX. Packed with a lot of the same innovations as our 450R motocrosser, the CRF450RX is fine-tuned for enduro racing mastery. The compact Unicam® engine offers responsive power over everything. Innovations like Honda Selectable Torque Control let you maximize traction for different conditions. A lightweight chassis, 18-inch rear wheel, hydraulic clutch and special suspension settings help you take on varied terrain. And Honda's famous reliability means this bike can take a beating and keep on competing. It makes cutting through the competition feel more like cutting fresh tracks.
The CRF450RX is well-suited for closed-course off-road competition such as GNCC, WORCS and NGPC, as proven at the national-championship level by SLR Honda and JCR Honda. Based on the motocross-focused CRF450R, it has off-road-specific features like dedicated ECU and suspension settings (both of which are updated for 2022, for improved drivability and balance), plus an 18-inch rear wheel, aluminum side stand, handguards and a 2.1 gallon fuel tank. The combination yields a race machine that's ready to chase arrows and ribbon along trails from coast to coast.
Engine Type
449cc liquid-cooled single-cylinder four-stroke

 

Bore And Stroke
96mm x 62.1mm

 

Compression Ratio
13.5:1

 

Valve Train
Unicam four-valve; 38mm intake, titanium; 31mm exhaust, Steel

 

Induction
Programmed Fuel Injection (PGM-FI), 46mm downdraft throttle body
American Honda today announced the return of the CRF450R motocrosser for 2022, as well as its five siblings that specialize in a variety of applications. The clear point of reference when it comes to motocross, Honda's CRF450R currently leads the 2021 AMA Supercross series, at the hands of Team Honda HRC's Ken Roczen, while the CRF450RWE adds top-shelf performance features for the most demanding customers. The CRF450RX opens things up a bit to closed-course off-road racing, whereas the CRF450X expands horizons to everything up to and including the deserts of Baja. Meanwhile, the CRF450RL adds the possibility of linking trails and dirt roads via public roads. Finally, there's the CRF450R-S, a great option for value-focused motocrossers. Add them up, and it's a collective of dirt bikes that covers the needs of motorcycle enthusiasts who enjoy getting dirty in any number of ways.
"Back when we first expanded our CRF450 lineup for the 2019 model year, our goal was to offer application-specific models that would put Red Riders at the front of the pack no matter what their preferred means of dirt-bike riding," said Brandon Wilson, Manager of Advertising, Experiential and Sports at American Honda. "Three years later, the family has expanded and improved, and the 2022 collection is better than ever. We expect these bikes to continue to run at the front of the pack, in the dirt and on dealer showrooms."
HANDLING
LIGHT, NARROWER FRAME
Great handling starts with a superior frame. The CRF450RX's chassis was designed to be narrow, lightweight, and more responsive thanks to reduced lateral rigidity. The result is a bike that gets into, around, and out of corners faster.
NARROWER SWINGARM
Designed in conjunction with the frame, by using narrower main members (just like the frame uses narrower main spars), we've matched the swingarm's lateral rigidity to the rest of the chassis. What you get is a balanced, fully integrated approach to frame stiffness, letting you get around corners faster and with better feel.
BATTERY BOX
The battery box is positioned lower, for an improved center of gravity. It's also easier to service, as well as water-tight, so there's less to worry about when racing in wet conditions.
FRONT SUSPENSION
Increased front suspension stroke offers better handling and rider comfort. The axle holding fixtures are positioned at the bottom of each fork leg to help increase rigidity, and enhance steering precision and suspension performance.
TRIPLE CLAMPS
The CRF450RX is a perfectly matched package. With the frame and swingarm featuring a retuned lateral stiffness, and the fork legs featuring a stiffer axle fixture, we joined the two with upper and lower triple clamps. Working in concert, they help improve and balance total rigidity, responsiveness and turning performance.
REAR SUSPENSION
We've optimized the shape of the rear shock to match the frame, and gave it settings to work with the chassis. The shocks valving resets faster for better response. And, of course, the RX gets its own shock settings optimized for Enduro riding.
SHOWA® SPRING FORK
The 49mm Showa® fork is specially tuned just for the CRF450RX, and features a conventional spring design that helps increase the CRF450RX's front-suspension precision, handling and feel.
SWINGARM
The CRF450RX's swingarm uses a special fabrication technique that lets us fine-tune the flex to work with the chassis and give you better rear traction and cornering precision.
EXHAUST PIPE
The single-muffler exhaust is positioned closer to the center of the bike to help improve weight distribution.
SINGLE-MUFFLER EXHAUST
Changing the muffler's construction to a pressed-alloy design last year let us reshape it too, for better rider ergonomics and lighter weight. How much lighter? More than two and a half pounds!
ENGINEERING
HYDRAULIC CLUTCH
The CRF450RX includes the first hydraulically actuated clutch we've offered outside of our works bikes. Made by Nissin, it's the same design as in our Grand Prix MX machines, and performs better than third-party conversions. You get a clutch-lever pull that's ten percent lighter at its peak, even though it's paired with a stronger clutch. Plus, you'll never have to worry about making a clutch-cable adjustment, even during the longest events.
Honda SELECTABLE TORQUE CONTROL (HSTC)
Changing terrain requires changing power character. No worries: The CRF450RX features our Honda Selectable Torque Control (HSTC). You can choose from one of three settings to perfectly dial your bike in depending on how much traction is available.
260mm FRONT BRAKE
The CRF450RX's large front-brake disc measures a whopping 260mm. You get great brake feel and a pattern that cuts down on weight. Front and rear brake-disc guards are part of the package too.
ENGINE MODE SELECT BUTTON
This simple handlebar-mounted button lets you dial in engine power delivery character with a push of your thumb. Choose between Standard, Smooth and Aggressive, depending on track conditions.
RESIN FUEL TANK
The 2.1-gallon capacity will let many riders complete a three-hour Enduro with just one fuel stop.
COMPACT FUEL PUMP
No detail is too small for our engineers—especially if they can make it smaller and lighter. That's why they reduced the number of attaching fasteners from six to four last year.
RADIATOR SHROUDS
Using computer-aided Computational Fluid Dynamics, we've fine-tuned the CRF450RX's radiator shrouds to increase cooling. They're now a one-piece design, but more important, better cooling equals more consistent power, longer into a race, especially when you're really on the gas and working the engine hard.
HRC LAUNCH CONTROL
We're talking about a special ECU program here: push the button to select the mode, hold the throttle open, release the clutch, and the CRF450RX will do the rest, launching you into the first turn with a big advantage. It turns your bike into a holeshot-seeking machine!
LIGHT OVERALL WEIGHT
On an enduro racer, less weight is always better. That's why our engineers are such fanatics when it comes to trimming grams from the CRF450X. You'll feel the benefits everywhere: in acceleration, in suspension action, and most of all at the end of the day.
REAR BRAKE PADS
Brakes are for more than just stopping: they help you set up the bike in turns and jumps. Which is why we pay so much attention to detail like brake pads. They're designed to last longer and give you even more stopping power—a real win/win to help you win.
SHOW LESS
CONVENIENCE
AIRBOX AND FILTER
The air filter and airbox shape are designed to help deliver more torque. You can access the airbox through the left number plate. And because the filter has no rubber gasket where it interfaces with the intake boot, cleaning and servicing the filter is faster and less messy than ever.
ELECTRIC START
Kickstarting? Maybe if you're riding in the vintage class, but not here. By ditching the kickstarter entirely, our engineers can make the CRF450RX lighter. Electric starters and lithium-ion batteries are so light now and so good that putting them on a bike like this is a win/win combination. And winning is what a CRF450RX is all about.
SWITCH ASSEMBLY
Controls used to be your bike's shifter, clutch, and brakes. Now you have things like launch assist, selectable power modes, and more.
PERFORMANCE
DUNLOP GEOMAX AT81 TIRES
The CRF450RX's Dunlop Geomax tires are specially designed for Enduro use. The AT81 tires are spec'd at 90/90-21 for the front and 120/90-18 for the rear. You read that right: the CRF450RX rolls on an 18-inch rear wheel.
449cc UNICAM® ENGINE
Honda's Unicam® cylinder heads combine the best of single- and double-overhead-cam designs. The configuration contributes to a compact engine that saves weight over a comparable dual-overhead-camshaft motor and also permits a narrow included valve angle. This flattens the combustion chamber to facilitate ignition flame propagation, allowing a high compression ratio. Since less space is taken up in the cylinder head, the camshaft sits lower in the head for a more compact engine and a lower center of gravity.
DECOMPRESSION SYSTEM
You can't see this unless you take the engine apart, but you'll notice it on the track. Our engineers redesigned the auto decompression hardware last year, and also moved it from the right side of the cam to the left. The result is less stalling at extreme low RPM (think deep into a turn without downshifting) as well as better rideability.
CYLINDER HEAD
Together with the single-muffler exhaust, the oval-shaped centralized exhaust port boosts power from 5000 rpm up, and increases exhaust efficiency.
DOWNDRAFT FUEL INJECTION
The CRF450RX features a downdraft intake tract and FI body to help increase both power and fuel-metering precision. It's part of the reason the CRF450RX offers such explosive power and massive torque, especially out of the starting line and in the critical first 100 feet of the race to the first turn.
TITANIUM INTAKE VALVES
Lightweight titanium intake valves cut down on reciprocating mass and permit the use of smaller valve springs, reducing overall engine height.
FUEL INJECTOR BODY POSITION
By steepening the angle from 30 to 60 degrees, the injector now sprays fuel all the way back to the throttle butterfly. The engine gets a cooler, denser fuel charge for more power and better torque. It's little details like this that put the CRF450RX up front.
DOUBLE-SPRAY INJECTOR SETTINGS
The CRF450RX's fuel-injection system sprays twice per intake cycle. That helps increase fuel atomization without adding the weight or complexity of a second injector. The better fuel atomization means more power in the midrange and on overrev—you'll feel it the first time you race.
13.5:1 COMPRESSION RATIO
Honda engineering at its best: The CRF450RX's cylinder head features a highly refined combustion-chamber shape and generous squish area, allowing an impressive 13.5:1 compression ratio for superior efficiency and power.
CYLINDER HEAD LAYOUT
The CRF450RX uses our latest finger-follower rocker design. The Unicam cylinder head remains one of the most efficient in the off-road world, giving you the design and performance of a double-overhead-cam layout but the compactness of a single-overhead-cam design.
SKID PLATE
A factory skid plate is light and offers the engine and lower-frame protection that a racer demands.
COMFORT
SLIM BODYWORK
Narrow bodywork makes it a lot easier to move around on your bike, and maximizes your riding freedom.
FACTORY HANDGUARDS
Fully integrated handguards attach right to the control-lever pivots, are color-matched to your new bike, and are even vented.
RENTHAL "FATBAR"
The aluminum Renthal Fatbar features a bend that's even better than the legendary Honda "CR" bar. It's the new standard of excellence—you're gonna love it!
SEAT ACCESSIBILITY
Sometimes you need to think out of the box—that's what we did with the CRF450RX's seat. We moved the attaching bolts from the rear to the front, and the tongue from the front to the rear. The result? When it's time for service, removing and installing your new CRF450RX's seat is easier than ever.
FLAT SEAT/TANK JUNCTION
The CRF450RX features a flat seat/tank junction, including a titanium fuel tank. The superior ergonomics make it easier to move forward and back on the bike, increasing your control.
BLACK DID RIMS
They may not help you go faster, but the black DID DirtStar rims sure look good.
SIDESTAND
Real enduro bikes need a sidestand, and we've given the CRF450RX a great one. Since there's no muffler on the left side, we could tuck the sidestand in closer when it's folded for better clearance. Nice.
CABLE ROUTING
You may not notice it at first, but re-routing the CRF450RX's throttle cables and hydraulic clutch line let our engineers shave almost half a pound off the bike. Light is always right!
2022 Honda CRF450RX Totalmotorcycle.com Features and Benefits
ENGINE / DRIVETRAIN
The CRF450RX engine boasts exceptional bottom-end and midrange power, making for a linear delivery that is strong but manageable, even as the rider tires, while peak power is also very good.
Cylinder Head: The design of the Unicam® cylinder head, with the decompressor system's counterweight on the left end of the camshaft, contributes to combustion stability in the extremely low rpm range for a strong-but-manageable power delivery on corner exits, for example, as well as resistance to stalling. The cylinder-head cover is magnesium, with a thin wall design for weight savings. The engine's exhaust port is centrally located, has an oval shape and is quite straight, optimizing exhaust efficiency and torque characteristics, for a linear delivery that continues into the high rpm range. A five-hole piston oil jet and dual 12mm drum scavenge pump manage lubrication.
Intake: The CRF450RX features a downdraft intake design that delivers strong, efficient power, and a large air boot (4.1 liters on the clean side of the air filter) achieves strong torque at low rpm. The air box is accessed with the removal of a single side-panel bolt. The 60º fuel injector angle enables the spray to reach all the way to the back of the butterfly, thus cooling the upstream side of the intake path for maximum intake efficiency and torque feel.
Exhaust: The entire exhaust system weighs 8.5 pounds, and with the engine's centralized exhaust-port location, the exhaust header and muffler are positioned close to the vehicle's centerline for a slim profile, contributing to freedom of movement for the rider. Two resonators (one after the front U-bend and another at the upstream end of the muffler) boost power and reduce noise.
Clutch: The clutch is hydraulically actuated and has eight plates and a large volume for good durability with minimal slippage and light lever pull.
Electronics: A gear-position sensor allows the use of three specific ignition maps for first and second; third and fourth; and fifth gears. There are also options for Standard, Smooth and Aggressive ignition maps, selectable via a separate handlebar-mounted switch, enabling simple tuning depending on rider preference or course conditions.
In addition, Honda Selectable Torque Control offers three levels of intervention. HSTC monitors rpm spikes and responds by temporarily reducing torque by retarding ignition timing and controlling PGM-FI to aid rear traction. The three different modes differ in drive-management level, for differing riding conditions or rider preferences:
Mode 1: The system intervenes most lightly, and waits the longest to do so—useful for reducing wheel-spin and maintaining control in tight corners.
Mode 2: A midpoint between modes 1 and 3 in terms of how quickly and assertively the system intervenes.
Mode 3: The system intervenes most quickly and assertively, which helps in slippery or muddy off-road conditions.
A handlebar-mounted switch allows selection between three modes, depending on conditions and rider preference. The HSTC system can also be switched off completely.
HRC Launch Control provides the best option for a strong start and also has three modes to choose from:
Level 1: 9,500 rpm, for high-traction conditions and/or advanced riders
Level 2: 8,500 rpm, for high-traction conditions and/or average riders
Level 3: 8,250 rpm, for slippery conditions and/or novice riders
The Engine Mode Select Button (EMSB) alters the engine's characteristics and three maps are available to suit riding conditions or rider preference:
Mode 1: Standard
Mode 2: Smooth
Mode 3: Aggressive
CHASSIS / SUSPENSION
The motorcycle's heavier components are positioned centrally and as low as possible for precise cornering without sacrificing high-speed tracking, in addition to minimal squat under acceleration and negligible pitching during hard braking.
Frame / Swingarm / Subframe: The frame uses narrow main spars and features optimized reinforcement ribbing on the backside of the pivot plate, contributing to the low frame weight of just 18.5 pounds. Lateral rigidity is optimized for a supple feel that contributes to good cornering, while vertical rigidity is relatively stiff. The subframe features a simple design and weighs just 2.0 pounds. The swingarm is narrow, providing good clearance in ruts, with rigidity tuned to maximize rear traction and cornering.
Suspension: Front suspension comprises a 49 mm inverted Showa® coil-spring fork with a gas-liquid separation structure. The upper and lower triple clamps are designed to offer a good rigidity balance for optimum handling and feel through corners. The Pro-Link® rear-suspension system uses a Showa shock absorber with adjusters on the right side and an ultra-light steel shock spring. The link ratio is designed to minimize acceleration-triggered rear-end squat.
Wheels: Black D.I.D. rims deliver durable performance and good looks. Petal-style brake rotors disperse heat, and a low-expansion front brake hose gives strong feel and consistent stopping power. The CRF450RX comes with Dunlop's excellent Geomax AT81 tires, which offer all-around performance and high levels of ruggedness for off-road racing.
DESIGN
The CRF450RX has slim bodywork, with a smooth junction of the radiator shroud and side panel, facilitating rider movement and cornering. Each radiator shroud is produced in a single piece instead of two separate parts, and Computational Fluid Dynamics (CFD) were used to design air-outlet vents in the shrouds. The radiator grills optimize the number of fins and their angle, maximizing cooling performance.
The seat base has rearward-facing tongues and front-located mounting tabs, easing installation, and using acceleration forces to keep the seat securely in place. The polyethylene fuel tank holds 2.1 gallons.
Only 8 fasteners are used to secure all of the main bodywork components—both radiator shrouds, both side panels and the seat—and all of the bolts for the main bodywork parts have 8 mm heads, simplifying maintenance.
A single switch cluster addresses several functions: engine stop, ride-modes and Honda Selectable Torque Control (HSTC). The starter and HRC launch control are on the right side of the Renthal® Fatbar® handlebar. There are two locations for the handlebar clamp, and the clamp can be turned 180º; as a result, four different mounting positions are possible, through a range of 26 mm.
Off-Road Features: The CRF450RX comes with a number of off-road-appropriate features that are not included on its motocross-focused CRF450R sibling.
The updated ECU map is developed to aid traction in technical off-road conditions, and the revised suspension settings are more supple than the CRF450R, to minimize deflection off rocks and roots. A forged-aluminum side stand comes standard, as does an 18-inch rear wheel and 50-tooth rear sprocket compared to the R's 49.
Plastic handguards protect knuckles and levers from impacts when riding through brush. The pair of handguards, which weigh only 222 grams, can be easily removed.
2022 Honda CRF450RX – Totalmotorcycle.com USA Specifications/Technical Details
US MSRP Price: from $9899 USD
Canada MSRP Price: $10999 CDN
Europe/UK MSRP Price: £  GBP (On The Road inc 20% Vat)
| | |
| --- | --- |
| ENGINE | |
| Type | 449.8cc liquid-cooled 10º single-cylinder four-stroke |
| Valve Train | Unicam® OHC, four-valve; 38 mm intake, steel; 31 mm exhaust, steel |
| Bore x Stroke | 96.0 mm x 62.1 mm |
| Compression Ratio | 13.5:1 |
| Induction | Programmed fuel-injection system (PGM-FI); 46 mm throttle bore |
| Ignition | Full transistorized |
| Starter | Push-button electric starter |
| Transmission | Constant-mesh 5-speed; manual |
| Clutch | Multiplate wet, hydraulically actuated (6 springs, 8 plates) |
| Final Drive | #520 sealed chain; 13T/50T |
| SUSPENSION | |
| Front | 49 mm fully adjustable leading-axle inverted telescopic Showa coil-spring fork w/ 12.2 in. travel |
| Rear | Pro-Link system; fully adjustable Showa single shock w/ 12.3 in. travel |
| BRAKES | |
| Front | 2-piston caliper (30 mm, 27 mm) hydraulic; single 260 mm disc |
| Rear | 1-piston caliper hydraulic; single 240 mm disc |
| TIRES | |
| Front | Dunlop Geomax AT81 90/90-21 w/ tube |
| Rear | Dunlop Geomax AT81 120/90-18 w/ tube |
| MEASUREMENTS | |
| Rake (Caster Angle) | 27°7' |
| Trail | 114 mm (4.48 in.) |
| Length | 85.9 in. |
| Width | 33.0 in. |
| Height | 50.5 in. |
| Ground Clearance  | 13.2 in. |
| Seat Height | 38 in. |
| Wheelbase | 58.3 in. |
| Fuel Capacity | 2.1 gal. |
| Color | Red |
| Curb Weight* | 251 lbs. |
*Includes all standard equipment, required fluids and full tank of fuel—ready to ride
Specifications subject to change
2022 Honda CRF450RX – Totalmotorcycle.com Canada Specifications/Technical Details
Engine & Drivetrain
Engine Type
Liquid-cooled single-cylinder 4-stroke
Displacement
449.8 cc
Bore & Stroke
96 mm x 62.1 mm
Compression Ratio
13.5:1
Valve Train
Unicam, 4 valves
Fuel Delivery
PGM-FI electronic fuel injection with 46 mm throttle body
Transmission
Close-ratio, five speed
Final Drive
#520 sealed chain; 13T/50T
Chassis & Suspension
Front Suspension
Showa 49 mm telescopic inverted coil spring with rebound and compression damping adjustability. 310 mm (12.2 in ) travel.
Rear Suspension
Pro-Link® Showa single shock with adjustable spring preload, rebound damping adjustability, and compression damping adjustment separated into low-speed and high-speed; 313 mm (12.3 inches) travel
Dimensions & Additional Information
Tires
Front: 90/90-21
Rear: 120/90-18
Brakes
Front: 260 mm disc with dual-piston caliper
Rear: 240 mm disc
Ground Clearance
336 mm (13.2 in.)
Seat Height
965 mm (38 in.)
Wheelbase
1,481 mm (58.3 in.)
Curb Weight
114 kg (251 lb.) including required fluids and full tank of gas—ready to ride
Fuel Capacity
8 litres
Colour
Extreme Red
Warranty
No warrranty
2022 Honda CRF450RX – Totalmotorcycle.com European Specifications/Technical Details
| | |
| --- | --- |
| Bore × Stroke (mm) | 96.0mm x 62.1mm |
| Carburation | CDI Electronic Fuel injection |
| Compression Ratio | 13.5 : 1 |
| Engine Displacement (cc) | 449.7cc |
| Engine Type | Liquid-cooled 4-stroke single cylinder uni-cam |
| Starter | Electric |
| Oil Capacity (Litres) | 1.25 Litres |
| | |
| --- | --- |
| Brakes Front | Single 260mm disk |
| Brakes Rear | Single 240mm disk |
| Suspension Front | Showa 49mm USD fork |
| Suspension Rear | Showa monoshock using Honda Pro-Link |
| Tyres Front | Dunlop Geomax AT81F |
| Tyre Size Front | 90/90-21M |
| Tyre Size Rear | 120/90-18M |
| Tyres Rear | Dunlop Geomax AT81 |
| Wheels Front | Aluminium spoke |
| Wheels Rear | Aluminium spoke |
| | |
| --- | --- |
| Caster Angle | 27.2° |
| Dimensions (L×W×H) (mm) | 2,182mm x 839mm x 1,282mm |
| Frame type | Aluminium twin tube |
| Fuel Tank Capacity (Litres) | 8 litres |
| Ground Clearance (mm) | 336mm |
| Kerb Weight (kg) | 113.4kg |
| Seat Height (mm) | 965mm |
| Trail (mm) | 115mm |
| Wheelbase (mm) | 1,477mm |
| | |
| --- | --- |
| Clutch | Wet type multi-plate |
| Final Drive | Chain |
| Transmission Type | Constant mesh |
Manufacturer Specifications and appearance are subject to change without prior notice on Total Motorcycle (TMW).