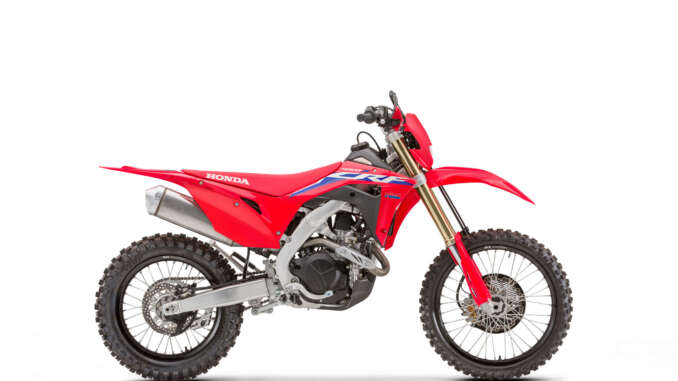 2022 Honda CRF450X: RULE THE ROOST.
Introducing the 2022 Honda CRF450X…
From tight trails to soft sands, nothing delivers off-road excellence like the 2022 Honda CRF450X. Bring the Baja champion to your own backyard, and you'll get the winning performance of a Honda MX'er with an off-road package that lets you take it anywhere. The compact Unicam® engine offers power without compromise. And the wide-ratio transmission has the perfect gear for nearly every situation, from slow-speed rock crawling to open-desert racing. Each innovation was inspired from countless off-road victories, like a twin-spar aluminum chassis that's both light and stiff for excellent handling. So, no matter how unpredictable the terrain may be, you can be sure the CRF450X has the performance to take you to the top.
"Legendary." "Dominant." "Unbeatable." In discussions of motorcycle racing in Baja, those are just some of the suitable adjectives for the CRF450X, which earned Honda's record 30th Baja 1000 victory last November, at the hands of SLR Honda riders Mark Samuels, Justin Morgan and Justin Jones. Fourteen of those wins have come aboard the CRF450X, firmly establishing it as the ultimate desert-racing weapon, but it's also a great trail machine, thanks in part to its 50-state year-round off-road-legal status, plus off-road appropriate features like a side stand, 18-inch rear wheel, headlight, sealed chain and six-speed transmission.
When the going gets tough, nothing helps you go the distance like the 2022 Honda CRF450X. Packed with a lot of the same innovations as our 450R motocrosser, the CRF450RX is fine-tuned for enduro racing mastery. The compact Unicam® engine offers responsive power over everything. Innovations like Honda Selectable Torque Control let you maximize traction for different conditions. A lightweight chassis, 18-inch rear wheel, hydraulic clutch and special suspension settings help you take on varied terrain. And Honda's famous reliability means this bike can take a beating and keep on competing. It makes cutting through the competition feel more like cutting fresh tracks.
Lightweight, protective handguards defend against shrubbery when riding down tight trails or wood sections
Lightweight, 2.0 gallon titanium fuel tank for enjoyable rides
Aluminum side stand facilitates trailside stops
18-inch rear wheel enables tall tire sidewall for optimum traction in technical conditions
Lightweight, compact digital meter with black characters on a white liquid-crystal background is easily legible while riding
Off-road-ready, emissions-compliant muffler with spark arrestor
Endless sealed chain withstands the elements
Lightweight, compact halogen headlight and LED taillight extend riding time
American Honda today announced the return of the CRF450R motocrosser for 2022, as well as its five siblings that specialize in a variety of applications. The clear point of reference when it comes to motocross, Honda's CRF450R currently leads the 2021 AMA Supercross series, at the hands of Team Honda HRC's Ken Roczen, while the CRF450RWE adds top-shelf performance features for the most demanding customers. The CRF450RX opens things up a bit to closed-course off-road racing, whereas the CRF450X expands horizons to everything up to and including the deserts of Baja. Meanwhile, the CRF450RL adds the possibility of linking trails and dirt roads via public roads. Finally, there's the CRF450R-S, a great option for value-focused motocrossers. Add them up, and it's a collective of dirt bikes that covers the needs of motorcycle enthusiasts who enjoy getting dirty in any number of ways.
"Back when we first expanded our CRF450 lineup for the 2019 model year, our goal was to offer application-specific models that would put Red Riders at the front of the pack no matter what their preferred means of dirt-bike riding," said Brandon Wilson, Manager of Advertising, Experiential and Sports at American Honda. "Three years later, the family has expanded and improved, and the 2022 collection is better than ever. We expect these bikes to continue to run at the front of the pack, in the dirt and on dealer showrooms."
ENGINEERING
WIDE-RATIO SIX-SPEED TRANSMISSION
Having six speeds in the CRF450X's transmission compared to an MX bike's typical five gives you more choice, and makes this versatile bike even more versatile. You have a gear for everything from east-coast rock crawling to wide-open Baja blasts.
LITHIUM-ION BATTERY
Light, compact, and offering excellent performance—just like the CRF450X itself! Conventional batteries are heavy, but not this premium piece. It's all part of why your new CRF450X performs as well as it does.
TUNED-WEIGHT CRANK
The CRF450X gets a special crankshaft, different from our CRF450R MX bikes and our CRF450RL dual-sport. Why? The crank's weight and inertial character make a huge difference in how a bike delivers power. A crank is expensive, but it's no place to scrimp and try to save—with the CRF450X, power delivery is just what you want.
DUAL RADIATORS
The CRF450X's dual radiators feature a refined core area for superior heat dissipation compared with conventional dual-radiator designs. A coolant recovery tank is located in front of the engine between the frame downtubes for improved center of gravity, and the tank is protected by a plastic skid plate.
TITANIUM FUEL TANK
Holding 2.0 gallons, the CRF450X's premium titanium tank is light and tough.
SKID PLATE
The CRF450X's factory skid plate is light, yet also offers the engine and lower-frame protection serious riders demand on a machine like this.
LIGHTING PACKAGE
Your CRF450X comes equipped with a complete lighting package (headlight and taillight) for riding at dusk.
CONVENIENCE
ELECTRIC STARTER
An electric start system ensures trouble-free starting in all conditions. The electric starter also drives the clutch side of the crankshaft to provide superior lubrication to starter gears while producing a narrow engine with a short, strong crank.
PERFORMANCE
449cc UNICAM® ENGINE
Honda's Unicam® cylinder heads combine the best of single- and double-overhead-cam designs. The configuration contributes to a compact engine that saves weight over a comparable dual-overhead-camshaft motor and also permits a narrow included valve angle. This flattens the combustion chamber to facilitate ignition flame propagation, allowing a high compression ratio. Since less space is taken up in the cylinder head, the camshaft sits lower in the head for a more compact engine and a lower center of gravity.
TITANIUM INTAKE AND EXHAUST VALVES
Lightweight titanium intake and exhaust valves permit use of smaller valve springs, reducing overall engine height.
FUEL INJECTION
The CRF450X features our proven fuel-injection system. It's part of the reason the CRF450X offers such excellent torque and spot-on metering and response, especially in the critical low-rpm range. It also automatically compensates for elevation and weather changes.
HANDLING
TWIN-SPAR CHASSIS
The CRF450X uses a twin-spar aluminum chassis that takes advantage of all the lessons we've learned on the MX track and from winning countless Bajas. The frame is both light and stiff, and provides the basis for the CRF450X's excellent handling. The chassis is also wider than the standard MX frame to accommodate the six-speed transmission.
DUNLOP MX52 TIRES
The CRF450X's Dunlop MX52 tires give you good superior off-road traction in a wide variety of terrain and conditions. Tires are always a critical part of any on/off-road bike, and we've hooked you up with some great ones here.
LOW CENTER OF GRAVITY
The compact Unicam engine and Honda's famous concentration on center-of-mass engineering help keep the CRF450X's center of gravity low. That means the bike feels lighter, and it helps handling too.
WORKS-STYLE FRONT BRAKE
Compact twin-piston front brake caliper, anodized-aluminum brake pistons and lightweight 260mm front disc offer great stopping power while minimizing unsprung weight for improved turning and handling.
WORKS-STYLE REAR BRAKE
HRC works-type rear brake system uses a 240mm brake rotor to its integrated rear master-cylinder and fluid reservoir, a set-up that eliminates the separate reservoir and hose.
18-INCH REAR WHEEL
The CRF450X's 18-inch rear wheel gives you an excellent choice of off-road tires. Plus, the black DID rims look great too.
COMFORT
FACTORY HANDGUARDS
Exclusively designed for the off-road rider and manufactured to Honda standards, they help protect you from rocks, branches, thorns and brush. Plus, it gives your CRF450X that "finished" look, right from the start.
GEAR-DRIVEN COUNTERBALANCER
The Gear-Driven Counterbalancer reduces vibration and drives the water pump. Eight clutch plates provide the surface area necessary to handle the engine's massive torque, while carefully matched clutch springs provide a light feel at the lever.
WORKS MX STYLING
The "X" graphics may remind you of our MX bikes because they're derived from them—the smooth bodywork makes it easy to move around, and the in-mold graphics not only look cool but are durable, too.
SUPERIOR ERGONOMICS
Placing the rider's legs at the narrowest part of the frame helps improve comfort and handling.
SIDESTAND
Hey, a sidestand may seem like no big thing, but take a look at the one the CRF450X uses. Tucked up high and out of the way, this forged alloy piece is just another example of how the CRF450X gets it right.
FUEL MILEAGE METER
An important feature for planning gas stops and calculating your bike's range under varying conditions, the Fuel Mileage Meter shows current fuel mileage and average fuel mileage as well as fuel consumption. Displays in either miles or kilometers, and applies to both the A and B tripmeters. The Fuel Mileage Meter is in the same digital instrument display as the speedometer, odometer, tripmeters and digital clock.
2022 Honda CRF450X Totalmotorcycle.com Features and Benefits
ENGINE / DRIVETRAIN
449.7cc Unicam® engine specially tailored for off-road riding
Finger rocker arm contributes to compact layout, while its dedicated design attains off-road-appropriate power characteristics. DLC surface treatment reduces friction
Dedicated valve timing for smooth power delivery in technical riding
High crank inertia (up 12% over CRF450R) for tractable power delivery in technical terrain
12.0:1 compression ratio
Piston with three-ring design
Wide-ratio six-speed transmission is ready for a wide variety of off-road terrain. Construction from high-strength material ensures durability in demanding conditions
Special clutch design enables light lever pull. Primary damper mechanism with friction springs suppresses engine torque fluctuations for smooth running
Large-capacity radiators with high heat-exchange efficiency for strong performance in demanding off-road conditions
ECU with dedicated settings
Specially developed exhaust system with optimized pipe length and diameter for excellent responsiveness at low rpm
CHASSIS / SUSPENSION
Aluminum twin-spar frame designed for nimble yet stable handling on trails
49 mm Showa fork with dedicated settings for challenging terrain
CRF450R-inspired front brake but with dedicated master cylinder and hose for off-road-appropriate braking performance
Lightweight lithium-ion battery with increased capacity compared to CRF450R, to power lighting
Front and rear sprockets feature damper system for smooth, quiet running
Fuel-tank cap with cut-off valve prevents fuel from flowing out of tank if the bike is on its side
Easily accessible electronic component box on left side of frame
Gray metallic Renthal handlebar with red pad
Compact, lightweight handlebar switches
In-mold graphics last long and are resistant to peeling caused by washing or abrasion
Fork protectors are shaped to prevent damage in off-road riding
Dunlop MX52 tires provide excellent traction and feel in wide ran
2022 Honda CRF450X – Totalmotorcycle.com USA Specifications/Technical Details
US MSRP Price: from $9799 USD
Canada MSRP Price: $ CDN
Europe/UK MSRP Price: £  GBP (On The Road inc 20% Vat)
| | |
| --- | --- |
| ENGINE | |
| Type | 449.7cc liquid-cooled 10º single-cylinder four-stroke |
| Valve Train | Unicam® OHC, four-valve |
| Bore x Stroke | 96.0 mm x 62.1 mm |
| Compression Ratio | 12.0:1 |
| Induction | Programmed fuel-injection system (PGM-FI); 46mm throttle bore |
| Ignition | Full transistorized |
| Starter | Push-button electric starter |
| Transmission | 6-speed wide ratio; manual |
| Clutch | Multiplate wet (6 springs) |
| Final Drive | #520 sealed chain; 13T/51T |
| SUSPENSION | |
| Front | 49mm fully adjustable leading-axle inverted telescopic Showa coil-spring fork w/ 12.0 in. travel |
| Rear | Pro-Link system; fully adjustable Showa single shock w/ 11.8 in. wheel travel |
| BRAKES | |
| Front | 2-piston hydraulic; single 260 mm disc |
| Rear | 2-piston hydraulic; single 240 mm disc |
| TIRES | |
| Front | Dunlop Geomax AT81 80/100-21 w/ tube |
| Rear | Dunlop Geomax AT81 110/100-18 w/ tube |
| MEASUREMENTS | |
| Rake (Caster Angle) | 28°36' |
| Trail | 143 mm (5.6 in) |
| Length | 86.3 in. |
| Width | 33.3 in. |
| Height | 50.3 in. |
| Ground Clearance  | 13.1 in. |
| Seat Height | 37.9 in. |
| Wheelbase | 58.7 in. |
| Fuel Capacity | 2.0 gal. |
| Color | Red |
| Curb Weight* | 275 lbs. |
*Includes all standard equipment, required fluids and full tank of fuel—ready to ride
Specifications subject to change
2022 Honda CRF450X – Totalmotorcycle.com Canada Specifications/Technical Details
TBA
2022 Honda CRF450X – Totalmotorcycle.com European Specifications/Technical Details
TBA
Manufacturer Specifications and appearance are subject to change without prior notice on Total Motorcycle (TMW).