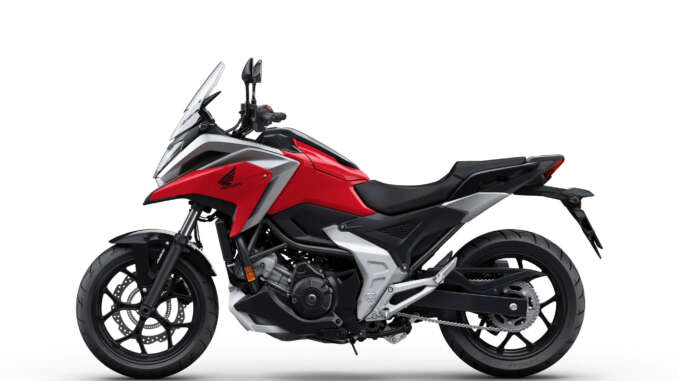 2022 Honda NC750X DCT: MULTASKING MASTERPIECE.
Introducing the 2022 Honda NC750X DCT…
Recognized as both reliable and affordable, the Honda NC750X is practical and sleek. Powerful torque, quality suspension and excellent ride comfort make this adventure model ideal for riding backroads and getting off the beaten path, but it also has a well-earned reputation as a practical commuter king. The liquid-cooled, SOHC 8-valve parallel-twin-cylinder engine provides responsive performance in the low to midrange, and Honda Selectable Torque Control (HSTC) is standard on both manual-transmission and automatic Dual Clutch Transmission models (DCT), providing more precise rear-wheel control. Find adventure, performance and utility, all in a single, versatile machine.
Wouldn't it be nice to have a whole garage full of bikes? One for touring, one for weekday commutes, one for weekend exploring. Some purely practical, others just for fun? Well, you can—but you only have to pay insurance and registration for one, at least when you have a 2022 Honda NC750X. The 745cc parallel-twin engine is versatile and has plenty of power. The seating position is comfortable no matter where you ride or for how long. There's a wide selection of accessories, and you can even choose from two transmissions: a conventional manual-clutch six-speed, or Honda's revolutionary automatic DCT. Finally, check out the NC750X's unique integrated large 23-liter storage compartment. Don't have a garage the size of an aircraft hangar, or a wallet to match? No worries—your new NC750X can do it all.
Premium Features
Dual-Clutch Transmission (DCT)
Honda Selectable Torque Control (HSTC)
Standard Features
745cc Parallel-Twin Engine
Larger 23-liter Integrated Storage
Underseat Fuel Tank (centralizes mass)
Anti-Lock Brakes (ABS)
TECHNOLOGY
Honda SELECTABLE TORQUE CONTROL (HSTC)
With Honda Selectable Torque Control (HSTC) you can choose a level which allows some rear-wheel spin—on gravel or dirt for instance—or pick a second level which reduces wheel spin, particularly on slippery roads. It's a great feature that helps make the NC750X even more versatile. (Available on DCT model only.)
THROTTLE BY WIRE
The NC750X features throttle-by-wire (TBW) technology. That also lets us give you four selectable engine power-delivery modes: Standard, Rain, Sport, and an additional user-customizable setting.
41mm FORK
With 5.4 inches of travel, you get a perfect balance between a long-distance and a short-hop street machine. This gives it a wide range of capability, good handling and helps inspire confidence.
DISC BRAKES WITH COMBINED ABS
Single front and rear disc brakes give the NC750X great stopping power. Now standard on all NC750X models, you'll get ABS brakes that are linked rear-to-front for added stopping power, even under challenging conditions.
LCD INSTRUMENT PANEL
Full digital LCD instrumentation includes digital speedometer, digital bar-type tachometer, clock, low-fuel gauge and two trip meters. Plus, the tach bar graph changes color according to fuel consumption, RPM, gear position and more.
CONVENIENCE
INTEGRATED STORAGE COMPARTMENT
The 2022 NC750X offers a large 23-liter utility compartment that's big enough to hold most dual-sport full-face helmets with a visor, and then some. Secure and convenient, you'll use it every time you ride.
AUTOMATIC DUAL-CLUTCH TRANSMISSION (DCT)
Shift with the push of a button, or select the NC750X's automatic mode and the bike will shift itself. Our Automatic DCT offers three riding modes as well, depending on the kind of performance you want. It's been a huge hit on our other models, and once you ride an NC750X with DCT, you'll see why.
UNDER-SEAT FUEL TANK
The 3.7-gallon under-seat fuel tank centralizes mass and enhances overall handling. Locating the tank and filler underneath the passenger seat allows for innovative centralized storage between the front of the seat and the handlebar.
PERFORMANCE
745cc PARALLEL-TWIN ENGINE
With its cylinders tipped 55° forward for lower center of gravity, the NC750X's engine is a big step forward in modern powerplant design. The two-cylinder format produces tons of low- and mid-range torque, and the 270°-phase crank and uniaxial primary balancer make it smooth, too.
SLIPPER CLUTCH
On our manual-transmission NC750X, you get a slipper clutch that helps eliminate wheel hop under downshifting, and which also lightens clutch-lever pull by 20 percent.
CAST ALUMINUM 17-INCH WHEELS
The 17-inch wheels give you a wide choice of premium tires to choose from and really help the NC750X offer responsive handling in turns. The cast wheels are light and strong, and look great too.
ELECTRONIC FUEL INJECTION
Carbureted engines can be fussy when it comes to feeding them fuel. Not the NC750X. Electronic Fuel Injection means easy start-ups on cold mornings and flawless running even at high elevations.
PRO-LINK® HMAS REAR SUSPENSION
Offering 5.9 inches of rear-wheel travel and teamed with a Honda Multi-Action System (HMAS) rear shock, the NC750X eats up the gnarliest pavement while giving you a smooth ride.
STEEL TRUSS FRAME
Light, strong and with just the right amount of stiffness, the NC750X's rigid and compact chassis is the foundation for precise handling.
COMFORT
LOW-PROFILE WINDSCREEN
The NC750X offers just the right amount of bodywork—enough to offer good wind protection, but not so much that the bike feels heavy or wide.
LOW SEAT HEIGHT
The NC750X's 31.6-inch seat height is low by adventure-bike standards, and that makes it even more rider friendly in traffic or in parking lots.
STREAMLINED COWL AND BODYWORK
Think the 2022 NC750X looks sharp? The cowl and windscreen offer welcome wind protection, and the sharp styling freshens up the bike's look too.
EXTRA COMFORTABLE SEAT
On a bike like the NC750X, you'll probably want to extend your adventures and take some longer trips. That's why we gave it a seat with a shape that's both supportive enough for cornering and comfortable even when the miles stack up.
ADVENTURE-READY ACCESSORIES
Because the NC750X is so versatile, we offer a wide range of Honda accessories to help you custom tailor it for your adventures. Choose from top-box carriers, USB ports, tall windscreens, centerstands, cowl guards, saddlebags, heated grips and much, much more.
2022 Honda NC750X DCT Totalmotorcycle.com Features and Benefits
DESIGN / STYLING
Styled in a manner that inspires adventure seekers but also suits commuters, small upper and lower fairings are accentuated by the muscular fuel tank, while the LED headlight and running lights bolster the bike's image from the front. An LED taillight and LED turn indicators compliment the headlight.
The windscreen offers protection for long rides or short commutes in less-than-ideal conditions. Meanwhile, the slim side panels and side covers, along with the slender seat, contribute to the NC750X's lightweight styling without sacrificing comfort.
Since practical features are equally important as a slim, sporty design, the NC750X's front storage compartment is positioned where the fuel tank would traditionally sit. It holds 23 liters and is shaped to fit an adventure helmet. The exterior portion of the lid features rails for mounting a tank bag, while the interior portion has four hooks, for using rubber straps that can help in organizing luggage. Additionally, a location designed to accept an accessory USB-C socket is available.
The LCD dash allows for easy reference of pertinent information and management of riding modes. The turn signals use front and rear wheel-speed difference to calculate when to auto-cancel.
ENGINE / DRIVETRAIN
The NC750X's liquid-cooled, SOHC 8-valve parallel-twin-cylinder engine is designed to offer punchy performance in the low to midrange. Its relatively long-stroke architecture and specially shaped combustion chamber combine with the high-inertial-mass crankshaft to produce large amounts of effortless torque from very low rpm, while a forward cant lowers the center of gravity for optimum stability.
Valve timing differs between the two cylinders. Throttle By Wire and a refined exhaust system produce ample power and a strong torque curve past 5,000 rpm, and redline is 7,000 rpm.
The first three gears have low ratios for smooth standing starts and roll-on acceleration, while fourth, fifth and sixth gears are high for comfortable highway going and impressive fuel efficiency.
Twin balancers counteract vibration from higher-rpm inertia, for an engine that is not only smooth-running, but has a distinctive "throb" thanks to its 270-degree crank and uneven firing intervals. Bore and stroke are set at 77 x 80 mm. Where possible, components are made to do more than one job: the camshaft drives the water pump, while one of the balancer shafts drives the oil pump. By minimizing the number of parts in this way, the engine is kept light, efficient and reliable.
A slipper clutch minimizes lever load and manages rear-wheel lock-up under fast down-changes of the manual 6-speed gearbox while decelerating.
A lightweight, pentagon-shaped muffler uses two chambers joined by a hole-punched link pipe, which works with a final resonator chamber to create a deep, distinctive sound and exhaust pulse. The built-in catalyzer has a two-layer structure for cleaner emissions.
DCT
Honda's unique-in-motorcycling DCT technology is now in its 12th year of production and offers easy, direct gear changes through constant refinement. As is the case in other Honda DCT models, the system uses two clutches: one for start-up and 1st, 3rd and 5th gears; the other for 2nd, 4th and 6th, with the main shaft for one clutch located inside the other for compact packaging.
Each clutch is independently controlled by its own electro-hydraulic circuit. When a gear change occurs, the system pre-selects the target gear for the clutch not currently in use. The first clutch is then electronically disengaged as, the second clutch simultaneously engages.
The result is consistent, fast and seamless gear changes. Furthermore, as the twin clutches transfer drive from one gear to the next with minimal interruption of the transfer to the rear wheel, any gear-change shock and pitching of the machine is negligible, making the change feel direct as well as smooth. Extra benefits include durability (as the parts are less likely to be damaged via flawed shift-lever operation), reduced possibility of stalling, reduced rider stress and fatigue, and extra mental bandwidth for better concentration on all other aspects of riding.
With the DCT gearbox, the rider may also choose Manual mode, using paddle-style triggers on the left handlebar to change gears.
In the NC750X's Automatic mode, there are four different shifting schedules to select from, with three defaults: Level 1 is the most relaxed and is used within RAIN mode; Levels 2 and 4 shift up at higher rpm and are linked with STANDARD and SPORT riding modes.
A fourth DCT shift pattern is available for the USER riding mode and falls between those for STANDARD and SPORT in terms of aggressiveness.
Adaptive Clutch Capability Control is a feature of the NC750X's DCT and manages the amount of clutch torque transmitted. This adds a natural "feathered" clutch feel when opening or shutting off the throttle, for a smoother ride.
Electronics
Honda Selectable Torque Control comes standard on both the manual and DCT versions of the NC750X. This feature offers more precise control as it manages rear-wheel torque thanks to TBW:
Level 1 allows the minimum intervention for some rear wheel spin—on gravel or dirt for instance.
Level 2 is the default setting and provides confidence-inspiring traction for general riding conditions.
Level 3 provides maximum intervention, for slippery conditions.
HSTC can also be switched off.
With TBW managing engine performance and character, there are three modes for the rider to choose from for various riding conditions. Mode selection is managed between the left-hand switchgear and the LCD display.
SPORT gives more aggressive delivery of engine power and braking, with low HSTC intervention and DCT mode 4.
RAIN delivers engine power and braking least aggressively, has high HSTC intervention and Level 1 for the DCT shift pattern.
STANDARD delivers a balanced middle point for engine-power delivery, engine braking and HSTC intervention, plus mode 2 for the DCT.
USER offers custom options of low/medium/high for delivery of engine power and engine braking, low/medium/high/off for HSTC, and four different shift patterns for DCT.
CHASSIS / SUSPENSION
Starting with tubular-steel diamond frame, and using varying tube thicknesses, Honda's development engineers carefully designed the frame and gave consideration to where to locate the battery and airbox to free up storage space.
Rake is 27 degrees and trail is 110 mm, while wheelbase is 60.1 inches. The front/rear weight distribution is 48/52, and the curb weight is 472 pounds (493 pounds for the DCT version), contributing to the bike's prowess on city streets or even longer rides through tight, twisty canyons. Further increasing the bike's practical performance, the seat height is 31.5 inches.
The riding position is upright and neutral, with a high viewpoint for enhanced hazard perception. Another advantage of this adventure-style arrangement, combined with the low center of gravity and generous steering lock, is exceptional low-speed handling and balance.
The 41 mm fork has 4.7 inches of travel and uses Showa's Dual Bending Valve design, with settings optimized for both compression and rebound damping. This enables the damping force to act in accordance with piston speed in low-speed compression and rebound situations, improving ride quality and comfort.
The shock features a spring-preload adjuster system with 4.7 inches of wheel travel. It operates through Pro-Link® arrangement that offers an optimized balance of a soft initial stroke (for dealing with smaller bumps) and excellent control.
Up front, the 320 mm disc and two-piston brake caliper deliver plenty of easy-to-modulate stopping power, complemented by a 240 mm rear disc and single-piston caliper. Lightweight two-channel ABS provides powerful and confident braking, even on slippery or wet road surfaces.
Cast aluminum front and rear wheels—sizes 17 x 3.50-inch and 17 x 4.50-inch—wear 120/70 ZR17 and 160/60 ZR17 tires. Forged aluminum L-shaped rim valves make checking and adjusting air pressure easier.
2022 Honda NC750X DCT – Totalmotorcycle.com USA Specifications/Technical Details
US MSRP Price: $9299 USD
Canada MSRP Price: $10899 CDN
Europe/UK MSRP Price: £ See Dealer GBP (On The Road inc 20% Vat)
ENGINE
Engine Type 745cc liquid-cooled four-stroke 55º parallel-twin
Bore And Stroke 77mm x 80mm
Induction PGM-FI electronic fuel injection (Throttle By Wire)
Ignition Full transistorized ignition
Compression Ratio 10.7:1
Valve Train SOHC; four valves per cylinder
DRIVE TRAIN
Transmission Six-speed Automatic Dual Clutch Transmission (DCT)
Final Drive #520 Chain; 17T/41T
Clutch 2 multiplate wet
CHASSIS SUSPENSION BRAKES
Front Suspension 41mm Showa telescopic fork; 4.7 inches of travel
Rear Suspension Pro-Link® w/ single shock; 4.7 inches of travel
Front Brake Single 320mm disc w/ hydraulic caliper; 2-channel ABS
Rear Brake Single 240mm disc w/ hydraulic caliper; 2-channel ABS
Front Tire 120/70ZR-17 radial
Rear Tire 160/60ZR-17 radial
DIMENSIONS
Rake (Caster Angle) 27.0 degrees
Trail 4.3 inches
Wheelbase 60.1 inches
Seat Height 31.6 inches
Curb Weight
493 pounds (Includes all standard equipment, required fluids and full tank of
fuel—ready to ride)
Fuel Capacity 3.8 gallons
Miles Per Gallon
TBD MPG – Honda's fuel economy estimates are based on EPA exhaust emission
measurement test procedures and are intended for comparison purposes only. Your
actual mileage will vary depending on how you ride, how you maintain your vehicle,
weather, road conditions, tire pressure, installation of accessories, cargo, rider and
passenger weight, and other factors.
OTHER
Model ID NC750XD
Emissions Meets current EPA standards. California version meets current CARB standards and
may differ slightly due to emissions equipment.
Available Colors Grand Prix Red
FACTORY WARRANTY INFORMATION
One Year Transferable, unlimited-mileage limited warranty
Optional Extended Extended coverage available with a HondaCare Protection Plan®
2022 Honda NC750X DCT – Totalmotorcycle.com Canada Specifications/Technical Details
Engine & Drivetrain
Engine Type Liquid-cooled, parallel twin with 55° slant angle and 270° phased crankshaft
Displacement 745 cc
Bore & Stroke 77 mm x 80 mm
Compression Ratio 10.7:1
Valve Train Chain-driven SOHC, four valves per cylinder
Fuel Delivery PGM-FI electronic fuel injection with 36 mm throttle bodies
Transmission Standard model: Six-speed
DCT model: Six-speed Dual Clutch Transmission with four automatic shift modes and a manual paddle-shift mode
Final Drive #520 O-ring-sealed chain
Standard model: (17T/43T)
DCT model: (17T/39T)
Chassis & Suspension
Front Suspension 41 mm SDBV telescopic fork, 107 mm (4.2 in.) travel
Rear Suspension Pro-Link® single shock swingarm; 150 mm (5.9 in.) travel
Additional Information
Tires Front: 120/70ZR-17
Rear: 160/60ZR-17
Brakes Front: 320 mm single wave disc with two-piston caliper and two-channel ABS
Rear: 240 mm single wave disc with single-piston caliper
ABS: 2 channel ABS
Seat Height 800 mm (31.5 in.)
Wheelbase 1,535 mm (60.4 in.)
Curb Weight Standard model: 214 kg (472 lb.)
DCT model: 224 kg (494 lb.)
including required fluids and full tank of gas—ready to ride
Fuel Capacity 14.1 litres
Colour Standard model: Grand Prix Red
DCT model: Grand Prix Red
Warranty 12 months, unlimited mileage, freely transferable warranty; extended coverage available with Honda Plus
2022 Honda NC750X DCT – Totalmotorcycle.com European Specifications/Technical Details
TBA
Manufacturer Specifications and appearance are subject to change without prior notice on Total Motorcycle (TMW).