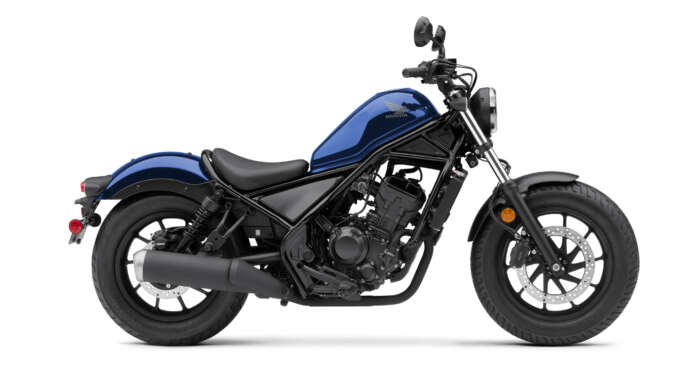 2022 Honda Rebel 300 ABS: RIDE TO YOUR OWN DRUM.
Introducing the 2022 Honda Rebel 300 ABS…
The powersports industry's most popular entry-level cruiser models by a wide margin, Honda's Rebel 300 and Rebel 500 are responsible for introducing legions of new riders to motorcycling. That's no surprise considering their combination of user-friendliness and stylish, minimalist design, including an iconic peanut fuel tank, LED lighting and blacked-out engine and components. They also offer unparalleled enjoyment, with a narrow frame, comfortable rider layout, nimble handling and available ABS. Riders can choose from an extensive lineup of Honda Accessories, or opt for the Rebel 500 ABS SE (offered in a new Matte Silver color for 2022), which takes the "Born Rebel" one step further by including select accessories preinstalled.
STYLE
BLACKED-OUT STYLE
The Rebel is a blank canvas for your self expression and customization. But unlike the canvas you buy at the art store, this one's not boring white. As is, its blacked-out engine pieces, frame, and bodywork elements look great during the day and even better at night.
BLACKED-OUT MUFFLER
Forget about having to polish chrome—the Rebel's blacked-out exhaust system blends perfectly with the bike's overall look. And maybe the biggest plus? The awesome sound that's so important to the riding experience.
CLASSIC INSTRUMENT SHAPE
Another iconic element combining traditional and new, the Rebel's instruments take a classic shape and fill it with totally up-to-date digital LCD information.
FOUR-BULB HEADLIGHT
Another critical item in motorcycle design is the headlight. With the Rebel you get the best of both worlds. The lamp is bright and precise, while the round nacelle shape, aluminum cast headlight mount and classic round lens give the Rebel a character that exudes for the 21st century.
ALL LED LIGHTING PACKAGE
LED lighting is where it's at now. LEDs can be lighter, brighter, and require fewer lifetime replacements than incandescent bulbs. That's why the Rebel 300 features an all-LED lighting package—headlight, taillight, turn signals, even the license-plate light.
COLOR CHOICES
Check out the bold colors you could be styling: Matte Gray Metallic or Pearl Blue.
OPTIONAL Honda ACCESSORIES
The Rebel 300 has a whole catalog of accessories, ready for you to personalize your bike. For example, check out the diamond-stitched main seat, a backrest, saddlebags and a carrier, passenger seat with footpegs kit, backrest, and much, much more.
STEEL REAR FENDER
Real steel never goes out of style. The Rebel has a steel rear fender that's color-matched to the tank. The paint looks great, and the steel fender helps provide a solid support for the optional/removable passenger seat.
WIDE 41mm FORK
It's what's up front that counts most in style, and the Rebel knocks it out of the park. Of course the front suspension offers precise steering and a plush ride, but the fat 41mm fork tubes give the bike a substantial presence too. Last year we fine-tuned the fork for even better comfort and performance, and everyone loves the result.
REFINED REAR SUSPENSION
The Rebel 300's rear shocks are nitrogen filled, and have a special spring rate too. Just like the front suspension, it's about adding both comfort and performance to your riding experience.
WIDE FRONT WHEEL
The Rebel's wide 130/90-16 front tire not only looks great, but it helps provide superior handling and stopping power.
COMFORT
LOW SEAT HEIGHT
When it comes to seat heights, almost everyone likes them lower. At just 27.2 inches, the Rebel has one of the lowest seats in anyone's lineup. It's comfortable when you ride, and it makes it easier to flat-foot it at stoplights or in parking lots.
LIGHT WEIGHT
Weighing just 364 pounds (370 pounds for the ABS model) with a full tank of fuel, the Rebel 300 is a lot more fun and friendly to ride than some bigger machines—perfect if you're just getting started, or if you're looking for a nimble bike. The light overall weight and a low center of gravity help performance, too.
NARROW
Super-narrow, especially at the critical tank/seat junction, the Rebel makes it easier to get on and off the bike, and to put your feet down at stops. Plus, the Rebel fits a wide variety of riders.
ROOMY RIDER TRIANGLE
A rider makes contact with the bike at three points: the seat, the handlebar, and the footpegs. The Rebel's rider triangle strikes the perfect balance between laid-back cruiser and more active sport riding. You ride with a commanding presence, and the minute you sit on a Rebel in your dealership, you'll know it.
SINGLE SEAT WITH AVAILABLE ACCESSORY PASSENGER SEAT AND FOOTPEG KIT
Travelling light and on your own? Want to take a friend along? Like the clean look of a solo seat? Like the versatility of a passenger seat? With the Rebel you can easily have it both ways, since the accessory passenger seat, passenger footpegs and footpeg hangers are all simple, bolt-on parts.
ENGINEERING
SLIPPER/ASSIST CLUTCH
This technology was first developed and perfected in Honda's racing machines. The slipper/assist clutch means you get a lighter clutch pull at the lever, but a solid lockup when you release the lever and apply power. It's technology that reduces clutch effort at the bar by about 30 percent.
SUPERIOR HANDLING
A lot of today's motorcycles look great standing still, but disappoint once the road gets twisty. At Honda, we set high standards for the way all our bikes handle and feel, and the Rebel is a perfect example—we've paid just as much attention to the way this bike corners and handles as we have its knockout styling.
2.9-GALLON FUEL TANK
One of the key items in motorcycle design is the fuel tank. Holding 2.9 gallons, the Rebel's iconic fuel-tank shape is timeless, but functionally it also teams up with the bike's great fuel efficiency to give you plenty of range.
DIE-CAST ALUMINUM REAR SUBFRAME
Here's a chance for Honda designers to take a functional part of the motorcycle and make it look extra cool. The aluminum subframe/fender mounts are strong, subtle, light, and provide a solid foundation for the optional/removable passenger seat.
WIDE REAR TIRE
The Rebel's low, fat 16-inch rear tire gives you plenty of grip, and helps lower the bike's overall seat height and stance. And it looks tough, too.
PERFORMANCE
SPORTY ENGINE
Hondas are famous for their engines, and we've given the Rebel 300 a great one. First, the facts: it's a single-cylinder with fuel injection, double-overhead cams and a counterbalancer. Because it's a single, it's light and super narrow, which helps reduce the overall bike's weight. It also offers the kind of torque and midrange power that's well suited for all levels of riders.
CAST ALUMINUM WHEELS
Cast wheels front and rear are light, practical, easy to keep clean, and give the Rebel a look that tells you this is not built like a retro machine. The wide rims and tires add to the bikes appearance, too.
2022 Honda Rebel 300 ABS Totalmotorcycle.com Features and Benefits
CHASSIS / SUSPENSION
Both models' riding positions are relaxed and neutral, with arms gently outstretched and feet dropping straight down to the mid-mounted pegs.
Good ground clearances allow sporty lean angles.
LED headlight, turn signals and taillight reinforce iconic look.
LCD meter with gear-position indicator and fuel consumption provides pertinent information to the rider.
To support the Rebel's low-slung look, its attractive tubular-steel frame holds the engine in three places and is designed to be as narrow as possible around the rider's inseam. Trail is set at 110 mm, with 28° rake.
The 41 mm fork stanchions are set wide at 230 mm apart, for rigidity, comfort and style, and the lower legs are blacked-out.
Fork features buffing on inner pipe for smooth action.
Fork angle is 30°, wheelbase is 58.7 in. wheelbase and seat height is 27.2 in., resulting in balanced, neutral steering.
Shock damper tube uses nitrogen gas to stabilize damping force.
Frame body has a narrow shape and includes an innovative rear loop that separates the seat from the stamped-metal rear fender.
Dunlop tires (size 130/90-16 front, 150/80-16 rear) are mounted to 16 inch cast-aluminum wheels.
Both the Rebel 500 and Rebel 300 are available in standard and ABS versions.
Iconic, peanut-shaped fuel tank, aggressively raked front end and fat tires on large-diameter wheels result in stripped forms that express offbeat individuality from every angle.
Blacked-out 45 mm tubular swingarm with twin conventional, side-mounted dual shocks that feature two-step preload adjusters.
Ignition is housed below the left side of the fuel tank.
ENGINE / DRIVETRAIN
Assist/slipper clutch results in reduced effort in stop-and-go situations and enhances controlled deceleration.
Rebel 500 is powered by a 471cc, eight-valve, liquid-cooled parallel-twin engine with strong bottom-end torque and a smooth, linear power delivery.
Rebel 500 cylinder head uses roller rocker arms; shim-type valve adjustment allows them to be light, for lower valve-spring load and reduced friction.
Rebel 500 has a silent (SV Chain) cam chain, with the surface of its pins treated with Vanadium to reduce friction through its increased protection against dust. Inlet-valve diameter is 26.0 mm with exhaust-valve diameter of 21.5 mm.
Rebel 500 has reduced friction through the inclusion of striations on the piston skirt (a finish that increases surface area, introducing gaps in which oil can flow for better lubrication). An AB 1 salt bath process, used after isonite nitriding, forms a protective oxidization membrane.
Rebel 500 crankshaft pins are phased at 180°, and a primary couple-balancer sits behind the cylinders, close to the bike's center of gravity. The primary and balancer gears use scissor gears, reducing noise. The crank counterweight is specifically shaped for couple-balance and its light weight allows the engine to spin freely, with low inertia.
Rebel 500 crankcases use centrifugally cast thin-walled sleeves. Their internal design reduces the "pumping" losses that can occur with a 180° phased firing order. A deep oil sump holds 3.2 liters.
Rebel 300 is powered by a peppy 286cc single-cylinder engine.
Six-speed gearbox is designed to offer smooth gear changes.
Blacked-out mechanical components for a tough, minimalist look.
Specially designed muffler looks good and emits a pulsating exhaust note.
Honda Accessories
A full range of official Honda Accessories are available for the Rebel 500 and Rebel 300 and help create their own custom look. Available accessories include a stylish main seat, headlight cowl, meter visor, fork cover, and new saddlebag that can be removed without the use of tools and comes with shoulder straps for easy use when you leave the bike.
WARRANTY: Because we are so confident in the quality of each of our Honda Accessories, we are pleased to offer one of the best warranties in the industry. One-year warranty begins on the day accessories are purchased by the customer.
Meets current EPA and CARB standards
California version differs slightly due to emissions equipment
2022 Honda Rebel 300 ABS – Totalmotorcycle.com USA Specifications/Technical Details
US MSRP Price: from $4999 USD
Canada MSRP Price: $ 6199 CDN
Europe/UK MSRP Price: £  NA GBP (On The Road inc 20% Vat)
ENGINE
Engine Type 286cc liquid-cooled single-cylinder four-stroke
Bore And Stroke 76mm x 63mm
Induction PGM-FI
Ignition Full transistorized ignition
Compression Ratio 10.7:1
Valve Train DOHC; 4 valves per cylinder
DRIVE TRAIN
Transmission Six-Speed
Final Drive O-ring-sealed chain
CHASSIS SUSPENSION BRAKES
Front Suspension 41mm fork; 4.8 inches of travel
Rear Suspension Dual shocks with 3.8 inches of travel
Front Brake Hydraulic disc; ABS
Rear Brake Hydraulic disc; ABS
Front Tire 130/90-16
Rear Tire 150/80-16
DIMENSIONS
Rake (Caster Angle) 28° 0′
Trail 4.3 inches
Wheelbase 58.7 inches
Seat Height 27.2 inches
Curb Weight
370 pounds (Includes all standard equipment, required fluids and a full tank of fuelready to ride)
Fuel Capacity 2.9 gallons
Miles Per Gallon
78 MPG – Honda fuel economy estimates are based on EPA exhaust emission
measurement test procedures and are intended for comparison purposes only. Your
actual mileage will vary depending on how you ride, how you maintain your vehicle,
weather, road conditions, tire pressure, installation of accessories, cargo, rider and
passenger weight, and other factors.
OTHER
Model ID CMX300A
Emissions Meets current EPA standards. California version meets current CARB standards and
may differ slightly due to emissions equipment.
Available Colors Matte Gray Metallic, Pearl Blue
FACTORY WARRANTY INFORMATION
One Year Included Transferable, unlimited-mileage limited warranty
Optional Extended Extended coverage available with a HondaCare Protection Plan®
2022 Honda Rebel 300 ABS – Totalmotorcycle.com Canada Specifications/Technical Details
Engine & Drivetrain
Engine Type Liquid-cooled single-cylinder
Displacement 286 cc
Bore & Stroke 76 mm x 63 mm
Compression Ratio 10.7:1
Valve Train DOHC, 4 valves per cylinder
Fuel Delivery PGM-FI electronic fuel injection
Transmission Six-speed
Final Drive #520 O-ring-sealed chain (14T/36T)
Chassis & Suspension
Front Suspension 41 mm telescopic fork; 121 mm (4.8 in.) travel
Rear Suspension Dual shocks (Nitrogen-filled) with five-position spring preload adjustment; 95 mm (3.7 in.) travel
Additional Information
Tires Front: 130/90R-16
Rear: 150/80R-16
Brakes Front: 296 mm disc with two-piston caliper
Rear: 240 mm disc with single-piston caliper
ABS
Seat Height 690 mm (27.2 in.)
Wheelbase 1,490 mm (58.7 in.)
Curb Weight 169 kg (370 lb) including required fluids and full tank of gas—ready to ride
Fuel Capacity 11.2 litres
Colour Mat Axis Gray Metallic
Warranty 12 months, unlimited mileage, freely transferable warranty; extended coverage available with Honda Plus
2022 Honda Rebel 300 ABS – Totalmotorcycle.com European Specifications/Technical Details
NA
Manufacturer Specifications and appearance are subject to change without prior notice on Total Motorcycle (TMW).