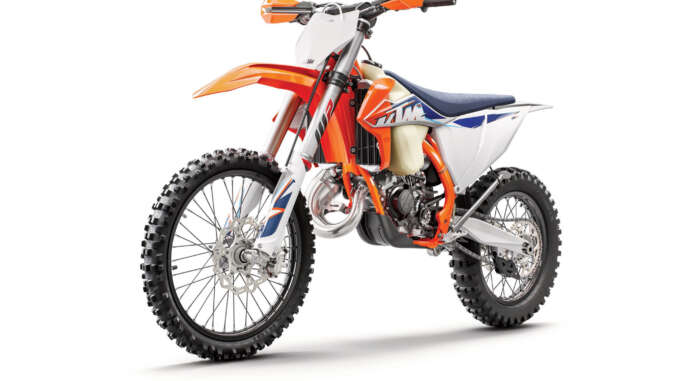 2022 KTM 125 XC: PODIUMS START HERE.
Introducing the 2022 KTM 125 XC…
The KTM 125 XC is the most compact and lightweight of the full-size Cross-Country machines – but don't let that fool you – it's a fighter bar none. Making use of a lightweight Cross-Country specific chassis and the most competitive 125 cc 2-stroke engine in the class, the 2022 KTM 125 XC delivers superior agility and power to fulfill the demands of any young and aspiring Offroad racer. This 2-stroke screamer is the ultimate entry point into the pro Offroad ranks, with factory looks to boot.
THE COMPLETE PACKAGE – CLASS LEADING 2-STROKE MACHINES
KTM's 2021 EXC range includes the most potent and capable 2-stroke enduro weapons available on the market. Refined through years of valuable KTM factory rider feedback, these extreme machines are a result of KTM's unwavering commitment to constant progression. Apart from a dynamic handling chassis, all 2-strokes feature revolutionary TPI (Transfer Port Injection) technology, delivering unrivaled power throughout the entire rev range no matter what the conditions.
OFFROAD POWERHOUSE – CUTTING-EDGE 4-STROKES
KTM refuse to knock down a gear in its mission to make the EXC-F models the most competitive 4-stroke machines on the market today. Low weight, unbeatable torque, efficient engine management, sensitive delivery and even more reliability have been KTM development priorities over the last years. Developed for riders of any skill range, the 2021 KTM EXC-F models are highly-capable race-winning machines across all offroad racing disciplines.
CONQUER THE TRAIL
There has never been a better time to get onto a 2021 KTM ENDURO motorcycle. With a range of models to cater to every experience level, as well as proven pre- and after-sales products, your journey to new extremes starts here.
Engine & Exhaust
Exhaust
There's more to it than 'braaaap!'. The exhaust plays a key role in packing that signature 2-stroke punch. When it comes to power delivery and performance, the exhaust is developed specifically for the KTM 125 XC and plays a key role in packing a punch. In addition, its special shape provides slimmer ergonomics while still operating safely within the noise limits for racing.
Engine
Featuring one of the most competitive and powerful engines in the 125 cc class, now also features a refined gearing of 13:50, giving the 2022 KTM 125 XC improved response out of corners. With an outstanding power-to-weight ratio, low cost, electric start, and overall simplicity, the KTM 125 XC remains a firm favorite in the cross-country paddock. The compact and durable engine was developed using the latest KTM engineering know-how, resulting in broad power across the rev range. Its easy rideability and outstanding performance are benefits that equate to better race results.
Cylinder
At the heart of the 125 cc engine is a cylinder with a 54 mm bore. Making use of a power valve unit with a sophisticated mechanism with lateral support exhaust ports, it increases engine performance, while the upper contour of the exhaust port has been machined to ensure more accurate port timing. The two-component cylinder head works in complete harmony with the cylinder to deliver outstanding performance across the entire rev range.
Crankcases and engine covers
These compact engine cases are manufactured using a high-pressure die-cast production process which helps with weight reduction but maintains strength and durability. This design also allows for optimal shaft arrangements close to the center of gravity, resulting in ideal mass centralization and ride-ability.
Transmission
The 6-speed transmission works perfectly for cross-country duty and provides precise and easy shifting. An advanced ´No Dirt´ gear shift lever design prevents muck from blocking the joint. Because even dirt lovers hate mud when it's in the wrong places.
Carburetor
The KTM 125 XC is fitted with a MIKUNI TMX 38 mm flat slide carburetor. Featuring latest technology reed blocks for the intake it offers optimal function, sealing and reliability, ensuring the whole system is always providing smooth and controllable power throughout the rev range.
Cooling
Keeping the engine cool when the going gets tough comes courtesy of a pair of radiators, mounted close to the center of gravity. These make use of CFD technology (Computational Fluid Dynamics) and clever coolant circuit routing, achieving optimum engine temperature for the highest performance, in all conditions. Above all, the delta distributor, integrated into the frame triangle, features a large center tube for highly efficient coolant flow.
Chassis
Airbox
The easy-access airbox on the KTM 125 XC ensures optimal flow dynamics, thanks to specially designed intake snorkels. This means air is force-fed into the motor, resulting in the perfect balance of power and throttle response. Keeping the air clean, is a large Twin-Air air filter fitted to a rigid cage for ideal placement at all times.
Frame
The KTM 125 XC is built around a high-tech, lightweight chrome-moly steel frame, which provides class-leading levels of handling, rideability, precision, and stability. Designed to take the hardest of hits, the frame itself acts as a shock absorber for the front and rear suspension, soaking up any jumps and jolts. The frame also features an extra-light subframe made of aluminum, which tips the scales at less than 2 pounds, keeping the weight low and the speed stellar.
Swingarm
The cast aluminum swingarm design offers low weight and perfect flex behavior, perfectly complimenting the frame. And being a single-component casting, it eliminates any inconsistencies and inherent weak points created by welding, making it stronger and better looking.
Wheels
The KTM 125 XC is fitted with a lightweight set of high-end wheels, consisting of CNC-machined hubs, Giant rims, and black spokes with aluminum nipples. These are wrapped in Dunlop Geomax AT81, which together, provide maximum, grip, traction, and stability with the absolute and minimum weight.
Front suspension
The KTM XC range features the same 48 mm USD air-sprung WP XACT front forks with AER technology as found on our championship-winning motocross bikes. These are a split fork with separate functions for each leg. That means damping functions are on the right side, whereas the air spring is on the left. This left leg features a 2-chamber system with a capsuled air cartridge to prevent loss of air pressure. The air spring is easy to adjust to any rider weight via a single air valve. No extra special tools are required; the fork air pump is supplied with the bike. The right fork leg integrates a damping cartridge that tailors to all your damping needs. It can be adjusted to the track conditions and the rider's preferences with a twist of a dial.
Rear suspension
Big bumps beware – the WP XACT shock absorber has been developed with the entire frame and swingarm architecture in mind, including the linkage system and the WP XACT front forks. It also features machined and anodized components, making it a truly impressive piece of equipment to look at too.
Triple clamp
High-quality, CNC machined triple clamps keep the handlebars in check via rubber damped fixtures. These also allow for two positions of adjustment, with a handy hour meter fitted alongside so that you know when it's time to give your machine a little TLC.
Brakes
When it comes to bringing this machine to stop, you'll be happy to have high-tech Brembo brake calipers and lightweight wavy discs doing the business. These also take years of competitive racing into account, providing the perfect combination of ideal pad density and steel quality for longevity and consistent feel.
Fuel tank
The KTM 125 XC has a lightweight, see-through polyethylene tank with a capacity of 2.4 gallons. A quick-release filler cap makes for easy and reliable closure. And don't worry about when the gas starts running thin – the aforementioned clear tanks mean you've always got an eye on the fuel level.
Ergonomics & Comfort
Seat
A slim, factory-inspired blue seat finished with grip ribs for improved rider connection and provides the ideal combination of comfort and control.
Handlebar
All KTM XC models are equipped with adjustable, high-strength aluminum tapered handlebars made by NEKEN. These can be mounted in four different positions. Standard with ODI vulcanized grip on the right side and a comfortable ODI lock-on grip on the left, your only worry is hanging on, and letting rip.
Footpegs
Sophisticated ´No Dirt´ footpegs prevent clogging of the footpeg pivot, even when digging in deep ruts. Looking for a higher riding position? Then just mount the footpegs of the EXC models, which are 6 mm higher than the XC versions.
Bodywork & Graphics
Decals
The 2022 KTM XC Range receives a distinctive visual update, taking the bike even closer to the RED BULL KTM FACTORY RACING look, with a new blue seat and the distinctive motorsport finishing touch; the orange frame.
2022 KTM 125 XC – Totalmotorcycle.com International Specifications/Technical Details
US MSRP Price: $7,799 USD
Canada MSRP Price: $9,149 CDN
Europe/UK MSRP Price: £ NA (On The Road inc 20% Vat)
Engine
◼ Transmission 6-speed
◼ Starter Kickstarter
◼ Stroke 54.5mm
◼ Bore 54mm
◼ Clutch Wet multi-disc DS clutch, Brembo hydraulics
◼ Displacement 124.8cm³
◼ EMS Kokusan
◼ Design 1-cylinder, 2-stroke engine
Chassis
◼ Front brake disc diameter 260mm
◼ Rear brake disc diameter 220mm
◼ Front brake Disc brake
◼ Rear brake Disc brake
◼ Chain 5/8 x 1/4″
◼ Frame design Central double-cradle-type 25CrMo4 steel
◼ Front suspension WP XACT-USD, Ø 48 mm
◼ Rear suspension WP XACT Monoshock with linkage
◼ Steering head angle 63.9°
Manufacturer Specifications and appearance are subject to change without prior notice on Total Motorcycle (TMW).