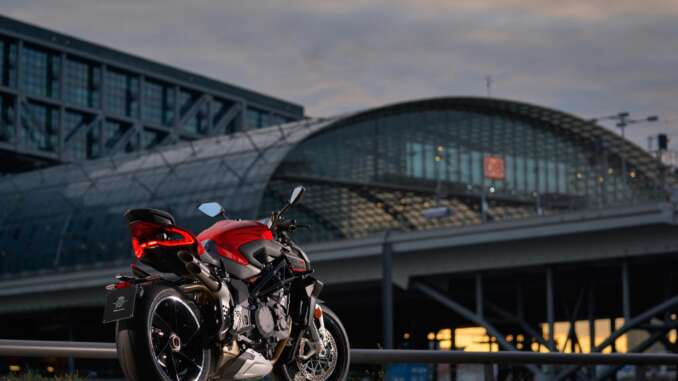 2022 MV Agusta Brutale 1000RS: INDIFFERENCE IS NON-EXISTENT.
Introducing the 2022 MV Agusta Brutale 1000RS…
The MV Agusta Brutale 1000 RS takes all the outstanding features of the Brutale 1000 RR to a more accessible level. The Brutale 1000 RS shares the same platform with the Brutale 1000 RR, the most powerful hyper-naked in the world. Both bikes have in common some stand-out features, such as the engine with titanium connecting rods and radial valves, the frame, the single-sided swingarm as well as the Öhlins electronic steering damper while the manually adjustable fork and single shock absorber are RS's exclusive elements.
BRUTALE 1000 RS
The Marzocchi fork and the Sachs single shock absorber, both adjustable, ensure superior performance in fast riding and meanwhile guaranteeing an excellent comfort when getting around for on-asphalt adventures. The on-board comfort is further enhanced by the the new one-piece saddle featuring a softer padding, not to mention the revised clip-on handlebars – another distinctive trait of the Brutale – which now result raised compared to those of the Brutale RR. The rider can even count on specifically developed footrests, to ensure a rewarding riding position. And it is the unprecedented riding position dedicated to the Brutale 1000 RS that identifies this model as suitable for a wide spectrum of use, which includes, for example, long-distance journeys mixing highway and suburban sections. All this, of course, in the name of performance without however neglecting an eye on comfort.
2022 MV Agusta Brutale 1000RS Totalmotorcycle.com Key Features
• EURO 5 APPROVED LOW FRICTION ENGINE
• REDESIGNED EXHAUST
• NEW IMU INERTIAL PLATFORM
• ABS CONTINENTAL WITH CORNERING FUNCTION
• NEW FRONT AND REAR SUSPENSION
• NEW RIDER FOOTBOARD SUPPORTS
• REDESIGNED FOOTPEGS
• NEW SEAT
CHASSIS
• MARZOCCHI FRONT FORK AND SACHS REAR SHOCK ABSORBER WITH NEW SETTINGS TO IMPROVE RIDING PRECISION
• ÖHLINS ELECTRONIC STEERING DAMPER
• RAISED CLIP-ON HANDLEBARS TO IMPROVE RIDING ERGONOMICS
• NEW, MORE COMFORTABLE SINGLE RIDER SEAT WITH DUAL DENSITY FOAM
• NEW REAR-VIEW MIRRORS TO IMPROVE VISIBILITY
• NEW REAR WHEEL
• NEW FORGED RIDER FOOTPEG SUPPORTS
• NEW FORGED FOOTPEGS TO IMPROVE GRIP
ADVANTAGES:
COMFORT, STABILITY, AGILITY AND SAFETY. FASTER AND SAFER
ENGINE
• NEW SINTERED VALVE GUIDES AND DLC COATED TAPPETS TO REDUCE FRICTION
• TITANIUM CONNECTING ROD
• 16 RADIAL TITANIUM VALVES
• NEW CAM PROFILES TIMING TO OPTIMISE TORQUE CURVE
• MODIFIED EXHAUST COLLECTOR TO IMPROVE ENGINE TUNING
ADVANTAGES:
BETTER OPERATION AND RELIABILITY, IN FULL COMPLIANCE WITH EURO 5 REGULATIONS
ELECTRONICS
• NEW ABS MK100 CONTINENTAL MODULE WITH CORNERING FUNCTION FOR CONSTANT SAFETY EVEN IN CURVES
• NEW INERTIAL PLATFORM
• NEW COLOUR 5.5" TFT DASHBOARD
• MOBISAT TRACKER
• GPS AND BLUETOOTH
• MV RIDE APP
• NAVIGATOR INTEGRATED IN THE DASHBOARD
• FULL LED LIGHTING
• FRONT LIFT CONTROL
• LAUNCH CONTROL
• CRUISE CONTROL
• NEW EAS 3.0 ELECTRONIC GEAR SENSOR
ADVANTAGES:
A BETTER FEELING RIDE. THE ADVANCED ELECTRONICS MAKES RIDING EASIER, MORE INTUITIVE AND SAFER
2022 MV Agusta Brutale 1000RS Totalmotorcycle.com Features and Benefits
DESIGN. INSPIRED
The history of Brutale is deeply rooted in the creative force of Massimo Tamburini, the ingenious designer who revolutionised the very idea of sports bikes. Today, the same visionary spirit of that design takes shape in the new Brutale, which maintains its exquisite beauty while boasting valuable technical advancements.
FEEL THE POWER OF SOUND
Technology and power. MV Agusta's straight four engine—one-of-a-kind in the world thanks to its radial valves—is reborn in a new revised version after the extraordinary commitment of our Italian technicians. The choice of materials, with titanium rods and valves, was just one of the areas of improvement. Friction has been reduced thanks to new gears. The transmission has been strengthened and made even more accurate and efficient.
ALWAYS SAFE
Our aspiration towards high performance also influenced the electronics. The new inertial platform enabled us to further refine the responsiveness of the traction and front-lift control. The Brutale 1000 RS unites safety and performance in perfect harmony, allowing you to enjoy your riding experience in a variety of conditions, whether on the racetrack or on the road.
CONNECTED
One of the most prized aspects of the Brutale 1000 RS is the usability of the rider interface, which boasts a 5.5" TFT screen, intuitive electronic controls and, most importantly, the MV Ride app. The app allows you to adjust numerous electronic parameters according to the usage conditions and rider preferences. Not to mention the navigation features and the ability to save your journeys, which can then be shared on social media.
SAFETY
The state-of-the-art equipment of this model is rounded off by Continental ABS with cornering, vital for ensuring anti-locking even on the turns. The braking system stands out for its power and ease of use: built by Brembo and equipped with 320 mm diameter discs, Brembo Stylema calipers and radial pump for handlebar control.
ENGINE, UNSTOPPABLE IMPROVEMENT
The 4-cylinder engine with radial valves, an exclusive element of the MV Agusta models not only within the segment but throughout the current motorcycle scene, continues its development path through the improvement of components aimed at reducing internal friction.
The new MV Agusta Brutale 1000 RS is powered by an extraordinary engine, which adopts high-end materials. A clear example of this is the titanium connecting rods, a one-of-a-kind solution within the naked segment. Titanium is also used for both the intake and the exhaust valves, thus underlining a technical setting that improves output and boosts torque, worthy of a true superbike. The central timing chain is the latest evolution of what was developed on the 1000 RR. It adopts a further optimised camshaft timing and aimed at making the torque curve at med-low revs even more effective. The use of the DLC (Diamond Like Carbon) coating for the valve control tappets reduces friction and enhances reliability. This goal is achieved also thanks to the use of specific gears for the primary drive; the whole transmission is particularly resistant and reliable, especially in
the extreme starts guaranteed by Launch Control. The third generation EAS 3.0 (Electronic Assisted Shift) sees the introduction of an additional sensor, to ensure more precise and smoother shifting. The four-outlet exhaust, an unmistakable MV Agusta stylistic touch, is characterized by the sound-design of the main manifold, which emphasizes the immediately recognizable Brutale tone, in full compliance with the Euro 5 regulations.
ELECTRONICS PACKAGE, MORE COMPLETE THAN EVER
State-of-the-art electronics of the new Brutale 1000 RS is the fruit of a relentless development activity. The new IMU detects the motorcycle position in space and in real time, providing the control units with truly reliable data.
This means an extremely precise and effective management of all controls. Thanks to this platform, the FLC (Front Lift Control) traction and wheelie controls protect the safety of the rider, while the system remains "performance-oriented", offering maximum acceleration in the specific conditions of use. The FLC, in particular, takes the wheelie under control instead of entirely preventing it, with the added benefit to improve perfor mance and riding pleasure.
The new cornering ABS uses the MK100 Continental system, ensuring the best braking control even when cornering, and preventing low side crash. The 5.5" TFT panel, extremely complete and able to communicate with the MV Ride App, allows to set all the bike parameters directly from the smartphone; it also offers many exclusive features, such as the recording and sharing of route itinerary. Thanks to the mirroring function, it is possible to use the RS instrumentation with turn-by-turn navigation. Each function is easily accessible through the joystick positioned on the left block. Moreover, the TPMS tyre pressure monitoring sensor is available as an option.
FRAME, MORE COMFORT AND EFFICIENCY
Radical. Compact. Extremely light. The MV Agusta Brutale 1000 RS chassis is largely shared with the Brutale 1000 RR, and this consequently places this bike at the top of the hypernaked segment.
Some specific changes to the set-up make it extremely enjoyable to ride, even along winding roads. With the new MV Agusta Brutale 1000 RS versatility meets ease of use. The adoption of mechanical suspensions, namely the Marzocchi fork and the Sachs single shock absorber, represents the optimal formula capable to cover a variety of use. The suspension adjustment range is wide and offers the rider the possibility to effectively customise the setting, according to his own taste and riding situation; ease of adjustment represents another strong point of the components selected for this model.
2022 MV Agusta Brutale 1000RS – Totalmotorcycle.com Specifications/Technical Details
US MSRP Price: $ See Dealer for Pricing in USD
Canada MSRP Price: $ See Dealer for Pricing in CDN
Europe/UK MSRP Price: €25500 Euro
ENGINE
Type Four cylinder, 4 stroke, 16 valve
Timing system "D.O.H.C", radial valve and DLC tappet
Total displacement 998 cm3 (60.9 cu. in.)
Compression ratio 13.4:1
Starting Electric
Bore x stroke 79 mm x 50.9 mm (3.1 in. x 2.0 in.)
Max. power – r.p.m. (at the crankshaft) 153,0 kW (208 hp) at 13.000 r.p.m.
Max. torque – r.p.m. 116,5 Nm (11,9 kgm) at 11.000 r.p.m.
Cooling system Cooling with separated liquid and oil radiators
Engine management system Integrated ignition – injection system MVICS 2.1
(Motor & Vehicle Integrated Control System) with eight injectors (4 lower fuel injectors by Mikuni +
4 upper fuel injectors by Magneti Marelli with
increased fuel flow). Engine control unit Eldor Nemo 2.1, throttle body bore 50 mm diameters
full ride by wire Mikuni, pencil-coil with ion-sensing
technology, control of detonation and misfire
Torque control with four maps. Traction control with 8 levels + off and wheelie control with inertial
platform
Electronic quick-shift MV EAS 3.0 (Electronically Assisted Shift Up & Down)
Clutch Wet, multi-disc with back torque limiting device
and Brembo radial pump/lever assembly
Transmission Cassette style; six speed, constant mesh
Primary drive 48/82
Gear ratio
First gear 14/37
Second gear 16/33
Third gear 18/31
Fourth gear 20/30
Fifth gear 22/29
Sixth gear 21/25
Final drive ratio 15/41
ELECTRICAL EQUIPMENT
Voltage 12 V
Alternator 350 W at 5.000 r.p.m.
Battery Li-ion 12 V – 4.0 Ah
DIMENSIONS AND WEIGHT
Wheelbase 1.415 mm (55.71 in.)
Overall length 2.080 mm (81.89 in.)
Overall width 805 mm (31.69 in.)
Saddle height 845 mm (33.27 in.)
Min. ground clearance 141 mm (5.55 in.)
Trail 97 mm (3.82 in.)
Dry weight 186 kg (410.06 lbs.)
Fuel tank capacity 16 l (4.23 U.S. gal.)
PERFORMANCE
Maximum speed* over 300 km/h (186 mph)
FRAME
Type CrMo Steel tubular trellis
Rear swing arm pivot plates material Aluminium alloy – Adjustable swingarm pivot height
FRONT SUSPENSION
Type Marzocchi "UPSIDE – DOWN"
telescopic hydraulic fork with adjustable
rebound-compression damping and
external spring preload.
Fork dia. 50 mm (1.97 in.)
Fork travel 120 mm (4.72 in.)
REAR SUSPENSION
Type Progressive Sachs, single shock absorber
with rebound and compression
(High speed/Low speed) damping and spring
preload adjustment
Single sided swing arm material Aluminium alloy
Wheel travel 120 mm (4.72 in.)
BRAKES
Front brake Double floating disc with Ø 320 mm (Ø 12.6 in.)
diameter, with steel braking disc and aluminium flange – Brembo radial pump/level assembly
Front brake caliper Brembo Stylema radial-type, single-piece with
4 pistons Ø 30 mm (Ø 1.18 in.)
Rear brake Single steel disc with Ø 220 mm (Ø 8.66 in.) dia.- Brembo PS13 brake pump
Rear brake caliper Brembo with 2 pistons Ø 34 mm (Ø 1.34 in.)
ABS System Continental MK100 with RLM (Rear Wheel Lift-up Mitigation) and with cornering function
WHEELS
Front: Material/size Aluminium alloy 3,50" x 17"
Rear: Material/size Aluminium alloy 6,00" x 17"
TYRES
Front 120/70 – ZR 17 M/C (58 W)
Rear 200/55 – ZR 17 M/C (78 W)
FAIRING
Material Thermoplastic
CONTENTS
Steering damper Öhlins EC with electronic manual and automatic
adjustment modes
Exclusive features Light crankshaft – New combustion chamber
Titanium connecting rods – Dashboard TFT 5.5" color display – Cruise control – Bluetooth GPS
MV Ride App for navigation mirroring, app-
controlled engine, suspension and rider aids setup – Launch Control FLC Front lift control
Mobisat tracker
OPTIONAL
The full Special Parts range is available on the
MV Agusta website
EMISSIONS
Environmental Standard Euro 5
Combined fuel consumption 6.8 l/100 km
Manufacturer Specifications and appearance are subject to change without prior notice on Total Motorcycle (TMW).