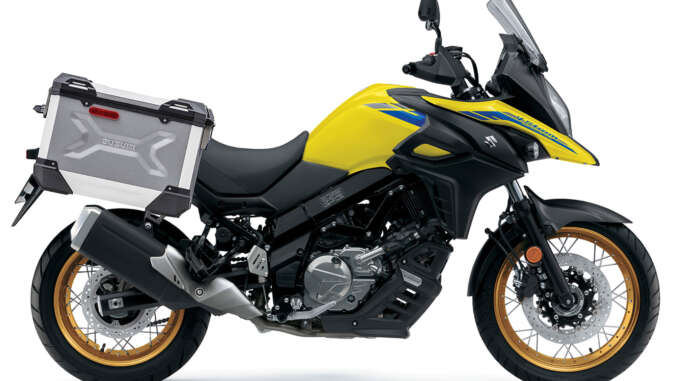 2022 Suzuki V-Strom 650XAA: MORE ADVENTURE, SIMPLY MORE V-STROM.
Introducing the 2022 Suzuki V-Strom 650XAA…
The V-STROM 650XAA builds on the comfort, flexibility and performance of the DL650XA model, with the added Adventure Kit.
Renowned for its versatility, reliability and value, the V-STROM 650 has attracted many riders who use it for touring, commuting, or a fun ride when the spirit moves them. It is a touchstone motorcycle balanced with a natural riding position, comfortable seat and a flexible engine character that produces stress-free riding during brief daily use or a high-mile adventure.
The V-STROM 650XA/A features spoke style wheels with coordinated rim colour, knuckle guards, and engine under cowling, and a side case set.
The V-STROM has increased engine performance and great fuel economy while achieving worldwide emission standards. A number of other updates, including weight savings, a thinner chassis, and some adventure-ready extras has resulted in a V-STROM that is more versatile, more controllable, and more accessible to elevate its total performance so it's simply "More V-STROM". And that's what a rider wants; more of a good ride.
2022 Suzuki V-Strom 650XAA Totalmotorcycle.com Key Features
EXPLORATION HAS NO LIMITS
Let's you freely escape into the wilderness and explore to your heart's content. A sleek look with the latest features allows for a smooth and comfortable ride. Limitless potential to continue your adventure. Ride on my friend. The new generation V-STROM is always by your side.
2022 Suzuki V-Strom 650XAA Totalmotorcycle.com Features and Benefits
ADVENTURE KIT
Adventure Kit includes Aluminum side cases, mounting brackets, mirror extensions, handlebar brace and bar end weights.
EQUIPPED FOR ADVENTURE
Unique to the V-STROM 650XA are the knuckle covers to support harsh condition riding, and the engine under cowling to give the rider that extra adventure feel, both as standard equipment.
ADVANCED TRACTION CONTROL SYSTEM
Inheriting the favoured traction control system from the V-Strom 1000, the V-Strom 650/XT also is equipped with this advanced technology. This system continuously monitors the front and rear wheel speeds, throttle position, crank position, and gear position with various sensors, and controls the engine output by managing the ignition timing and air delivery. The traction control system can be switched to either of two modes, or off. The modes differ in terms of sensitivity. Mode one allows modest rear wheel spin for more advanced, exhilarating riding, while mode two activates traction control at the slightest loss of rear-wheel grip to give you greater confidence on slippery surfaces or in the rain. The choice of modes can be quickly and easily made by selecting the traction control mode from the left switch cluster and confirming it with a glance at the instruments. In difficult riding situations such as cold or ragged road surfaces, fully loaded with luggage, or with a pillion rider, this advanced system already established on the V-Strom 1000 shall back up the ride.
Note: Traction control system is not a substitute for rider's throttle control under the various conditions, and traction control cannot prevent loss of traction due to excessive speed when entering turns, or while braking, and it does not control front-wheel traction.
RICH INFORMATION TO SUPPORT MULTIPLE TASKS
By sharing the easy to see and easy-to-operate/understand instrument cluster, along with the cowling image with its bigger brother, the V-STROM 650 has rich information with a quality design. The instrument cluster incorporates a large analogue tachometer and digital readouts for the gear position and speedometer. The digital section below displays the odometer, twin-trip meter, clock, fuel level, coolant temperature, ambient temperature, battery voltage, range on remaining fuel, average and instantaneous fuel consumptions, and traction-control modes. The remaining fuel range continues to display after the fuel gauge shows empty, offering the rider with accurate and comforting information. Plus, instantly recognizable LEDs provide freeze*, high-beam, neutral, malfunction indicator lamp (MIL), ABS, traction-control mode, and water-temperature indicators. All of this information is accessible from the left handlebar switch, where it is also possible to reset the trip meter.
*The freeze indicator starts blinking when the ambient temperature falls below 3°C. It continues to blink for 30 seconds then remains lit until the ambient temperature rises above 5°C.
ABS-EQUIPPED BRAKE SYSTEM
Equipped with 310mm diameter twin discs with twin two-piston callipers on the front and a 260mm diameter single disk with a single-piston calliper on the rear, the V-STROM 650 provides controllable and dependable stopping performance. Also, the compact and light-weight ABS, to avoid wheel lock caused by excess hard braking, has been upgraded to the next generation with advanced settings for a further natural feel and secure activation.
Note: ABS is not designed to shorten the braking distance. ABS cannot prevent wheel skidding caused by braking while cornering. Please drive carefully and do not overly rely on ABS.
LOW RPM ASSIST
By adopting the Low RPM assist system, the concern of an unexpected engine stall has been relieved. This system will automatically raise the idle speed when engaging the clutch or when riding at low rpms, assisting frequent clutch work in congested town rides and preventing sudden and unexpected engine stall when running in the low rpm range.
SUZUKI EASY START SYSTEM
Conventional starter switches needed to be pressed by the rider until the engine starts, but the V-STROM 650 has adopted the Suzuki Easy Start System enabling the engine to start with one push of the button. A computerized ECM checks the status and disengages the starter motor immediately after start, making the engine start easier for the rider.
SOPHISTICATED V-TWIN PERFORMANCE
The 645cm 3 DOHC V-twin is a masterpiece of Suzuki engineering which has an evolving history. For the V-STROM 650, this unit has been tuned for ample low to mid-range torque for practical use while maintaining an exhilarating top-end. The unit meeting emission standards has undergone a rebuild, installing technology such as the resin-coated pistons, and revising over 60 components of the engine to achieve a higher output in a broad area of the rev-range while keeping the unique V-twin character with low fuel consumption. With low fuel consumption combined with the large 20L fuel tank, the riding rage between fill-ups are at the top in this class, relieving the rider from the stress of frequent refueling. The further evolved engine has succeeded in emphasizing the attractions of the V-STROM 650 character, making it another masterpiece by Suzuki.
SUZUKI DUAL THROTTLE VALVE (SDTV) FUEL-INJECTION SYSTEM
Featuring the performance-proven Suzuki Dual Throttle Valve (SDTV) injection system, each cylinder has two butterfly valves for enhanced power output and efficiency. One butterfly valve is directly linked to the riders throttle control while the other butterfly valve is controlled by the ECM and operates according to information from the throttle position sensor, engine speed sensor and gear position sensor for optimum intake flow, realizing an efficient and smooth power delivery with ample torque at low revs. Idle speed control is also a feature, supporting a steady idle speed and fewer emission. The injectors have been upgraded to a 10-hole type with a long nozzle for further efficiency.
RESIN COATED PISTONS
One of the upgraded features in the 645cm3 unit are the resin-coated pistons which is a coating technology to decrease friction in the cylinder, resulting in improved fuel economy and corresponding to latest emission control. Special L-shaped piston rings are also installed for enhanced sealing performance and blow-by gas reduction, all resulting in meeting up-to-date regulations while improving the output and the ease of use.
CAMSHAFTS FOR A DISTINCTIVE POWER FEEL
For the unique character of the V-Strom 650, the engine needs to be strong not only at the top end but at the frequently used low to mid-range. To meet these demands, the engine has an original intake camshaft with equally lengthened intake ports, while for the exhaust camshaft, has adopted the item from the SV650 road model which are higher lifting compared to the previous V-Strom 650. These features and a total set-up has resulted in a boost in torque and power in the mid to high rev-range, providing the rider with an exciting ride when with a sporty mind, and a stress-free character for daily rides or on a long haul, simply enhancing the attractions of this 650.
LIGHTER AND LOWER EXHAUST SYSTEM
The down-type exhaust system is lighter and closer to the center of gravity, contributing to nimble handling while being able to accommodate the slim and smart optional luggage system.
The catalyzers have been positioned in a tandem configuration achieving the required level of emission control for Euro4 emission standards, while successfully gaining exhaust efficiency to boost the output.
THE V-STROM FAMILY
With the design concept "Design is in our DNA", the V-STROM 650 has a solid and smart look, in kin to its 1037cm3 brother bringing the V-STROM family together. Suzuki's original "Beak" style has been further emphasized by making it a straight line from the tip to the top of the tank, expressing the DNA from the DR-BIG and the desert racer DR-Z. The heritage and history of Suzuki's adventure models are further expressed, giving the owners pride of ownership.
HEADLIGHTS AND TAIL LIGHT
Contributing in giving the V-Strom 650 image is the headlights and tail light, a common feature with the V-Strom 1000. The high and low beam of the light weight headlight is in a compact vertical configuration and realize brightness equivalent to the previous twin headlights, while when on high beam, both low and high bulbs illuminate providing a broader lit up area. The featured LED tail light, also in kin with its bigger brother, has a high visibility and contributes to weight savings.
SLIMMER TANK, WITH A 20L CAPACITY
The slimmer and smarter tank holds a capacity of 20L, realizing a long riding range combined with the excellent fuel consumption. Also by eliminating the plastic covers on both sides of the tank from the previous model, the tank has become slimmer and is able to accommodate magnetically attachable tank bags. The frame covers which wore positioned directly underneath the seat on the previous model have been slimmed down as well, allowing the rider to reach straight down to the ground, resulting in better access to the ground and more confidence.
WHEELS AND TIRES
Ten spoked cast aluminum wheels/colour coordinated spoke style wheels are an eye-catching feature for the V-Strom 650. Not only do they give a sporty image in kin to its V-Strom 1000 brother in the Suzuki Adventure model family, tracking back to the DR-BIG and DR-Z, but improves the road holding ability and reduces weight. The V-Strom 650A/XA/XAA features tubeless tire applicable wire spoked wheels which absorb shock from the road better due to the flexible character of spokes, providing the rider with further comfort and exhilarated riding pleasure. Wheel sizes are 19-inch on the front and 17-inch on the rear, realizing the perfect balance of stable and nimble handling, and installed tires are the stability and grip level heightened Bridgestone BATTLAX ADVENTURE A40, specially developed for the V-Strom 650.
SUPPLE SUSPENSION
Flexible and comfortable conventional telescopic forks have a forgiving character, allowing stress-free long-distance rides to an exciting run on twisty roads. The rear suspension is equipped with rebound adjustment and a remote preload adjuster which can be operated by hand allowing the rider to quickly setup the suspension to match the riding style or in a case of two-up riding or with a full load of luggage without any tools needed.
2022 Suzuki V-Strom 650XAA – Totalmotorcycle.com USA Specifications/Technical Details
US MSRP Price: $NA USD
Canada MSRP Price: $12399 CDN
Europe/UK MSRP Price: £ GBP (On The Road inc 20% Vat)
NA
2022 Suzuki V-Strom 650XAA – Totalmotorcycle.com Canada Specifications/Technical Details
ENGINE
Type 4-stroke, liquid-cooled, DOHC 90 degree V-Twin
Displacement 645cc
Bore x Stroke 81.0 x 62.6 mm (3.2 x 2.5 in.)
Compression Ratio 11.2: 1
Fuel System Suzuki Fuel Injection, SDTV-equipped
Starter Electric
Lubrication Wet sump
Ignition Electronic ignition (Transistorized)
ELECTRONICS
Traction Control Three mode Traction Control System (1, 2, and OFF)
ABS Suzuki Anti-lock Brake System
DRIVE TRAIN
Transmission 6-speed constant mesh
Clutch Wet, multi-plate type
CHASSIS
Length 2275 mm (89.6 in.)
Width 910mm (35.8 in)
Height 1,405mm (53.3 in)
Wheelbase 1560 mm (61.4 in.)
Seat Height 835 mm (32.9 in.)
Curb Mass 216kg (476 lbs)
Suspension Front Telescopic, coil spring, oil damped
Suspension Rear Link type, single shock, coil spring, oil damped
Brakes Front Tokico 2-piston calipers, Disc, twin
Brakes Rear Nissin, 1-piston, Disc single
Tires Front BATTLAX, 110/80R19 M/C (59V) tubeless
Tires Rear BATTLAX, 150/70R17 M/C (69), tubeless
Fuel Tank 20.0 L
WARRANTY
12 Month unlimited mileage limited warranty
2022 Suzuki V-Strom 650XAA – Totalmotorcycle.com European Specifications/Technical Details
NA
Manufacturer Specifications and appearance are subject to change without prior notice on Total Motorcycle (TMW).