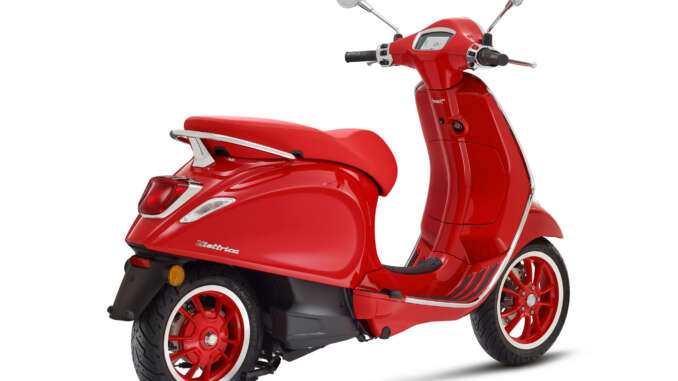 2022 Vespa Electtrica Red: THE ELECTRIC MOBILITY REVOLUTION.
Introducing the 2022 Vespa Electtrica Red…
Vespa Elettrica is the latest icon of Italian technology. It is synonymous with advanced connectivity and quiet operation, customization and accessibility, respect for the environment and unique style. Vespa has always embodied these values, which are now fully expressed with Vespa Elettrica, confirming the company's status as a brand that has always been ahead of its time.
With its easy, or rather, natural ride, Vespa Elettrica is the ultimate expression of Piaggio Group research into electric mobility. The group aims to respond to growing environmental concerns, providing technological solutions for an increasingly sustainable and livable urban habitat.
An eco-friendly soul that helps cities breathe combines with iconic Vespa elegance to create two-wheeled mobility that is shaping the future of our roads.
A contemporary work of art with an electric heart that is not only revolutionising two-wheeled mobility but bringing a vibrant new sense of energy to the road.
2022 Vespa Electtrica Red Guide Totalmotorcycle.com Key Features
(VESPA ELETTRICA)RED
 VESPA ELETTRICA, A MODERN TECHNOLOGICAL ICON, IS DRESSED ENTIRELY IN (RED) TO SUPPORT THE GLOBAL FUND AGAINST PANDEMICS
 A STRONG MESSAGE OF AWARENESS, RESPONSIBILITY AND UNITY
2022 Vespa Electtrica Red Guide Totalmotorcycle.com Features and Benefits
The partnership between the Piaggio Group and (RED) sees the creation of (VESPA ELETTRICA)RED, which is presented at EICMA 2021 dressed entirely in red, just like all the iconic products with which (RED), the association founded in 2006 by Bono and Bobby Shriver, contributes to supporting the activities of the Global Fund, one of the world's largest supporters of global health.
In addition to its efforts in the fight against AIDS, (RED) now joins the fight against the COVID-19 pandemic and its devastating effects on the most vulnerable communities. To date, Global Fund aid to which (RED) has contributed has topped 700 million dollars, helping more than 220 million people around the world.
Since 2016, Vespa is the only two-wheel brand selected by (RED) to contribute to such a noble cause. Following on from (VESPA 946)RED in 2017 and (VESPA PRIMAVERA)RED in 2020, Vespa Elettrica is the third exclusive product to result from this important collaboration, embodying more effectively than any other the common values of attention to health and respect for the environment and the planet.
In its (RED) branded version, Vespa Elettrica does away with the special silver finish that usually distinguishes it to wear a full red 'outfit', comprising red steel body and saddle, and red painted wheel rims with a diamond edge. The trim is completed with chrome finishes, visible around the edge of the shield, in the steering cover embellishments, and on the crest of the front mudguard.
Vespa and (RED) share the conviction that we can each play a part in the fight against pandemics and can all help to steer the change. Those buying (VESPA ELETTRICA)RED therefore take concrete action in that, for every vehicle sold, $100 USD will be donated to the Global Fund to contribute to the battle to defeat AIDS and pandemics.
Simple to recharge
The battery charger, stored beneath the seat, can be fully recharged in 4 hours. Both the engine and battery require no maintenance.
Clean energy
The Piaggio electric brushless engine with its modern lithium-ion battery uses the efficient Kinetic Energy Recovery System (KERS) to recharge during deceleration.
Customise your own futuristic style
The distinctive silvery-grey silhouette is accented with details in a choice of two stylish colors that know how to bring the best out of the unmistakable Vespa design.
Fun and connectivity
The Vespa MIA multi-media system connects your smartphone to your bike via bluetooth so that the display becomes an extension of your phone.
Listen to the sounds of nature
With the Vespa Elettrica, you can navigate the urban streets in absolute silence, whether you choose Eco energy-saving mode or opt to push the engine by selecting Power. Either way, as you glide around town, the complete absence of acoustic pollution will ensure you appreciate the smooth riding experience to the max.
Get around without a care
Every detail of the Elettrica has been designed to make life simple, from riding to recharging to maintenance. The Reverse option is most definitely a helpful addition, and you can easily recharge your Elettrica by connecting the underseat cable to wall-mounted electrical sockets or public charging stations. When it comes to reliability, you can count on the engine and high-quality lithium-ion battery.
Enjoy infotainment on the go
The digital color TFT dashboard provides all your riding parameters as well as useful trip statistics to help you get the best out of your riding style. The Vespa MIA multi-media app connects your smartphone to the bike via Bluetooth so that the display essentially becomes an extension of your phone, meaning you can use it in total safety, without taking your hands off the handlebar.
Reinvent your style
When you're considered an innovative role model, you need to always stay a step ahead. Vespa offers four color schemes and two versions of the Elettrica with its new silver-plated look, each able to be customised to reflect the rider's style. For urbanites, there is the 30 mph option, whilst riders who are looking for greater power can enjoy up to 45 mph.
2022 Vespa Electtrica Red Guide – Totalmotorcycle.com Specifications/Technical Details
US MSRP Price: $ USD
Canada MSRP Price: $ CDN
Europe/UK MSRP Price: £ See Dealer GBP (On The Road inc 20% Vat)
POWER UNIT Piaggio Group
CONTINUOUS POWER 3.5 kW
MAXIMUM POWER 4 kW
MOTOR TORQUE 200 Nm (at the wheel)
BATTERY VOLTAGE 48 V
BATTERY CAPACITY 86 Ah
BATTERY ENERGY 4.2 kWh
CELL LG Chem
RECHARGE TIME 4 h*
BATTERY LIFE 1,000 cycles (residual capacity 80%)
MAXIMUM SPEED 30mph
BATTERY WEIGHT 25 kg
ENERGY RECOVERY Yes
FRONT TYRE 110/70 – 12"
REAR TYRE 120/70 – 11"
FRONT BRAKE Ø 200 mm disc
REAR BRAKE Ø140 mm drum
BRAKING SYSTEM –
WHEELBASE 53.14 in
LENGTH 73.62 in
WIDTH 28.93 in
HEIGHT 45.27 in
SADDLE HEIGHT 31.10 in
WEIGHT (WITH BATTERY) 286.6 lbs
*minimum recharge time with 220 V power
Manufacturer Specifications and appearance are subject to change without prior notice on Total Motorcycle (TMW).