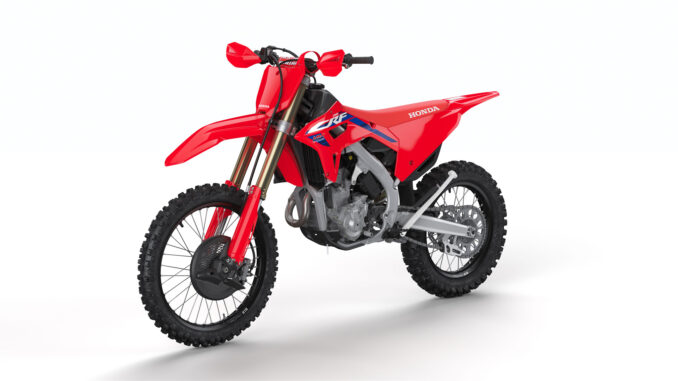 2023 Honda CRF250RX: TRAIL-READY MOTOCROSS PERFORMANCE.
Introducing the 2023 Honda CRF250RX…
Talk about the best of both worlds: the 2023 Honda CRF250RX gives you motocross performance in a bike that's specially tailored to desert races, enduros, and demanding trails. Tailored how? With different gearbox ratios, an 18-inch rear wheel, special engine settings, handguards, a sidestand, a larger fuel tank, and more. We gave this bike a major upgrade last year, and it's been racking up trophies ever since. Like the pure-motocross CRF250R, the RX features a double-overhead-cam engine, fuel injection, an all-aluminum chassis, and state-of-the-art Showa suspension. Anyplace where power, precision, light weight and nimble handling is at a premium, this is the bike you'll want to be riding. And to make the whole package even better, it's eligible for our Red Rider Rewards contingency program.
Now in its second generation, the CRF250RX is an excellent choice for professional closed-course off-road racers, with SLR Honda's Tallon LaFountaine having raced it to the 2021 AMA NGPC Pro II National Championship and the WORCS Pro 250 title. Also campaigned in GNCC and U.S. Sprint Enduro competition by Phoenix Racing Honda riders Cody Barnes and Ruy Barbosa, the model is based on the motocross-focused CRF250R, but tailored for woods racing, off-road grand prix competition, desert racing and trail riding in legal off-road areas, thanks to application-specific features that provide appropriate suspension performance, power delivery, fuel range, hand protection and convenience.
Base Features
Dunlop Geomax tires

 

249cc liquid-cooled DOHC single-cylinder engine

 

Fuel injection

 

Electric starter

 

High-capacity resin fuel tank

 

Handguards

 

Five-speed transmission

 

Sidestand

 

HRC launch control
HIGH PERFORMANCE HOT SHOT
The CRF250RX is the off-road tool you've always wanted. It's a high-performance trail/enduro hot shot, now with the lightweight chassis of the CRF450RX and more engine torque, built to exploit all the advantages a 250 offers; manoeuvrability and nimble agility.
Honda CRF250RX HIGH PERFORMANCE – READY FOR THE TOUGH STUFF
Ride easier. And faster.
The CRF250RX now has the same HRC-developed chassis as the CRF450RX. Its 249.9cc DOHC engine's legendary top-end power is bolstered by strong mid-range torque and now, even stronger bottom-end drive. But it also has new steering geometry and Showa suspension re-set for use away from the MX track, an 18-inch rear wheel, larger fuel tank, knuckle guards and sidestand. So, when the going gets really tough – or tight and technical – and where bigger bikes become difficult and simply wear you out, this motorcycle shines. Its power delivery keeps you moving forward while the chassis finds all the grip there is. And helps you use it. The CRF250RX makes fast, easy.
PERFORMANCE ADVANTAGE
Lighter. Stronger. Ready for any challenge you have.
Riding off-road is a passion. Your passion. Maybe it's just at the weekend after a busy work schedule – you, some friends, a destination. The trail might be easy or hard; forest tracks, deep muddy ruts or technical climbs. Maybe it's all that – and more – in a day. But this is what the new CRF250RX is built for. It finds front and rear grip that will get you through, backed up by an engine that drives hard, everywhere. And because it's so light, it is so easy to manage, all day. Of course, the features that make it so fun to ride also make it a potent tool in the hands of an enduro racer, amateur or professional. Because when it comes to overcoming obstacles, whatever the terrain, this motorcycle has the pure DNA of the CRF250R. Or, as it's more commonly known, a performance advantage.
2023 Honda CRF250RX Totalmotorcycle.com Features and Benefits
MODEL-SPECIFIC FEATURES
Compared to the CRF250R motocrosser, the CRF250RX has the following differences:
A resin 2.1-gallon fuel tank (instead of the R model's 1.7-gallon titanium cell), providing enough range to compete in closed-course off-road competition.
Both front and rear suspension have dedicated settings developed specifically for closed-course off-road application, for improved compliance over technical terrain like rocks and roots.
The CRF250RX's ECU features a different fuel-injection map, with settings that deliver a smooth spread of power, maximizing traction in slippery, off-road conditions.
Whereas the CRF250R has a 19-inch rear wheel, that of the CRF250RX is an 18-inch size, for a taller tire sidewall that better absorbs obstacles typically encountered off-road. In addition, front and rear tires are Dunlop Geomax AT81, which offer all-around performance plus high levels of ruggedness for off-road racing and riding.
The CRF250RX comes standard with plastic hand guards, to help fend off trailside bushes and brush. It also has an aluminum side stand, which facilitates parking away from the pits but tucks out of the way when not in use.

ENGINE / DRIVETRAIN
The CRF250RX's 249cc liquid-cooled, single-cylinder, double-overhead camshaft four-valve engine design achieves excellent performance and durability. Low rpm torque is maximized through the design of the air intake, valve timing and exhaust port, but strong top-end power is also on tap.
Intake
The shape of the airbox results in a large capacity, particularly on the clean side of the air filter. The fuel injector's lean angle is 60 degrees, enabling the spray to reach all the way to the back of the butterfly, and the throttle bore is 44 mm. Together these features cool the intake charge, maximizing air-intake efficiency and torque at low revs. The air filter features a spring-loaded clip design for easy serviceability.
Head
The cylinder head features four titanium valves (33 mm intake and 26 mm exhaust), with the former using dual springs (one inside the other) to ensure precise movement at higher revs. The intake camshaft sprocket is press-fit, which enhances valve-timing accuracy while minimizing weight.
The camshaft holder has a rigid design that maintains camshaft-journal roundness, contributing to timing accuracy and minimizing friction at high rpm. Durability at high engine speeds is maximized by a high flow of lubrication to the oil-supply journal and the cylinder head. The bore and stroke are 79.0 mm and 50.9 mm, respectively, and the compression ratio is 13.9:1. The water-pump gear is thick to enhance strength.
Exhaust
The exhaust system utilizes a single straight exhaust port for good torque and low-rpm drivability. The single exhaust header is routed close to the engine on the right side for a narrow cross-section and good rider mobility, and the single muffler has internal baffling that is optimized for torque delivery.
Electronics
In order to fully realize the engine's performance potential, the ECU mapping supplies the optimum air/fuel mixture and ignition timing at all throttle positions and engine speeds. HRC-inspired launch control facilitates holeshots.
Clutch
The clutch pack has nine discs to maximize the amount of disc friction material and minimize the load on the individual discs. The clutch basket is rigid for durability, a friction spring reduces spring load, and lubrication is optimized to reduce wear. The primary ratio is 3.047, and lubrication is optimized to enhance clutch endurance.
Transmission
When designing the five-speed gearbox, engineers made efforts to enhance feel when making up- and downshifts between second and third gears—a very common operation on a 250 closed-course off-road bike. Only one shift fork is operated to execute this gear-change, the countershaft has good rigidity, and the shift drum is light thanks to a large through hole and use of only two lead grooves.

CHASSIS / SUSPENSION
The CRF250RX is known for delivering reliable tracking, precise turning, exemplary straight-line stability and overall rideability, and it has a low overall vehicle weight to facilitate increased maneuverability.
Wheelbase is 58.1 inches, rake is 27.32º, trail is 115 mm, the seat height is 37.8 inches, and ground clearance is 13.1 inches.
Frame / Subframe
The lightweight aluminum frame has widely curved main spars with small cross-sections, plus optimized rib placement in the backs of the pivot plates. Longitudinal rigidity is optimized for straight-line stability, while lateral rigidity is optimized to enhance handling feel when cornering.
The subframe features a simple design that doesn't require a separate seat support, to minimize weight.
Suspension
The coil-spring Showa fork is a 49 mm fully adjustable leading-axle, inverted telescopic design with 12.2 inches of stroke. The upper and lower triple clamps are designed with optimized reinforcement ribs, delivering flex for handling and feel through a corner. Traction and bump-impact performance are excellent as well, and the bike has an agile corner approach, with sharp handling characteristics.
The Pro-Link® rear-suspension system uses a Showa shock absorber with adjusters on the right side. Rear travel is 12.3 inches. An ultra-light steel shock spring is used, and the swingarm is narrow, providing clearance in ruts.
Wheels
The black D.I.D rims (21-inch front, 18-inch rear) deliver durable performance and good looks. Petal-style brake rotors (260 mm front, 240 mm rear) disperse heat.
The CRF250RX comes with Dunlop Geomax AT81 tires, which offer excellent all-around performance plus high levels of ruggedness for off-road racing.

DESIGN
Rider-active design is a key feature of the CRF250R. The cross section is narrow in the middle and at the rear, the seat has a flat layout, and the radiator shroud-side panel junction is smooth. These user-friendly ergonomics permit the rider to easily adjust body position when cornering, accelerating, jumping and braking.
Cooling the CRF250R engine is crucial to maintaining performance and overall durability. Computational Fluid Dynamics (CFD) were used to design air-outlet vents in the shrouds, and the radiator grills optimize the number of fins, as well as their angle. Each radiator shroud is produced in a single piece instead of two separate parts.
The seat base has rearward-facing tongues and front-located mounting tabs, an arrangement that eases installation, and acceleration forces keep the seat securely in place. The 1.7-gallon fuel tank is made of lightweight titanium.
Only eight fasteners are used to secure all of the main bodywork components – both radiator shrouds, both side plates and the seat – and all of the bolts for the main bodywork parts have 8 mm heads, simplifying maintenance.
The Renthal® Fatbar® handlebar is held by a clamp that can be turned 180º; because the clamp itself has two mounting locations, there are four possible mounting positions for the handlebar, through a range of 26 mm.
2023 Honda CRF250RX – Totalmotorcycle.com USA Specifications/Technical Details
US MSRP Price: from $8599 USD
Canada MSRP Price: $10199 CDN
Europe/UK MSRP Price: £ See Dealer GBP (On The Road inc 20% Vat
ENGINE
Type 249.4 cc liquid-cooled single-cylinder four-stroke; 9º inclined from vertical
Valve Train DOHC, four-valve; 33 mm intake, titanium; 26 mm exhaust, titanium
Bore x Stroke 79.0 mm x 50.9 mm
Compression Ratio 13.9:1
Induction Programmed fuel-injection system (PGM-FI); 44 mm throttle bore
Ignition DC-CDI
Starter Push-button electric starter
Transmission Constant-mesh 5-speed return; manual
Clutch Multiplate wet; 9 plates, 5 springs
Final Drive #520 chain; 13T/50T
SUSPENSION
Front 49 mm fully adjustable leading-axle inverted telescopic Showa coil-spring fork; 12.2 in. stroke
Rear Pro-Link system; fully adjustable Showa single shock; 12.3 in. travel
BRAKES
Front Single 2-piston hydraulic caliper (30 mm, 27 mm) w/ 260 mm petal-style disc
Rear Single 1-piston hydraulic caliper w/ 240 mm petal-style disc
TIRES
Front Dunlop Geomax AT81 90/90-21 w/ tube
Rear Dunlop Geomax AT81 110/100-18 w/ tube
MEASUREMENTS
Rake (Caster Angle) 27.9º
Trail 114 mm (4.5 in.)
Length 85.7 in.
Width 33.0 in.
Height 50.4 in.
Ground Clearance 13.2 in.
Seat Height 38.0 in.
Wheelbase 58.1 in.
Fuel Capacity 2.1 gal.
Curb Weight* 238 lbs.
OTHER
Color Red
2023 Honda CRF250RX – Totalmotorcycle.com Canada Specifications/Technical Details
Engine & Drivetrain
Engine type Liquid-cooled single-cylinder
Displacement 249 cc
Bore & stroke 79 mm x 50.9 mm
Compression ratio 13.9:1
Valve train DOHC, 4 valves
Fuel delivery PGM-FI electronic fuel injection with 44 mm throttle bore
Transmission Five-speed
Final drive #520 chain; 13T/50T
Chassis & Suspension
Front suspension 49 mm fully adjustable leading-axle inverted telescopic Showa® SPG coil-spring fork; 273 mm (10.7 in) travel
Rear suspension Pro-Link® system; fully adjustable Showa single shock; 313 mm (12.3 in) travel
Dimensions & Additional Information
Tires Front: 90/90 – 21
Rear: 110/100 – 18
Brakes Front: 260 mm disc
Rear: 240 mm disc
Ground clearance 335 mm (13.2 in)
Seat height 964 mm (38 in)
Wheelbase 1,477 mm (58.1 in)
Curb weight 108 kg (238 lb.)
Fuel capacity 8 litres
Colour Extreme Red
Warranty No warranty
2023 Honda CRF250RX – Totalmotorcycle.com European Specifications/Technical Details
Engine
Bore × Stroke (mm) 79mm x 50.9mm
Carburation Fuel injection
Compression Ratio 13.9 : 1
Engine Displacement (cc) 249.4cc
Engine Type Liquid-cooled 4-stroke single DOHC
Starter Electric
Oil Capacity (Litres) 1.35 litres
Wheels
Brakes Front 260mm hydraulic wave disc
Brakes Rear 240mm hydraulic wave disc
Suspension Front 49mm Showa (Hitachi Astemo, Ltd) coil-spring USD fork
Suspension Rear Showa (Hitachi Astemo, Ltd.) Mono shock with Honda Pro-Link
Tyres Front Dunlop AT81
Tyre Size Front 90/90-21
Tyre Size Rear 110/100-18
Tyres Rear Dunlop AT81
Wheels Front Aluminium spoke
Wheels Rear Aluminium spoke
Dimensions and Weights
Caster Angle 27.15°
Dimensions (L×W×H) (mm) 2,176 x 839 x 1,281mm
Frame type Aluminium twin tube
Fuel Tank Capacity (Litres) 8.0 litres
Ground Clearance (mm) 335mm
Kerb Weight (kg) 108kg
Seat Height (mm) 964mm
Trail (mm) 114mm
Wheelbase (mm) 1,477mm
Transmission
Clutch Wet multiplate
Final Drive Chain
Transmission Type Constant mesh
Manufacturer Specifications and appearance are subject to change without prior notice on Total Motorcycle (TMW).