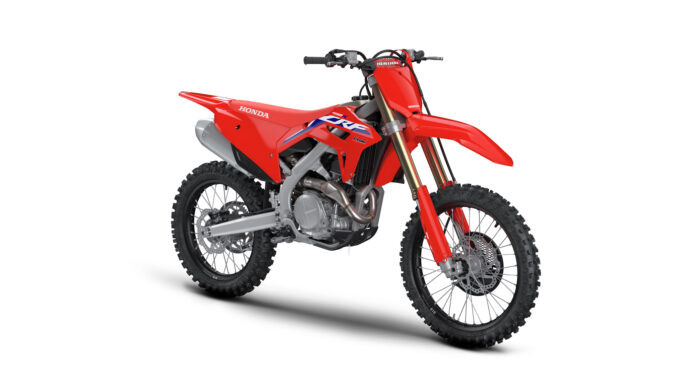 2023 Honda CRF450R-S: HIGH-PERRFORMANCE DEAL.
Introducing the 2023 Honda CRF450R-S…
Is this the best idea yet, or what? If you're looking for an awesome open-class motocross bike that comes with an even more awesome price, then here's your choice: the 2023 Honda CRF450R-S. Simply put, the CRF450R-S is the most affordable way to dominate the track. You'll be getting front-line features like our Unicam® engine, selectable engine modes, Honda Selectable Torque Control and balanced twin exhaust for riders who prefer that system. An added plus at no extra charge: When you're riding with your pals on their more expensive new bikes and you whoop them riding a CRF450R-S, the victory is gonna taste sweeter than ever.
Honda's flagship motocross machine – the CRF450R – continues to push the technological envelope in an effort to stay at the front of the pack, but some customers prioritize value. Honda addresses the needs of both groups, as the CRF450R-S (based on the 2022 CRF450R raced by factory Team Honda HRC riders Chase Sexton and Ken Roczen) is available at a good price point without making a big sacrifice in terms of performance.
Base Features
450cc liquid-cooled Unicam® single-cylinder engine
Fuel injection
Electric starter
Titanium fuel tank
Next-Generation twin-spar aluminum frame
Close-ratio five-speed transmission
HRC launch control
Engine mode select button
Honda Celebrates 50 Years of Motocross With 2023 CRF450R
50th Anniversary Edition version honors 1980s CR models
CRF450R, RWE and RX receive significant engine and chassis updates
Celebrating five decades of elite motocross heritage, Honda today unveiled the latest edition of its flagship motocross bike, the 2023 CRF450R, during a media event. Held on the eve of the opening 2023 AMA Pro Motocross round at Fox Raceway, the function featured the entire Team Honda HRC lineup – Ken Roczen, Chase Sexton, Hunter Lawrence and Jett Lawrence – as well as Honda legends from the past, including champions Gary Jones, Johnny O'Mara, Rick Johnson and Trey Canard, as well as former Team Manager Dave Arnold.
Introduced 50 years after the debut of the 1973 CR250M Elsinore – Honda's original motocross machine – the 2023 CRF450R receives key engine updates and chassis revisions targeted at enhancing corner-exit acceleration and improving handling. In addition, a 50th Anniversary Edition is offered, honoring Honda's motocross heritage with a special livery evoking the iconic CR models that dominated 1980s AMA Supercross and Motocross.
Honda's success in motocross started with the aforementioned 1973 CR250M Elsinore, which Jones piloted to Honda's first AMA Motocross Championship. In the half-century since, additional titles have been delivered by a long list of champions including Marty Smith, Chuck Sun, Johnny O'Mara, Ron Lechien, David Bailey, Darrell Schultz, Micky Dymond, Rick Johnson, Jeff Stanton, Jean-Michel Bayle, Mike Kiedrowski, Doug Henry, Steve Lamson, Jeremy McGrath and Ricky Carmichael, culminating in current Team HRC rider Jett Lawrence delivering the 2021 AMA Pro Motocross 250 crown, as well as the 2022 AMA Supercross 250SX West Region title. These renowned riders have played an integral role in the development and innovation of CR and CRF motocross bikes, while cementing Honda's legendary status in the sport. Originally introduced in 2002, the CRF450R continues Honda's tradition of race-driven innovation by incorporating feedback from Team Honda HRC riders.
"Honda is synonymous with motocross, and that's a direct result of our dedication to the sport for the past five decades, as well as the invaluable contributions of top riders – from Gary Jones in 1973 to Jett Lawrence in 2022," said Brandon Wilson, American Honda Manager of Sports & Experiential. "The 2023 CRF450R is worthy of that heritage, and the 50th Anniversary Edition pays tribute in a way that we're sure will be appreciated by motocross enthusiasts. We look forward to current and future Honda champions continuing to grow our motocross legacy."
For 2023, The CRF450R's engine and chassis updates also carry over to the premium CRF450RWE and the closed-course off-road-focused CRF450RX, raced by the SLR Honda and JCR Honda teams in the NGPC and WORCS competition.
While Honda celebrates 50 years of motocross heritage with the 2023 CRF450R, the rest of Honda's popular CRF Performance lineup, including the CRF450R-S, CRF450X, CRF450RL, CRF250R, CRF250RX and CRF150R, continues to deliver industry-leading performance and reliability.
2023 Honda CRF450R-S Totalmotorcycle.com Features and Benefits
ENGINE / DRIVETRAIN
Like that of the model on which it is based, the CRF450R-S engine boasts exceptional bottom-end and midrange power, making for a linear delivery that is strong but manageable, even as the rider tires, while peak power is also very good.
Cylinder Head: The design of the Unicam® cylinder head, with the decompressor system's counterweight on the left end of the camshaft, contributes to combustion stability in the extremely low rpm range and for a strong-but-manageable power delivery on corner exits, for example, as well as resistance to stalling. The cylinder head cover is magnesium, with a thin-wall design for weight savings. The engine's exhaust port is centrally located, has an oval shape and is quite straight, optimizing exhaust efficiency and torque characteristics, for a linear delivery that continues into the high rpm range. A five-hole piston oil jet and dual 12 mm drum scavenge pump manage lubrication.
Intake: The CRF450R-S features a downdraft intake design that delivers strong, efficient power, and a large air boot (4.1 liters on the clean side of the air filter) achieves in strong torque at low rpm. The air box is accessed with the removal of a single side-panel bolt. The 60º fuel-injector angle enables the spray to reach all the way to the back of the butterfly, thus cooling the upstream side of the intake path for maximum intake efficiency and torque feel.
Exhaust: The entire exhaust system weighs just 8.5 pounds, and with the engine's centralized exhaust-port location, the exhaust header and muffler are positioned close to the vehicle's centerline for a slim profile, contributing to freedom of movement for the rider. Two resonators (one after the front U-bend and another at the upstream end of the muffler) boost power and reduce noise.
Clutch: The clutch is hydraulically actuated and has eight plates and a large volume for good durability with minimal slippage and light lever pull.
Electronics: A gear-position sensor allows the use of three specific ignition maps for first and second, third and fourth, and fifth gears. There are options for Standard, Smooth and Aggressive ignition maps, selectable via an all-new handlebar-mounted switch, enabling simple tuning depending on rider preference or course conditions.
In addition, Honda Selectable Torque Control offers three levels of intervention. HSTC monitors rpm spikes and responds by temporarily reducing torque by retarding ignition timing and controlling PGM-FI to aid rear traction. The three different modes differ in drive-management level, for differing riding conditions or rider preferences:
Mode 1: The system intervenes most lightly and waits the longest to do so—useful for reducing wheel-spin and maintaining control in tight corners.
Mode 2: A midpoint between modes 1 and 3 in terms of how quickly and assertively the system intervenes.
Mode 3: The system intervenes most quickly and assertively, which helps in conditions that are slippery or muddy.
The CRF450R-S's handlebar-mounted switch allows selection between three modes, depending on conditions and rider preference. The HSTC system can also be switched off completely.
HRC Launch Control provides the best option for a strong start and also has three modes to choose from:
Level 1: 9,500 rpm, for high-traction conditions and/or advanced riders
Level 2: 8,500 rpm, for high-traction conditions and/or average riders
Level 3: 8,250 rpm, for slippery conditions and/or novice riders
The Engine Mode Select Button (EMSB) alters the engine's characteristics and three maps are available to suit riding conditions or rider preference:
Mode 1: Standard
Mode 2: Smooth
Mode 3: Aggressive

CHASSIS / SUSPENSION
The motorcycle's heavier components are positioned centrally and as low as possible for precise cornering without sacrificing high-speed tracking, in addition to minimal squat under acceleration and negligible pitching during hard braking.
Frame / Swingarm / Subframe: The frame uses narrow main spars and features optimized reinforcement ribbing on the backside of the pivot plate, contributing to the low frame weight of just 18.5 pounds. Lateral rigidity is optimized for a supple feel that contributes to good cornering—while vertical rigidity is relatively stiff. The subframe features a simple design that weighs just 2.0 pounds. The swingarm is narrow, providing good clearance in ruts, with rigidity tuned to maximize rear traction and cornering.
Suspension: Front suspension comprises a 49 mm inverted Showa® coil-spring fork and a gas-liquid separation structure. The upper and lower triple clamps are designed to offer a good rigidity balance for optimum handling and feel through corners. The Pro-Link® rear-suspension system uses a Showa shock absorber with adjusters on the right side and an ultra-light steel shock spring. The link ratio is designed to minimize acceleration-triggered rear-end squat.
Wheels: Black D.I.D rims deliver durable performance and good looks. Petal-style brake rotors disperse heat, and a low-expansion front brake hose gives strong feel and consistent stopping power. The CRF450R comes with Dunlop's excellent Geomax MX33 tires, generally considered to be the industry standard for soft to intermediate terrain. Developed with the help of top motocross pros, MX33s feature technologies that deliver superior grip, slide control, bump absorption and durability.

DESIGN
The CRF450R-S has slim bodywork, with a smooth junction of the radiator shroud and side panel, facilitating rider movement and cornering. Each radiator shroud is produced in a single piece instead of two separate parts, and Computational Fluid Dynamics (CFD) were used to design air-outlet vents in the shrouds. The radiator grills optimize the number of fins and their angle, maximizing cooling performance.
The seat base has rearward-facing tongues and front-located mounting tabs, easing installation, and using acceleration forces to keep the seat securely in place. The 1.7 gallon fuel tank is made of lightweight titanium.
Only eight fasteners are used to secure all of the main bodywork components—both radiator shrouds, both side panels and the seat, and all of the bolts for the main bodywork parts have 8 mm heads, simplifying maintenance.
A single switch cluster addresses several functions: engine stop, ride-modes and Honda Selectable Torque Control (HSTC). The starter and HRC launch control are on the right side of the Renthal® Fatbar® handlebar. There are two locations for the handlebar clamp, and the clamp can be turned 180º; as a result, four different mounting positions are possible, through a range of 26 mm.
2023 Honda CRF450R-S – Totalmotorcycle.com USA Specifications/Technical Details
US MSRP Price: from $8799 USD
Canada MSRP Price: $  CDN
Europe/UK MSRP Price: £ See Dealer GBP (On The Road inc 20% Vat)
ENGINE
Type 449.8 cc liquid-cooled 10º single-cylinder four-stroke
Valve Train Unicam® OHC, four-valve; 38 mm intake, titanium; 31 mm exhaust, steel
Bore x Stroke 96.0 mm x 62.1 mm
Compression Ratio 13.5:1
Induction Programmed fuel-injection system (PGM-FI); 46 mm throttle bore
Ignition Full transistorized ignition
Starter Push-button electric starter
Transmission Constant-mesh 5-speed; manual
Clutch Multiplate wet, hydraulically actuated (6 springs, 8 plates)
Final Drive #520 chain; 13T/49T
SUSPENSION
Front 49 mm fully adjustable leading-axle inverted telescopic Showa coil-spring fork w/ 12.2 in. travel
Rear Pro-Link system; fully adjustable Showa single shock w/ 12.4 in. wheel travel
BRAKES
Front Single 2-piston hydraulic caliper (30 mm, 27 mm) w/ 260 mm petal-style disc
Rear Single 1-piston hydraulic caliper w/ 240 mm petal-style disc
TIRES
Front Dunlop Geomax MX33 80/100-21 w/ tube
Rear Dunlop Geomax MX33 120/80-19 w/ tube
MEASUREMENTS
Rake (Caster Angle) 27°7'
Trail 114 mm (4.48 in.)
Length 85.9 in.
Width 32.6 in.
Height 49.9 in.
Ground Clearance 13.2 in.
Seat Height 38.0 in
Wheelbase 58.3 in.
Fuel Capacity 1.7 gal.
Curb Weight* 244 lbs.
OTHER
Color Red
2023 Honda CRF450R-S – Totalmotorcycle.com Canada Specifications/Technical Details
NA
2023 Honda CRF450R-S – Totalmotorcycle.com European Specifications/Technical Details
NA
Manufacturer Specifications and appearance are subject to change without prior notice on Total Motorcycle (TMW).