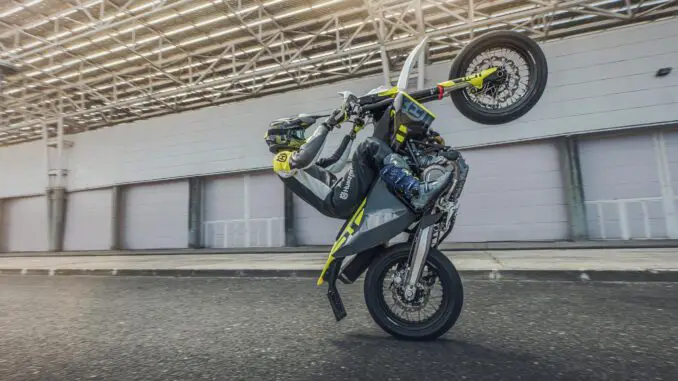 2023 Husqvarna 701 Supermoto: COMMAND THE OPEN ROAD.
Introducing the 2023 Husqvarna 701 Supermoto…
Bringing the pure spirit of Supermoto riding to the street, the powerful, single-cylinder 701 Supermoto delivers unparalleled performance on the asphalt. Featherlight, perfectly balanced, and equipped with the latest electronic rider aids, it is a motorcycle that allows for full customisation and encourages extended ride times. Distinguished by its black and grey livery, the 701 Supermoto creates a commanding presence on the open road.
2023 Husqvarna 701 Supermoto Totalmotorcycle.com Key Features
Precisely engineered
2023 Husqvarna 701 Supermoto Totalmotorcycle.com Features and Benefits
Frame
The lightweight trellis frame is made of high-grade chromium-molybdenum steel and developed to ensure precise handling and instil complete confidence. Detailed feedback is transmitted to the rider thanks to precisely calculated torsional rigidity and longitudinal flex.
Polyamide rear subframe and tank
The self-supporting rear subframe with integrated 3.4 gal (13 liter) fuel tank is perfectly positioned for the best possible weight distribution. Produced in a thermoplastic rotational moulding process, the single-piece construction weighs only 11.4 lbs (5.2 kg) and is made of high-strength polyamide.
WP fork
The WP APEX split fork has 215 mm wheel travel, and features improved damping and an easier setup than traditional forks thanks to the separate damping circuits in the fork legs. The left leg is dedicated to compression damping, while the right fork leg is for rebound damping.
WP monoshock
The fully adjustable WP APEX rear shock absorber features rebound damping adjustment as well as a high and low compression damping adjustment. The 240 mm rear wheel travel guarantees perfect control in every condition, be it on tight and twisty mountain roads or in crowded city centers.
A masterpiece
The single overhead camshaft, liquid cooled, single cylinder engine features the latest in design and electronic technology. An outstanding maximum power output of 55 kW (74 hp) at 8,000 rpm and torque of 73,5 Nm at 6,500 rpm leave the rider in no doubt of the performance packed inside this lightweight unit.
The compact design of the single overhead camshaft, 4-valve cylinder head features 42 mm intake valves and 34 mm exhaust valves actuated by a robust rocker arm system which delivers precise valve timing at high engine speeds. Ignition is via a dual spark plug layout, each of which has an individual ignition timing control for optimal fuel combustion in the large bore combustion chamber.
The Keihin electronic fuel injection system features a 50 mm throttle body with no mechanical linkage to the throttle grip. As the rider twists the throttle open or closed, the throttle valve is electronically controlled by the engine management system (EMS). The EMS continuously compares engine parameters with data from sensors, and adjusts the throttle valve accordingly, resulting in perfect power delivery and throttle response.
The lightweight 6-speed gearbox features an Easy Shift function allowing gears to be seamlessly shifted up or down without using the clutch. The system uses two sensors, one sensor is on the shift arm, which detects the movement on the shift lever rod when the rider upshifts. As the second sensor detects the gear engagement, it matches engine parameters to allow a simple gear change at any RPM or engine load.
Perfect control
Wheels
Black anodized Giant tubeless spoked wheels are lightweight and strong. The 17″ wheels are shod with Continental ContiAttack Supermoto 120/70 and 160/60 tires front and rear respectively for extraordinarily light handling and exceptional control at all lean angles.
Brakes
Exceptional stopping power with improved brake feel and controllability are available at the rider's request thanks to the radially mounted 4 piston Brembo caliper and Ø 320 mm floating disc at the front, and the single piston caliper, Ø 240 mm floating disc at the rear. The latest cornering sensitive ABS technology from Bosch guarantees maximum braking confidence.
Slipper clutch
The APTC (Adler Power Torque Clutch) from Adler allows for greater speeds going into and coming out of corners by maximising rear wheel grip under hard acceleration as well as preventing rear wheel instability and hopping when braking hard into the apex of a turn. The rider thus enjoys maximum control and perfect down-shifting.
Traction control
The lean-angle sensitive traction control system monitors rear wheel speed and reacts immediately (within milliseconds) if the rotational speed of the rear wheel is disproportionate to the riding situation. The system works by reducing the engine output with a smooth and barely perceivable intervention at the throttle valve, until the system has reduced slippage to an optimum level for the selected ride mode and current lean angle. For riders looking for the full control of their motorcycle, the traction control can also be switched off.
Premium technology
Bodywork
Sleek, modern bodywork is ergonomically designed to connect the rider to the motorcycle and allow for unrestricted movement in all situations. The riding experience is further enhanced by the extended seat, which reaches over the radiator shrouds for improved grip and control in tighter corners. Additionally, a USB socket is neatly positioned behind the headlight mask for a convenient and continuous power supply for all navigational devices.
CNC-machined triple clamps
The anodized CNC-machined triple clamps are designed for high performance Supermoto needs. Stylishly crafted and engineered with a precise flex, they transmit detailed feedback on the behavior of the front end to the rider.
Ride Modes
With a handlebar switch, the power characteristic of the engine can easily be adjusted on the fly through two unique ride modes. Mode 1 offers a sporty throttle response and cornering sensitve traction control, keeping wheel slip and wheelies to a minimum for optimal street riding performance. Mode 2 provides a more aggressive throttle response with reduced traction control, to allow drifts and full control of the slide, aimed at track or unconditional street usage. Optional Supermoto ABS mode is also available. In the Supermoto mode, ABS only functions on the front wheel and the rider then has control to lock up the rear wheel if needed for full Supermoto performance.
2023 Husqvarna 701 Supermoto – Totalmotorcycle.com Specifications/Technical Details
US MSRP Price: $12,999 USD
Canada MSRP Price: $13,999 CDN
Europe/UK MSRP Price: £ See Dealer GBP (On The Road inc 20% Vat)
Engine
• Transmission 6-speed
• Cooling Liquid cooled
• Power in KW 55kW
• Starter Electric starter
• Stroke 80mm
• Bore 105mm
• Clutch APTC(TM) slipper clutch, hydraulically actuated
• CO2 emissions 94g/km
• Displacement 692.7cm³
• EMS Keihin EMS with RBW, twin ignition
• Design 1-cylinder, 4-stroke engine
• Lubrication Forced oil lubrication with 2 oil pumps
Chassis
• Weight (without fuel) 147kg
• Tank capacity (approx.) 13l
• ABS Two-channel Bosch 9.1 MP ABS (incl. Cornering ABS and Supermoto mode Disengegable)
• Front brake disc diameter 320mm
• Rear brake disc diameter 240mm
• Front brake Brembo four-piston radial fixed calliper, brake disc
• Rear brake Brembo single-piston floating calliper, brake disc
• Frame design Chromium-Molybdenum steel trellis frame, powder coated
• Front suspension WP APEX 48
• Ground clearance 238mm
• Rear suspension WP APEX with Pro-Lever linkage
• Steering head angle 63.6°
• Suspension travel (front) 215mm
• Suspension travel (rear) 240mm
Manufacturer Specifications and appearance are subject to change without prior notice on Total Motorcycle (TMW).