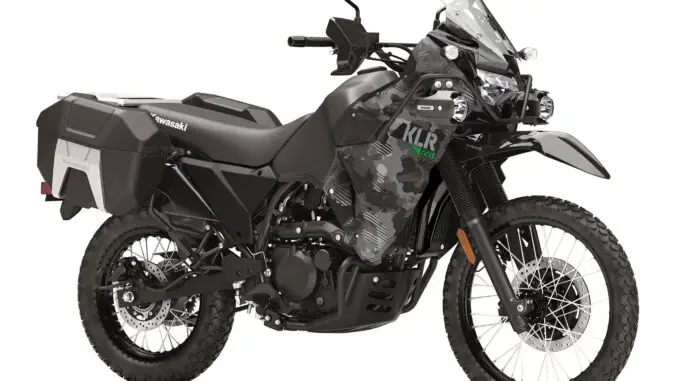 2023 Kawasaki KLR650 Adventure ABS: GO AND TRAVEL ANYWHERE.
Introducing the 2023 Kawasaki KLR650 Adventure ABS…
The Kawasaki KLR®650 ADVENTURE adds standard saddlebags, fog lamps, frame sliders, and DC and USB sockets to the KLR®650 that not only add convenience but enhance its capability for long-distance adventures.
While the comfortable riding position and large fuel tank allows long-distance travel, its long-travel suspension provides the versatility to accommodate off-road excursions as well as the daily commute. The KLR650 ADVENTURE is one capable partner that is ready to take riders anywhere they wish to go and on whatever roads they wish to travel.
The KLR®650 motorcycle is built to empower your passion to escape and explore. Dual-purpose capability allows the journey to go on- and off-road, and a reputation for enduring reliability helps you focus on the adventure at hand. For decades, this legendary motorcycle has inspired countless stories from all over the world, and the spirit to make new memories continues to beckon today.
2023 Kawasaki KLR650 Adventure ABS Totalmotorcycle.com Key Features
FUEL-INJECTED ENGINE
COMFORTABLE UPRIGHT RIDING POSITION
TWO-POSITION ADJUSTABLE WINDSCREEN
ABS OPTION
DIGITAL INSTRUMENTATION
3 MODEL VARIATIONS FOR ALL TYPES OF ADVENTURE RIDERS RELAXED RIDING POSITION
ADDITIONAL VEHICLE FEATURES:
Side Cases (optional One-key System)
Fog Lamps
Frame Sliders
Tank Pad
DC socket and optional USB socket
Available with Anti-lock Brake System (ABS)
Special color & graphics: Cypher Camo Gray
KAWASAKI ANNOUNCES SUMMER RELEASE OF 2023 STREET MOTORCYCLES
Kawasaki welcomes the return of several sport, retro sport, naked, cruiser, adventure touring, and dual-sport models to its street motorcycle lineup. These 2023 model year motorcycles are set to arrive in Kawasaki dealerships during the summer months so that riders can continue to "Let the good times roll
2023 Kawasaki KLR650 Adventure ABS Totalmotorcycle.com Features and Benefits
ENGINE
The KLR650 ADVENTURE's proven engine design produces a flat power curve that lets riders navigate trails and cruise at freeways speeds effortlessly. Strong mid-range focused performance and ample generator capacity meets the needs of riders heading out for an adventure.
652cc 4-Stroke Single Cylinder Engine
• Equipped with Kawasaki Digital Fuel Injection (DFI®) for easy starting in varying conditions. A 10-hole fine-atomizing injector sprays 60 micron droplets, which contributes to efficient air-fuel mixing for more efficient combustion and better fuel mileage.
• Intake and exhaust cam profiles emphasize mid-range torque characteristics, while strong cam chain guide material and shape contributes to reliability.
• Exhaust pipe design contributes to the mid-range torque characteristics in the speed range used in most common riding situations. The exhaust pipe has smooth bends for greater efficiency throughout the powerband.
• To meet the power needs of grip heaters, fog lamps and other electrical accessories, generator output is 26 amps. Since the LED headlight also draws less power, a total capacity of 80 watts is available to power accessories (depending on usage).
• Sealed battery helps reduce maintenance.
• Double Engine Balancer(KP)
• Engine runs smoothly from idle to redline for rider comfort and less fatigue on long rides.
Kawasaki Automatic Compression Release (KACR)(KP)
• Automatically lifts exhaust valve at cranking rpm to make starting easy and eliminate the need for a manual compression release.
Electric Starter
• For easy and convenient starting.
Engine Guard
• Helps protect the engine from rocks and other debris.
U.S. Forest Service-Approved Spark Arrester
• Allows access to designated public riding areas.
• Very quiet muffler for low noise output in sensitive riding areas.
CHASSIS
Semi-Double Cradle Frame
• High-tensile steel frame has an integrated rear sub-frame for great torsional rigidity that contributes to a highly composed ride.
• Swingarm and pivot shaft design also contribute to superb handling at highway speeds.
Large Disc Brakes
• Large 300mm front disc and 240mm rear disc provide strong braking power.
Long Travel Suspension
• Front and rear suspension settings complement the frame to help provide a planted feel.
• Firm fork springs provide excellent bump compliance and bottoming resistance while also reducing front-end dive under heavy braking.
• Firm rear shock settings help resist bottoming in rough terrain and accommodate heavy loads.
• Fork and shock settings complement each other for light, sharp handling on smooth roads while providing rough road and off-road capability.
• 41mm front fork adds rigidity and is set for superb performance.
• Uni-Trak® rear suspension linkage complements the front fork settings.
• D-section swingarm enhances traction and has forged axle holders that are lightweight and rigid.
• Uni-Trak® rear suspension(KP) linkage lowers the center of gravity for smooth handling.
• Progressive rate provides a smoother, more controlled ride.
• Features a 5-way preload shock absorber with stepless rebound damping. You can tune the ride to match the load and riding conditions.
• Designed to provide a good compromise between the requirements of on and off-road riding.
• Wheels/Tires
• Strong rear rim provides torsional rigidity and durability.
• Large axles contribute to the composed feel and handling.
• Tube-type tires allow easy road or trailside repairs.
ALL-DAY ERGONOMICS
• Dual-position windscreen can be raised more than an inch from stanadard for improved wind protection.
• Seat shape, supple seat cover, and optimized urethane thickness and firmness all contribute to excellent ride comfort. Rubber dampers under the seat where it contacts the frame further contribute to comfort on longer rides.
• Ergonomically shaped grab bars provide passenger comfort.
• Standard hand guards provide excellent wind protection.
Digital Instrumentation
• All-digital instrument panel offers at-a-glance information on a large-display, easy-to-read LCD screen with white backlighting. Features include a speedometer, odometer, dual trip meters, fuel gauge, clock and indicator lamps. The narrow display list prioritizes visibility of the speedometer and fuel gauge.
• Standard accessory mounting bar above the meter provides convenient location for attaching GPS and phone holders.
The naturally upright riding position is fine-tuned and vibrations minimized to provide a comfortable ride during long-distance exploration.
• The handlebars and footpegs are rubber mounted to help isolate vibration.
• Fuel tank design provides a natural fit for the rider's knees and provides generous riding range.
Rugged Adventure Appearance
• Aggressive front cowling is positioned to minimize weight on the front wheel for better ride feel.
• Side shrouds now feature integrated tip-over protectors.
• LED headlight provides ample lighting while drawing less power and contributing to the rugged, sporty appearance.
• Taillight and turn signal design complements the rugged styling.
• Colors were purposely selected to highlight the machine's toughness. Pearl colors and gloss sections add to the design.
• Modern textured graphics on plastic parts help increase the machine's presence.
• Black coated rims add to the rugged appearance.
2023 Kawasaki KLR650 Adventure ABS – Totalmotorcycle.com USA Specifications/Technical Details
US MSRP Price: $8199 USD
Canada MSRP Price: $ CDN
Europe/UK MSRP Price: £ NAGBP (On The Road inc 20% Vat)
Engine Type 4-Stroke, Liquid-Cooled, DOHC, 4-Valve, Single
Displacement 652 cc
Bore & Stroke 100 x 83 mm
Compression Ratio 9.8:1
Fuel System DFI with 40mm Throttle Body
Ignition TCBI
Transmission 5-Speed
Rake/Trail 30°/4.8 in.
Front Wheel Travel 7.9 in.
Rear Wheel Travel 7.3 in.
Front Tire Size 90/90-21
Rear Tire Size 130/80-17
Front Suspension 41mm Leading Axle Hydraulic Telescopic Fork
Rear Suspension Uni-Trak® with 5-Way Adjustable Preload
and Stepless Rebound Damping
Wheelbase 60.6 in.
Front Brake Type 300mm Disc
Rear Brake Type 240mm Disc
Fuel Tank Capacity 6.1 gal.
Ground Clearance 8.3 in.
Seat Height 34.3 in.
Curb Weight 482.7 lb.
Warranty 12 months
Kawasaki Protection Plus™ 12, 24, 36 or 48 months
(Specifications subject to change without notice.)
Includes all necessary materials and fluids to operate correctly, full tank of fuel (more than 90% of capacity) and tool kit (if supplied).
Ask about the Riders of Kawasaki (ROK) Club and the Good Times™ Credit Plan.
When equipped, 50-state models with evaporative emissions equipment adds approximately 2.2 pounds.
(KP) = See Kaw-Pedia section for more details.
* = Changes from previous model year.
** = Also available as a 50-state model with the last character ending in "L"
2023 Kawasaki KLR650 Adventure ABS – Totalmotorcycle.com  Canadian Specifications/Technical Details
TBA
2023 Kawasaki KLR650 Adventure ABS – Totalmotorcycle.com European Specifications/Technical Details
NA
Manufacturer Specifications and appearance are subject to change without prior notice on Total Motorcycle (TMW).