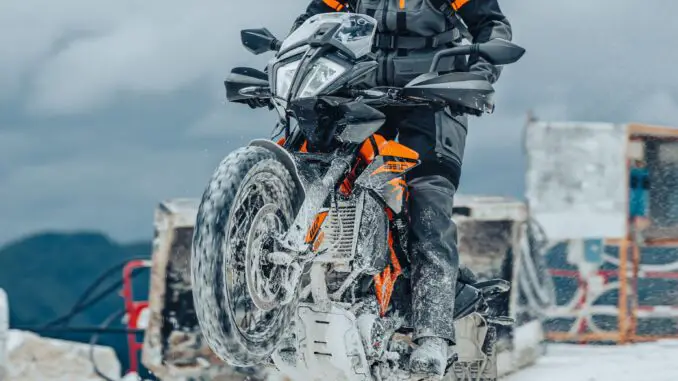 2023 KTM 390 Adventure SW: MAKE LIFE A DARING ADVENTURE.
Introducing the 2023 KTM 390 Adventure SW…
The full KTM ADVENTURE family has all the performance, capability and segment-leading features a rider will ever need. Sometimes, however, riders just want the most effective way to get from 'A to B' on an inviting, confidence-inspiring platform. Naturally, as a true adventure machine, it must also never stop tempting them to explore alternative paths. This is where the sheer usability, superb power and incredibly light handling of the 2023 KTM 390 ADVENTURE comes to the forefront.
Gone are the days when going from A to B. The 2023 KTM 390 ADVENTURE rewrites the rulebook on what the daily commute needs to be. Merging all-road versatility and proven reliability with real-world performance, not to mention adventure-ready spoked wheels, a proven 373 cc powerplant, and a class-leading chassis, the KTM 390 ADVENTURE not only seeks out new adventures – it leaves no path unexplored.
2023 KTM 390 Adventure SW Totalmotorcycle.com Key Features
New tougher aluminum spoked wheels for enhanced offroad potential and all-round topline performance ensured by the CONTINENTAL TKC70 tires
Brand new 2023 color and graphics scheme for fresh, vibrant READY TO RACE look
Dependable 373 cc 4-stroke single-cylinder engine pumping big power out of a compact build
Lightweight and reassuring steel trellis chassis with adjustable WP APEX 43 mm forks and shock
Bosch electronics helping to inform the latest generation of Motorcycle Traction Control and Cornering ABS systems
379 lbs (172kg) fully fueled, 3.8-gal (14.5-liter) tank
Wide selection of KTM PowerParts including accessories, aftermarket components, aesthetic touches, riding gear and more
2023 KTM 390 Adventure SW Totalmotorcycle.com Features and Benefits
This compact and highly advanced package is one of the most versatile in the KTM range. The 2023 KTM 390 ADVENTURE is not only about epic outings but also the 'every day' ride. Want that serviceable and dependable machine for the commute but also something that can handle a lively offroad blast? No problem. Desire a bike that can still put out the torque and motor performance for a longer weekend ride-out with friends? Easy. Need a modern, developed, race-derived all-rounder to discover the delights of a trail for the first time? Look no further.
For 2023, KTM has not only splashed the KTM 390 ADVENTURE with a sharp, fresh look but has also beefed-up its offroad capability even more. The bike now has tough yet light spoked wheels (19" front and 17" rear) with black anodized aluminum rims so unplanned meetings with roots and stones out on the trail will not bring the journey to a swift halt. The 2023 KTM 390 ADVENTURE undoubtedly warrants this upgrade considering the offroad-capability engineered into the motorcycle, and it emphasizes that 'adventure' really can be part of the daily routine.
At the heart of the machine is the impressively compact 4-stroke 373 cc single-cylinder engine using twin overhead camshafts, four values, a balancer shaft, PASC slipper clutch and electronic FI for smooth and uninterrupted momentum. Two catalytic converters ensure the system breathes within emission targets while the fuel tank (sized for a 3.8-gal / 14.5-liter fill) vapor design also boosts the eco-friendliness.
The 2023 KTM 390 ADVENTURE may have smaller dimensions and specs compared to some of its big brothers, but it does not lack features essential to adventuring. Ride-by-wire, Motorcycle Traction Control, Cornering ABS, OFFROAD mode (more rear wheel slip) and linked OFFROAD ABS (disengaged on the rear, reduced on the front) are feathered by the 46 mm throttle body and the slipper clutch while being administered through the 5" color TFT-display and intuitive handlebar switchgear.
Light weight and unbeatable agility is partly supplied by a chassis that takes its design cues from KTM's work at the sharp end of rally competition. The KTM 390 ADVENTURE's 2023 color also comes from this racing background. The steel trellis design and subframe construction achieves a satisfying blend of both feel, flex and long-term comfort; even the exhaust system is optimized for prime centralization. WP Suspension APEX hardware is adjustable for compression, rebound and preload and achieves that rare chemistry of tactile grip with the road and confidence-inspiring efficiency for the dirt.
Add bodywork that has been angled to protect zones of the bike and position the rider into full-control stance, a two-tier seat (that can be easily removed to reveal storage space and even swapped out for other models in the KTM PowerParts collection), LED lights, a windshield with two positions and wide 'all-day' footpegs, Brembo BYBRE brakes (320 front and 230 mm rear discs with four-piston calipers on the front) and the 2023 KTM 390 ADVENTURE is complete. Live adventurously.
ON-ROAD CONFIDENCE
Engine
The KTM 390 ADVENTURE might seem small in stature, but twist the throttle and you'll awaken 44 eager horses ready to gallop toward the horizon. Merge that with a robust 6-speed sequential gearbox, QUICKSHIFTER +, and carefully tuned gear ratios, and the KTM 390 ADVENTURE quickly charges along with a smooth, uninhibited power spread for any terrain. Oh, and for complete adventure beginners – the KTM 390 ADVENTURE meets all A2 rider license requirements.
Fuel Tank
What's an adventure without fuel range? The KTM 390 ADVENTURE boasts a 14.5-liter fuel capacity and exceptional fuel economy. This means 400 km jaunts into the faraway outdoors are easily achievable. What's more, the fuel tank represents a central element of the design and engineering, offering excellent ergonomics for riders of all sizes without sacrificing offroad handling.
Cornering ABS
Not to be outdone on the tarmac, the KTM 390 ADVENTURE effortlessly carves through mountain roads, thanks in part to its low center of gravity, nimble handling, and 19″ front wheel. This also means you can grab a handful of brakes with total confidence thanks thigh-tech Cornering ABS unit. This allows riders to use full braking power mid-corner by continuously monitoring and evaluating the current dynamic state of the motorcycle, enhancing safety and stability during braking.
Windshield
You'll no doubt hit some highways at some stage. Good thing, then, that the KTM 390 ADVENTURE boasts a sturdy and efficient windshield. Thanks to its slim profile, the rider isn't obstructed when moving around the machine. It also offers an unobstructed view directly in front of the bike – even when covered in dirt. As an added bonus, the windshield can also be mounted in a lower or higher position to suit the ride, with different windshield offerings of available from the KTM PowerParts catalog.
HIT THE HARD TRACK
Wheels
The KTM 390 ADVENTURE boasts heavy-duty spoked wheels at each end, making it extremely ready to tackle the toughest of dirt trails. No more worries about cracked or chipped rims, these spoked setups perfectly compliment the offroad-orientated tires to provide unmatched confidence when charging off into the wilderness.
Offroad Mode
When the tar road ends and the dirt track begins, KTM 390 ADVENTURE riders can simply switch to OFFROAD MODE. This allows a certain rear-wheel slip, meaning muddy puddles or thick sand is easily navigated. More so, in OFFROAD MODE, OFFROAD ABS is also activated, meaning you can pull your best Chris Birch impressions locking up the rear wheel to slide into corners. OFFROAD MODE also maintains its settings in the event of stalling the engine or switching off your machine, meaning you're ready to go as soon as the engine fires up.
Reworked Suspension
With many years of development in the toughest terrain, the KTM 390 ADVENTURE boasts WP APEX suspension at each wheel. This results in a best-in-class handling package that is ready to tackle any adventure. Not only that, but the cutting-edge WP APEX shock absorber provides tailored performance ideal for traveling long distances in tough conditions. Thanks to an adjustable spring preload and rebound damping, it can also be fine-tuned to suit the rider, conditions, and nature of adventure.
SUPERIOR CONTROL
Bodywork
The KTM 390 ADVENTURE features distinctive KTM-style bodywork and graphics, providing excellent ergonomics and an aggressive look inspired by KTM's vast Rally racing heritage. This can be seen in everything from the headlight mask to the low front fender. The tank spoilers and rear side panels are slightly wider than the seat for optimized control when standing on the pegs, while the shape of the fuel tank is optimized to offer freedom of movement when tackling tricky technical terrain. A robust engine guard also makes its intentions known by protecting the engine and exhaust when venturing off the tarmac into the dirt.
TFT Display
A state-of-the-art, full-color TFT display adorns the cockpit of the KTM 390 ADVENTURE. This best-in-class display interface automatically adapts to variations in ambient light. For the best use of power, the rev counter blinks when it's time to shift. The 5" display is easy to read and the main information is arranged in such a way that you can immediately see it. The rider can also easily select which information they would like on the screen via the multi-functional menu switch on the handlebar.
LED Headlight
Some adventures take a little longer than others. However, thanks to ultra-bright best in class LED lights on the KTM 390 ADVENTURE, you'll have no problems navigating your way home. The LEDs also take their design cues from the bigger KTM ADVENTURE machines, so they not only offer great illumination and visibility but are designed to be compact, to reduce the overall volume of the motorcycle.
MTC (Motorcycle Traction Control)
Providing traction when you need it most, the MTC – or Motorcycle Traction Control – system fitted to the KTM 390 ADVENTURE is a lean-angle sensitive system that reacts the instant it senses the rear wheel rotational speed becoming disproportionate to the riding situation. Put more simply; MTC reacts in milliseconds to smoothly reduce engine output to reduce slippage to stop the spin, and keep you moving forward safely.
KTMconnect
Even on adventures, you want to stay connected. Thanks to the KTM MY RIDE system, the KTM 390 ADVENTURE connects to your smartphone allowing you to make phone calls, listen to music and use the optional turn-by-turn navigating feature, all via the TFT display.
ALL-ROUND COMFORT
Frame
KTM 390 ADVENTURE features an ultra-lightweight, yet extremely stable trellis frame – just like the multi-championship winning KTM 450 RALLY. It provides the backbone to the KTM 390 ADVENTURE and is a major element that accounts for its nimble handling, and forgiving the balance of flex and stiffness. This, combined with a wheelbase of 1430 mm and a 63.5-degree steering head angle, means it was built to tackle the dirtiest of trails in the great outdoors.
ERGONOMICS
Let's be clear about it – the KTM 390 ADVENTURE is all about hitting the tough stuff. It is designed to be an adventure machine, from its Rally-style windscreen, right down to its offroad-focused footpegs. All-day riding comfort, supreme offroad agility, and unmatched rider involvement make the KTM 390 ADVENTURE a class leader when it comes to taking the path less traveled in complete control.
Seat
The KTM 390 ADVENTURE features a two-part seat that provides unmatched comfort and rider control. Being narrower in the front than the rear, it not only provides easy accessibility for shorter riders but also better control on difficult terrain. The seat can be easily removed for access to the airbox and a small storage compartment underneath, with the KTM PowerParts team, having also specifically developed different seats to match individual customer needs from comfort to riding style.
Footpegs
Wide, robust footpegs lifted directly from KTM offroad models give a hint to the KTM 390 ADVENTURE's party trick. Developed for all-day riding comfort – standing or seated – the footpegs are perfectly matched to both street or offroad boots, and feature easy-to-remove rubber inserts for when the riding really gets rough.
2023 KTM 390 Adventure SW – Totalmotorcycle.com International Specifications/Technical Details
US MSRP Price: $7399 USD
Canada MSRP Price: $8099 CDN
Europe/UK MSRP Price: £6699 (On The Road inc 20% Vat)
ENGINE
TRANSMISSION 6-speed
COOLING Liquid cooled
POWER IN KW 32 kW
STARTER Electric starter
STROKE 60 mm
BORE 89 mm
CLUTCH PASC™ antihopping clutch, mechanically operated
DISPLACEMENT 373.2 cm³
EMS Bosch EMS with RBW
DESIGN 1-cylinder, 4-stroke engine
LUBRICATION Wet sump
CHASSIS
ABS Bosch 9.1 MP (incl. Cornering-ABS and offroad mode, disengageable)
FRONT BRAKE DISC DIAMETER 320 mm
REAR BRAKE DISC DIAMETER 230 mm
CHAIN 520 X-Ring
FRAME DESIGN Steel trellis frame, powder coated
FRONT SUSPENSION WP APEX 43
REAR SUSPENSION WP APEX – Monoshock
STEERING HEAD ANGLE 63.5 °
Manufacturer Specifications and appearance are subject to change without prior notice on Total Motorcycle (TMW).