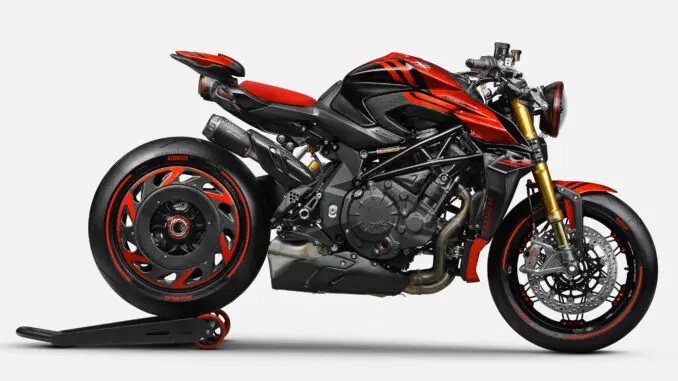 2023 MV Agusta Brutale Rush: BEAST MODE.
Introducing the 2023 MV Agusta Brutale Rush…
The bewitching, ground-breaking hypernaked. The only production bike with radial valves and titanium connecting rods.
The 2023 colour of the Rush combines Mamba Red 2.0 and Intense Black. One of the many details that make the Rush a truly unique model is the support bracket for the front light cluster, made in aluminium. Thanks to SLM (Selective Laser Melting) technology, it gives this model a truly exclusive touch. Last, but not least, the kit that comes with the Rush is a true treasure trove: Arrow muffler with carbon fibre cover, ECU with dedicated mapping, carbon forged rear wheel cover, 24-spoke front wheel rim, and CNC machined fuel cap. And much more.
2023 MV Agusta Brutale Rush Totalmotorcycle.com Key Features
For MV Agusta, 2023 marks a true turning point in the name of evolution and technology. The R package makes its début on all the three-cylinder bikes: Brutale, Dragster, F3, and Turismo Veloce flaunt new colours and lots of new features. The new range of three and four cylinder bikes, even more complete and exclusive, finalizes an exceptional development path which has produced astonishing results, particularly in terms of riding thrills.
There are plenty of upgrades for the four-cylinder range comprising Brutale RS, Brutale RR, and Rush.
Engine
The engine has been updated with the arrival of the countershaft unit which allows a 54% reduction of the second order vibrations, all to the advantage of comfort and reliability. The valve tappets, like on the three-cylinder engines, have DLC treatment to reduce internal friction and improve performance. The profile of the cams has been revamped to optimise torque availability. The radial valves are made of titanium.
Ride-By-Wire
On all the four-cylinder bikes, the new electronic Ride-by-Wire throttle control with 6° negative rotation drastically improves the feeling of the throttle, making control of the bike more intuitive and immediate. Credit also goes to the new control algorithms. further refined to provide a response worthy of a supersport bike, but without being too abrupt. In the new configuration, the throttle control, along with the new control management, allows cruise control to be deactivated simply by closing the throttle, whereas braking was previously required.
Electronics
The instrumentation, focused on the 5.5" TFT panel, also benefits from an overall improvement thanks to the software upgrade, also to the advantage of the connectivity features. The Mobisat anti-theft system with geolocalisation lets you sleep more peacefully at night. As do the inertial platform and the Continental Cornering ABS, both upgraded to provide the utmost in safety.
4 Cylinders
208HP Engine max Power @ 13.000 R.P.M
>300KM/H Max speed
998CC Engine displacement
186KG Dry weight
13.4:1 Compression ratio
UPDATED ENGINE WITH THE INTEGRATION OF A SECOND ORDER BALANCE SHAFT
CONTINENTAL ABS WITH UPDATED CORNERING FUNCTION
INSTRUMENTATION AND HEADLIGHT SUPPORTS DEVELOPED WITH TOPOLOGY
OPTIMISATION AND MADE FROM ALUMINIUM WITH SLM (SELECTIVE LASER MELTING)
TEXTURED COMFORT SEAT, PRODUCED IN COLLABORATION WITH ALCANTARA MILANO
MORE COMFORTABLE RIDING POSITION THANKS TO HIGH SEMI-HANDLEBARS
FULL LED HEADLIGHT WITH CORNERING FUNCTION
ELECTRONIC TWIST GRIP WITH COUNTER-ROTATION
IMU INERTIAL PLATFORM FOR TC AND FLC FUNCTIONS
MOBISAT ANTI-THEFT SYSTEM WITH GEOLOCATION
5.5" TFT DISPLAY WITH CONNECTIVITY
UPDATED ENGINE CONTROL MANAGEMENT SYSTEM
REINFORCED WIRING HARNESS
CARBON SUPERSTRUCTURE ELEMENTS
FORGED RIDER FOOTPEGS
NEWLY DESIGNED SILENCER
ÖHLINS TTX 36 EC REAR SUSPENSION
CONTINENTAL MK100 ABS MODULE WITH UPDATED CALIBRATION
MOBISAT ANTI-THEFT SYSTEM WITH GEOLOCATION
NEW TEXTURED ALCANTARA SEAT
RAISED SEMI-HANDLEBARS
5.5″ COLOUR TFT INSTRUMENTATION WITH CONNECTIVITY
LIMITED EDITION PLATE, 300 UNITS
SLM INSTRUMENTATION / HEADLIGHT SUPPORT
ÖHLINS NIX EC FRONT SUSPENSION
TITANIUM RADIAL VALVES
NEW COUNTERBALANCE SHAFT
2023 MV Agusta Brutale Rush Totalmotorcycle.com Features and Benefits
ENGINE
NEW ENGINE WITH COUNTERBALANCE SHAFT TO DAMPEN SECOND ORDER VIBRATIONS, CAM FOLLOWERS WITH DLC COATING TO REDUCE INTERNAL FRICTION AND IMPROVE PERFORMANCE
TITANIUM CONNECTING RODS
16 RADIAL TITANIUM VALVES
CAM PROFILE & TIMING TO OPTIMISE TORQUE CURVE
UPDATED EXHAUST MANIFOLD
CARBON FIBER ENGINE PROTECTION ( BRUTALE 1000 RR / RUSH )
NEW ELECTRONIC RIDE-BY-WIRE THROTTLE ASSEMBLY WITH THE INTEGRATION OF CONTROLLED NEGATIVE ROTATION
Advanced ride-by-wire throttle with electronically tracked positive and negative rotation offering improved feeling and advanced control algorithms.
INSTRUMENTATION AND HEADLIGHT SUPPORTS DEVELOPED WITH TOPOLOGY
OPTIMISATION, MANUFACTURED IN ALUMINIUM WITH SLM (SELECTIVE LASER MELTING)
EXCLUSIVE RACING KIT – UP TO 212HP
A unique bike like the Rush deserves an equally unique kit. Each of the 300 Rush bikes, complete with certificate of origin, will be delivered to the customer with a series of accessories to further heighten its exclusivity.
The racing kit includes the following technical elements:
RACING KIT BOX
NEW ARROW SLIP-ON SILENCER
CARBON EXHAUST COVER
DEDICATED ECU
PASSENGER SEAT COVER
ALUMINIUM INSTRUMENTATION COVER
CNC FUEL CAP
CNC BRAKE LEVER/CLUTCH
ADJUSTABLE LEVER GUARDS
DEDICATED MOTORCYCLE COVER
CERTIFICATE OF ORIGIN AND LIMITED EDITION PLATE
DESIGN. FIT FOR THE STRIP
The design choices highlight the uniqueness of the idea behind the Rush, a bike meant for those who are not afraid to stand-out of the crowd with out-of-the-ordinary details, such as she lenticular rear-wheel, typical of acceleration races.
FEEL THE POWER OF SOUND
The inline-four-cylinder engine of the Brutale 1000RR, the result of an accurate development process, offers record power of 208 hp (153 kW) at 13000 rpm, that further increases to 212 hp (156 kW) in racetrack configuration. Torque stands at 116.5 Nm. The combustion chamber has been completely redesigned, drawing on Formula 1 technology.
TRACTION CONTROL FOR LIGHTING LAUNCHES
The evolution of the electronics compartment aims at making the Rush 1000 the easiest possible to drive despite its exceptional performance. Thus the extreme care in fine-tuning the electronic management of the engine. The 8-level traction control is particularly useful on a model boasting rocket-like starts, as is the anti-wheelie system and the EAS 2.1 Up & Down for clutch-free changes.
BRUTAL INSPIRATION
All MV Agusta technology is concentrated in this Rush 1000, which boasts the engine, transmission and chassis of the extremely powerful Brutale 1000 RR. Every technical detail has been adapted to the irreverent vocation of this "strip" bike, to obtain an even more exciting performance. Starting with titanium connecting rods, which reduce engine loads and inertia.
SAFETY
Brembo Stylema callipers linked to Bosch 9 Plus Race ABS with RLM (Rear wheel Lift Mitigation) constitute the ideal combination to manage the exuberance of the Rush 1000. Born to impress, it exploits the electronically adjustable Öhlins EC suspension units to further enhance driving control.
2023 MV Agusta Brutale Rush – Totalmotorcycle.com Specifications/Technical Details
US MSRP Price: $ See Dealer for Pricing in USD
Canada MSRP Price: $ See Dealer for Pricing in CDN
Europe/UK MSRP Price: £34,660 Dealer GBP
ENGINE
Type Four cylinders, 4 stroke, 16 valves, with crankshaft
Timing system "D.O.H.C", radial valve and DLC tappet
Total displacement 998 cm3 (60.9 cu. in.)
Compression ratio 13.4:1
Starting Electric
Bore x stroke 79 mm x 50.9 mm (3.1 in. x 2.0 in.)
Max. power – r.p.m. (at the crankshaft) 153,0 kW (208 hp) at 13.000 r.p.m. 156,0 kW (212 hp) at 13.600 r.p.m.**
Max. torque – r.p.m. 116,5 Nm (11,9 kgm) at 11.000 r.p.m.
Cooling system Cooling with separated liquid and oil radiators
Engine management system Integrated ignition – injection system MVICS 2.1
(Motor & Vehicle Integrated Control System) with eight injectors (4 lower fuel injectors by Mikuni +
4 upper fuel injectors by Magneti Marelli with
increased fuel flow). Engine control unit Eldor Nemo
2.1, throttle body bore 50 mm diameters full ride by
wire Mikuni, pencil-coil with ion-sensing technology,
control of detonation and misfire – Torque control
with four maps – Traction control with 8 levels + off and wheelie control with inertial platform
Electronic quick-shift MV EAS 3.0 (Electronically Assisted Shift Up & Down)
Clutch Wet, multi-disc with back torque limiting device
and Brembo radial pump/lever assembly
Transmission Cassette style; six speed, constant mesh
Primary drive 48/82
Gear ratio
First gear 14/37
Second gear 16/33
Third gear 18/31
Fourth gear 20/30
Fifth gear 22/29
Sixth gear 21/25
Final drive ratio 15/41
ELECTRICAL EQUIPMENT
Voltage 12 V
Alternator 350 W at 5.000 r.p.m.
Battery Li-ion 12 V – 4.0 Ah
DIMENSIONS AND WEIGHT
Wheelbase 1.415 mm (55.71 in.)
Overall length 2.080 mm (81.89 in.)
Overall width 805 mm (31.69 in.)
Saddle height 845 mm (33.27 in.)
Min. ground clearance 141 mm (5.55 in.)
Trail 97 mm (3.82 in.)
Dry weight 186 kg (410.06 lbs.) – 184 kg (405.65 lbs.)**
Fuel tank capacity 16 l (4.23 U.S. gal.)
PERFORMANCE
Maximum speed* over 300 km/h (186 mph)
Accelerazione* 0-100 km/h in 3.15 s 0-200 km/h in 8.30 s
FRAME
Type CrMo Steel tubular trellis
Rear swing arm pivot plates material Aluminium alloy – Adjustable swingarm
pivot height
FRONT SUSPENSION
Type Öhlins Nix EC hydraulic "upside down" front forks with TIN superficial treatment.Completely
adjustable with electronically controlled
compression and rebound damping with
manually controlled spring preload.
Fork dia. 43 mm (1.69 in.)
Wheel travel 120 mm (4.72 in.)
REAR SUSPENSION
Type Progressive, single shock absorber Öhlins EC
TTX completely adjustable with electronically
controlled compression and rebound
damping and spring preload
Single sided swing arm material Aluminium alloy
Wheel travel 120 mm (4.72 in.)
BRAKES
Front brake Double floating disc with Ø 320 mm (Ø 12.6 in.)
diameter, with steel braking disc and aluminium flange – Brembo radial pump/level assembly
Front brake caliper Brembo Stylema radial-type, single-piece with 4 pistons Ø 30 mm (Ø 1.18 in.)
Rear brake Single steel disc with Ø 220 mm (Ø 8.66 in.) dia. Brembo PS13 brake pump
Rear brake caliper Brembo with 2 pistons Ø 34 mm (Ø 1.34 in.)
ABS System Continental MK100 with RLM (Rear Wheel Lift-up
Mitigation) and with cornering function
WHEELS
Front: Material/size With aluminium alloy spokes 3,50 " x 17 "
Rear: Material/size Forged alluminium alloy 6,00 " x 17 "
with carbon fiber cover
TYRES
Front 120/70 – ZR 17 M/C (58 W)
Rear 200/55 – ZR 17 M/C (78 W)
FAIRING
Material Carbon fiber and thermoplastic material
CONTENTS
Steering damper Öhlins EC with electronic manual and
automatic adjustment modes
Carbon components Air box – Air-box cover – Dashboard harness cover RH/LH central panel for fuel tank – RH/LX side panel for fuel tank – Clutch and gearbox covers – RH/LH external air intake. Under seat cover – Rear Wheel cover – Radiator covers
Exclusive features Lighter crankshaft – New combustion chamber Lighter pistons – Titanium connecting rods
Dashboard TFT 5.5"color display – Cruise control
Bluetooth – GPS – MV Ride App for navigation
mirroring, app-controlled engine, suspension and
rider aids setup – Launch Control – FLC (Front lift
control – Mobisat anti-theft system with geo- location – CNC Rider's footpegs with adjustable
height – Sprocket Z15 – Raised semi-handlebars
Alcantara "comfort" seat – Aluminium dashboard
cover
RACING KIT**
Customized Racing Kit box containing: Arrow Titanium racing exhaust silencer (Euro 5, street
legal) and dedicated control unit – Carbon exhaust
cover – Passenger seat cover – CNC fuel tank cap
CNC brake/clutch levers – Brake/clutch lever
protections – Customized motorcycle cover
Certificate of origin – Limited Edition
EMISSIONS
Environmental Standard Euro 5
Combined fuel consumption 6.8 l/100 km
CO2 Emissions 158 g/km
* Speed attained on closed course.
** Kit Exhaust and ECU Map version
Manufacturer Specifications and appearance are subject to change without prior notice on Total Motorcycle (TMW).