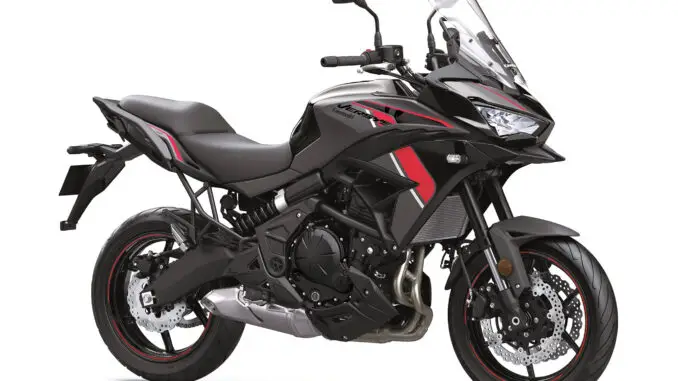 2024 Kawasaki Versys 650 LT ABS: ANY ROAD, ANY TIME.
Introducing the 2024 Kawasaki Versys 650 LT ABS…
The Kawasaki Versys 650 LT ABS allows riders to ride as long or as far as they want, on any type of road, and with Kawasaki Quick Release 28-Liter Saddlebags and hand guards as standard equipment it's touring ready straight off the showroom.
The Versys 650 LT ABS is ready to take on any road, any time for your next adventure with its long-travel suspension, proven reliability, back-road capabilities, and superb fuel efficiency. It continues to be a top choice as the ultimate travel guide for riding enthusiasts who are looking for reliable performance and versatile fun. The Versys 650 LT ABS features a fuel-injected 649cc, parallel twin engine, upright riding position, Kawasaki TRaction Control (KTRC), TFT color LCD screen, Smartphone Connectivity via RIDEOLOGY THE APP, LED taillight and headlights, large 5.5-gallon fuel tank, and a 4-way adjustable windshield. The Versys 650 LT ABS comes equipped with hand guards that help protect the rider's hands against weather and wind, and a 28-liter KQR hard saddlebag set with quick release capabilities that can be removed and installed without the use of tools and offers enough space to fit a full-face helmet. The hard saddlebag set also utilizes Kawasaki's One Key System to keep things as simple as possible with the use of the ignition key. The 2024 Versys 650 LT ABS is available in Metallic Matte Dark Gray / Ebony.
2024 Kawasaki Versys 650 LT ABS Totalmotorcycle.com Key Features
POWERFUL FUEL-EFFICIENT TWIN-CYLINDER ENGINE TUNED FOR STRONG LOW TO MID-RANGE POWER
KAWASAKI TRACTION CONTROL (KTRC)
LED HEADLIGHTS
4-WAY ADJUSTABLE WINDSCREEN
FULL-COLOR TFT INSTRUMENTATION WITH SMARTPHONE CONNECTIVITY
STANDARD ANTI-LOCK BRAKE SYSTEM (ABS)
LONG TRAVEL SUSPENSION
2-YEAR FACTORY WARRANTY
KAWASAKI ANNOUNCES FALL RELEASE OF 2024 STREET MOTORCYCLES
No matter what type of motorcycle you're looking for, Kawasaki's 2024 lineup has the model for you as it welcomes the return of several retro sport, hypernaked, supernaked, mini naked, hypersport, supersport, sport, retro classic, cruisers, adventure touring, and dual-sport models to its street motorcycle lineup. These 2024 model-year motorcycles are set to arrive in Kawasaki dealerships during the fall months so that riders can continue to "Let the Good Times Roll."
2024 Kawasaki Versys 650 LT ABS Totalmotorcycle.com Features and Benefits
ENGINE
Compact 649cc Twin-Cylinder, DOHC Engine
• Kawasaki Air Management System (KAMS) radiator fan cover helps direct hot engine air down to the ground and away from the rider.
• Compact parallel twin engine helps reduce the dimensions of the entire motorcycle to keep it small and nimble.
• Tuned to deliver strong, responsive power from 3-6,000 rpm for greater acceleration from a stop.
• Triangular crank and transmission shaft layout makes the engine very short from front to back, a semi-dry sump oil system reduces overall engine height, while the narrow pitch of the chrome composite plated aluminum cylinders helps reduce engine width
• One-piece muffler and exhaust pipe helps boost top-end engine performance.
• Muffler with 3-way catalyzer and bullet-tip opening is mounted below the engine to help lower the center of gravity and aid weight centralization.
• 180-degree crankshaft plus balancer shaft for extremely smooth engine operation.
• Oil jets in the connecting rod big ends spray oil on the undersides of the pistons to aid cooling.
Digital Fuel Injection
• D38mm Keihin throttle bodies feature dual throttle valves for optimum performance and rideability. The sub throttles, located behind the main throttle valves, are controlled by the ECU so that the DFI system has more precise throttle response, similar to a constant-velocity carburetor.
• Precise fuel injection plus exhaust catalyzer significantly reduce emissions.
• Automatic fast idle system makes starting and warm-up easy.
2-Mode Kawasaki TRaction Control (KTRC)
• Kawasaki's advanced traction control system provides both enhanced sport riding performance and reassurance under certain conditions to allow riders to negotiate low-traction surfaces with confidence. Two modes allow riders to adjust settings to suit the riding situation and rider preference.
– Mode 1, the least intrusive, helps to manage traction during cornering. Designed with sport riding in mind, it facilitates acceleration out of corners by maximizing forward drive from the rear wheel.
– In Mode 2, intervention occurs earlier. When excessive wheel spin is detected, engine output is reduced to allow grip to be regained, effectively enabling riders to negotiate both short, challenging patches (train tracks or manhole covers) and extended stretches of bad roads (wet pavement,
cobblestone, gravel) with confidence.
– A switch on the left switch housing gives the rider the option to turn the system off. KTRC is always on when the engine is started.
6-Speed Transmission
• Cassette-style transmission puts the transmission shafts and shift drum into a compact layout.
• Positive Neutral Finder, a Kawasaki exclusive user-friendly feature.
CHASSIS
Frame
• Rubber front engine mounts help reduce vibration for rider comfort.
• Double-pipe perimeter-frame is simple and unique and contributes to light handling character. A backbone-style rear subframe keeps the seat narrow for an easy reach to the ground while allowing a thick cushion for comfort.
• Strong rear sub-frame accommodates accessory direct-mount saddlebags and optional accessory top case can be mounted at same time for increased touring capacity.
• Swingarm contributes to light, easy handling. Gull-wing shape on the right side allows clearance for the aggressive muffler design.
Triple Petal Design Brake Discs
• Anti-lock Brake System (ABS) helps assist braking under certain conditions and features a compact Bosch control unit to save space and weight.
• Nissin brake calipers convey a sporty image and contain front and rear brake specific pads; the front providing strong initial bite and the rear offering optimum control and high overall brake force.
• Large rear petal brake disc helps handle heavier loads when accessories are added.
• Front brake calipers have large 27mm pistons for excellent brake feel.
• Petal design offers improved cooling and warp resistance.
SUSPENSION
SPORTY AERODYNAMIC BODYWORK
Showa Front Fork
• Derived from high-spec forks on Kawasaki Ninja sportbikes, the Showa fork separates damping and spring functions into each fork leg. Rebound damping adjustability is in the right fork leg and spring preload in the left leg.
Single-shock Rear Suspension
• The rear shock has a remote hydraulic preload adjuster that allows the rider to conveniently change preload, without tools, for various load conditions.
• Aluminum gull-wing swingarm and offset, laydown single rear shock complement the frame design to create an integrated line flowing from the steering head to the rear hub.
• Upper and side cowlings combine with tail cowl to provide a sharp sport image.
• Windscreen adds to rider comfort and uses a release below the instrument panel so that the operator can easily move the windscreen over its 3-inch range without using tools.
• Lightweight, stylish and bright LED lighting enhance the modern look with crisp light, and lightweight housings designed for both enhanced functionality and exceptionally sharp styling while consuming less power than standard lighting.
INTEGRATED KQR (KAWASAKI QUICK RELEASE) COLORMATCHED HARD CASE SADDLEBAGS
• Color-matched hard saddlebags are water resistant to protect cargo.
• Saddlebag design integrates with the tail section and is large enough to hold a typical full-faced helmet.
• Direct-mount system allows the saddlebags to be quickly and easily removed. When removed there is no supporting framework to detract from the Versys' design.
• Convenient one-key lock system. Customized saddlebag locks are matched to the vehicle's ignition key so that one key operates all locks on the bike.
• Each bag is close to the motorcycle's centerline for a narrow profile
• Hand guards add to the long-range comfort and capability.
TFT COLOR INSTRUMENTATION
• 4.3-inch all-digital TFT (thin-film transistor) color instrumentation gives the cockpit a high-tech, highgrade appearance.
• TFT delivers a high level of visibility. The screen's background color is selectable (black or white), and screen brightness adjusts automatically to suit available light.
• Display functions include: digital speedometer, digital barstyle tachometer, gear position indicator, shift lamp, fuel gauge, odometer, dual trip meters, current and average fuel consumption, remaining range, average speed, total time, coolant temperature, clock, battery voltage, Kawasaki service reminder, oil change reminder and the Kawasaki Economical Riding Indicator.
• A Bluetooth chip built into the instrument panel enables riders to connect to their motorcycle
ERGONOMICS
• The footpegs are positioned for a relaxed riding position without compromising sport potential. The footpeg mounting plates are rubber mounted to help isolate the rider from vibration resin heel guards help prevent paint wear from the rider's boots.
• Rubber-mounted handlebars help reduce vibration reaching the rider.
• Passenger grips provide a stylish handhold and accommodate the KQR 28-liter Saddlebags.
TFT COLOR INSTRUMENTATION CONTINUED
RIDEOLOGY THE APP Smartphone Connectivity†
† Do not operate smartphone while riding
• A Bluetooth chip built into the instrument panel enables riders to connect to their motorcycle wirelessly. Using the smartphone application "RIDEOLOGY THE APP," a number of instrument functions can be accessed, contributing to an enhanced motorcycling experience.
Available functions:
– Vehicle Info: information such as fuel gauge, odometer, maintenance schedule, etc can be viewed via the smartphone.
– Riding Log: GPS route information as well as vehicle running information can be logged and viewed via the smartphone.
– Telephone notices: when a call or mail is received by the smartphone, this is indicated on the instrument display.
– General Settings: general instrument display settings (such as preferred units, date, date format, etc) can be adjusted via the smartphone.
– Vehicle Settings: Riding Mode (Road, Sport, Rain, Rider) can be set in advance on the smartphone and uploaded when in proximity of the bike, as can riding support systems (like KQS) and the payload mode.
• Once vehicle information has been downloaded to the app, it can be viewed on the smartphone. Available information includes: odometer, trip A, trip B, fuel gauge, remaining range, average gas mileage, average speed, max lean angle (right/left), battery voltage, Kawasaki service reminder, oil
change reminder, etc.
• Detailed riding logs including GPS information and vehicle running information can be recorded. While riding, the app tracks vehicle speed, rpm, gear position, throttle position, front brake fluid pressure, acceleration/deceleration, current mileage, and coolant temperature from moment to moment. Once the riding log has been saved, riders can review these items in a graphic-style display at any point along the route. The app can also display a ride summary, with information that may include: route travelled, total distance, total time, gas mileage (best/average), speed (best/average), max lean angle (right/left), etc. For either display mode, riders can select which items are displayed, and can arrange them in their preferred order.
• When riding with the app ON the bike and smartphone are always connected. When the engine is turned off, the latest riding information stored by the app may be viewed on the smartphone. Any vehicle setting changes made via the app while the engine is off, or while out of range, cannot be
uploaded until the ignition is turned on and the smartphone is in range with the app ON. General settings can only be updated via the app when the bike and smartphone are connected.
2024 Kawasaki Versys 650 LT ABS – Totalmotorcycle.com USA Specifications/Technical Details
US MSRP Price: $10,099 USD
Canada MSRP Price: $11,999 CDN
Europe/UK MSRP Price: £ NA GBP (On The Road inc 20% Vat)
POWER
Engine 4-stroke, 2-cylinder, DOHC, 8 valves, liquid-cooled
Displacement 649cc
Bore x Stroke 83.0 x 60.0mm
Compression Ratio 10.8:1
Fuel System DFI® with 38mm Keihin throttle bodies (2)
Ignition TCBI with Electronic Advance
Transmission 6-speed with positive neutral finder
Final Drive Sealed chain
Electronic Rider Aids Kawasaki TRaction Control (KTRC), Anti-lock Brake System (ABS), Economical Riding Indicator
Maximum Torque 44.8 lb-ft
PERFORMANCE
Front Suspension / Wheel Travel 41mm telescopic fork with stepless adjustable rebound and spring preload/5.9 in
Rear Suspension / Wheel Travel Single offset laydown shock with remote adjustable spring preload/5.7 in
Front Tire 120/70 ZR-17
Rear Tire 160/60 ZR-17
Front Brakes Dual 300mm petal-style discs with 2-piston calipers, ABS
Rear Brakes Single 250mm petal-style disc with single-piston caliper, ABS
DETAILS
Frame Type Double pipe diamond frame constructed from high-tensile steel
Rake/Trail 25°/4.3 in
Overall Length 85.2 in
Overall Width 33.1 in
Overall Height 53.5 in/55.9 in (windshield down/up)
Ground Clearance 6.7 in
Seat Height 33.3 in
Curb Weight 482.9 lb* (+ approx. 20 lb* w/ saddlebags & hand guards)
Fuel Capacity 5.5 gal
Wheelbase 55.7 in
Special Features TFT color instrumentation with Smartphone Connectivity via RIDEOLOGY THE APP, Clean-mount hard saddlebag system, featuring KQR™ mounts
Color Choices Metallic Matte Dark Gray/Ebony
Warranty 12 Month Limited Warranty
Kawasaki Protection Plus™ (optional) 12, 24, 36, or 48 months
2024 Kawasaki Versys 650 LT ABS – Totalmotorcycle.com  Canadian Specifications/Technical Details
POWER
Engine 649cc, liquid-cooled, 4-stroke, DOHC 8-valve parallel twin
Bore x Stroke 83.0 x 60.0 mm
Compression Ratio 10.8:1
Fuel System Fuel injection: ø38 mm x 2 with dual throttle valves
Ignition Digital
Starting Electric
Lubrication Forced lubrication, semi-dry sump
Transmission 6-speed, return
Clutch Wet multi-disc, manual
Final Drive Chain
PERFORMANCE
Frame Diamond, high-tensile steel
Front Suspension / Wheel Travel ø41 mm inverted fork with adjustable rebound damping (right-side) and adjustable spring preload (left-side) / 150 mm (5.9 in)
Rear Suspension / Wheel Travel Offset laydown single-shock with remote spring preload adjustability / 145 mm (5.7 in)
Rake / Trail 25.0° / 108 mm
Steering Angle (L/R) 35° / 35°
Front Tire 120/70-ZR17M/C (58W)
Rear Tire 160/60-ZR17M/C (69W)
Front Brakes Dual semi-floating ø300 mm petal discs with dual-piston calipers
Rear Brake ø250 mm petal disc with single-piston caliper
DETAILS
Dimensions (L x W x H) 2,165 x 840* x 1,420/1,360 mm (high/low) (85.2 x 33.1* x 55.9/53.5 in (high/low)) *Width without hand guards
Wheelbase 1,415 mm (55.7 in)
Road Clearance 170 mm (6.7 in)
Seat Height 845 mm (33.3 in)
Curb Mass** 219 kg (483 lb) without saddlebags
Fuel Capacity 21 litres
Instrumentation Full-colour TFT screen with digital speedometer, digital bar-style tachometer, gear position indicator, shift lamp, fuel gauge, odometer, dual trip meters, current and average fuel consumption, remaining range, average speed, total time, coolant temperature, external air temperature, clock, battery voltage, Kawasaki service reminder, oil change reminder, and Economical Riding Indicator
Warranty 24 months
Kawasaki Protection Plus 12 / 24 / 36 / 48 months
2024 Kawasaki Versys 650 LT ABS – Totalmotorcycle.com European Specifications/Technical Details
NA
Manufacturer Specifications and appearance are subject to change without prior notice on Total Motorcycle (TMW).