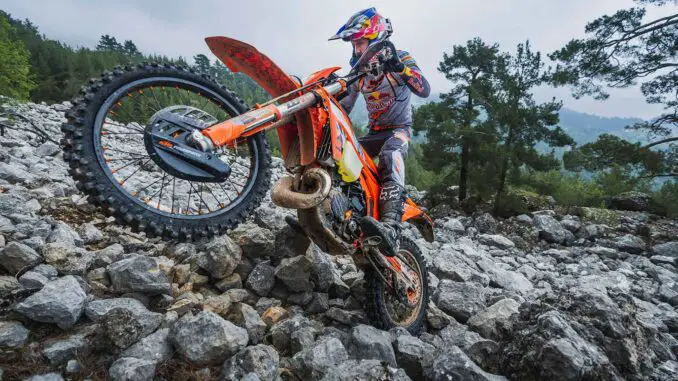 2024 KTM 300 XC-W HARDENDURO: BUILT TO WIN.
Introducing the 2024 KTM 300 XC-W HARDENDURO…
Ready to set the pace, the KTM 300 XC-W HARDENDURO has rolled out of pitlane and onto the prologue startline. Based on the all-new KTM 300 XC-W, the KTM 300 XC-W HARDENDURO sets itself apart, bristling with an exclusive HARDENDURO package. Hardcore protection parts, pull-straps, CNC-machined components – not to mention hand-adjustable closed cartridge forks – and a totally unique graphics kit, makes this the ultimate READY TO RACE package for tackling the World's toughest championship.
2024 KTM 300 XC-W HARDENDURO Totalmotorcycle.com Key Features
KTM INTRODUCES AN ALL-NEW HARDENDURO NAMEPLATE TO ITS 2024 ENDURO LINEUP
With many decades of success at the world's toughest hard enduro races, along with the FIM Hard Enduro World Championship, KTM introduces a dedicated HARDENDURO model to its unrivaled 2024 KTM EXC range.
In celebration of the most challenging hard enduro races on earth, KTM has released the 2024 KTM 300 EXC HARDENDURO, positioning itself at the top end of the KTM Enduro model range.
Well known German hard enduro rider Manuel Lettenbichler already giving the 2024 KTM 300 EXC HARDENDURO his stamp of approval, having taken the 2022 Hard Enduro World Championship title, and opening his 2023 campaign with wins at RED BULL Erbergrodeo and Xross Hard Enduro Rally. The 2024 KTM 300 EXC HARDENDURO has some serious pedigree.
Using the all-new 2024 KTM 300 EXC as a baseline, the KTM 300 EXC HARDENDURO is engineered with feedback from top extreme enduro riders to provide the ultimate READY TO RACE Enduro machine available, directly off dealership floors.
The 2024 KTM 300 EXC HARDENDURO is specially built to tackle tough terrain and features a slew of special protection parts, including closed hand guards, clutch slave cylinder protection, composite skid plate and brake disc guards to withstand the most extreme racing scenarios imaginably.
Along with an all-new frame, closed-cartridge suspension, refined bodywork, and industry-leading TBI technology, the 2024 KTM 300 EXC HARDENDURO also features additional parts such as:
New, model-specific graphics
Orange frame
HARDENDURO bar pad
Soft, grey ODI lock-on grips
Ribbed diamante factory seat
Map-selection switch
Factory frame protector set
Factory wheelset, featuring black D.I.D rims, black spokes, orange-anodized hubs, and orange-anodized nipples
Metzeler 6 Days Extreme tires
Wrap-around handguards
Radiator fan
Orange-anodized CNC machined triple clamps
Composite skid plate
Floating front brake disc with composite front brake disc guard
Solid rear brake disc, with safety wire and orange rear brake disc guard
Orange Supersprox stealth rear sprocket
Orange-anodized oil plug
Orange-anodized clutch slave cylinder protection
Front and rear pull straps
2024 KTM 300 XC-W HARDENDURO Totalmotorcycle.com Features and Benefits
SETTING THE SAG
Adjustability
Getting READY TO RACE has never been easier. Thanks in part to its all-new suspension, the KTM 300 XC-W HARDENDURO range boasts totally tool-free suspension setup at both ends. At the rear, our legendary, race-winning PDS technology features an all-new shock absorber design with hand-adjustable dual compression controls. This allows riders to adjust high- and low-speed settings in a matter of seconds. On the front, the forks are also easily adjusted thanks to hand-adjustable clickers on the bottom of the fork shoe and on the fork top cap, making changing settings on the fly as easy as twisting the throttle.
DEEP BREATH
Air filter box
Maximum airflow with minimal water intrusion, a new air filter box is designed with precisely positioned inlet ducts aimed at preventing air deformation and maintaining filter protection. An enduro-specific splash protector under the airbox prevents water or dirt from splashing up from the rear wheel, while the Twin Air filter and air filter support design feature a simple fail-proof mounting system for safe and accurate filter installation, ensuring the air filter is easily accessed, without tools, for fast track-side maintenance.
LESS WRENCHING, MORE RIDING
Serviceability
The KTM 300 XC-W HARDENDURO is designed to allow easy access to service parts with added service markers – like these ▲ – and draining nodes without the need for exsesive tools and pit crews. The reason? Faster track-side and off-season maintenance to ensure you're ready to head for the hills at a moment's notice.
FULLY FUELED
Fuel Tank
The transparent, polythene (XPE) fuel tank is a signature element of the KTM Enduro lineup. Not only does this let you keep an eye on your fuel level with a quick glance, but years of development mean it's the strongest, most reliable fuel tank yet. For 2024, a one-piece fuel pump and filter improve fuel supply allowing the tank to be emptied further at the low fuel level. And with 2.37 gallon (9 liters) of fuel at your disposal, you can hit the trail or track with utmost confidence.
Graphics
Celebrating the toughest races on planet Earth, the KTM 300 XC-W HARDENDURO features a loud, proud graphics kit. Featuring a gritty, textured tone and set off by brilliant orange bodywork, seat cover, and frame, it is instantly recognizable.
Benchmark lap
TORQUE ABOUT IT
Engine
This new 300cc 2-stroke powerplant not only brings a new choice into the E3 Enduro category, but remains the idea choice for Enduro riders wanting maximum power and torque at the least possible weight. Another reason why the KTM 300 XC-W engine sets the benchmark in the competitive Enduro E3 class and in hard enduro races all over the world.
FUELING SPEED
Throttle Body Injection
The ​2024 KTM ​2-stroke ​Enduro models ​feature​ all-new electronically​-controlled Throttle Body Injection​ – or TBI. The ECU​​, together with ​a new Keihin​ ​39mm throttle body​,​ calculates​ the ​ideal air-fuel mixture by constantly analyzing water temperature, air temperature, ambient pressure, ​and ​pressure within the crankcase, ​the ​rpm, and the throttle position​ to ensure the smoothest and most consistent power delivery​ in the most gnarly of ​enduro conditions.
POWER ON TAP
Powervalve
For 2024, the reed valve case ​has ​received an important design update along with ​electronic exhaust control. ​New​ plastic flaps on the outer reed valve case​ ​provide improved​ sealing of the whole intake tract​, preventing ​excess​ fueling​ in extreme up or downhill sections which could lead to rich engine settings​.
SMARTER ELECTRONICS
Offroad Control Unit
An all-new Offroad Control Unit – or OCU – under the seat replaces all the electronic fuses and relays. All outputs are switched depending on signals from the voltage regulator and the ECU continuously. In the event of over-current, outputs are deactivated individually. This makes for easy error detection as the status of each output is indicated by a red or green LED light. This means diagnosing an electrical issue out on the trail is as easy as lifting the seat, and there's no more need to carry fiddly fuses.
PICK YOUR POWER
Selectable Engine Maps
Designed for easy operation, the newly developed map select switch comes standard on the KTM 300 XC-W HARDENDURO and allows for the easy selection of 2 unique engine maps. Map 1 is the standard, more linear, and predictable power map, while map 2 is a more aggressive map for added throttle response and more crisp, explosive power output.
LITHIUM POWERED
Battery & Wiring Harness
As with the rest of the 2024 2-stroke EXC range, the KTM 300 XC-W HARDENDURO is fitted with a proven, reliable electric start system. Powered by an ultra lightweight 2 Ah lithium-ion starter battery, it provides a safe, reliable starting time and time again, while the wiring harness has most of the electrical components carefully positioned under the seat for easy accessibility.
FLUID RIDER MOTION
Ergonomics
The KTM 300 XC-W HARDENDURO features a rider-focussed body-position triangle, providing improved knee contact – especially when standing on the pegs – with improved gripping surfaces all around. With the plastics working to expel mud buildup in wet, muddy conditions, a flat seat profile with a high grip seat cover providing exceptional rider movement and control, and a polyamide-reinforced aluminum subframe providing unmatched rider feel and feedback, your only concern is navigating the terrain ahead of you.
UNMATCHED PERFORMANCE
Exhaust
Binging the Braaap! Thanks to the KTM 300 XC-W HARDENDURO's compact engine design, the header pipe is designed with the target of achieving more ground clearance and reducing the risk of damage​ when riding over​ deep roots​, ruts, or climbing steep rocks. ​The silencer is crafted from lightweight aluminum, saving weight and provides the signature low-down 2-stroke burble for this rock-hopping hero.
HARDENDURO EQUIPMENT
Top-shelf Componentry
The KTM 300 XC-W HARDENDURO model receives the full hard enduro treatment. From the standard-fitted radiator fan to machined orange anodized triple clamp, right down to a solid rear brake disc, each and every element on a KTM 300 XC-W HARDENDURO is specifically chosen for the job at hand.
On the charge
BUILT TO BE THE BACKBONE
Frame
Specifically engineered for longitudinal rigidity, the KTM 300 XC-W HARDENDURO is engineered around an all-new gloss-orange powder-coated frame providing exceptional rider feedback, energy absorption, and high-speed stability. This has been achieved by repositioning the rotating masses in the frame and the inclusion of a forged steering head connection. The footrest mounts have also moved inwards, slimming things down for less risk of hooking up when tackling narrow single tracks, or charging through rock gardens. And when the ride comes to an end, a completely redesigned forged one-piece side stand ensures your enduro weapon stands proud. All-new orange and black factory frame protectors and a composite skid plate completes the package.
MORE THAN A SUBFRAME
Subframe
A new ultra-light subframe takes charge at the rear of the main frame, featuring a 2-part polyamide and reinforced aluminum construction. With the help of computational dynamics, a specific rigidity was engineered into the subframe, to deliver outstanding handling and rider feedback. The new subframe is also shorter, more compact, and more robust than the previous generation, with the ability to bend and flex in the event of a crash, rather than break. The subframe fully integrates the electronic components, without any extra need for brackets, holders, or unnecessary fixtures.
UNFLAPPABLE FRONT END
WP XACT Closed-cartidge Fork
An all-new 48 mm WP XACT Closed Cartridge spring fork finds its way into the KTM Enduro line-up for 2024. Providing fast and consistent damping, optimized oil flow, and a new hydro stop in the last 68 mm of the stroke, the forks ensure unmatched performance at any level. New fork protection rings also provide improved protection against dirt intrusion. Best of all, the new fork allows for full adjustment of compression and rebound without the need for any tools.
GET THE POWER DOWN
WP XACT Shock
Remaining a hallmark of KTM Enduro weaponry, an updated PDS rear shock concept sees a new shock mount that significantly improves the anti-squat behaviors of the chassis. This remains the most reliable and maintenance-friendly option for competitive enduro racing. Moreover, an all-new WP XPLOR PDS rear shock now takes charge at the rear, weighing 380 g less than the previous generation unit. It features a new compact design, new bearings seals, and a new main piston for optimized oil flow, and improved, consistent damping, as well as providing full adjustability thanks to easy-to-use hand clickers for adjustments on the fly.
WHERE RUBBER MEETS DIRT
Wheels and Tires
The KTM 300 XC-W HARDENDURO rolls on a full-factory wheelset made up of high-strength black D.I.D alloy wheels coupled to orange-anodized CNC-machined hubs, black spokes, and orange aluminum nipples. These are wrapped in a set of ultra-grippy Dunlop MX33 front and Dunlop AT81 rear tires providing exceptional traction in all conditions.
Handlebars
Held in place by a set of CNC-machine triple clamps, the handlebar on the KTM 300 XC-W HARDENDURO features a newly designed bar pad and softer grey ODI lock-on grips for ultimate control. A set of wrap-around handguards provide further protection from unwanted obstacles in your path.
STOPPING POWER
Brakes
Slowing the KTM 300 XC-W HARDENDURO comes courtesy of a floating front brake disc and solid brake disc on the rear. Not only does the latter provide increased pad life and heat dissipation, its also safety wired directly from the factory. Both ends also get brake protection as standard, with a composite front brake disc guard and orange anodized rear disc guard as standard.
Keeping you going
HOLD THE LINE
Stability
The KTM 300 XC-W HARDENDURO remains rock-solid at speed thanks to a repositioned and forged steering head connection and orange anodized CNC-milled triple clamps. Made from high-grade aluminum, these feature optimally tuned steering stem stiffness, perfect alignment of the fork tubes, and precise geometry of the fork clamps to ensure highly responsive and smooth fork action – not to mention unwavering stability for those ultra-fast flat-out special stages. Newly designed, topology-optimized rubber-mounted bar mounts provide an increased grip surface for less handlebar twist. They come with a fixed mounting, providing the perfect amount of flex for the forged triple clamp setup.
SEE INTO THE FUTURE
Swing your leg over the KTM 300 XC-W HARDENDURO and you're met with a custom-designed seat. Wrapped in a brilliant orange seat cover with transversely stitched ribs, and protected by a water-resistant coating, you can be assured of maximum grip alt all times, with unrestricted freedom of movement when you need it.
FIGHTING FATIGUE
Energy Absorbtion
Besides the expertly crafted, hydro-formed, laser-cut, and robot-welded frame being engineered to provide exceptional rider feedback and straight-line stability, a number of components mean the frame acts as a "shock absorber" making for a less harsh ride, resulting in less rider fatigue over many hard laps. A new shock mounting, no longer connected to the main tube, significantly improves the anti-squat of the chassis. In contrast, a new, service-friendly one-piece steering head seal provides improved reliability. The closed-head tube design also provides a new routing for the fuel overflow. And lastly, a new forged one-piece side stand means no more sinking feelings when parking up.
SEE INTO THE FUTURE
LED headlight
Lighting the way forward, the KTM 300 XC-W HARDENDURO features a completely new LED headlight unit and light mask. The mask itself features improved triple clamp protection against roost and does away with the rubber mounting straps for improved fitment. Most importantly, the LED lighting unit provides 300% more illumination, making riding in the dark a completely new experience.
2024 KTM 300 XC-W HARDENDURO – Totalmotorcycle.com International Specifications/Technical Details
US MSRP Price: $13,049 USD
Canada MSRP Price: $ See Dealer for Pricing CDN
Europe/UK MSRP Price: £11,449 GBP (On The Road inc 20% Vat)
Engine
Transmission 6-speed
Starter Electric starter
Stroke 72mm
Bore 72mm
Clutch Wet, DDS multi-disc clutch, Brembo hydraulics
Displacement 293.15cm³
EMS Vitesco Technologies EMS
Design 1-cylinder, 2-stroke engine
Chassis
Front brake disc diameter 260mm
Rear brake disc diameter 220mm
Front brake Disc brake
Rear brake Disc brake
Chain 520 X-Ring
Frame design Central double-cradle-type 25CrMo4 steel
Front suspension WP USD closed cartridge Ø 48 mm
Rear suspension WP Xplor PDS shock absorber
Steering head angle 63.9°
Manufacturer Specifications and appearance are subject to change without prior notice on Total Motorcycle (TMW).