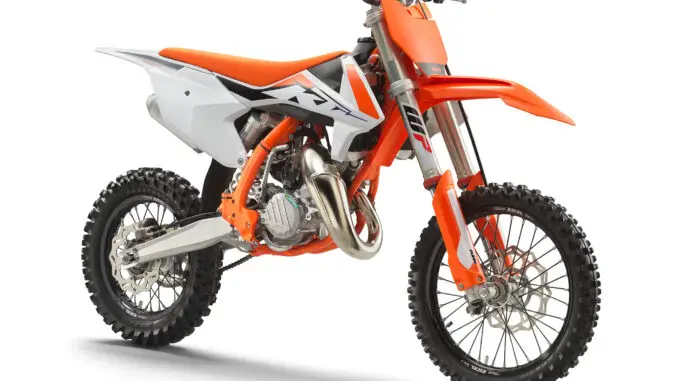 2024 KTM 85 SX 17/14: LITTLE WHEEL = ACCESSABLE FUN.
Introducing the 2024 KTM 85 SX 17/14…
If you're reading this, then it is safe to say things have become serious. The 2024 KTM 85 SX is the first real step into the big leagues. Lightweight, powerful and reliable, the KTM 85 SX boasts real big bike components in scaled-down 85 cc geometry, providing the ultimate kickstart to any young racing career.
SMALL WHEEL
2024 KTM 85 SX 17/14 Totalmotorcycle.com Features and Benefits
Engine & Exhaust
Engine
It took extreme levels of ingenuity to fit the race-winning formula of KTM's bigger 2-strokes into a compact 85 cc engine. The super-compact powerplant is fitted with a 6-speed gearbox and delivers class-leading power and rideability throughout the entire rev range. The powervalve plays a key role in tailoring power delivery to suit track conditions and rider ability, ensuring that the only rider surprised by the incredible performance is the competition.
Cylinder
The cylinder on the KTM 85 SX has a bore and stroke of 47mm and 48.95 mm respectively. It features a sophisticated power valve system, which controls both the exhaust valve and the sub exhaust ports, giving the bike excellent torque and power delivery. This translates into significant midrange performance, reducing the need to overwork the clutch in loamy or sandy conditions. An adjuster screw allows the opening time of the power valve to be adjusted to suit rider preference and track conditions.
Crankcases and engine covers
The crankcases are manufactured using a high-pressure die-cast production process, keeping wall thickness to a minimum while retaining strength and durability. The design of the cases is very compact and aims at positioning the shaft arrangements as close as possible to the center of gravity, contributing to better handling.
Transmission
The KTM 85 SX features a lightweight 6-speed gearbox, engineered to take a beating. The gear ratios have been developed to perfectly match the characteristics of the engine, with easy and precise shifting allowing the rider to slot in the next gear quickly and confidently. The gearbox also features a driveshaft that uses a screw to secure the front sprocket, and a diaphragm spring instead of a circlip, to ensure the front sprocket remains firmly in place. As with all KTM SX models, the KTM 85 SX transmission has a "no-dirt" gear shifter which, like the footpeg design, prevents dirt build-up.
Clutch
Ultra-durable thanks to modified clutch components, the 2024 KTM 85 SX allows riders to actuate the clutch level with ease, thanks to the FORMULA hydraulic system, which conveniently ensures that play is always compensated for. This means the clutch "bite" point remains consistent throughout the ride and under all conditions.
Crankshaft
The KTM 85 SX features a lightweight crankshaft with optimized balancing for reduced vibration and oscillating mass. As light as the crankshaft is, the rotational inertia has not been compromised, ensuring maximum torque and revs, as well as easy rideability.
Carburetor
The KTM 85 SX is fitted with a race-proven MIKUNI TMX carburetor with a 38 mm flat slide. This provides buttery smooth and controllable power all the way up to the rev limiter, while the angle of the intake manifold reduces any overflow of fuel. It's also less sensitive to different altitudes and temperatures, so you can pin it wherever, whenever.
Cooling
Maintaining the optimal engine temperature is crucial to ensuring consistent horsepower throughout the ride. The KTM 85 SX features radiators which are positioned for a lower center of gravity. Their design matches the shrouds perfectly and offers a great slim feel to the ergonomics. By using CFD technology (computational fluid dynamics) together with a clever coolant circuit routing, the innovative system ensures the optimum engine temperature for the highest performance, no matter what the conditions. The radiators also feature special protectors that serve not only as protection from flying rocks and debris but also as a brace that disperses energy around the radiators in the event of an impact.
Exhaust
The exhaust system has been designed to perfectly match the engine's power characteristics and contributes to the outstanding all-round performance and rideability. The header pipe is produced using a 3-dimensional stamping process. Once the components have been shaped, they are robot welded to ensure the highest level of quality, consistency and durability. The lightweight and compact silencer has been reworked with improved packing wool (40 g lighter), guaranteeing that sweet 2-stroke sound and falling safely within the noise limits for racing.
Chassis
Frame
The frame on the KTM 85 SX is a scaled-down version of the multi-championship-winning full-size frames. Made from hydroformed chromium-molybdenum steel tubes that are robot welded, the frame is pin-point accurate, ensuring the highest levels of consistent quality and flex characteristics.
Subframe
Not only does this lightweight aluminum subframe provide rear fender stability and strong support, it also adds to the overall rigidity and handling of the KTM 85 SX.
Swingarm
The one-piece swingarm is manufactured using a gravity die-cast production process for exceptional strength at the lowest possible weight. It offers a wide range of adjustment for the rear wheel, allowing for a shorter wheelbase on tighter, twisty tracks, or a longer wheelbase for greater stability on longer, more choppy tracks. The swingarm's chain measurement markings are visible from above, making adjustment simpler and more accurate.
Wheels
The 2024 KTM 85 SX features a 'big wheel' Excel rim combo powdercoated in black, with a 17-inch front wheel and a 14-inch rear. These are mounted on CNC-machined hubs and wrapped in MAXXIS MX-ST tires which deliver exceptional straight-line stability and excellent traction when chasing the holeshot.
Front suspension
The KTM 85 SX front fork features the same suspension technology found in the full-size motocross range. The WP XACT fork with AER technology consists of a split fork design with a capsuled air spring in the left leg and the trusted oil damping system in the right leg. The preload adjustment is extremely simple and can be adjusted by using the single air pressure valve and supplied air pump. The design also allows for easy access to compression and rebound clickers.
Rear suspension
The KTM 85 SX boasts a WP XACT rear shock absorber with sophisticated PDS (Progressive Damping System). This design offers a high progression rate and an excellent response to uneven terrain – just like the bigger bikes. It also allows an impressive 305 mm of rear-wheel travel and is fully adjustable for preload, compression, and rebound.
Brakes
Bringing this little screamer to a stop is down to the Formula brake system with radial calipers – four pistons in front, two in the rear – with lightweight Wave brake discs. The system is the benchmark in terms of controlled action and braking performance, ensuring powerful and confident braking.
Airbox
The KTM 85 SX airbox is a masterclass in design, optimizing the tiny space available to deliver the best possible performance, while still maintaining the highest level of filter protection. The air filter is easily accessed, without tools, by removing the left side panel. The Twin Air filter and filter cage design feature a simple, secure mounting system, making filter maintenance quick and easy, which means less time in the pits, and more time winning races.
Fuel tank
Holding approximately 5.2 liters of pre-mixed fury, the tank is perfectly shaped to be small and slim to allow for easy and uninhibited rider movement, while still providing enough range to cover a full race at full throttle.
Ergonomics & Comfort
Handlebar
Hang on tight – the KTM 85 SX features a strong, lightweight, tapered aluminum handlebar, with a specifically shaped bend to suit its overall ergonomics. Additionally, the bike comes standard with ODI lock-on grips, which include a vulcanized grip on the right side and a lock-on grip on the left that do not require glue or wire for mounting.
Footpegs
The KTM 85 SX has "no-dirt" footpegs, which have a simple but effective self-cleaning system that ensures the footpegs return to their original position, providing complete control in all conditions.
Seat
Providing the perfect blend of grip, durability and comfort, the 2024 KTM 85 SX seat does everything you'd expect it to, while showing off it's its undeniable READY TO RACE and 'orange' heritage.
Bodywork & Graphics
Decals
Rocking an all white and orange color plastics combination and orange seat cover – not to mention bold, black, orange and purple graphics – the 2024 KTM 85 SX lines up behind the gate with pure race-winning intent.
2024 KTM 85 SX 17/14 – Totalmotorcycle.com International Specifications/Technical Details
US MSRP Price: $6,599 USD
Canada MSRP Price: $ See Dealer for Pricing CDN
Europe/UK MSRP Price: £6,099 GBP (On The Road inc 20% Vat)
Engine
Transmission 6-speed
Starter Kickstarter
Stroke 40.8mm
Bore 47mm
Clutch Wet, multi-disc clutch, Formula hydraulics
Displacement 84.9cm³
EMS MEDJ digital
Design 1-cylinder, 2-stroke engine Chassis
Weight (without fuel) 67kg
Tank capacity (approx.) 5.2l
Front brake disc diameter 240mm
Rear brake disc diameter 220mm
Front brake Disc brake
Rear brake Disc brake
Chain 1/2 x 5/16″
Frame design Central double-cradle-type 25CrMo4 steel
Front suspension XACT 43 WP Upside-Down fork, Ø 43 mm
Rear suspension XACT WP PDS mono shock
Seat height 850 mm
Steering head angle 66°
Suspension travel (front) 278mm
Suspension travel (rear) 305mm
Manufacturer Specifications and appearance are subject to change without prior notice on Total Motorcycle (TMW).