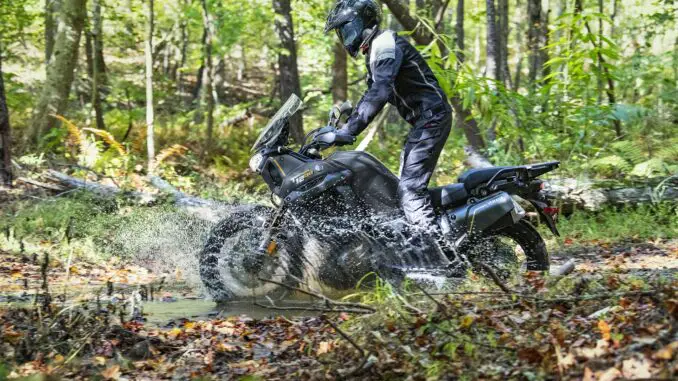 2024 Yamaha Super Tenere ES: ULTIMATE TRANSCONTINENTAL ADVENTURER.
Introducing the new 2024 Yamaha Super Tenere ES…
Sophistication is the name of the game with the Super Ténéré ES. Does the convenience of adjusting your suspension without ever getting off your bike sound interesting? With the simple push of a button, you can adjust both preload and damping settings. Add heated grips and a cruise control system to the mix and you have a machine that is truly worthy of being called the Ultimate Transcontinental Adventurer.
The Super Ténéré ES comes standard with water-resistant, 32-litre anodized aluminum side cases. Tough and roomy, these cases are capable of carrying and protecting just about anything you throw at them. The locking system uses the bike's ignition key, eliminating the need for an extra set of keys.
The Super Ténéré ES is built for adventure, with an exceptionally compact 1,199 cc parallel twin using a unique 270° crank for excellent torque and traction. Engine mass is kept low for great handling. The narrow inline twin-cylinder engine is slim and compact for carving tight lines in twisty mountain roads.
In addition to the KYB electronic suspension, the Super Ténéré ES also comes with heated grips, cruise control and a four-position adjustable windscreen. Balance your adventurous side with convenience and comfort on the Super Ténéré ES!
2024 Yamaha Super Tenere ES Totalmotorcycle.com Key Features
1199cc, liquid-cooled, DOHC, 4-valve, inline twin produces serious torque and horsepower.
26 degree engine slant
DOHC 4-valve cylinder head design
2- spark plugs per cylinder
42,000 km valve adjustment interval
Short skirt, forged aluminum pistons
Lightweight, magnesium cylinder head and clutch covers
Centre and side stands
5-position adjustable front brake lever
4-position adjustable clutch lever
Low maintenance 11 amp hour, sealed battery
Brilliant LED taillight
Compact LED turn signals
Rugged plastic handlebar mounted brush guards
Dash board mounted 12 volt DC outlet
2024 Yamaha Super Tenere ES Totalmotorcycle.com Features and Benefits
ENGINE
1199cc, liquid-cooled, DOHC, 4-valve, inline twin produces serious torque and horsepower.
26 degree engine slant

allows use of downdraft intake system
reduces centre of gravity for lighter, agile handling

DOHC 4-valve cylinder head design

37mm intake & 31mm exhaust valves with Isonite coating on valve tips for durability
valve angles are 12.5 degrees intake & 14 degrees exhaust
cylinder head design provides a compact combustion chamber

2- spark plugs per cylinder

shortens the flame diffusion time for more complete combustion
speeds combustion for excellent torque character.

42,000 km valve adjustment interval
Short skirt, forged aluminum pistons

fast throttle response
reduced reciprocating mass means less mechanical vibration.

270 degree crankshaft with uneven firing order (270 & 450 degrees)

superior throttle control & excellent rear wheel traction

Carburized connecting rods (carburizing is a heat treating process that increases the carbon content on the outer surface of the rod)

excellent strength & durability

Direct ceramic composite plated cylinder uses "liner less" bores

ceramic coating sprayed directly on the aluminum block, eliminating the liner & reducing weight
excellent heat dissipation for consistent power delivery
coating enhances the thin film of oil between the cylinder & piston, reducing friction & increasing power

Dual gear driven balancer shafts

reduced engine vibration for excellent rider & passenger comfort

Single, side mounted radiator (LHS) with ring-type cooling fan

maintains consistent engine temperatures for optimum performance
side mounted location lessens unit's overall length of the bike for agile handling
eliminates the possibility of the rad being damaged by debris kicked up by front wheel

Dry sump lubrication system (oil tank is integrated into engine cases)

eliminates deep design oil pan for increased ground clearance
reduces weight
centralizes mass

Easy access spin-on type oil filter & easy access oil drain plug
"Closed loop" 46 mm dual bore Mikuni throttle body fuel injection system.

system uses throttle position sensor (TPS) & acceleration position sensor (APS)
injectors feature 12 holes & 20 degree spray pattern for excellent fuel atomization
"closed loop system" uses an oxygen sensor to "sniff" spent exhaust & automatically adjust the fuel / air ratio for reduced emissions
fuel injection benefits include; choke-free starting, steady idling during warm up, excellent fuel economy & reduced emissions

Yamaha Chip Control Throttle (YCC-T)

YCC-T electronically controls throttle valves for outstanding throttle response & controllability
YCC-T system provides precise control of intake air volume for a smoother torque curve
ECU that controls YCC-T is capable of responding to changes at a speed of 1000th of a second

Yamaha traction control system.

works in conjunction with the YCC-T system, utilizing front & rear wheel sensors
when rear wheel begins to loose traction, the ECU modifies the YCC-T function, ignition timing & fuel injection to reduce power & eliminate wheel spin
actuation button is on the multifunction instrument panel
traction control helps maintain traction when accelerating on slippery surfaces. System automatically engages when the ignition is turned on but can be turned off if desired
2 operating modes: TCS1 completely eliminates wheel spin & TCS2 allow limited wheel spin

Yamaha D-Mode variable throttle control… 2 modes available

enables the rider to adjust the performance characteristics of the engine based on riding preferences or riding conditions
"S mode" provides normal / instant throttle response
"T mode" provides slower response for more "relaxed" engine power delivery
D-Mode switch is located on the R.H.S. handlebar switch gear.

Electronic cruise control system (part of the YCC-T functions)

"settable range" is from 50 to 160 km/hr… transmission must be in 3rd gear or higher
system cancelled by activating either brake, clutch, using activation switch or closing throttle

Wide ratio 6-speed transmission

optimized gear ratios for a wide variety of riding conditions
top gear is an overdrive gear… reduced rpms at highway speeds… excellent rider comfort
Low maintenance hydraulic clutch

light, linear, consistent clutch feel.

Low maintenance, compact shaft drive system

utilizes a hypoid type final gear (allows the use of a smaller ring gear)
compact design
reduced unsprung weight for enhanced handling.

Maintenance-free transistor controlled ignition (TCI).

produces a strong spark for fast starts
provides precise ignition timing / mapping for optimum engine performance at all rpms

Direct ignition coils (ignition coil is built into the spark plug cap) with iridium spark plugs
Automatic decompression device

fast, easy starting
lighter weight, more compact starter motor

2 into 1 exhaust system

features a honeycomb style catalyzer to reduce emissions
compact "elliptical" shaped, short design muffler reduces machine width
heat shield protects rider & passenger

Compact 600 watt (@ 5,000rpms) AC magneto

lots of electrical power for accessories
CHASSIS/SUSPENSION
High tensile steel, backbone-style frame. Engine is a stressed member. Steel pipe is used for its excellent strength – rigidity balance and more inherent softness than aluminum (comfort). The engine is mounted low in the frame and allows for a fuel tank design which lowers the centre of gravity for a lighter riding feel.
Detachable aluminum rear sub frame

reduces weight
sub frame designed to withstand the rigors & loads associated with adventure riding.

Long design, low pressure cast aluminum swingarm.

Casting method offers superior strength (material is more dense)
long design contributes to excellent stability & rear wheel traction
left side of swingarm "houses" drive shaft

Electronically adjustable 43mm KYB inverted fork

190mm (7.5″) of wheel travel
adjustable damping

Electronically adjustable link Monocross rear suspension with KYB shock

190mm (7.5″) of wheel travel
adjustments include spring pre-load & damping

How it works: This "linked" electronic suspension asks the rider to choose from one of four pre-sets for "load" (solo / solo & luggage / dual / dual & luggage). Once the load setting has been chosen, the system automatically adjusts both the front and rear damping rates based on the load setting chosen. If a rider wishes to "tune" the damping settings further, there are 3 "main " settings (soft / std / hard) to choose from. Within each of these 3 main settings, there are another 7- "fine tuning" settings available, providing a total of 21 damping settings that a rider can choose from. The "load" setting must be chosen / adjusted while the unit is running but stopped. All other tuning can be done "on the fly". Adjustments are via buttons on the L.H.S. switch gear. Suspension setting menu and adjustments can be viewed in the DOT matrix section of the LCD multi-function meter assembly. A duty cycle motor controls the "pre-load" settings while stepping motors vary the oil flow rate in the fork & shock (damping adjustments). The design allows a rider easily tailor suspension settings to match load and road conditions. System is very similar to the one found on the FJR1300ES.
Suspension control unit (SCU) controls the electronic suspension & features a diagnostic mode
Tapered aluminum handlebar reduces weight and offers excellent strength. Handlebar position & bend is designed to be both versatile & comfortable whether sitting or standing.
ABS equipped dual 310mm front disc brakes

"wave style" floating front discs / rotors
ultra-rigid 4-piston monoblock calipers
master cylinder uses a 16mm piston
excellent braking performance & "feedback"

ABS equipped, "wave-style" 282 mm rear disc brake

single piston, slide-type rear caliper
rear master cylinder uses a 14mm piston

The ABS or Anti-Lock Braking System features Yamaha's latest generation independent linear controlled system with step-less, infinitely variable hydraulic pressure adjustment. The ABS unit, the ECU and the hydraulic unit are combined into a single compact unit that allows for mass centralization. This system uses the same wheel sensors as the traction control system to reduce weight. When the system senses impending wheel lock-up, it regulates the hydraulic pressure to the point just before the wheel or wheels lock-up. The benefit of ABS is excellent control under hard braking or when braking on wet, slippery or loose surfaces. The ABS system is designed to help prevent wheel lock up.
Unified Brake System is combined with ABS system. When the front brake is activated, an electronic control applies some rear wheel braking force as well. The amount of rear braking force is dependent upon how hard the front brake has been applied, unit speed and the amount of load on the unit. If the rear brake is applied prior to the front brake, it cancels the unified braking system temporarily (there may be times on difficult terrain when a rider does not want the unified system to activate).
Large capacity, steel 23 litre fuel tank

lower portion of the tank is located down inside the frame rails, behind the air box & cylinders to reduce centre of gravity & centralize mass
reserve portion is 3.9 litres (when low fuel light begins to flash)
steel design allows the use of magnetic tank bags

Tubeless, spoked wheels

"double T" type front rim features 2-raised "rails" that spokes attach to
design allows use of tubeless, radial tires
optimum spoke angle for excellent strength and durability
rear rim uses a single raised rail design
raised rails add additional strength to the rims
tubeless design allows for temporaryemergency road side repairs

Dual, cat-eye, projector type H7, 55 / 55 watt headlights

excellent illumination for extra confidence when riding after dark
solenoid moves the shade that controls the projector headlight function

Adjustable long distance designed rider seat

rider portion offers two different height settings; low position is 845mm (33.3″), tall position is 870mm (34.3″)
takes only seconds to make adjustment… no tools are required
passenger seat is removable.

Multi-function plastic resin rear rack

in standard form it is a conventional rack / carrier
also functions as a mount for the accessory 30 litre top box
additional carrier built in under the passenger seat… with passenger seat & spacer removed, becomes a long, flat platform, providing maximum cargo space

Combination rubber / steel rider footrests

when sitting, the rider's foot is resting on the vibration damping rubber inserts
when standing, rubber inserts compresses & exposes serrated edges of the steel pegs for additional grip when riding in difficult terrain

Multi-function, LCD meter assembly. Left side features digital tach and speedo, plus fuel gauge, clock and status indicators for traction control, D-modes, and Eco System. The right side utilizes a DOT Matrix LCD display, which includes odometer, dual trip meters, outside air temp, coolant temp, instant fuel consumption, average fuel consumption, estimated travel range (based on remaining fuel), trip timer and low fuel trip meter. Other functions include grip heater status and gear indicator. Full range of warning and indicator lights as well, including cruise control and ABS status. The ECO indicator is a light that indicates the bike is being ridden in a manner that conserves fuel. Background illumination is adjustable.
Sculptured 2- piece half fairing

offers an unobstructed view
excellent air management
good wind & weather protection.

Convenient, 12 volt DC outlet (fairing dash) for GPS, cell phone or other uses.
4-position, no tools required, adjustable windscreen

excellent wind protection
adjustment range is 60 mm (2.3″)
both height & "attack" angle change as the windshield moves
cross bar can be used as GPS holder

Variable heated grips

10 levels of heat settings
heat settings are customizable
heat settings & status shown ihn the LCD meter assembly

Frame mounted composite tip over protectors

located on left & right sides of the lower edge of the fairing
offer protection for fairing, side mounted rad & battery

Quick release fasteners on lower & mid fairings

quick access to the rad & selected electrical components including fuses

Immobilizer ignition system

reduces possibility of "ride away" theft
system must recognize the "coded ignition key" in order to start
if the key is not recognized, electrical system will not activate, even if ignition is turned or forced into the on position
2024 Yamaha Super Tenere ES – Totalmotorcycle.com USA Specifications/Technical Details
US MSRP Price: $ See Dealer USD
Canada MSRP Price: $13,599 CDN
Europe/UK MSRP Price: £ See Dealer GBP (On The Road inc 20% Vat)
TBA
2024 Yamaha Super Tenere ES – Totalmotorcycle.com Canada Specifications/Technical Details
ENGINE
| | |
| --- | --- |
| ENGINE | Liquid-cooled, DOHC, 8-valves (4-valves / cyl), inline twin |
| DISPLACEMENT | 1199 cc |
| BORE AND STROKE | 98 x 79.5 mm |
| COMPRESSION RATIO | 11:1 |
| MAXIMUM TORQUE | 11.9 kg-m (86 ft-lbs.) @ 6,000 rpm |
| ENGINE MANAGEMENT | YCC-T, D-Mode, Traction Control & Cruise Control |
| FUEL DELIVERY | Mikuni 46 mm throttle body F.I |
| ESTIMATED FUEL CONSUMPTION± | 18.2kpl / 51.4mpg (Imp.) |
| LUBRICATION | Dry sump |
| IGNITION / STARTING | TCI / Electric |
| TRANSMISSION | 6-speed |
| FINAL DRIVE | Shaft |
CHASSIS
| | |
| --- | --- |
| SUSPENSION (FRONT) | Electronically adjustable KYB inverted 43mm fork / 190 mm (7.5″) wheel travel |
| SUSPENSION (REAR) | Electronically adjustable KYB link Monocross / 190 mm (7.5″) wheel travel |
| BRAKES (FRONT) | Dual 310 mm discs / 4-piston calipers / ABS equipped & unified |
| BRAKES (REAR) | 282 mm disc / single piston caliper / ABS equipped & unified |
| TIRES (FRONT) | 110/80R19 (tubeless) |
| TIRES (REAR) | 150/70R17 (tubeless) |
CRITICAL DATA
LENGTH
2,255 mm (88.8″)
WIDTH
980 mm (38.6″)
HEIGHT
1,410 mm (55.5″) to 1470mm (57.9″)
WHEELBASE
1,540mm (60.6″)
RAKE / TRAIL
28 degrees / 126 mm
GROUND CLEARANCE
190 mm (7.5″)
SEAT HEIGHT
845 mm (33.3″) or 870 mm (34.3″)
FUEL CAPACITY
23 litres (5.1 Imp. gal.)
WET WEIGHT
265 kg (584 lbs)
COLOUR(S)
Ceramic Ice
Tech Black
2024 Yamaha Super Tenere ES – Totalmotorcycle.com European Specifications/Technical Details
TBA
Manufacturer Specifications and appearance are subject to change without prior notice on Total Motorcycle (TMW).