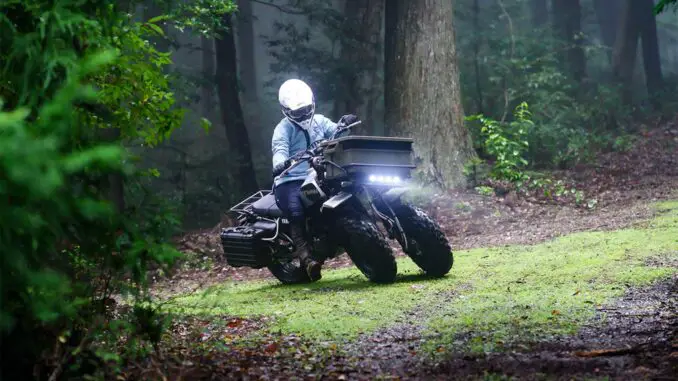 2024 Yamaha TMW: TMW, TMW, TMW ROCKS!
Introducing the new 2024 Yamaha TMW…
Move your mind, body, and the world
Conceived by volunteer project members from the Motorcycle Testing Division, the TMW is Yamaha Motor's first off-road adventure Leaning Multi-Wheeler (LMW).* The front two wheels move independently and feature excellent adaptability for various surface conditions, and the LMW linkage enables the mounting of a large front carrier rack that stays level with the ground even when in a lean or on an incline. This ample luggage capacity further entices users to venture out for a ride. The TMW is also a hybrid; electric hub motors drive the two front wheels, while the rear wheel is driven by the engine.
*Yamaha's designation for vehicles with three or more wheels that can lean like a motorcycle through turns.
Introducing the Yamaha Booth at the Japan Mobility Show 2023
— Co-exhibiting with Yamaha Corporation under the theme of "Feel Life" —
Yamaha Motor will participate in the Japan Mobility Show 2023 organized by the Japan Automobile Manufacturers Association, Inc., which is scheduled to be held at the Tokyo Big Sight from October 25 to November 5 (Press days: Oct. 25–26; General public days: Oct. 28–Nov. 5). Located in the venue's East Hall 5, the theme of the Yamaha booth will be "Feel Life."
The booth will have motorcycles, electric commuter vehicles, electrically power-assisted bicycles, and more on display, including six world premiere models.
To celebrate the booth's theme "Feel Life", audio technologies, musical products, and more from Yamaha Corporation will also be introduced. Stage demonstrations and other events will showcase the latest technologies from the two Yamahas, who besides the name, share the same passion for design and engineering excellence.
FEEL LIFE. Japan Mobility Show 2023
"We're losing our humanity.
It could be social isolation or limited real relationships.
Regardless, it's time to reclaim life, to rediscover enjoyment.
To rev the heart in every moment, and lead the revolution of sensations.
At Yamaha, we develop products and services with this in mind.
It's human-centered technology,
unleashing human possibilities and uniting everyone.
Uncover new potential, revel in challenges, and thrive.
Explore and expand yourself with new experiences
from a world driven by human possibilities.
Evoking emotions. Enriching life. Yamaha."
Voted Best 3-Wheeler of 2024? What more can we say… it's got TMW on it!
2024 Yamaha TMW – Totalmotorcycle.com USA Specifications/Technical Details
US MSRP Price: $ NA USD
Canada MSRP Price: $ NA CDN
Europe/UK MSRP Price: £ NA GBP (On The Road inc 20% Vat)
Concept
2024 Yamaha TMW – Totalmotorcycle.com Canada Specifications/Technical Details
Concept
2024 Yamaha TMW – Totalmotorcycle.com European Specifications/Technical Details
Concept
Manufacturer Specifications and appearance are subject to change without prior notice on Total Motorcycle (TMW).