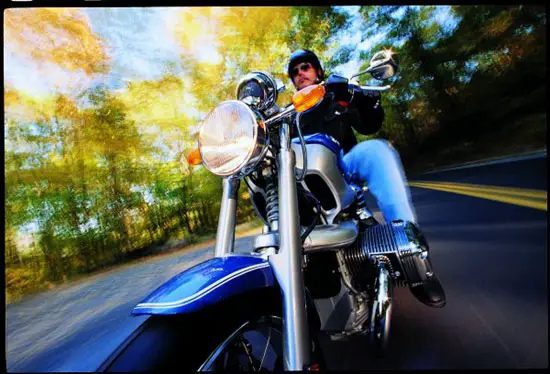 Back to 2001 BMW Motorcycle Index Page
Click photo to enlarge.
It makes a great desktop image.
– 2001 BMW R1200C
The heart of any motorcycle is its powerplant … the way it looks, feels, performs. There is no compromise in the R 1200 C. The famed Boxer twin engine is BMW's most defining trademark, and the R 1200 C has BMW's biggest Boxer.
Specially tuned for real road conditions, its combination of electronic engine management, fuel injection and sheer brute force pumps out a broad reservoir of torque that can be tapped at any speed with a simple flick of the wrist. And its wide-ratio gearbox gives you "right now" bursts of power off the line, yet an easy, overdrive highway ride.
Great View.
The view from behind the handlebars reveals another array of fine detail: a gloss of clear-coat paint, hand pinstriping* on the fuel tank and sculpted brightwork on the console, speedometer, fuel filler and turn signals. The turn signals are even self-canceling.
Chrome. Leather. Nice.
High-quality brightwork is part of the package.* Exhaust pipes and mufflers are chromed stainless steel. Valve covers are brightly chromed. Leather on the seat and the handgrips feels great. And leather-covered hard bags are optional.
Quality endures.
Superior engineering is obviously behind every detail of the R 1200 C. Quality is an obsession at BMW. And you reap the benefits with every mile.
Standard Equipment
Air / oil cooled, Boxer twin cylinder, 1170cc engine
Bosch Motronic MA 2.4 engine management
Electronic Fuel Injection
Twin-exit stainless steel exhaust
Shaft drive
Telelever front suspension
Monolever rear suspension
ABS II antilock brake system
Passenger seat flips up to serve as a backrest for rider (Minus Phoenix)
Adjustable front brake and clutch levers
Integrated ignition and steering lock
Single-key lock system for ignition, steering, fuel cap
Self-canceling turn signals
Saddlebag mounting brackets
Hazard warning flashers
Side stand
The R 1200 C – Euro includes:
Engine protection bars
Special pullback handlebars
Clear speedster screen
Blacked-out starter cover, swing arm, final drive, engine and transmission
"Grafitan look" paint finish on forks, front fork sliders, fork bridge, trailing arm, instrument bracket, turn signal stalks and housing, fuel cap outer contour, frame, luggage rack and tail-light housing
The R 1200 C Montana includes:
Custom leather lockable saddlebags
Raised windshield
Heated grips
Extra large passenger seat
The R 1200 C Phoenix includes:
Two tone Mandarin and Graphite paint scheme
BBS sport alloy wheels with stainless steel rims
Small speedster screen solo seat
Halogen driving lights
Special chrome highlights
2001 BMW R1200C Specifications from Total Motorcycle:

Engine
Type Air cooled / oil cooled twin cylinder
Bore x stroke 101 mm x 73 mm (3.97 x 2.87″)
Displacement 1,170 cc
Valvetrain Cam in head, 4 valves per cylinder
Horsepower 61 hp @ 5000 rpm
Torque 71 lb.-ft. @ 3000 rpm
Compression ratio 10.0:1
Fuel system Electronic fuel injection
Ignition system Electronic ignition
Engine management Bosch Motronic MA 2.4
Emissions control Three-way catalytic converter (closed loop)
Fuel capacity 4.5 U.S. gallons including 1 gal. reserve
Fuel requirements Mid-grade unleaded

Drivetrain
Drive system Enclosed driveshaft with two universal joints and integral torsional damper
Gearbox 5-speed manual
Gear ratios 1st gear: 2.045:1
2nd gear: 1.600:1
3rd gear: 1.267:1
4th gear: 1.038:1
5th gear: 0.800:1
Clutch 165 mm dry, single plate with diaphram spring
Final drive Spiral bevel gears, 2.54:1 ratio (33/11)
Primary drive Helical-cut gears with tensioner
Frame and Suspension
Frame Cast aluminum front frame section
Front suspension BMW Telelever with central spring strut and tilt isolation of the handlebars
Travel / dimensions 5.67 inches total travel
Rear suspension Monolever with central strut
Travel / dimensions 3.94 inches total travel, preload mechanically adjustable

Brakes
Brake system BMW / FAG anti-lock brake system ABS II
Front brakes Two 4-piston fixed calipers
Front rotors Dual 12.0 inch rotors
Actuation method Hydraulic, DOT 4 fluid type
Rear brake One 2-piston caliper, floating mount
Rear rotor Single 11.2 inch diameter rotor
Actuation method Hydraulic, DOT 4 fluid type

Wheels and Tires
Front wheel 2.50 x 18 cross spoke
Rear wheel 4.00 x 15 cross spoke
Front tire 100/90 – ZR 18 tubeless
Rear tire 170/80 – ZR 15 tubeless

Dimensions
Overall length 92.13 inches (2340 mm)
Overall width 41.34 inches (1050 mm) (over mirrors)
Wheelbase 64.96 inches (1650 mm) (unladen)
Ground clearance 6.77 inches (172 mm) (unladen)
Seat height 29.1 inches (740 mm)
Handlebar width 30.51 inches (775 mm)
Steering angle 60.5 degrees
Front wheel trail 4.68 inches (120 mm) (unladen)
Weight dry 482 lbs.
Weight wet 565 lbs.
Maximum load 1,313 lbs. gross vehicle weight rating
Wheel load limits Front = 396 lbs
Rear = 660 lbs
Top Speed 104 mph (168km/h)
Colors
#730 Night Black Metallic (Available as Standard model and Montana model)
#732 Ivory (Available as Standard model and Montana model)
#767 Tartan Green Metallic
#790 Flashtone
#758 Ice Blue Metallic – Euro Model
#792 Dust Metallic – Euro Model
#802 Mandarin/Graphite – Phoenix Model
Specifications are subject to change without notice, in accordance with national regulation and legislations.