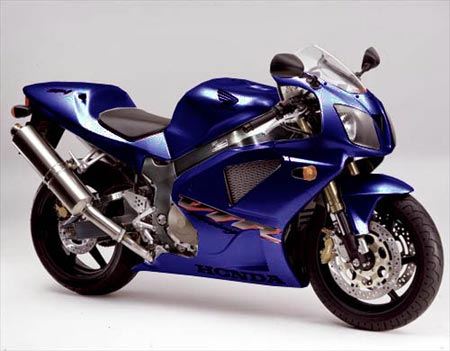 Back to 2001 Honda Motorcycle Index Page
Click photo to enlarge.
It makes a great desktop image.


2001 Honda RVT1000R RC51

 
– 2001 Honda RVT1000R RC51

Has there ever been a more impressive debut in motorcycling's history? In its very first year, the 999cc V-twin RVT1000R literally dominated superbike racing around the globe.
Colin Edwards, of course, took the World Superbike crown from Ducati in a very convincing manner. Closer to home, returning hero Steve Crevier walked away with the Canadian Superbike championship. Even in the United States where Honda's lead rider, Miguel Duhamel was injured, the RVT still rallied to a close second position finish with brash young Nicky Hayden at the helm. And wins at the prestigious LeMans 24 hour and Suzuka 8 hour endurance races prove that the RC51 has all of Honda's legendary durability.
Whether it's the hugely powerful, but immensely controllable, V-twin's torque or the rock-steady handling provided by the twin-spar, aluminum frame that is responsible for Honda's dominance, the result is the same. The RC51 decimates the competition. And you can own a part of history because the RC51, the latest in our series of exotic racing four-strokes that started with the RC30, breaks new ground by being the first of Honda's sophisticated roadracers made readily available to aficionados.
The 2001 Honda RVT1000R. More bike than the competition can handle.

Engine
· 999cc DOHC eight-valve 90-degree V-twin engine is specially designed to withstand the rigors of Superbike competition.
· Prodigious power is produced across a broad engine-rpm band, peaking with 130+ bhp at 9500 rpm and 71 lb./ft. of torque at 8000 rpm in street-legal trim.
· Each cylinder head features large, 40mm intake and 34mm exhaust valves with a 24-degree included valve angle. This provides a short, direct path for the air/fuel charge entering the combustion chamber and results in a high power output.
· Gear-driven camshafts utilize drive gears to maintain accurate valve timing and durability at sustained high engine speeds.
· Direct shim-under-bucket valve actuation system ensures high-rpm durability, and allows 24,000 kilometre valve maintenance intervals.
· High-pressure programmed fuel injection (PGM-FI) delivers fuel at 50 psi to two injectors per cylinder, mounted opposite each other in huge, 54mm throttle bodies. Fuel is forced through four nozzle tips in each injector, producing a very fine spray and a highly combustible air/fuel charge.
· Centrally mounted ram-air intake duct routes cool, pressurized air directly through the frame's steering head structure to the 10-litre airbox, improving intake efficiency while slimming the aerodynamic profile.
· Cast aluminum pistons are screen-printed with solid LUB-Coat finish to minimize friction.
· RC45™-inspired aluminum composite cylinder sleeves are high-pressure-formed from sintered aluminum powder impregnated with ceramic and graphite to provide better wear resistance and superior heat dissipation.
· Nutless connecting rods feature bolts threaded directly into tapped holes in the rods. This design is lighter than a conventional bolt-and-nut combination. Carburized rods provide strength and durability under high loads.
· Crankshaft lubrication system carries oil to main and connecting rod bearings through passages in the centre of the crankshaft and uses centrifugal force to help distribute the oil. This allows lower main gallery oil pressure and a smaller oil pump design, consuming less horsepower at high engine speeds.
· Electronic CPU provides digital 3-D fuel injection and ignition maps for each cylinder, creating ideal fuel mixture and spark advance settings for maximum power and throttle response.
· All-stainless two-into-one-into-two exhaust system with two 5.3-litre canister-style mufflers buffed to a satin finish.
· Side-mounted dual radiators utilize the low pressure airflow passing over the outer surface of the fairing to draw air through from the inside. Side positioning allows forward placement of the engine for optimal weight distribution and permits the flow of air to reach the cylinders for enhanced cooling efficiency.
· Air-cooled aluminum oil cooler promotes long engine life.
· Magnesium head cover and clutch cover.
· Smooth-shifting close-ratio six-speed transmission.

Chassis/Suspension
· Twin-spar extruded aluminum frame weighs only 11.7 kilograms and features a modified Pro Frame design utilizing a swingarm pivot that incorporates both engine-crankcase and frame-mounted pivot points. The frame sideplates extend underneath the swingarm and join to form a D-shaped swingarm mounting enclosure. This combination provides an extremely rigid chassis and excellent road feel.
· Tapered and braced box-section swingarm provides exceptional lateral and torsional rigidity.
· New 43mm inverted aluminum-slider Honda Multi-Action System (HMAS™) cartridge fork features spring preload, rebound and compression damping adjustability.
· Pro-Link™ rear suspension features a high-quality 40mm HMAS shock with integral damper reservoir and spring pre-load, rebound and compression damping adjustability.
· Braking system features 320mm floating front discs with four-piston calipers and a 220mm rear disc.
· Lightweight aluminum-alloy wheels have six U-shaped HRC-style spokes and feature race-spec 3.5-17-inch front and 6.0-17-inch rear dimensions.

Additional Features
· Distinctive bodywork features a dual-headlight design, a narrow-profile fuel tank and a single-piece tail section.
· Dual-headlight features computer-designed multi-reflectors and two 55W H7 bulbs behind clear plastic lenses, providing a broad lighting pattern and superb illumination.
· Removable aluminum rear subframe.
· Lightweight instrument display includes electronic LCD tachometer and speedometer, LED low fuel indicator, odometer, trip-meter and temperature gauge.
Specifications:

Engine
999cc liquid-cooled 90-degree V-twin

Bore and Stroke
100mm X 63.6mm

Compression Ratio
10.8 : 1

Valve Train
DOHC, 4 valve, shim under bucket

Carburetion
PGM-FI with two injectors per cylinder

Ignition
Computer-controlled digital with 3-dimensional mapping

Starting
Electric

Transmission
Close-ratio 6-speed

Final Drive
O ring chain

Front Suspension
43mm inverted cartridge fork with spring preload, rebound and compression damping adjustablity; 130mm travel

Rear Suspension
Pro-Link single shock with spring preload, rebound and compression damping adjustability; 120mm travel

Front Brakes
Dual full-floating 320mm discs with four-piston calipers

Rear Brakes
Single 230mm disc with single-piston caliper

Front Tires
120/70ZR-17

Rear Tires
190/50ZR-17

Seat Height
813mm (32.0 in.)

Wheelbase
1410mm (55.5 in.)

Dry Weight
196 kg. (432 lbs.)

Fuel Capacity
18 litres (3.8 Imp. Gal)


Specifications are subject to change without notice, in accordance with national regulation and legislations.