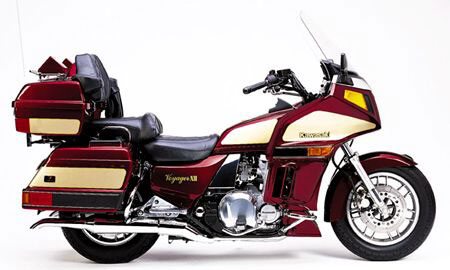 Back to 2001 Kawasaki Motorcycle Index Page
Click photo to enlarge.
It makes a great desktop image.

 
– 2001 Kawasaki Voyager XII
.
The Kawasaki Voyager® XII motorcycle is for those who travel long distances on two wheels and want a machine that can pack a load and still feel lightweight and maneuverable – a comfortable ride but not a couch on wheels. With all of the features of a luxury tourer, such as spacious saddlebags, large rear trunk, full fairing with wide windshield and a plush seat, the surprisingly affordable Voyager XII is light and maneuverable so that riders don't forget that they're on a motorcycle.
2001 KAWASAKI VOYAGER® XII
Nimble Tourer
The Kawasaki Voyager XII motorcycle combines all of the features of a luxury tourer, such as spacious saddlebags, large rear trunk, full fairing with wide windshield and a plush seat, with relatively nimble handling and maneuverability so that riders don't forget that they're on a motorcycle. And it does it at a surprisingly affordable price.
The 1196cc liquid-cooled four-cylinder engine is designed to be narrow and decrease overall bike width, and the engine's mass is concentrated forward to add to the Voyager's handling agility and rider comfort. A five-speed transmission handles the engine's broad torque curve with the low gears delivering exceptional acceleration and a true overdrive gear putting the engine into a relaxed pace when cruising at highway speeds. Power is ultimately delivered to the rear wheel by a quiet, reliable low-maintenance shaft drive.
A two-piece high tensile-steel frame is light yet rigid. Adjustable suspension components allow riders to tune the suspension for specific riding styles, loads and road conditions, and add to the Voyager's overall handling agility.
The Voyager pampers its rider and passenger. The big fairing and wide windshield create a turbulence-free bubble of air for its passengers, while a smooth, deeply-cushioned seat provides day-long cruising comfort. Passengers also get a comfortable perch with an adjustable seat, backrest, floorboards and grab rails. The handlebars are adjustable and an electronic cruise control helps eliminate fatigue by maintaining a preset speed over long stretches of highway. There's also an AM/FM stereo with auto-reverse cassette player for entertainment. An optional intercom and CB radio can be added to the sound system.
A dual-stage centerstand is easy for all riders to deploy when parking the Voyager. Luggage can be easily removed from the saddlebags and trunk with the removable liners. There's also a lighted vanity mirror in the rear trunk.

Membership in the independently organized American Voyager Association lets owners share the camaraderie of riding their motorcycles down the open road. Chapters meet throughout the nation to schedule local and national rides.
Long distance riding is what the Kawasaki Voyager XII motorcycle is all about. With luxurious amenities in a relatively lightweight touring package, it is always ready to take its riders on vast voyages across the nation's highways.
2001 VOYAGER®XII FEATURES
Narrow Four-Cylinder Engine
Concentrates engine mass and heat forward, for superior handling and rider comfort
Liquid Cooling
Even running temperatures mean no "power fade" on hot days and longer engine life
Automatic fan keeps things cool even in traffic
Includes temperature gauge
Four Valves per Cylinder
Better breathing for more power at high rpm
Compact combustion chamber for increased compression ratio without detonation on today's gasolines
Boosts low-end torque
Dual Gear-Driven Engine Balancers
Smoothes engine vibration for comfort on the road and increased electrical component life
Rubber-Mounted Engine
All but eliminates engine vibration at all speeds
Hydraulic Valve Lash Adjusters
Keep valves quiet with no maintenance adjustment required
Five-Speed Transmission
Engine's broad torque curve produces great acceleration and relaxed highway cruising with the overdrive top gear
Positive neutral finder makes finding neutral at stops easy
Shaft Drive
A reliable and quiet, low maintenance system
Hydraulic Clutch Release
Easy to operate and maintain
Self-Canceling Turn Signals
For convenience, the turn signals wait four seconds, then turn off after the motorcycle has traveled about 160 feet
4-Way Rebound Damping Shocks
Remote adjuster makes it easy to tune the suspension to your riding style and road conditions
Dual Front Disc Brakes
Reliable stopping power under demanding conditions
Wide Windshield
Windshield is wide for great rider protection, scratch resistant for a clear view
Deeply Cushioned Seats
No upholstery buttons means increased comfort and the seats are easier to clean
Passenger Footboards
For maximum comfort on long rides
Electronic Cruise Control
Increases rider comfort on long trips by helping to maintain a preset speed
AM/FM Stereo Radio Cassette Player and Digital Clock
Stereo radio and auto-reverse cassette sound system with four speakers and dual remote controls
Dual-stage Center Stand
Allows easy operation even when fully loaded
Adjustable Trunk
Permits passenger to adjust the seat back forward or backward for comfortable posture

Touring With Kawasaki
The "Call of the Open Road" means different things to different people. And Kawasaki offers more touring options to fill your desire to explore those out-of-the-way places that just beg to be explored.
If you love to pile up miles, look no further than the Kawasaki Voyager® XII. Naturally, you want full-dress luxury and convenience. But thanks to the narrow in-line four configuration, the engine is positioned more forward for superior handling and improved rider comfort. Plus, you can load it up with all the essentials to make your touring experience a true comfort.
"Seeking out the curves" best describes your type of touring. Where the road you ride counts as much as the destination. Seek out Kawasaki's Concours™: Ninja®-bred performance and handling manners in a package that combines refined sporting tradition with grand touring comfort.
Or do you prefer the lines of the classically styled Vulcan™ 1500 Nomad or Nomad™ Fi with its rumbling V-twin instead? It will take you places in comfort and make sure you get there in style.
And at Kawasaki there is more than one way to go V-twin touring. Look no further than the Vulcan 750 with its available Tour Package that makes your cruiser tour worthy. It's in a class of its own.
For the truly adventurous, Kawasaki offers the KLR650 with available soft luggage to take you to those hard to reach places where the roads may or may not be paved. You'd be surprised what you may find at the end of the road.
Specifications:

Model
ZG1200-B15

Engine Type
4-stroke, liquid-cooled In-Line Four

Displacement
1,196cc

Bore x Stroke
78 x 62.6mm

Compression Ratio
10.0:1

Valve System
DOHC, 16 valves

Cooling System
Liquid

Carburetion
Keihin CVK30 x 4

Ignition
Electronic with vacuum advance

Starting
Electric

Transmission
5-speed with positive Neutral finder

Final Drive Shaft
Frame type
Double-cradle, high-tensile steel with removable right downtube

Rake / Trail
30 / 4.8 inches

Wheel Travel, front/rear
5.5/3.9 inches

Wheelbase
63.8 inches

Suspension, Front
41mm equalized air fork with remote filler

Suspension, Rear
Equalized air shocks with remote filler and adjustable rebound damping

Tire Front
Tubeless; M130/90-16

Tire Rear
Tubeless; M150/90-15

Brakes, Front
Dual discs

Brakes, Rear
Disc

Seat Height
29.7 inches

Fuel Capacity
6.1 gallons

Dry Weight
728 pounds

Color
Luminous Vintage Red/Pearl Luster Beige


Specifications are subject to change without notice, in accordance with national regulation and legislations.