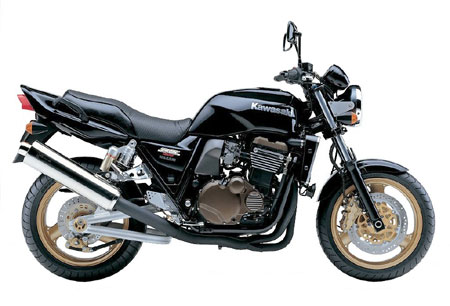 Back to 2001 Kawasaki Motorcycle Index Page
Click photo to enlarge.
It makes a great desktop image.

 
– 2001 Kawasaki ZRX1200R
.
Cycle World's Best Standard in 2000
The Kawasaki ZRX1200R combines the character and looks of factory Superbikes of the early '80s with modern performance and incredible torque. Adding to the appeal is a great price that made this Kawasaki a Consumers Digest "Best Buy" and provided the most "Bang for the Buck" in Motorcyclist magazine. With its striking green paint, tubular bridged aluminum alloy swingarm and four-into-one exhaust, the ZRX1200R's appearance immediately brings back memories of the KZ1000R Eddie Lawson Replica. The big engine, based on the mighty Kawasaki Ninja® ZX-11 powerplant, remains exposed as the ZRX1200R is devoid of engine-hiding bodywork.
2001 KAWASAKI ZRX1200R
Increased Displacement Adds More Torque and Power to Kawasaki's Open Class Musclebike
How do you make one of the quickest and most powerful bikes in the Open Traditional class even better? If you're Kawasaki, you increase engine displacement more than 10 percent and tweak the chassis of the class-leading ZRX1100 to form the new ZRX1200R. And unlike the ZRX1100, the new ZRX1200R will now be available in California.
This new Musclebike stays true to the ZRX styling that combines the character and looks of factory Superbikes of the early '80s with modern performance and incredible torque. With its striking green paint (the ZRX1200R is also available in black), bridged aluminum alloy swingarm and four-into-one exhaust, the ZRX1200R will immediately bring back memories of the Z-1R Eddie Lawson Replica from the early 1980s. The big engine, based on the mighty Kawasaki Ninja® ZX-11 powerplant, remains exposed as the ZRX1200R is devoid of engine-hiding bodywork.
Horsepower distinguished the ZX-11 in the open-class. Likewise, the ZRX1200R has plenty of power – approximately 13 percent more from bottom to top than its predecessor. That power is tuned with more emphasis on low and midrange rpm performance to help give it abundant torque for easy street riding and impeccable roll-on performance at highway speeds.
The ZRX1200R gets its additional displacement from a 3mm larger bore and 1.4mm longer stroke in each of its four cylinders. New pistons with reshaped concave domes now ride in an all-aluminum cylinder block that is 3.3 pounds lighter than the ZRX1100's block. The cylinders feature electroplating that transfers heat much quicker than steel so tighter tolerances can be utilized to generate more power.
The larger bore and stroke required the use of a new crankshaft with more inertia that compliments the larger pistons. Although the pitch between
cylinders remains the same as the ZRX1100, the cam side-mounted cam chain sprocket is located 3mm further out to accommodate the larger cylinders, while the clutch side of the engine is 2mm wider, for a total engine width increase of only 5mm.
Atop the closed-deck cylinder is a new head with additional oil return passages for improved engine lubrication. The ZRX1100 used the cam chain galley alone for the oil return. New cam timing complements the increased displacement and contributes to increased power and torque throughout the powerband.
Adding to the ZRX1200R's incredible torque is the bank of large-bore 36mm Keihin carburetors featuring the Kawasaki Throttle Responsive Ignition Control (K-TRIC) throttle position sensor. Connected to the digital ignition system, K-TRIC varies ignition timing according to throttle position and engine rpm so that the ignition compensates for differing engine loads for crisp throttle response and better fuel efficiency. The carburetors also have coasting enricheners to prevent backfiring.
Engine vibration is reduced, especially in the 2,000 rpm range, due to a new diaphragm spring that was added between the primary gear and clutch housing. Not only does the spring provide smoother low-rpm operation, it is combined with a new shift drum and shift cam profile to help improve shifting in the five-speed transmission.
The four-into-one exhaust system is now made entirely of stainless steel with a polished stainless steel muffler, and California models have a pipe-type catalyzer in the exhaust system to reduce emissions without cutting power.
The engine rests in a double-cradle frame made of tubular steel with an additional gusset behind the steering head for greater rigidity. The swingarm pivot is lowered 5mm for improved rear suspension action, better traction from the new, wider rear-wheel, and reduced chain-torque reaction. The swingarm uses the same underside-braced design, but it is now larger and has a unique oval shape for increased rigidity.
Wheelbase is lengthened by a half inch by fitting a slightly smaller rear sprocket made possible due to the increased power and torque of the new engine. Driveline lash is reduced with the use of a urethane rear-wheel damper borrowed from the Ninja® ZX-12R sportbike.
Exceptional braking is provided by the dual 310mm front discs with opposed six-piston calipers. The rear brake uses a single 250mm disc clamped by an opposed twin-piston caliper. Hollow three-spoke wheels grace both ends.
The ZRX puts its operator in a comfortable upright riding position. Hollow footpegs and rubber-mounted handlebars reduce vibration, while aluminum grab rails are located on both sides of the seat. The 5.3-gallon fuel tank is specially designed so that a tank bag can be easily installed.
Because its predecessor has garnered numerous accolades that include the title of "Best Standard" in Cycle World magazine's Ten Best list for 2000, a Consumers Digest "Best Buy" and the most "Bang for the Buck" in Motorcyclist magazine, you can bet that, with its bigger engine and improved chassis, the new ZRX1200R is sure to carry on Kawasaki's legendary performance heritage in the Open class.
Revised for 2001:
Fully-Adjustable, Nitrogen-Charged Rear Shocks with Piggy-Back Reservoirs
Liquid Cooled 4-Cylinder Engine
5-Speed Transmission
Fully-Adjustable, Cartridge-Type, 43mm Front Fork
4-into-1 Exhaust System
Wide Wheels and Tires
Double Cradle Tubular Steel Frame
Tubular, Bridged, Alloy Swingarm with Eccentric Chain Adjusters

New for 2001:
Electro-Plated Aluminum Cylinders
Available in CA
Candy Lime Green / Vivid Purple Mica
Black Pearl / Metallic Blue Violet

2001 ZRX1200R FEATURES
Four-Cylinder, 16-Valve Engine
More than 10 percent increase in displacement over the ZRX1100 produces approximately 13 percent more horsepower
New aluminum cylinders are electroplated for quick heat transfer which allows closer tolerances for more power
Compact combustion chamber for increased compression ratio without detonation on today's gasolines
16-valve design boosts low-end torque and provides maximum valve area for optimum flow
Gear-Driven Engine Balancer
Smoothes engine vibration for comfort on the road
Liquid Cooling
Even running temperatures mean no "power fade" on hot days and longer engine life
Automatic fan keeps things cool even in traffic
36mm Carburetors with Kawasaki Throttle Responsive Ignition Control (K-TRIC)
A throttle position sensor tells the ignition control unit how hard the engine is working so that its micro-computer can determine the best ignition timing for more power and better fuel economy
Straight-Shot Intake Ports
Ultra-short for free-flowing, less turbulent intake
More horsepower and instant throttle response
Digital Ignition
Microprocessor controlled timing, never needs adjustment
Large Capacity Fuel Tank
5.3 gallon capacity for extended rides without refueling
Bridged Aluminum Swingarm
New rectangular design is larger and stiffer
Eccentric chain adjusters
43mm Cartridge-Type Front Fork
Exceptional rigidity for precise cornering
Features threaded preload adjuster and 12-way compression and rebound damping so the suspension can be tuned to your riding style and road conditions
Larger rear wheel
Rear wheel width increased from 5.0 to 5.5 inches allows use of wider rear tire (180/55ZR17)
310mm Dual-Disc Front Brakes
Feature opposed, 6-piston calipers for well modulated, confidence-inspiring stopping power
250mm Disc Rear Brake
With opposed-piston caliper, produces quick, sure stops
Adjustable Clutch and Front Brake Levers
Enhance rider comfort

Specifications:

Model
ZR1200-A1

Engine Type
4-stroke, liquid-cooled In-Line Four

Displacement
1,164 cc.

Bore x Stroke
79.0 x 59.4 mm.

Compression Ratio
N/A

Valve System
DOHC, 16 valves

Carburetion
Keihin CVK36 x 4

Ignition
Kawasaki Throttle Responsive Ignition (K-Tric)

Starting
Electric

Transmission
5-speed

Frame type
Double cradle tubular steel

Rake
25 degrees

Wheelbase
57.6″

Suspension, Front
43 mm fully adjustable, conventional cartridge-type front fork, offers 12 positions compression and rebound damping adjustment as well as fork spring preload

Suspension, Rear
Fully adjustable rear shock

Tire Front
120/70ZR17

Tire Rear
180/60ZR17

Brakes, Front
opposed 6 piston caliper work on 310 mm floating discs

Brakes, Rear
opposed 2 piston caliper works with a 250 mm disc
Seat Height
31.1″

Fuel Capacity
5.3 gallons

Dry Weight
N/A

MSRP $7,899
Specifications are subject to change without notice, in accordance with national regulation and legislations.