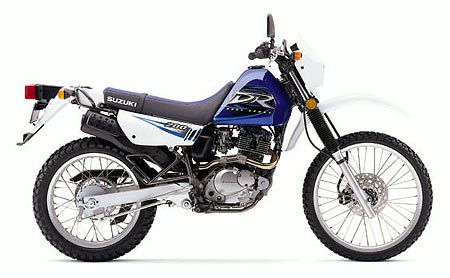 Back to 2001 Suzuki Motorcycle Index Page
Click photo to enlarge.
It makes a great desktop image.

 
– 2001 Suzuki DR200SE

THE 2001 DUALSPORT LINE: STREET & OFF-ROAD CAPABILITY
In an age of specialization it's nice to own a motorcycle that not only meets the basics, like daily transportation, but adds some fun to the equation as well. Enter the DualSport bike – street-legal lighting and instrumentation combined with the lightweight agility of pure off-road machinery.
Thousands of riders have either learned to ride or rediscovered the fun of off-road riding with Suzuki DualSport bikes. Largely based on off-road bikes, these hybrid machines come with lights, speedometers and turn signals so they are also street-legal. They're versatile, inexpensive to own and maintain, and most of all, pure fun, thanks to their light weight, agility, and ability to go so many places.
Suzuki has done more to grow this market segment than any other manufacturer. How? By offering a complete line of street-legal dirt bikes. By loading up these bikes with advanced technology that was unimaginable 20 years ago, and by backing the Suzuki DualSport Riders Club, which hosts events and sponsors rides all over the country, promoting the safe, responsible use of off-road trails.
DR200SE
An ideal machine for an entry-level rider, the DR200SE has many of the best features of its siblings in the DualSport line. Powered by a single-cylinder, four-stroke engine, the smallest DR is easy to own and maintain. Features include electric-start, a six-speed transmission and long-travel front suspension, all packed neatly into a compact chassis that performs well both on and off the street. For 2001 the DR200SE will come with new graphics.
DR200SE AT A GLANCE
Suggested Retail: $3,899*
Engine Type: Four-stroke, single cylinder, air/oil cooled
Bore and Stroke: 66.0mm x 58.2 mm
Front Brake: Single Hydraulic Disc
Rear Brake: Mechanical Drum
Wheelbase: 1,405 mm (55.3 in)
Dry Weight: 113kg (249 lbs)

*Suggested Retail Prices (MSRP) shown do not include freight/ destination or other dealer charges.
Specifications:
Overall Length: 2,150 mm (84,6 in)
Overall Width: 805 mm (31,7 in)
Overall Height: 1,185 mm (46,7 in)
Seat Height: 810 mm (31,9 in)
Ground Clearance: 260 mm (10,2 in)
Wheelbase: 1,405 mm (55.3 in)
Dry Weight: 113kg (249 lbs)
Engine type: Air-cooled 199 cc 1-cylinder, SOHC, 2 valves. 20 hp (15 kW)/ 8,500 rpm, 18 Nm (1.8 kg-m)/ 7,000 rpm.


Specifications are subject to change without notice, in accordance with national regulation and legislations.