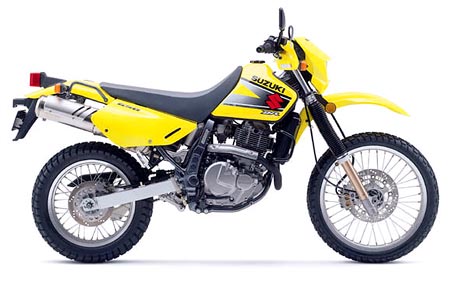 Back to 2002 Suzuki Motorcycle Index Page
Click photo to enlarge.
It makes a great desktop image.

 
2002 SUZUKI DUALSPORT
Thousands of riders have either learned to ride or rediscovered the fun of off-road riding with Suzuki DualSport machines. Largely based on off-road models, these hybrid machines come with lights speedometers and turn signals so they are also street legal. They're versatile, inexpensive to own and maintain, and most of all, pure fun thanks to their light weight, agility, and ability to go so many places. Suzuki has done more to grow this segment of the market than any other manufacturer. How? By offering a complete line of street-legal dirt bikes, packed with advanced technology and performance. Suzuki also supports the Suzuki DualSport Riders Club, which hosts events and sponsors rides all over the country, promoting the safe and responsible use of off-road trails.
DR650SE
The largest of the DR family, the DR650SE features a compact, lightweight SOHC 4-stroke engine tuned for strong low-to-midrange power. The DR650SE utilizes Suzuki's proven SACS air/oil cooling system and the powerful motor breathes through a 40 mm Mikuni slingshot carburetor, while Suzuki Composite Electrochemical Material (SCEM) plating on the cylinder wall minimizes weight and enhances durability. New-generation conventional forks offer smooth, progressive suspension action, while the fully adjustable rear shock utilizes a piggyback-type reservoir for maximum performance. A special suspension adjustment allows authorized Suzuki dealers to lower the seat height by a full 40 mm for "vertically challenged" riders.
Be sure to check out the all new graphics for 2002 as well.
DR650SE (K2) AT A GLANCE
Suggested Retail: $4,999.00
Engine Type: 4-stroke, single-cylinder, air/oil-cooled
Bore and Stroke: 100 mm x 82.0 mm
Front Brake: Single Hydraulic Disc
Rear Brake: Single Hydraulic Disc
Wheelbase: 1490 mm (58.7in)
Low seat setting: 1,475 mm (58.1 in)
Dry Weight: 147 kg (324 lbs)

Specifications:
Overall Length: 2,255 mm (88.8 in)
Overall Width: 885 mm (34.8 in)
Overall Height: 1,205 mm (47.4 in)
Wheelbase: 1,490 mm (58.7 in)
Ground Clearance: 265 mm (10.4 in)
Dry Weight: 147 kg (324 lbs)
Engine type: Air and oil-cooled 644 cc SOHC 1-cylinder, 4 valves. 43 hp (32 kW)/ 6.400 rpm, 54 Nm/ 4.600 rpm.



Specifications are subject to change without notice, in accordance with national regulation and legislations.