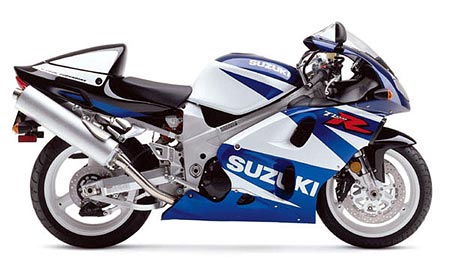 Back to 2002 Suzuki Motorcycle Index Page
Click photo to enlarge.
It makes a great desktop image.

 
2002 SUZUKI SUPERSPORT MACHINES:
GSX-R600, 750, 1000 & TL1000R
If there ever was a family of motorcycles that "owned the racetrack" the GSX-R line is it. Not surprising considering the thousands of GSX-R motorcycles sold worldwide since the model's inception, and their popularity at all levels of roadracing. The complete line of high performance GSX-R's is here for 2002 featuring the supersport GSX-R600, the superbike GSX-R750 and the open-class GSX-R1000. Rounding out the supersport line-up is the TL1000R – a V-twin powered machine with outstanding performance on the street or the track.
TL1000R: V-TWIN SUPERBIKE
Combine the power and performance of a high performance V-twin, with the latest in chassis and suspension technology and you have the 2002 TL1000R. The TL1000R is the perfect machine for a tractable and strong street machine while still possessing the engine and chassis adjustability needed for the racetrack.
Power is supplied by an awesome V-twin powerplant based on the TL1000S 90-degree engine, and tuned for even more horsepower and an abundance of torque. Features like forged pistons, lightweight connecting rods, twin radiators, high capacity airbox, 2-into-2 exhaust system, larger clutch, twin injector throttle bodied fuel injection system all contribute to increased performance and durability.
The TL1000R chassis also features a race ready design centering around a short wheelbase aluminum twin-spar frame combined with a bridge-type swingarm, fully adjustable inverted forks and Suzuki's unique rotary damper rear suspension. Braking duties are accomplished with twin 320 mm front discs with six piston calipers, lightweight wheels and wide radial tires. Wrap it all up with an aggressive and aerodynamic fairing and the TL1000R is the ultimate in V-twin performance.

TL1000R (K2) AT A GLANCE
Suggested Retail: $9,599.00
Engine Type: 4-stroke, 90-degree V-twin,
liquid-cooled, DOHC
Bore and Stroke: 98.0 mm x 66.0 mm
Front Brake: Dual Hydraulic Disc
Rear Brake: Single Hydraulic Disc
Wheelbase: 1,395 mm (54.9 in.)
Dry Weight: 197 kg (434 lbs)

Specifications:
Overall Length: 2,100 mm (82.6 in)
Overall Width: 740 mm (29.1 in)
Overall Height: 1,120 mm (44.0 in)
Seat Height: 825 mm (32,5 in)
Wheelbase: 1,395 mm (54.9 in)
Dry Weight: 197 kg (434 lbs)
Engine type: 996 cc 4-stroke liquid-cooled 90° V-twin, DOHC, TSCC, 8 valves. 135 hp (98.6 kW)/ 9,500 rpm, 105 Nm/ 7,500 rpm.


Specifications are subject to change without notice, in accordance with national regulation and legislations.