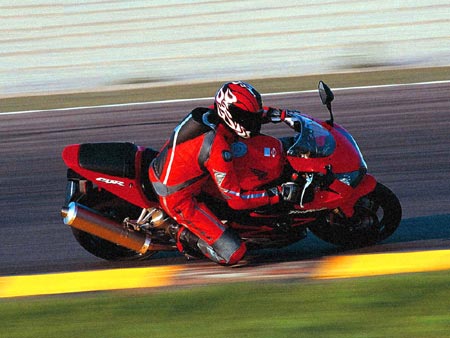 Back to 2003 Honda Motorcycle Index Page
Click on photos to enlarge.
It makes a great desktop image.

 
– 2003 Honda CBR954RR Fireblade

With its incredible balance between power and handling, the CBR954RR is the world's foremost open-class sportbike. The CBR954RR's 954cc inline four engine features both low-end pulling power and fearsome top-end punch for a thrill unmatched in the open-class sportbike class.


New for 2003
· Exciting new Metallic Titanium/Black and Black/Red colors.

Unique Features
· The CBR(r)954RR produces 154 bhp at 11,250 rpm and 74.6 lb./ft. of torque at 9,000 rpm with a 12,150-rpm rev limiter.
· 168 kilogram dry weight results in incredible power-to-weight ratio.
· An oil spray is directed toward the undersides of the pistons to ensure the pistons remain cool, enhancing power and contributing to long engine life.
· Each electronic fuel injector has 12 laser-drilled jet holes for finer fuel atomization, resulting in smoother, more responsive throttle performance and faster, more efficient combustion for stronger power output.
· Advanced programmed fuel injection (PGM-FI) features a sophisticated throttle sensor and advanced fuel injection mapping to produce smooth and linear throttle response for precise throttle adjustments.
· Swingarm showcases HRC's latest racing technology with a huge right-side pressed box-section coupled to a reinforced left-side extrusion.
· Brake calipers (two front, one rear) feature Nimuflon(tm)-coated steel pistons and Teflon-coated rollback seals to enhance braking feel under repeated hard use.
· Narrow-eye multi-reflector headlight has a single, central H7 low/high beam surrounded by two additional H7 high beams to brilliantly illuminate the night roadway.
· LED taillight provides brilliant illumination and exceptionally long life.

Engine/Drivetrain
· Sixteen-valve cylinder head features 29mm intake and 24mm exhaust valves with an 11.5:1 compression ratio for efficient combustion and high horsepower.
· Narrow, 25 degree included valve angle (13 degree intake/12 degree exhaust) provides a direct path for the incoming air/fuel charge for improved engine breathing and increased power. The narrow angle also helps make the CBR954RR engine compact and light.
· Forged steel camshafts are carburized and tempered, providing superior strength and lighter weight compared to conventional cast designs.
· Direct shim-under-bucket valve actuation system ensures high-rpm durability and allows 24,000 kilometre valve maintenance intervals.
· High-pressure programmed fuel injection (PGM-FI) delivers fuel at 50 psi to the four injectors mounted in each 42mm throttle body. Fuel is delivered through 12 laser-drilled nozzle holes in each injector, producing a very fine spray and a highly combustible air/fuel charge for maximum combustion efficiency and power.
· Auto-enriching system is integrated into PGM-FI module, eliminating the need for a manual choke.
· Forged aluminum pistons are screen-printed with LUB-Coat finish to minimize friction between the piston and cylinder.
· Aluminum composite cylinder sleeves are high-pressure-formed from sintered aluminum powder impregnated with ceramic and graphite. The lightweight composite sleeves provide better wear resistance and superior heat dissipation compared to conventional sleeves.
· Electronic ECU provides two digital 3-D fuel injection maps for each cylinder and one digital 3-D ignition map for cylinder pairs, creating ideal fuel mixture and spark advance settings for superb rideability.
· Four transistorized direct-ignition coils integrate the spark plug cap and high-tension lead to produce a high-voltage, long-duration spark for maximum performance and superb throttle response.
· Honda's Variable Intake/Exhaust Management System (HVIX(tm)) manages the intake and exhaust charges. An intake valve in the 10-litre airbox maintains a constant-velocity, variable-volume flow of cool, fresh air to the PGM-FI system.
· The unique Honda Titanium Exhaust Valve (HTEV(tm)) located in the exhaust collector provides the scavenging and power benefits of a 180 degree exhaust collector design at 0-3000 rpm, and transitions exhaust flow to a 360 degree collector design at 3000-7000 rpm, then combines 180 degree and 360 degree configurations at engine speeds above 7000 rpm to maintain maximum power output.
· Magnesium head cover is exceptionally light and strong.
· Round, liquid-cooled stainless steel oil cooler is lightweight and efficient.
· Maintenance-free automatic cam-chain tensioner.
· Lightweight curved aluminum radiator keeps engine temperatures in check for consistent performance and long engine life.
· Bearingless water pump features a high-efficiency design.
· Exotic titanium used in exhaust header, HTEV and muffler housing.
· Nine-plate clutch design is compact and tough, featuring durable friction plate material.
· Smooth-shifting close-ratio six-speed transmission ratios are carefully matched to the engine's powerband.
· Durable #530 O-ring-sealed drive chain.

Chassis/Suspension
· Lightweight twin-spar extruded aluminum frame features a pivotless swingarm design utilizing a cast aluminum bracket attached to the engine's swingarm pivots. This combination provides an exceptionally light, tuned-flex design offering superb road feel and excellent rigidity.
· Tapered and braced box-section swingarm provides exceptional lateral and torsional rigidity.
· A cast aluminum bracket reaches underneath the swingarm and attaches to the swingarm pivots, forming a D-shape swingarm mounting enclosure that increases rigidity of the swingarm-to-engine mounting.
· 43mm inverted aluminum-slider Honda Multi-Action System(tm) (HMAS(tm)) cartridge fork features spring preload, rebound and compression damping adjustability, and offers precise action and unparalleled rigidity.
· Pro-Link(r) rear suspension features a high-quality HMAS damper with an integrally cast reservoir, 13-position spring preload, rebound damping and compression damping adjustability for superior rear wheel control.
· Braking system features huge, 330mm front floating discs with four-piston calipers and a 220mm rear disc with a single-piston caliper for exceptional stopping power.
· Super-light aluminum-alloy hollow-spoke wheels feature race-spec 3.5 x 17-inch front and 6.0 x 17-inch rear dimensions.

Additional Features
· Unique bank-angle sensor shuts off fuel supply to PGM-FI system if the motorcycle tips over, but is unaffected by bumps and vibration in normal operation.
· High-capacity, 475-watt AC generator.
· High-tech instrument display includes black-face electronic tachometer, LCD readouts for speedometer, coolant temperature, odometer, two tripmeters and a clock. A low-fuel LED light is located in the tachometer.
· Lightweight front brake lever has a compact adjuster and incorporates the return spring in the master cylinder.
· Key-lockable 6-litre rear cowl storage box is designed to hold most commonly available U-type and cable locking devices. (Lock not included.)
· Convenient ignition switch/fork lock for added security.
· Lightweight, recyclable oil filter cartridge.
Specifications:
Engine
954cc liquid-cooled inline four-cylinder

Bore and Stroke
75mm x 54mm

Compression Ratio
11.5:1

Valve Train
DOHC; four valves per cylinder

Carburetion
PGM-FI with automatic enricher circuit

Transmission
Close-ratio six-speed

Final Drive
#530 O-ring-sealed chain

Front Suspension
43mm inverted HMAS cartridge fork with spring preload, rebound and compression damping adjustability; 110mm (4.3 in.) travel

Rear Suspension
HMAS Pro-Link single shock with spring preload, rebound and compression damping adjustability; 135mm (5.3 in.) travel

Front Brakes
Dual full-floating 330mm discs with four-piston calipers

Rear Brake
Single 220mm disc with single-piston caliper

Front Tire
120/70ZR-17 radial

Rear Tire
190/50ZR-17 radial

Wheelbase
1400mm (55.1 in.)

Seat Height
815mm (32.1 in.)

Dry Weight
168kg (370 pounds)

Fuel Capacity
18 litres (4.0 gal.)


Specifications are subject to change without notice, in accordance with national regulation and legislations.