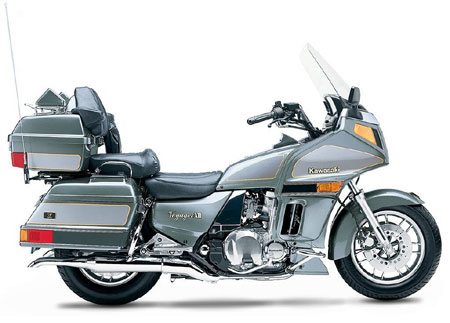 Back to 2003 Kawasaki Motorcycle Index Page
Click photo to enlarge.
It makes a great desktop image.

 
– 2003 Kawasaki Voyager XII

The Blue Ridge Parkway is gorgeous in summer. So why not go? You'll want to, when there's a Kawasaki Voyager® XII waiting in the garage. So pack the top-loading saddlebags and trunk. Then start up the 1,196cc In-Line Four DOHC engine, settle in behind the aerodynamic fairing and let dual gear-driven engine balancers and fully adjustable suspension provide an incredibly smooth ride. And head the Voyager XII toward the Parkway's 469 miles of motorcycling paradise.
Long, relaxing days in the saddle are what the Kawasaki Voyager® XII motorcycle was built for. This machine lays claim to all of the features of a luxury tourer, from its spacious saddlebags and large rear trunk to its massive full fairing with wide windshield and deeply cushioned seat that's good for all-day cruising comfort. Passengers also benefit from an equally comfortable seating position, with grab rails, their own floorboards and an adjustable backrest. Truly, the Voyager pampers all of its riders.

Three Year Warranty

Your new Voyager XII or Concours comes with a 36 month/ unlimited mileage limited factory warranty. Ask your dealer for details about the factory warranty and available extended coverage.

Features:
– With standard features like electronic cruise control and a high-quality 4-speaker, AM-FM cassette stereo with dual remote controls, this land is your land to enjoy.

– The extra strong Voyager XII powerplant delivers dependable touring power for effortless over- taking or hauling heavy loads up high-altitude mountain passes.

– Dual integrated balancers plus rubberized engine mounts make the massive 1,196cc DOHC In-Line Four cylinder engine purr along smoothly.

– Meticulous attention to keeping maintenance chores to a minimum: Reliable vacuum-advance electronic ignition. Automatic cam chain adjuster. Hydraulically controlled automatic valve lash adjusters.

– Clean, quiet shaft final drive.

– Making the Voyager fit you is easy: Air-adjustable front and rear suspension. Individually adjustable rider's seat. Adjustable passenger backrest. Adjustable windshield. Adjustable handlebars.

– Delivering extended touring range from the 6.1-gallon fuel tank is an 'overdrive' top gear.

– The full coverage fairing knifes through the air and leaves both the rider and passenger in a cocoon of calm and quiet.

– Luggage capacity is one of the Voyager's strong points: The dual top-loading saddlebags complement the huge trunk.

– The specially designed, dual-lever center-stand makes parking as easy as one, two…


Specifications:
Voyager XII
Engine type 4-stroke, In-Line Four
Displacement 1,196cc
Bore x stroke 78 x 62.6mm
Compression Ratio 10.0:1
Valve system DOHC, 16 valves
Cooling system Liquid
Carburetion Keihin CVK30 x 4
Ignition Electronic with vacuum advance
Starting Electric
Transmission 5-speed with Positive Neutral Finder
Final drive Shaft
Frame type Double-cradle, high-tensile steel with removable downtube
Rake/trail 30°/122 mm (4.8 inches)
Suspension, front 41mm equalized air fork with remote filler
Suspension, rear Equalized air shocks with remote filler and 4-way rebound damping
Wheel travel, front/rear 140/100 mm (5.5/3.9 inches)
Tires, front, rear Tubeless; M130/90-16; M150/90-15
Brakes, front Dual discs
Brakes, rear Disc
Wheelbase 1620 mm (63.8 inches)
Seat height 754 mm (29.7 inches)
Fuel capacity 23.2 litres (5.0 gallons)
Dry weight 330 kg (728 pounds)
Colours Metallic Cremona Olive/Metallic Phantom Silver
GTPP available 24 or 36 months

Specifications are subject to change without notice, in accordance with national regulation and legislations.