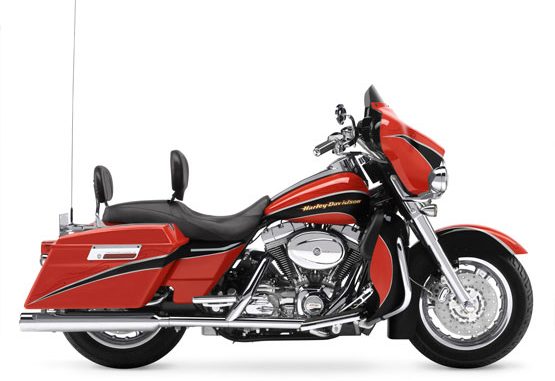 Back to 2004 Harley-Davidson Motorcycle Index Page
Click photos to enlarge.
They make great desktop images.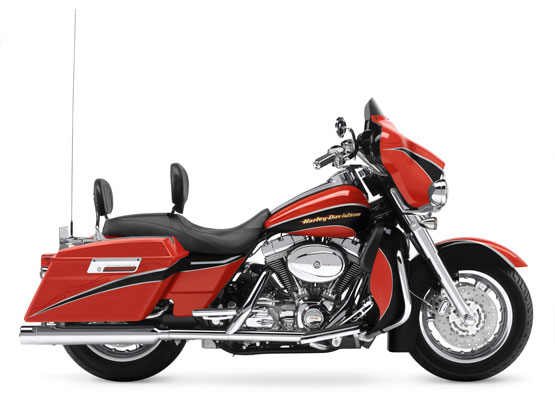 2004 Harley-Davidson FLHTCSE Screamin' Eagle Electra Glide
– 2004 Harley-Davidson FLHTCSE Screamin' Eagle Electra Glide

2004 Harley-Davidson FLHTCSE Screamin' Eagle Electra Glide
FLHTCSE Screamin' Eagle® Electra Glide® Model Overview
Harley-Davidson® is breaking all the rules. Built on the framework of a FLHTC Electra Glide® Classic, the Screamin' Eagle Electra Glide puts the "sport" in sport touring. The Candy Cobalt and Starlight Black or Orange Pearl and Jet Black custom paint will draw attention like no other, and close examination of the contrasting dual pinstripes and subtle flame accents show the attention to detail that is standard equipment on every CVO™ motorcycle. But this Electra Glide won't stay in one place for long. The Silver and Chrome 103 cubic inch "Stroker" Twin Cam powertrain (with Screamin' Eagle® tuning) lets the FLHTCSE control the road. Grab the hydraulic lever that tames the high-performance clutch, drop it into gear, and let it roll.
Exclusive features abound. From the custom leather seat with perforated seating surface, you'll see a low profile smoked wind deflector, painted inner fairing, engine-turned instrument faces, chrome bars with internal wiring, and a custom full-length fuel tank console. The Ribbed chrome and rubber hand grips, streamlined rider floor boards and mini passenger boards add a finishing touch. The FLHTCSE features Detonator three spoke custom wheels, low front and rear suspension, chrome fork sliders and bullet style turn signals. Even the passing lamp mounts are styled for that low, clean look. Crank up the tunes on the 60-watt AM/FM/CD player with integral amplifier, set the standard cruise control, and get ready to pile up the miles. But custom paint and exclusive features isn't all that makes the FLHTCSE unique. Only a limited number of these will ever be produced.
Key FLHTCSE Screamin' Eagle® Electra Glide® Motorcycle Characteristics
FLHTCSE incorporates all Electra Glide Classic FLHTCI model updates for model year 2004, and includes the following additional standard features:
Custom Colors:
Candy Cobalt and Starlight Black or Orange Pearl and Jet Black with matching pinstripes and Harley-Davidson graphics
Color-matched fairing lowers with gloveboxes
Color-matched inner faring and switch panel
103 cubic inch Twin Cam powertrain finished in silver and chrome
Screamin' Eagle SYN3 Synthetic Lubricant in engine, transmission and primary chaincase
Black high torque 1.4 kw starter
High performance clutch with hydraulic actuation
Custom oil cooler with chrome cover
Custom oil filter mount with internal thermostat
Chrome oil line cover
Chrome oil vent line with chrome fittings
Chrome voltage regulator
Classic Chrome air cleaner cover with color-filled script
Stratum Collection chrome billet derby and timer cover with color-filled script
Chrome Detonator™ three spoke custom wheels, 16″ front and 16″ rear
Chrome Detonator™ three spoke floating brake rotors
Silver brake calipers with billet-style inserts
Chrome front axle nut covers
Chrome fork sliders and chrome upper fork covers
Chrome lower triple tree cover
Chrome custom passing lamp brackets with bullet-style front turn signals
Smoked turn signal lenses with amber bulbs
Dark tinted mini wind deflector
Engine-turned silver metallic face speedometer and tachometer with backlighting
Engine-turned silver metallic face 2″ auxiliary gauges with backlighting
Premium AM/FM/CD sound system with 60-watt integral amplifier
Premium front speakers
Chrome 1″ diameter handlebar with internal wiring
Ribbed chrome and rubber hand grips with chrome end caps
Chrome clutch and brake master cylinders with chrome switch housings and hand levers
Bullet-style mirrors
Cruise control
Clear-coated, braided stainless steel control cables
Clear-coated, braided stainless steel front brake and clutch lines
Chrome clutch line clips
Custom full-length billet style fuel tank console with "CVO™" mark on the insert
Chrome extended reach billet brake lever
Chrome billet heel/toe shift levers
Polished stainless steel hex shift linkage
Streamilned rider and passenger footboards with Ribbed chrome and rubber inserts
Chrome rider and passenger footboard supports
Ribbed chrome and rubber brake pedal pad and shifter pegs
Custom leather and seat with "New Foam" technology
Rider backrest with chrome "Bar & Shield" backplate
Low profile detachable passenger backrest with chrome "Bar & Shield" backplate
Chrome saddlebag cover trim
Chrome antenna wire clip
Chrome valve stem caps
Low front and rear suspension
Chrome touring mufflers with chrome billet end caps
Chrome touring muffler shields
Bullet-style rear turn signals mounted on a chrome narrow turn signal bar
Custom painted saddlebag filler strips
Custom rear fender cloisonne medallion
Integral garage door opener and receiver
H-D® factory security system with smart siren
Saddlebag liners
"CVO™" mark indoor storage cover
"CVO™" mark ignition key

2004 Harley-Davidson FLHTCSE Screamin' Eagle Electra Glide – Specifications
MSRP: Please see dealer for pricing
DIMENSIONS
Length 91.89 in. (2334.0 mm)
Seat Height2 26.5 in. (673.0 mm)
Ground Clearance 4.21 in. (106.934 mm)
Rake 26.0 degrees
Trail 6.2 in. (157.5 mm)
Wheelbase 63.5 in. (1612.9 mm)
Tires: Dunlop Harley-Davidson Series
Front – D402F NW MT90B16 72H
Rear – D402 NW MU85B16 77H
Fuel Capacity (included 1.0 gal. reserve) 5.0 gal. (18.9 L)
Reserve Fuel Capacity
(warning light @ approx. 1.0 gal. for ESPFI models) 1.0 gal. (3.8 L)
Oil Capacity 4.0 qts. (3.8 L)
Dry Weight 785.0 lbs. (357.0 kg)
Gross Vehicle Weight Rating 1259.0 lbs. (572.0 kg)

ENGINE3
Engine Oil-cooled Twin Cam 103™
Valves Pushrod-operated overhead valves; w/ hydraulic
self-adjusting lifters; two valves per cylinder
Bore x Stroke 3.87 x 4.37 in. (95.25 x 110.8 mm)
Displacement 103 cu. in. (1690 cc)
Compression Ratio 9:1
Fuel System4 Electronic Sequential Port Fuel Injection
(Single runner, 45mm throttle bore ESPFI)
Air Cleaner/Filter Chrome oval classic cover
w/ high-efficiency, pleated paper filtration
Ignition Single-fire, non-wasted, map-controlled
spark ignition system; electronic breakerless
w/ multiple advance curve matrix
Oil Cooler Thermostatically controlled

DRIVETRAIN
Primary Drive Double-row chain, oil bath, mechanical tensioner;
36/25 tooth sprockets (1.44:1)
Final Drive Gates Carbon fiber reinforced Poly Chain belt;
32/70-tooth sprockets; (2.188:1)
Clutch Hydraulically Adctuated 9-plate
w/ diaphragm spring in oil bath
Transmission 5-speed, constant mesh
Gear Ratio: (ESPFI)
1st 10.110
2nd 6.958
3rd 4.953
4th 3.862
5th 3.150
CHASSIS
Frame Mild steel, square section backbone w/ twin downtubes
Swing Arm Mild steel, rectangularsections w/ forged ends
Front Fork 41.3 mm dia.
Rear Shocks Air-adjustable
Wheels Chrome "Detonator" 3-spoke wheels
Brakes:
Caliper type Four-piston front and rear
Rotor type (diameter x width): Chrome floating brake rotors
Front (DUAL) 11.5 in. x .20 in. (292.1 mm x 5.08 mm)
Rear 11.5 in. x .23 in. (292.1 mm x 5.84 mm)
Suspension travel:
Front 4.6 in. (116.8 mm)
Rear 2.2 in. (76.2 mm)

PERFORMANCE
Engine Torque (per SAE J607)5:
North America 100.0 ft. [email protected] 3500 rpm (138.0 NM @ 3500 rpm)
Lean Angle (per SAE J1168):
Right 31 degrees
Left 30 degrees

ELECTRIC
Battery Sealed, maintenance-free, 12-volt, 28 amp-hour, 270 cca
(per Battery Council International rating)
Charging:
EFI Single phase, 45-amp system
(559 watts @ 13v, 2000 rpm; 599 watts max power @ 13v)
Starting 1.4 kw electric w/ Bendix-type engagement
Lights: (As per country regulation)
Headlamp Quartz halogen,
55-watt low beam, 60-watt high beam
Passing Lamps 2 @ 35 watts each
(except where prohibited by law)
Tail/stop lights 8w/28w
Turn signal lights (self-canceling) 28w
Indicator lamps High beam, neutral, oil pressure,
engine diagnostic light, turn signals,
low fuel warning, cruise control,
battery, and security system6

STYLING/CONVENIENCE
Engine Trim Silver powder-coated w/ chrome covers
Exhaust System Cross-over Dual w/ chrome touring mufflers
w/ chrome billet end caps
Handlebars Chrome 1" dia. w/ internal wiring
Seat Custom leather two-up seat and rider backrest
Passenger Backrest Custom detachable
Footboards Operator and passenger
Fairing Fork-mounted
Fairing Air Deflectors none
Lower Fairings Color matched
Windshield Dark smoked Lexan, mini
Glovebox Mounted in fairing lowers
Instruments Custom spun aluminum metal-faced w/ backlighting;
electronic speedometer w/ odometer and
resettable dual tripmeter; electronic tachometer
w/ cruise control light, fuel gauge w/ low fuel light,
air temperature gauge, voltmeter gauge and oil pressure gauge
Stereo Premium sound system w/ integral amp
and single disc CD player
Antenna Rear mounted
Rear Speakers none
Intercom N/A
CB N/A
Headset N/A
Cruise Control Factory cruise w/ integrated hand controls
Handlebar Controls Start; engine cutoff; L/R turn signals; horn;
hi/lo beam; cruise on/off and set/resume,
radio controls and garage door opener control
Hazard Warning Integrated w/ turn signal controls
Electrical Power Outlet 4-pin accessory connector beneath seat
Security System Factory installed w/ siren
TourPak® Available from Genuine Motor Accessories
in king or chopped configuration
Saddlebags Injection molded GTX
w/ hinged lid and chrome slant latches
volume: 1.93 cu. ft. (57.9 L) per bag
Luggage Locks Saddlebag barrel-key, common w/ ignition
Fork Lock/Gas Cap Lock Barrel-key, common w/ ignition
CVO™ Key Custom gold key w/ CVO™ mark

COLORS7
Candy Cobalt and Starlight Black w/ copper and blue pinstriping;
Orange Pearl and Jet Black w/ silver and red pinstriping

WARRANTY
Warranty8 24 months (unlimited mileage)
Service Interval First 1,000 miles (1,600 Km);
every 5,000 miles (8,000 Km) thereafter.
– Inspections of certain systems and components are required at 2,500 mile (4,000 Km) intervals –

1Harley-Davidson reserves the right to discontinue models or change specifications at any time
without incurring any obligations. Vehicle specifications may vary from country to country depending
on local laws, and some models are not available in certain countries.
2Measurement reflects 180 lb/81.7 kg operator weight.
3Screamin' Eagle SYN3 Synthetic Lubricant in engine, transmission and promary chaincase.
4Standard and optional fuel systems may vary by country.
5Values are nominal. Performance varies by country.
6North American security system includes immobilizer; outside North America the security system
includes immobilizer & siren.
7Availability may vary from dealer to dealer, and is subject to change without notice.
8See motorcycle owner's manual for complete details.