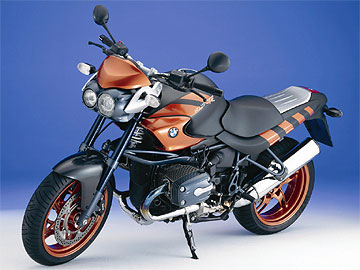 Great looking, big and glossy photos! Less reading, more looking!
– 2004 exclusive interview with BMW motorcycles
– BMW R1150R Rockster
– BMW R1150R Edition 80 Rockster
– BMW Montauk
– R1200GS Full finial specifications – Special 4 Page Review! And lots of photos!
– Spy Shots BMW R1200GS & BMW K
– Manufacturer websites worldwide

 
– BMW R1150R Rockster – Predatory on the pavement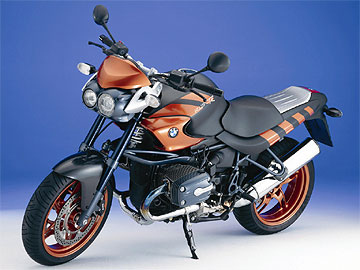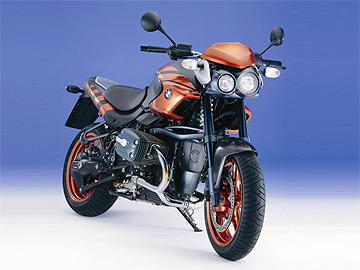 Visit the official BMW R1150R Rockster webpage
Primal – that's the R1150R Rockster. It's predatory by nature and a high-performance by design – an evolution in naked bike engineering. You'll swear the pavement quivers when you fire up the Rockster's new two-spark engine. The latest innovation in BMW boxer design, the two spark raises the bar on reliability and performance.
And there's plenty of bite behind that bark. Wide open, the Rockster shoots across a tarmac at up to 122 mph, sprinting from 0 – 62mph in a mere 4.2 seconds.
But even perched on its center stand, the Rockster epitomizes speed. Every angle screams aggression and the high-contrast black and citrus or black and orange war paint gives the Rockster a unique presence.
– BMW R1150R Edition 80 Rockster – Predatory on the pavement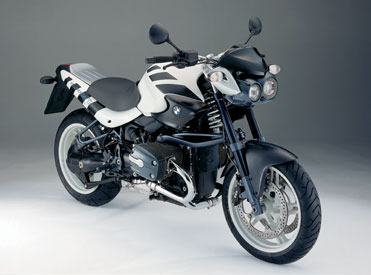 Visit the official BMW R1150R Edition 80 Rockster webpage
Based on BMW's aggressive new R 1150 R Rockster, the Edition 80 is BMW's 80th anniversary model. This is a limited edition of 2,003 motorcycles of which only 200 will be made available to the U.S. Each bike will have a serialized badge mounted on the frame.
The machine itself features the improved two-spark boxer-twin engine. It's been clocked doing 0-62 in 4.2 seconds and can sprint down the tarmac at speeds up to 122mph. The new benchmark in next-generation high-performance Roadsters, the Edition 80 wears a special Alpine White/Sapphire Black Metallic finish setting it apart from anything else on the road.
Even standing still the Edition 80 epitomizes BMW design and performance. Every angle is sculpted and every detail calculated for a unique riding experience. Of the millions of motorcycles in the world, only 200 Edition 80's will be available in the U.S. This is one opportunity in 80 years you don't want to miss.
– BMW Montauk – Masters the mountains, rolls on the range.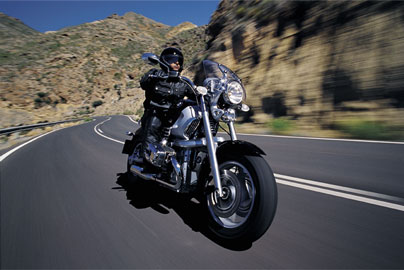 Visit the official BMW Montauk webpage
Whether cutting through mountain gaps or rolling along open plains, the new
BMW Montauk was built for long rides through big sky country. Packed full of torque
(72 lb/ft), its got ample energy to ascend winding mountain roads and an updated
5-speed gearbox to keep the miles rolling by smoothly.
The new Montauk also features BMW's two spark ignition system, an advancement that improves exhaust emissions, fuel consumption and response, setting a new benchmark for cruiser performance.
Stylistically, the Montauk retains the clean, elegant lines of the classic
R 1200 C but with a few extras to give it a presence all its own. Complementing the purity of the open design, the Montauk features a subtle windshield, extending riding comfort on long stretches of road.
Like its touring cousin the R 1200 CL, the Montauk takes a broader stance with a widened BMW Telelever suspension up front and vertically arranged dual headlights. The new Montauk looks equally imposing from the side. A higher, narrower passenger seat and redesigned side cover give the Montauk a powerful profile.
– BMW R 1200 GS- Finial Specifications and Press Kit.
Since we have so much new material on the new BMW R1200GS we had to make a new page just to contain all that new information for you to read. Click here for our Special 4 Page BMW R1200GS Review Section HERE.
– BMW R 1200 GS- Spy shots of the new BMW R1200GS?
September 22, 2003
Click here for our Special BMW R1200GS Section HERE.
Visit the official BMW R1200GS webpage (soon?)
The German motorcycle magazine Motorrad Aktuell has published on its front page a decent photo of the soon-to-be-announced BMW R1200GS. This photo seems to be much more in line with what we'll actually see, since it's not a spy photo.
It would seem that BMW is getting ready to show the world the new bike.
British magazine MCN published spy photos of the new BMW R1200GS, the replacement of the successful R1150GS. The first change is obvious with its name… the 1150 engine is replaced by a 1200 cc engine!
Further, MCN confirm that the weight drops 30 kilos. Not much other details are available, but the bike is looking very promising. With a bigger engine, and less weight, it should be able to reach better performances. (thanks to motorbiker)
– BMW K Series Bike – Radical Inline BMW?
September 29, 2003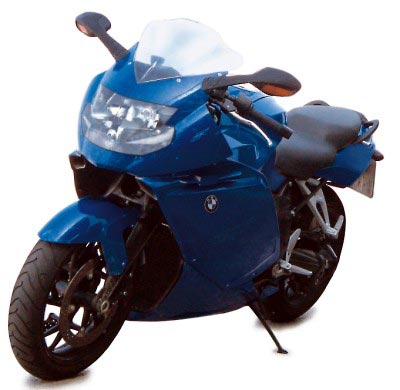 New K-BMW challenge secret : Look the new BMW of the K-series – with Inline engine! First photos and observations suggest a completely new engine and revolutionary solutions with the chassis. The motorcycle is already in the testing in the public traffic. Could be publicly revied in the Munich Motorcycle Show (InterMot) end 2004, with sales to begin thereafter. (thanks MOTORRAD)
– Manufacturer Websites

BMW Motorcycle Global Site
BMW Motorcycle Canada Site
BMW Motorcycle USA Site
BMW Motorcycle UK Site
BMW Motorcycle Germany Site
BMW Motorcycle Japan Site