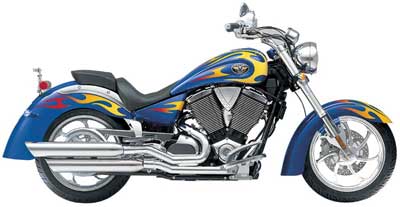 You are here: Index — New Models — 2004 Victory Motorcycle Models
2004 Victory Motorcycles
Great looking, big and glossy photos! Less reading, more looking!
– Victory Kingpin
– Victory Vegas Arlen Ness Limited Edition
– Manufacturer websites worldwide

 
– Victory Kingpin – Guts never looked prettier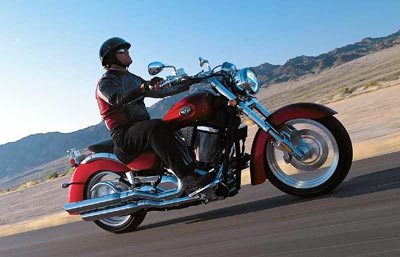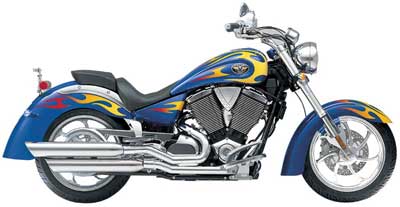 Visit the official Victory Kingpin webpage
Steel and chrome have never looked sweeter. Introducing Kingpin,™ the newest of The New American Motorcycles. The attitude of this cruiser says cool and comfortable, whether it's gathering a crowd on a city street or breaking away from it on the open road. Follow the curve of the fully valanced front fender to the massive, inverted front fork, across the handlebars and down the scalloped tank to the business end of Kingpin. A 92 cubic inch Freedom V-twin engine ready to power you to the next time zone. The rest of the Kingpin is pure comfort. Eighteen-inch front and rear wheels, roomy, vibration-absorbing floorboards, and front and rear suspensions built and fine-tuned for an extra measure of cross-country smooth.
– Victory Vegas Arlen Ness Limited Edition
– So modern, it deserves an unveiling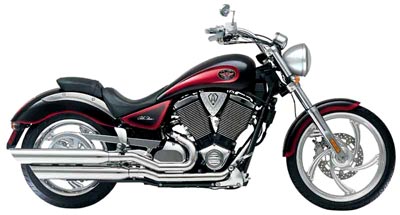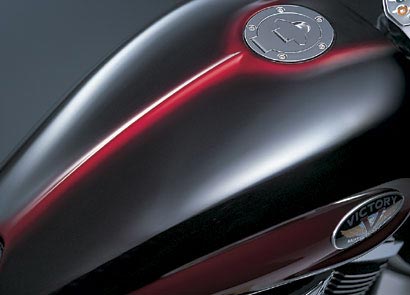 Visit the official Victory Vegas Arlen Ness limited edition webpage
You won't see this cruiser on every street corner. First, because this gorgeous masterwork was created by Arlen Ness, America's premier designer of custom motorcycles. Second, because we're only building a few hundred of them. But those few hundred riders lucky enough to add this limited edition to their cruiser collection will be the envy of everyone, everywhere. Fully optioned, with radical paint and chrome, it's as breathtaking to look at as it is to ride. The Limited Edition Arlen Ness Signature Series isn't for everyone. But when you're dealing in art as powerful as a Victory® motorcycle, that's exactly the point.

– Manufacturer Websites