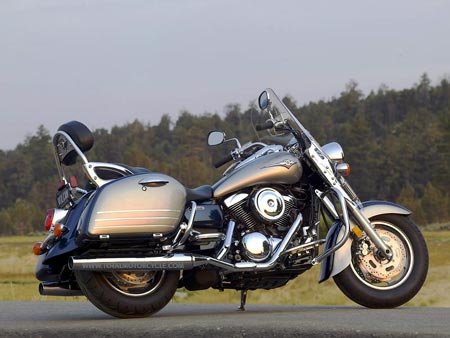 You are here: Home — New Models — 2005 Kawasaki Motorcycle Models
2005 Kawasaski Vulcan 1600 Nomad
Back to 2005 Kawasaki Motorcycle Index Page

Click to Enlarge for Desktop Sized Photo
– 2005 Kawasaki Vulcan 1600 Nomad

One of Kawasaki's most popular motorcycles is returning to the lineup for 2005 with a new name and several enhancements that make this leading-edge cruiser even better.
The new Vulcan® 1600 Nomad™ retains the elegant style of the Vulcan 1500 Nomad, but features more chrome, enhanced passenger comfort, and the big V-twin engine's displacement has been boosted to 1,552cc to give it an even keener powerband.
Beginning with the Nomad's V-twin engine, displacement has been increased from 1,470cc to 1,552cc. Combined with new settings for the electronic fuel injection settings, the 1600 Nomad produces extra torque that cruiser riders will appreciate.
Other design features carried over from the previous engine include single overhead cams and four valves per cylinder. Hydraulic valve lash adjusters automatically maintain valve clearance for smooth engine performance, reduced noise and reduced maintenance, while automatic cam chain tensioners keep cam timing accurate with virtually no maintenance.
The revised Mitsubishi digital fuel injection system feeds each cylinder the appropriate fuel mixture through dual 36mm throttle bodies. A separate intake tract for each throttle body provides smooth engine operation, and the top is each injector contain four small nozzles, with two aimed at each intake valve.
A 16-bit electronic control unit (ECU) features programming tailored specifically for the Nomad's fuel injection system. Using readings from various sensors, it monitors engine coolant temperature, intake air temperature, atmospheric pressure, intake air pressure and throttle position to adjust the amount of fuel injected.
Attention to these engineering details provide the 1600 Nomad with the best balance of power and performance, so the rider has an abundance of torque for any riding condition.
Other refinements include larger engine mounts and a gear-driven engine counterbalancer to reduce handlebar and floorboard vibration, yet these features do not interfere with the engine's distinctive V-twin rumble.
Also, the 1600 Nomad's steering has been lightened by reducing the offset of the front fork from 20 to 15mm. The result is that the motorcycle feels more neutral at low speeds, as when maneuvering in parking lots.
In addition to its elegant, low-slung chassis, the new 1600 Nomad is endowed with more chrome and comfort features: New chrome engine guards are standard and a new, thicker passenger seat includes a backrest and aluminum grab bars. Plus, new redesigned pillion floorboards for the passenger replace the floorboards of the previous model. Combined, these features make long-distance rides more comfortable and pleasurable.
Features and Benefits
V-Twin Engine
– Engine displacement increased to 1,552cc for more torque
– Digital Fuel Injection is revised to suit the larger engine's needs and enhance performance
– Dual mufflers allow more clearance for saddlebags
Liquid Cooling
– Maintains consistent engine temperatures for long engine life and sustained power during hard use
– Auxiliary fan keeps things cool during all operating conditions
Four Valves per Cylinder
– Boosts low-end torque
– Provides maximum valve area for optimum flow
– Hydraulic valve lash adjusters require no maintenance
Gear-driven Engine Balancer
– Counter-rotates at engine speed to cancel vibration
– Allows use of single-pin crankshaft without the heavy vibration
Rubber-mounted Engine
– All but eliminates engine vibration at all speeds
Five-speed Transmission
– Great around-town acceleration with relaxed highway cruising
Positive Neutral Finder
– Just lift the shift pedal from first at a stop to find neutral easily
Five-gallon Fuel Tank
– Rounded-edge finish for clean, upscale look
– Large capacity for extended touring range
Large, Adjustable Windshield
– Large windshield gives excellent rider and passenger weather protection
– Windshield is adjustable up and down two inches
– Heavy-duty chromed support hardware holds the windshield rock steady
Hard Saddlebags
– Designed for easy packing, these saddlebags carry an amazing amount of gear
– Lockable, side-open design for smooth looks and quick access
– Soft, removable inner bags available as an optional accessory
Passenger Comfort
– Pillion floorboards, standard backrest and thicker seat provide maximum passenger comfort on long rides
More Chrome for 2005
– New chrome engine guards help protect the engine
Triple Disc Brakes
– Dual discs up front for maximum stopping power
– Large, single rear disc because touring bikes carry so much of the load on the rear wheel
Shaft Drive
– Reliable, clean and quiet low-maintenance system
Hydraulic Clutch Release
– Easy to operate, requires virtually no adjustment
Adjustable Control Levers
– Fits variety of rider sizes and styles
Electronic Speedometer
– Eliminates conventional cable-drive system
Tubeless Tires
– Lower operating temperature extends tire life
Air-Adjustable Rear Shocks
– Rebound damping is 4-way adjustable to tailor fit the ride


Specifications
Engine: Four-stroke V-twin, SOHC, 8-valve
Displacement: 1,552cc
Bore x stroke: 102.0 x 95.0mm
Compression ratio: 9.0:1
Cooling: Liquid
Carburetion: Digital fuel injection with (2) 36mm throttle bodies
Ignition: Digital
Transmission: Five-speed
Frame: High-tensile steel, double cradle
Rake / trail: 32° / 7.4 in.
Suspension type, front: 43mm hydraulic fork
Suspension type, rear: Dual hydraulic shocks
Suspension adjustments, rear: Air adjustable twin shocks, 4-way rebound damping
Wheel travel, front: 5.9 in.
Wheel travel, rear: 3.9 in.
Tire, front: 150/80 x 16
Tire, rear: 170/70 x 16
Brakes, front / rear: Dual hydraulic 300mm discs / single 300mm disc
Overall length: TBD
Overall width: TBD
Overall height: TBD
Ground clearance: 5.3 in.
Seat height: 27.8 in.
Dry weight: TBD
Fuel capacity: 5.3 gal.
Wheelbase: 66.3 in.
Colors: Blue, Black
* Price and specifications subject to change