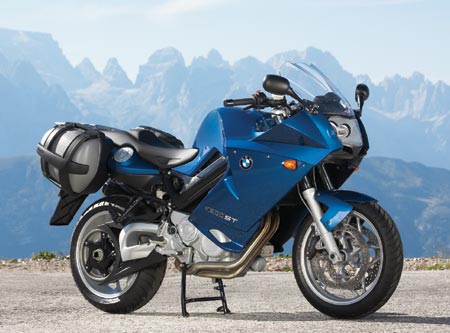 You are here: Home — New 2006 Models — 2006 BMW Motorcycle Models
2006 BMW F800ST
Back to 2006 BMW Motorcycle Index Page
Click photos to enlarge.
They make great desktop images.

2006 BMW F800ST


2006 BMW F800ST


2006 BMW F800ST

 
– 2006 BMW F800ST
2006 BMW F 800 ST

The F 800 ST, the new medium category sports touring bike, also has touring-oriented equipment. Unlike the sporty F 800 S there is full trim, a high windshield, an aluminium luggage bridge as standard. The raised handlebars of the F 800 ST ensure an ergonomically favourable seating position. This model's comfort defines new standards in the medium category and means it is predestined for lengthy trips – either singly or with a pillion passenger.
The dry weight of the F 800 ST is under 190 kg, with a road-ready (DIN empty) weight below 210 kg. The two F models only differ in these technical specifications.
The newly designed 2-cylinder in-line engine, developed in collaboration with Bombardier-Rotax GmbH as a 4-valve unit, is also installed in the F 800 ST. A top performance figure above 60 kW (more than 80 bhp) and the corresponding revving capacity ensure that more ambitious sporty requirements are fulfilled. The high compression ratio of 12:1 and a combustion chamber design based on the new K engine mean that combustion is effective and low in emissions, as well as ensuring reduced fuel consumption.
The already well-established toothed belt drive (F 650 CS) has been chosen as the rear wheel drive for the new model series. Being maintenance friendly, smooth-running and light, it provides the optimum in terms of durability, efficiency, space requirements and weight in this performance class. A closed-loop three-way catalytic converter, state-of-the-art digital engine electronics and optional ABS are of course available too.
Features:

· New mid-range sports tourer

Differences compared to F 800 S mid-range sportsbike:
· Oriented towards touring due to full fairing, high windshield, aluminium luggage rack and ergonomic touring seat position due to raised handlebars
Differing technical data of the F 800 S:
· Dry weight: less than 190 kg
· Road-ready weight: over 200 kg