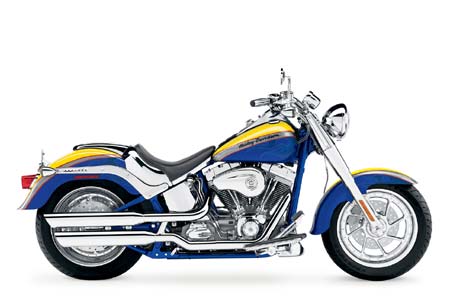 You are here: Home — 2006 Models — 2006 Harley-Davidson FLSTFSE2 Screamin' Eagle Fat Boy
2006 Harley-Davidson FLSTFSE2 Screamin' Eagle Fat Boy
Back to 2006 Harley-Davidson Motorcycle Index Page
Click photos to enlarge.
They make great desktop images.



2006 Harley-Davidson FLSTFSE2 Screamin' Eagle Fat Boy


2006 Harley-Davidson FLSTFSE2 Screamin' Eagle Fat Boy


2006 Harley-Davidson FLSTFSE2 Screamin' Eagle Fat Boy

 
– 2006 Harley-Davidson FLSTFSE2 Screamin' Eagle Fat Boy
FLSTFSE2 Screamin' Eagle® Fat Boy® Model Overview
The Harley-Davidson Custom Vehicle Operations (CVO) crew has infused the new 2006 limited-edition FLSTFSE2 Screamin' Eagle Fat Boy with rowdy performance and a lean, urban custom profile. Based on the popular Harley-Davidson FLSTFI Fat Boy, the Screamin' Eagle Fat Boy features a Screamin' Eagle 103 Stroker Twin Cam engine tuned to crank out more than 100 ft. lbs. of torque, special custom colors with metal grind accents, and a new steel seat.
Features of the 2006 FLSTFSE2 Screamin' Eagle Fat Boy include:
Paint:
Nebula Yellow Pearl and Cobalt Blue
Autumn Haze and Abyss Blue
Canyon Copper and Concord Purple
Frame, frame inserts and swingarm are color-matched
Screamin' Eagle 103 Stroker Twin Cam powertrain
New 200 mm rear tire
New 140 mm front tire
New 17-inch Road Winder forged aluminum wheels
New Road Winder billet sprocket
Road Winder brake rotors
Buckshot Accessory Collection:
New grips
Mirrors
Rear brake lever
Shifter lever
Shifter linkage
Strut covers
Derby cover
Softail chrome front spoiler
Aileron brake pedal pad and shifter peg pad
Air cleaner and fuel tank console inserts
Steel seat with padded insert
Decorative chrome pillion
1.25-inch handlebar with internal wires
Handlebar clamp with tachometer mount
Chrome handlebar risers
Chrome fuel tank console and leather extension
Aileron rider footboard inserts
Chrome footboard supports
Slash-down mufflers with chrome heat shields
Clear-coated, braided, stainless steel control cables
Chrome wheel spacers
Stage 1 air cleaner kit
Teardrop-shaped chrome air cleaner cover
High-performance clutch with hydraulic actuation
Chrome voltage regulator
Chrome headbolt covers
Silver brake calipers with billet-style chrome inserts
1.4kW starter (black)
Chrome clutch line clips
Spun aluminum metal-faced speedometer and tachometer
Chrome front axle nut covers
Chrome swingarm pivot bolt covers
Chrome smooth-look fork stem covers
Bullet rear axle adjuster covers
Smoked turn signal lenses with amber bulbs
Chrome master cylinder assemblies and switch housings
Chrome front and rear master cylinder reservoir covers
Chrome front brake and hydraulic clutch levers
Chrome license plate bracket
Stainless switch housing and lever bracket hardware
Lowered rear suspension
Chrome lower belt guard
Chrome sprocket bolt covers
Chrome valve stem caps
Chrome tapered tachometer can
Harley-Davidson security system with siren alarm
SYN3 synthetic lubricant
CVO key and CVO storage cover


2006 FLSTFSE2 SCREAMIN' EAGLE® FAT BOY® SPECIFICATIONS1

DIMENSIONS
Length 94.3 in. (2395.2 mm)
Seat Height:
Laden2 25.7 in. (652.8 mm)
Unladen 26.4 in. (670.5 mm)
Ground Clearance 5.8 in. (147.3 mm)
Rake (steering head) 32°
Fork Angle 31°
Trail 5.1 in. (129.5 mm)
Wheelbase 64.5 in. (1638.3 mm)
Tires (radial):
Front 140/75R17 67H
Rear 200/55R17 M/C 78V
Fuel Capacity3 5.0 gal. (18.9 L)
Reserve Fuel Capacity No reserve due to fuel injection
(warning light at approx. 1.0-gal.)
Oil Capacity 3.5 qts. (3.3 L)
Weight:
Dry Weight 702 lbs. (318 kg)
Vehicle Weight in Running Order 740 lbs. (336 kg)
Gross Vehicle Weight Rating 1160 lbs. (527 kg)

ENGINE
Engine4 Air-cooled Twin Cam 103B,™
powder-coated Silver w/Chrome covers
Bore x Stroke 3.87 in. x 4.37 in. (98.3 mm x 111.0 mm)
Displacement 103 cu. in. (1690 cu. cm)
Compression Ratio 8.6:1
Fuel System3 Electronic Sequential Port Fuel Injection
(single runner, 45 mm throttle bore ESPFI)
Air Cleaner/Filter Tear-drop style, chrome
w/spun-aluminum insert, high fl ow fi lter
Lubrication System Dry sump, internally mounted, crank-driven
gerotor pressure and dual scavenge pump
w/spin-on 10 micron pressurized oil fi lter

DRIVETRAIN
Primary Drive Double-row chain, oil bath, mechanical
tensioner, 36/25 tooth sprockets (1.44:1)
Final Drive Belt
Clutch 9-plate, wet
Transmission 5-speed
Overall Ratio:
1st 10.110
2nd 6.958
3rd 4.953
4th 3.862
5th 3.150

CHASSIS
Frame Mild steel tubular frame; rectangular section
backbone; stamped, cast and forged junctions;
forged fender supports; MIG welded
Swingarm Mild steel, rectangular tube sections,
stamped junctions, MIG welded
Front Fork 41.3 mm telescopic w/"beer can" covers
Wheels 17 in. x 3.5 in. chrome Road Winder wheel
Brakes:
Caliper Type 4-piston front and rear
Rotor Type (diameter x width): Single
Front 11.5 in. x .20 in. (292.1 mm x 5.08 mm)
Rear 11.5 in. x .23 in. (292.1 mm x 5.84 mm)
Suspension Travel:
Front Wheel 5.1 in. (129.5 mm)
Rear Wheel 3.24 in. (82.3 mm)

PERFORMANCE
Engine Torque (per SAE J607)6:
North America 96.0 ft. lbs. @ 4000 rpm (130.2 NM @ 4000 rpm)
Lean Angle (per SAE J1168):
Right 29.2°
Left 29.5°
MPG (EPA urban/highway test)7 35/53 mpg (7.0/4.0 L/100 km)

ELECTRIC
Battery Sealed, maintenance-free, 12V, 19-amp/hour,
270 cca (per Battery Council International Rating)
Charging Three-phase, 38-amp system
(439W @ 13V, 2000 rpm, 489W max power @ 13V)
Starting 1.4 kW electric w/solenoid shift
starter motor engagement
Lights (as per country regulation):
Headlamp (quartz halogen) 55-watt low beam
60-watt high beam
Tail/Stop Lights 8W/28W (5W/21W)
Turn Signal Lights 28W (21W) self-canceling
Indicator Lamps High beam, neutral, low oil pressure,
turn signals, engine diagnostics,
security system8

STYLING/CONVENIENCE
Engine Trim Silver powder-coated w/chrome treatment
Exhaust System Slash-down muffl ers w/chrome heat shields
Oil Tank Chrome "horseshoe" w/chrome external oil lines
Ignition Barrel key
Foot Supports Floorboards w/custom levers and rubber inserts
Seat Steel w/chrome accents and padded insert
Handlebars Chrome 1.25-in. diameter
Rear Fender Full coverage
Rear Fender Supports Chrome full coverage
Fork Lock Common w/ignition key
Instruments Spun-aluminum, metal-faced mini-tachometer
and electronic speedometer, odometer and
resettable trip meter w/diagnostic capabilities
and solid-state tell-tale indicator module
Hazard Warning Integrated into turn signal controls

COLORS9
Two-Tone Autumn Haze/Abyss Blue, Two-Tone Nebula Yellow/
Cobalt Blue, Two-Tone Canyon Copper/Concord Purple

WARRANTY
Warranty10 24 months (unlimited mileage)
Service Interval First 1,000 miles (1,600 km), every
5,000 miles (8,000 km) thereafter11

1 Harley-Davidson reserves the right to discontinue models or change specifications at
any time without incurring any obligations. Vehicle specifications may vary from country
to country depending on local laws. Some models are not available in certain countries.
2 Measurement reflects 180 lb. (81.7 kg) operator weight.
3 Includes reserve on carburetor-equipped models.
4 Recommended 91 octane or higher fuel (R+M)/2 (87 octane or higher for XL883 models).
5 Standard and optional wheels may vary by country and region.
6 Values shown are nominal. Performance varies by country.
7 Based on tests conducted under ideal lab conditions per U.S. EPA test procedures.
Your mileage will vary depending on your personal riding habits, weather conditions,
trip length, vehicle conditions, and vehicle configuration. Break-in mileage will vary.
8 North American security system includes immobilizer; outside North America the
security system includes immobilizer and siren.
9 Availability may vary from dealer to dealer, and is subject to change without notice.
10 See motorcycle owner's manual for complete details.
11 Inspections of certain systems and components are required at 2,500 mile
(4,000 km) intervals.