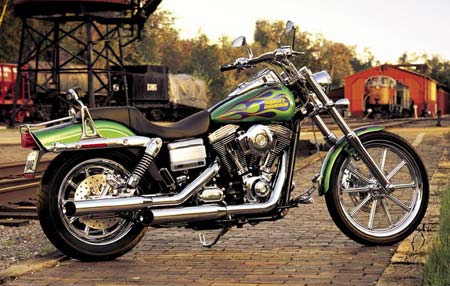 You are here: Home — 2006 Models — 2006 Harley-Davidson FXDWGI Dyna Wide Glide
2006 Harley-Davidson FXDWGI Dyna Wide Glide
Back to 2006 Harley-Davidson Motorcycle Index Page
Click photos to enlarge.
They make great desktop images.



2006 Harley-Davidson FXDWGI Dyna Wide Glide


2006 Harley-Davidson FXDWGI Dyna Wide Glide


2006 Harley-Davidson FXDWGI Dyna Wide Glide


2006 Harley-Davidson FXDWGI Dyna Wide Glide

 
– 2006 Harley-Davidson FXDWGI Dyna Wide Glide
One look at the Wide Glide® and any thought of a domesticated life flies off like dust in the wind. It's a stunning redesign in the spirit of the early choppers. You'll find the profile is longer than ever. From the added rake of the 49mm fork, back to the striking new shape of the bobtail fender. Internal wiring in the new 1.25″-thick factory ape hangers makes for an even cleaner look. The new flame tank graphic is in keeping with true Wide Glide style. Chrome Profile Laced wheels. 160mm rear tire. Vibration-isolated Twin Cam 88® running through the new 6-speed Cruise Drive™ transmission. Distant lands beckon. Settle in, stretch out to the forward controls, and answer the call.

OVERVIEW
FXDWG/I Dyna Wide Glide® Model Overview
The FXDWG Dyna Wide Glide takes the laid-back chopper profile to its street-legal limit. The Wide Glide is longer than ever, with a new 49mm fork is raked out to 36 degrees for 2006 and a 21-inch steel laced front wheel. The bobtail rear fender has a new shape that emphasizes the a wider, 160mm tire, and it carries a new, stepped chopper-style seat. New 1.25-inch ape-hanger handlebars on new short risers feature internal wiring for a cleaner look. The shocks have new forged tops. The Wide Glide is offered in 12 color combinations, including solid, Sunglo and two-tone combinations. Chrome Aluminum Profile Laced wheels are an option.
FXDWGI Dyna Wide Glide features:
Vibration-isolated Twin Cam 88 engine with ESPFI
Black powder-coated engine with chrome covers
Chrome staggered shorty dual exhaust
New 6-speed Cruise Drive transmission
New wide 49 mm forks
New 36 degree fork angle/34 degree steering head angle
New wrap-around rear fender
New 160 mm rear tire
21-inch laced front wheel
New 1.25-inch ape-hanger handlebars with internal wiring
New shorter risers
New bobtail rear fender
New stylized battery cover
Chrome sissy bar with backrest
Forward foot controls
Large, tank-mounted speedometer

2006 FXDWGI DYNA WIDE GLIDE® SPECIFICATIONS1

DIMENSIONS
Length 97.5 in. (2477.0 mm)
Seat Height:
Laden2 27.5 in. (698.5 mm)
Unladen 28.5 in. (723.0 mm)
Ground Clearance 6.2 in. (158.0 mm)
Rake (steering head) 34°
Fork Angle 36°
Trail 5.1 in. (129.5 mm)
Wheelbase 68.3 in. (1735.0 mm)
Tires (Dunlop® Harley-Davidson Series):
Front – D401F MH90-21 54H
Rear – D401 160/70B17 73V
Fuel Capacity3 5.1 gal. (19.3 L)
Reserve Fuel Capacity No reserve due to fuel injection
(warning light @ approx. 1.2 gal.)
Oil Capacity 3.0 qts. (2.8 L)
Weight:
Dry Weight 650 lbs. (295 kg)
Vehicle Weight in Running Order 678 lbs. (308 kg)
Gross Vehicle Weight Rating 1085 lbs. (493 kg)

ENGINE
Engine4 (vibration isolation-mounted) Air-cooled, Twin Cam 88®
Valves Pushrod-operated, overhead valves w/hydraulic,
self-adjusting lifters; two valves per cylinder
Bore x Stroke 3.75 in. x 4.00 in. (95.18 mm x 101.52 mm)
Displacement 88 cu. in. (1450 cu. cm)
Compression Ratio 8.9:1
Fuel System3 Electronic Sequential Port Fuel Injection (ESPFI)

DRIVETRAIN
Primary Drive Chain
Final Drive Belt, 70/32 ratio (68/32 ratio)
Clutch 9-plate, wet
Transmission 6-speed
Overall Ratio:
1st 3.337
2nd 2.313
3rd 1.718
4th 1.391
5th 1.175
6th 1.000

CHASSIS
Frame Mild steel, tubular frame; rectangular section
backbone; stamped, cast and forged junctions;
forged fender supports; MIG welded
Swingarm Mild steel, rectangular tube sections,
stamped junctions, MIG welded
Front Fork 49 mm w/polished aluminum fork
triple clamp and dual-rate springs
Rear Shocks Coil-over shock
Wheels5 (Chrome Aluminum Profi le Laced option): Steel Laced
Front 21 in. x 2.15 in. (533.4 mm x 54.61 mm)
Rear 17 in. x 4.5 in. (431.8 mm x 102.87 mm)
Brakes:
Caliper Type 4-piston front and rear
Rotor Type (diameter x width): Patented, uniform expansion rotors
Front (single fl oating) 11.81 in. x .20 in. (300 mm x 5.08 mm)
Rear 11.5 in. x .23 in. (292 mm x 5.84 mm)
Suspension Travel:
Front Wheel 5.0 in. (127.0 mm)
Rear Wheel 4.1 in. (104.1 mm)

PERFORMANCE
Engine Torque (per SAE J607)6:
North America 85 ft. lbs. @ 3000 rpm (115 NM @ 3000 rpm)
Lean Angle (per SAE J1168):
Right 32°
Left 35°
MPG (EPA urban/highway test)7 44/50 mpg (5.3/4.7 L/100 km)

ELECTRIC
Battery Sealed, maintenance-free, 12V, 19-amp/hour,
270 cca (per Battery Council International Rating)
Charging Three-phase, 38-amp system
(439W @ 13V, 2000 rpm, 489W max power @ 13V)
Starting 1.2 kW electric w/solenoid shift
starter motor engagement
Lights (as per country regulation):
Headlamp (quartz halogen) 55-watt low beam, 60-watt high beam
Tail/Stop Lights 8W/28W (5W/21W)
Turn Signal Lights 28W (21W) self-canceling
Indicator Lamps High beam, neutral, low oil pressure,
turn signals, engine diagnostics,
security system8 (optional)
Electrical Power Outlet Standard

STYLING/CONVENIENCE
Engine Trim Black powder-coated w/chrome treatment
Exhaust System Chrome, staggered shorty duals
Oil tank Under transmission
Front Fender Sport style w/painted brace
Rear Fender Bobtail
Brake and Shift Lever Forward controls
Handlebars Stainless steel, mini-ape hanger
Rider Foot Conrols Footpegs
Passenger Foot Controls Footpegs
Seat Two-up
Passenger Backrest Standard
Instruments Electronic speedometer w/odometer and
resettable tripmeter, diagnostic readout, fuel gauge
Fork Lock Barrel key on steering head; key common w/ignition
Hazard Warning Integrated into turn signal controls

COLORS9
Vivid Black, Brilliant Silver Pearl, Black Cherry Pearl, Black Pearl,
Chopper Blue Pearl, Deep Cobalt Pearl, Glacier White Pearl,
Yellow Pearl, Brandy Wine Sunglo, Two-Tone Rich Sunglo Blue/
Chopper Blue Pearl, Two-Tone Black Cherry Pearl/Black Pearl,
Two-Tone Fire Red Pearl/Vivid Black

WARRANTY
Warranty10 24 months (unlimited mileage)
Service Interval First 1,000 miles (1,600 km), every
5,000 miles (8,000 km) thereafter11

1 Harley-Davidson reserves the right to discontinue models or change specifications at any
time without incurring any obligations. Vehicle specifications may vary from country to
country depending on local laws. Some models are not available in certain countries.
2 Measurement reflects 180 lb. (81.7 kg) operator weight.
3 Includes reserve on carburetor-equipped models.
4 Recommended 91 octane or higher fuel (R+M)/2 (87 octane or higher for XL883 models).
5 Standard and optional wheels may vary by country and region.
6 Values shown are nominal. Performance varies by country.
7 Based on tests conducted under ideal lab conditions per U.S. EPA test procedures. Your
mileage will vary depending on your personal riding habits, weather conditions, trip length,
vehicle conditions, and vehicle configuration. Break-in mileage will vary.
8 North American security system includes immobilizer; outside North America the security
system includes immobilizer and siren.
9 Availability may vary from dealer to dealer, and is subject to change without notice.
10 See motorcycle owner's manual for complete details.
11 Inspections of certain systems and components are required at 2,500 mile (4,000 km) intervals.