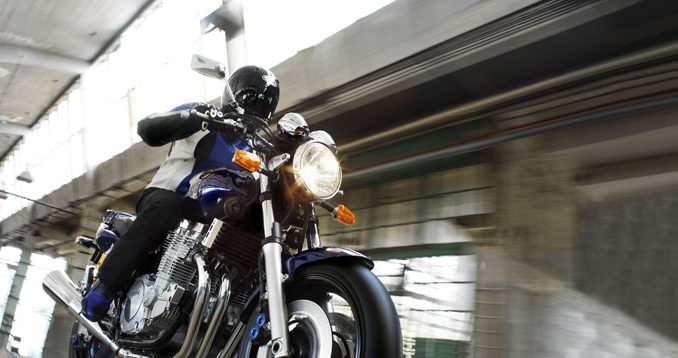 Back to 2006 Yamaha Motorcycle Index Page
Click photos to enlarge.
They make great desktop images.

 
– 2006 Yamaha XJR1300

2006 Yamaha XJR1300 Review
Retro rocket

One look over the timeless line, one listen to that classic burble and you know it's the definitive air-cooled muscle bike . The fuel-injected XJR utilises contemporary engine technologies like a supersport derived fuel injection system, forged pistons with carburised rods and electroplated alloy cylinders, for contemporary performance. It's the same story with the chassis – superbike spec brakes, wheels and tyres meet Öhlins rear suspension for brilliant steering and handling.
2006 Yamaha XJR1300 Highlights and Key Features:
1,251cc 4-stroke, 4-cylinder, 4-valve engine

Muscular tubular steel frame

Massive torque output

Three-spoke alloy wheels

Big, intimidating style

Bold and dynamic engine architecture
The 4-2-1 exhaust system features optimised size and length pipes to maximise engine performance. It's one reason the XJR is known for glorious low-rpm torque.
High-specification Öhlins rear shocks are designed to offer a linear and direct feel, with optimised rebound and compression damping characteristics for superb traction and handling performance.
The long-range 21-litre fuel tank features a rotary fuel pump. The tank and flush fitting lockable fuel cap mirrors the XJR maxim – neat, simple, strong and stylish.
DOHC air-cooled powerplant with electroplated alloy cylinders, forged pistons mated to carburised rods and the cleanrunning performance of fuel injection.
The XJR1300's 43mm diameter forks are well-known for their plush suspension action and the light handling feel.
2006 Yamaha XJR1300 Features and Benefits
Big, beautiful powerplant

The XJR1300 has the big, burly engine to back up its powerful looks. The air-cooled, 4-stroke, forward-inclined parallel 4-cylinder, 4-valve, DOHC engine produces a mighty 71.9 kW (98 PS) of power at 8,000 rpm and torque of 108.4 Nm (11.1 kg-m) at 6,000 rpm.

Boldly styled chassis

With a bike this powerful, you want to make an impact. The frame of the XJR1300 ensures that you do. The superbly balanced chassis accentuates the bike's bulk, and the double cradle tubular steel frame, reinforced with a box-section aluminium swingarm, gives even more muscularity.

Lightweight 3-spoke alloy wheels

Serious power demands strong traction and handling. The XJR1300's 3-spoke alloy wheels minimise unsprung weight for sharp steering while the wide tyres provide excellent road-holding.

Chunky, adjustable suspension
To fully appreciate great power, you need to stay comfortable. The XJR1300's suspension system is based around fully-adjustable Öhlins shocks, and chunky, muscular-looking 43 mm front forks, which provide total cushioning against rougher sections of road.

Vocal EXUP exhaust

With the XJR1300, your arrival is announced as much by the powerful purr of the engine as by the dominating looks of the bodywork. That purr is accentuated by the great sound of the upswept, low emission, EXUP exhaust. It's the kind of simple pleasure that you only get from a classically-styled muscle bike.

Controlled braking

Power is nothing without control and the XJR1300's 298 mm dual disc front brake with monobloc four-piston calipers do just that – and the discs not only ensure keep you in charge at all times, but look great too.

---
2006 Yamaha XJR1300 – USA Specifications/Technical Details
MSRP* $NA

Model Not Available in the USA (but it should be Yamaha!)
---
2006 Yamaha XJR1300 – Canadian Specifications/Technical Details
Canada MSRP Price: MSRP* $NA

Model Not Available in Canada (but it should be Yamaha!)
---
2006 Yamaha XJR1300 – European Specifications/Technical Details
European MSRP Price: NA

ENGINE
Type Air-cooled, 4-stroke, 4-valve, forward inclined parallel
4-cylinder, DOHC
Displacement 1,251 cc
Bore & stroke 79.0 x 63.8 mm
Compression Ratio 9.7:1
Max. power 71.9 kW (98 PS) @ 8,000 rpm
Max. torque 108.4 Nm (11.1 kg-m) @ 6,000 rpm
Lubrication Wet sump
Fuel supply Electric Fuel Injection
Clutch type Wet, multiple-disc coil spring
Ignition TCI
Starter system Electric
Transmission Constant mesh, 5-speed
Final transmission Chain
Primary reduction ratio 95/56 1.750
Secondary reduction ratio 38/17 2.235
Gear ratio:
Gear ratio-1st gear 40/14 2.857
Gear ratio-2nd gear 36/18 2.000
Gear ratio-3rd gear 33/21 1.571
Gear ratio-4th gear 31/24 1.292
Gear ratio-5th gear 29/26 1.115
CHASSIS
Frame Steel double cradle
Front suspension Telescopic forks
Front wheel travel 130 mm
Rear suspension Swingarm
Rear wheel travel 110 mm
Caster angle 25°30?
Trial 100 mm
Front brake Dual discs, Æ 298 mm
Rear brake Single disc, Æ 267 mm
Front tyre 120/70 ZR17M/C (58W)
Rear tyre 180/55 ZR17M/C (73W)
DIMENSIONS
Overall length 2,175 mm
Overall width 765 mm
Overall height 1,115 mm
Seat height 795 mm
Wheelbase 1,500 mm
Min. ground clearance 125 mm
Dry weight 222 kg
Fuel tank capacity (reserve) 21 litres
Oil capacity 4.2 litres
Specification are subject to change without notice, in accordance with national regulation and legislations

---
2006 Yamaha XJR1300 – Australian Specifications/Technical Details
Australia MSRP Price:

Technical Specification XJR1300

ENGINE
Type Air-cooled, 4-stroke, 4-valve, forward inclined parallel
4-cylinder, DOHC
Displacement 1,251 cc
Bore & stroke 79.0 x 63.8 mm
Compression Ratio 9.7:1
Max. power 71.9 kW (98 PS) @ 8,000 rpm
Max. torque 108.4 Nm (11.1 kg-m) @ 6,000 rpm
Lubrication Wet sump
Fuel supply Electric Fuel Injection
Clutch type Wet, multiple-disc coil spring
Ignition TCI
Starter system Electric
Transmission Constant mesh, 5-speed
Final transmission Chain
Primary reduction ratio 95/56 1.750
Secondary reduction ratio 38/17 2.235
Gear ratio:
Gear ratio-1st gear 40/14 2.857
Gear ratio-2nd gear 36/18 2.000
Gear ratio-3rd gear 33/21 1.571
Gear ratio-4th gear 31/24 1.292
Gear ratio-5th gear 29/26 1.115

CHASSIS
Frame Steel double cradle
Front suspension Telescopic forks
Front wheel travel 130 mm
Rear suspension Swingarm
Rear wheel travel 110 mm
Caster angle 25°30?
Trial 100 mm
Front brake Dual discs, Æ 298 mm
Rear brake Single disc, Æ 267 mm
Front tyre 120/70 ZR17M/C (58W)
Rear tyre 180/55 ZR17M/C (73W)

DIMENSIONS
Overall length 2,175 mm
Overall width 765 mm
Overall height 1,115 mm
Seat height 795 mm
Wheelbase 1,500 mm
Min. ground clearance 125 mm
Dry weight 222 kg
Fuel tank capacity (reserve) 21 litres
Oil capacity 4.2 litres
Specification are subject to change without notice, in accordance with national regulation and legislations



Specifications and features are subject to change