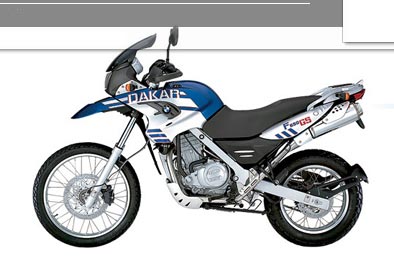 Back to 2007 BMW Motorcycle Index Page
Click photos to enlarge for detail.
They make great desktop images.
– 2007 BMW F650GS Dakar

2007 BMW F650GS Dakar
Back to nature with the power of the machine. On rough off-road tracks. Over sand dunes. Through canyons. And not forgetting the urban jungle. The BMW F650GS Dakar always finds its way through. This is the sports version of the BMW F650GS. For Enduro trekking and off-road action. With longer spring travel, its large 21-inch front wheel and special Enduro tyres, the BMW F650GS Dakar always takes you straight to your destination – nothing gets in its way. But it's also kind to the environment. The new engine management system BMS-C II together with dual ignition and a closed-loop three-way catalytic converter enables lower fuel consumption and reduced exhaust emissions. The four-valve single-cylinder engine has power you can just feel waiting to be unleashed. Coupled with refined running gear, it makes the BMW F650GS Dakar a decisive force that keeps control even in extreme situations.
MSRP*: $10,400.00

From the desert, through the river in the forest, and down to the beach. With the
extra long travel suspension, the big 21 inch front wheel and enduro typres, the
BMW F 650 GS Dakar takes the direct route to its destination – as the crow flies.
It's a great boost when the suspension is fettled for rough terrain from the outset.
Including the concrete jungle of the big cities.
On gravel tracks. Over sand dunes. Through rocky ravines. The BMW F 650 GS Dakar
always finds its own way. Because this is the off-road sports model of the F 650 GS series.
The BMW F 650 GS is for enduro trecking and trail riding. Dakar is just around the corner.
Standard Equipment
Closed-loop 3-way Catalytic Converter
Hazard Warning Flashers
Heated Grips
Luggage Rack
Available Equipment:
ABS Brakes (disengageable)
Anti-Theft Alarm System
Low Seat (830mm)
Specifications USA
Not available in the USA
Specifications Canada:
BMW F 650 GS Dakar

Engine
Type . . . . . . . . . . . . . . . . . . . . . . . . . Water-cooled, single-cylinder four-stroke engine, four valves, dual overhead camshaft, central balance shaft, dry sump lubrication
Bore x stroke . . . . . . . . . . . . . . . . . .100 mm x 83 mm
Capacity . . . . . . . . . . . . . . . . . . . . .652 ccm
Output . . . . . . . . . . . . . . . . . . . . . . 37 kW (50 bhp) at 6,500 rpm
(Power reduction option: 25 kW
(34 bhp) at 5,500 rpm)
Max. torque . . . . . . . . . . . . . . . . . . 60 Nm at 4,800 rpm
(Power reduction option: 51 Nm
at 4,000 rpm)
Compression ratio . . . . . . . . . . . . . .11.5 : 1
Fuel / engine management . . . . . . . Electronic intake manifold injection/ BMW engine management system, dual ignition
Catalytic converter . . . . . . . . . . . . .Regulated 3-way catalytic converter
Performance / fuel consumption
Maximum speed . . . . . . . . . . . . . . . Over 170 km/h = 106 mph
(Power reduction option:
over 145 km/h = 90 mph)
Fuel consumption per 100 km (62 mls.)
at constant 90 km/h (56 mph) . . . .3.2 l
at constant 120 km/h (75 mph) . . .4.3 l
Fuel type . . . . . . . . . . . . . . . . . . . . . Regular unleaded, minimum octane rating 91 (RON)
Electrics
Alternator . . . . . . . . . . . . . . . . . . . .400 W generator
Battery . . . . . . . . . . . . . . . . . . . . . .12 V / 12 Ah
Power transmission
Clutch . . . . . . . . . . . . . . . . . . . . . . . Multi-disc oil-bath clutch,
mechanically operated
Gearbox . . . . . . . . . . . . . . . . . . . . . . Constant mesh 5-speed gearbox integrated into engine housing
Secondary drive . . . . . . . . . . . . . . . Endless O-ring chain with cush
damping in the rear wheel hub
* In compliance with Directive 93/93/EEC with all fluids, fuelled with at least 90% of usable tank volume
** Unladen weight without operating fluids
Paintwork: blue metallic / aluminium white metallic matt
Chassis / brakes
Frame . . . . . . . . . . . . . . . . . . . . . . . Bridge-type, tubular, made from steel sections, with bolted-on rear section
Front suspension . . . . . . . . . . . . . . . Telescopic fork with stabiliser,
stanchion diameter 41 mm
Rear suspension . . . . . . . . . . . . . . . Box-section dual swing arm made from steel sections, central spring strut action controlled via lever system, spring preload continuously variable set by hydraulic handwheel adjustment,
rebound damping adjustable
Travel front / rear . . . . . . . . . . . . . . .210 mm / 210 mm
Wheelbase (in normal position) . . . .1,489 mm
Castor (in normal position) . . . . . . .123.3 mm
Steering head angle
(in normal position) . . . . . . . . . . . . .60.8°
Wheels . . . . . . . . . . . . . . . . . . . . . . .Wire spoke wheels
Rims, front . . . . . . . . . . . . . . . . . . . .1.60 x 21
Rims, rear . . . . . . . . . . . . . . . . . . . .3.00 x 17
Tyres, front . . . . . . . . . . . . . . . . . . . .90 / 90 S 21
Tyres, rear . . . . . . . . . . . . . . . . . . . .130 / 80 S 17
Brakes, front . . . . . . . . . . . . . . . . . . Single disc, 300 mm diameter,
two-piston floating caliper
Brakes, rear . . . . . . . . . . . . . . . . . . . Single disc, 240 mm diameter,
one-piston floating caliper
ABS . . . . . . . . . . . . . . . . . . . . . . . . . BMW Motorrad ABS, can be
deactivated (optional extra)
Dimensions / weights
Seat height, unladen . . . . . . . . . . . .870 mm
Unladen, road ready, fully fuelled* 193 kg
Dry weight** . . . . . . . . . . . . . . . . . .177.2 kg
Max. permitted weight . . . . . . . . . . .380 kg
Max. load with standard equipment 187 kg
Usable tank volume . . . . . . . . . . . . .17.3 l
Reserve . . . . . . . . . . . . . . . . . . . . . .Approx. 4.5 l
Length . . . . . . . . . . . . . . . . . . . . . . .2,189 mm
Width (with mirrors) . . . . . . . . . . . . .910 mm



Specifications and features are subject to change