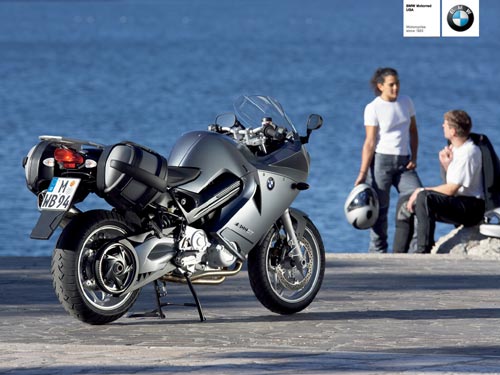 Back to 2007 BMW Motorcycle Index Page
Click photos to enlarge for detail.
They make great desktop images.
– 2007 BMW F800ST

2007 BMW F800ST
This middleweight definitely goes the distance.
The twisties are yours to devour anywhere in the country aboard the new 85 bhp F 800 ST, which is the touring version of the lithe new F 800. With a full fairing, high windshield and touring oriented ergonomics with raised handlebars, bombing down any road you choose is as comfortable as it is thrilling. Two 320 mm diameter front brake disk and Brembo four piston hydraulic calipers, and with optional ABS every ride stopping power is guaranteed. Add optional touring cases and heated grips and you've got a bike that is fast, flickable, and above extraordinarily capable. No matter where you want to ride, the sharp-handling F 800 ST gets you there, mile after mile.

"Serious touring" – the BMW F800ST shows you how much fun you can have with common sense. Riding a motorcycle is simply great fun, whether you take a trip through the city or a long holiday trip with luggage. This kind of versatility requires an all-around motorcycle with economy, reliability and no complications. For pure fun on the road, the BMW F800ST is just such a universal talent, combining pleasure and common sense.


MSRP: $13,000.00 Canada
MSRP: $10,475 USA
*Freight, retailer preparation & taxes extra.
Standard Equipment
6 Speed Gear Box

Cast Aluminum Wheels

Closed Loop 3 Way Catalytic Converter

Diagnostic Interface

Digital Engine Management (BMSK)

Electronic Immobilizer

Fuel Tank Located Under Seat

Full Fairing

High Performance EVO Brake System

Info Flat Screen

Low Maintenance Belt Drive

Luggage Rack

Power Socket

Saddlebag Mounts

Side Stand with Starter Inhibition

Single Swing Arm made of Cast Aluminum

Single Wire System

Stainless Steel Exhaust System

Telescopic Fork


Specifications USA

Engine
Type Water cooled twin cylinder 4 stroke
Bore x Stroke 82 mm x 75. mm
Displacement 798 cc
Horsepower 85 bhp @ 8000 rpm
Torque 63 lb/ft @ 5800 rpm
Compression Ratio 12.0 :1
Valve Gear DOHC, chain-driven with bucket tappets
Valves 2 x 32 mm mm intake / 2 x 27,5 mm mm exhaust
Valves / Cylinder 4-Four
Engine Oil Capacity
Engine Management BMW Engine Controller – BMS K
Fuel Requirement Premium Unleaded
Fuel Tank HDPE, internal pump and internal filter
Fuel Capacity 4.1 U.S. gallons including 1 gallon reserve
Charging System 400 Watts @ 14 Volts
Battery 12 Volts 14 Amps/hour maintenance-free
Cooling System 50/50 water/anti-freeze mix, single radiator
Drivetrain
Primary Drive 1:1.930
Clutch Multiple plate in oil bath
1st Gear Ratio 2.46:1
2nd Gear Ratio 1.75:1
3rd Gear Ratio 1.38:1
4th Gear Ratio 1.17:1
5th Gear Ratio 1.04:1
6th Gear Ratio 0.96:1
Final Drive System Toothed belt drive
Final Drive Ratio 2.35:1
Frame and Suspension
Frame Aluminum bridge, engine partly load bearing
Front Suspension 43 mm telescopic fork
Front Travel 5.5 inches
Rear Suspension Single cast aluminum swing arm, central spring str
Rear Travel 5.5 inches
Brakes
Brake System Twin floating disc, four piston fixed calipers
Front Brakes Two 4-piston fixed calipers, two floating rotors
Front Rotor 12.6 inch dual floating rotors
Rear Brake Single, two-piston floating caliper
Rear Rotor 10.4 inch two piston floating caliper
Actuation Method Hydraulic, DOT 4 fluid type
Wheels and Tires
Front Wheel 3.50 x 17 cast alloy, five double-spoke
Rear Wheel 5.50 x 17 cast alloy, five double-spoke
Front Tire 120/70 x 17 tubeless
Rear Tire 180/55 x 17 tubeless
Dimensions
Overall Length 86.4 inches
Overall Width 31.4 inches
Wheelbase 57.7 inches
Ground Clearance Info. Unavailable
Seat Height 32.3 inches
Steering Angle 63.8 degrees
Front Wheel Trail 3.7 inches
Weight – Dry 412 lbs. excluding options & accessories
Weight – Wet 461 lbs. excluding options & accessories
Maximum Load 884 lbs. GVWR
Standard Colors
Code  Price Description
749     N / C Blue Metallic
986     N / C Graphitan Metallic Matt
Standard Equipment
681     N / C Saddle Bag Mounts
Available Equipment
499     $175.00 Low Suspension
519     $235 Heated Hand Grips
524     $890.00 ABS
530     $260 Tire Pressure Monitoring (TPM)
539     $250.00 On Board Computer
588     $50.00 White Turn Indicator
603     $235 Anti-Theft Alarm
636     $120.00 Center Stand
774     $N / C Dual Bench Seat – Low (31.1 inches)
Specifications Canada:
BMW F800ST

Engine
Type . . . . . . . . . . . . . . . . . . . . . . . . Water-cooled, 2-cylinder, 4-stroke, four valves per cylinder, two overhead camshafts, dry sump lubrication
Bore / stroke. . . . . . . . . . . . . . . . . . 82 mm x 75.6 mm
Capacity. . . . . . . . . . . . . . . . . . . . . 798 cc
Rated output . . . . . . . . . . . . . . . . . 62.5 kW (85 hp) at 8,000 rpm
(output reduction to 25 kW (34 hp)
at 7,000 rpm possible)
Max. torque . . . . . . . . . . . . . . . . . . 86 Nm at 5,800 rpm (with output reduction: 55 Nm at 3,500 rpm)
Compression ratio . . . . . . . . . . . . . 12.0 : 1
Fuel / engine management. . . . . . . Electronic intake pipe injection /
digital engine management (BMS-K)
Emission control . . . . . . . . . . . . . . Closed-loop 3-way catalytic
converter, emission standard EU-3
Performance / fuel consumption
Maximum speed. . . . . . . . . . . . . . . Over 200 km/h
Fuel consumption per 100 km
at constant 90 km/h. . . . . . . . . . . . 3.4 l
at constant 120 km/h. . . . . . . . . . . 4.4 l
Fuel type . . . . . . . . . . . . . . . . . . . . Unleaded super, minimum
octane rating 95 (RON)
Electrical system
Alternator. . . . . . . . . . . . . . . . . . . . three-phase alternator 400 W
Battery . . . . . . . . . . . . . . . . . . . . . . 12 V / 14 Ah, maintenance-free
Power transmission
Clutch. . . . . . . . . . . . . . . . . . . . . . . Multiple-disc clutch in oil bath, mechanically operated
Gearbox . . . . . . . . . . . . . . . . . . . . . Constant mesh 6-speed gearbox integrated into crankcase
Drive. . . . . . . . . . . . . . . . . . . . . . . . Belt drive with shock damper
The BMW F 800 S/ST is for real fun-seekers. Thanks to the fast acceleration of its parallel twins and maximum torque of 86 Nm at 5,800 rpm and 62.5 kW (85 bhp), this machine offers superb entertainment. And so that its proud owners don't have to spend valuable time getting dirty working on the engine, the F 800 S/ST is equipped with a low-maintenance
belt drive. Where curves are concerned, the general consensus is the more, the merrier – at least where the chassis of the BMW F 800 S/ST is concerned. Telescopic forks at the front, aluminium swinging arm at the rear, and away we go. The new F 800 boasts a sporty half fairing in the S version and a full fairing suitable for touring in the ST version. This machine demonstrates that you can only really have fun if the technology can be taken seriously.
Chassis / brakes
Frame . . . . . . . . . . . . . . . . . . . . . . Bridge-type aluminium frame,
load-bearing engine
Front suspension . . . . . . . . . . . . . . Telescopic fork, ø 43 mm
Rear suspension. . . . . . . . . . . . . . . Cast aluminium single-sided swing arm with eccentric adjustment for rear axle, central spring strut, spring pre-load hydraulically adjustable (continuously variable) at handwheel, rebound damping adjustable
Travel front / rear . . . . . . . . . . . . . . 140 mm / 140 mm
Wheelbase1 . . . . . . . . . . . . . . . . . . 1,466 mm
Castor1 . . . . . . . . . . . . . . . . . . . . . . 95 mm
Steering head angle1 . . . . . . . . . . . 64.2°
Wheels . . . . . . . . . . . . . . . . . . . . . . Cast aluminium
Rim, front . . . . . . . . . . . . . . . . . . . . 3.50 x 17″
Rim, rear. . . . . . . . . . . . . . . . . . . . . 5.50 x 17″
Tyre, front . . . . . . . . . . . . . . . . . . . 120/70 ZR 17
Tyre, rear. . . . . . . . . . . . . . . . . . . . . 180/55 ZR 17
Brake, front. . . . . . . . . . . . . . . . . . . Twin disc, floating brake discs,
ø 320 mm, four-piston fixed calipers
Brake, rear . . . . . . . . . . . . . . . . . . . Single disc, ø 265 mm, single-piston floating caliper
ABS2. . . . . . . . . . . . . . . . . . . . . . . . BMW Motorrad ABS
Dimensions / weights
Seat height. . . . . . . . . . . . . . . . . . . 820 mm (low seat: 790 mm)
Inner leg curve . . . . . . . . . . . . . . . . 1,810 mm (low seat: 1,745 mm)
Unladen weight, road ready3 . . . . . 204 / 209 kg
Dry weight4. . . . . . . . . . . . . . . . . . . 182 / 187 kg
Permitted total weight . . . . . . . . . . 405 kg
Payload (with standard equipment) 201 / 196 kg
Usable tank volume . . . . . . . . . . . . 16 l
Reserve . . . . . . . . . . . . . . . . . . . . . approx. 4 l
Length . . . . . . . . . . . . . . . . . . . . . . 2,082 / 2,195 mm
Height (excl. mirrors) . . . . . . . . . . . 1,155 / 1,225 mm
Width (incl. mirrors) . . . . . . . . . . . . 860 mm
F 800 S / F 800 ST
Paintwork: graphitan 2 metallic matt
Paintwork: sunset yellow
Paintwork: blue metallic
Paintwork: flame red
Paintwork: Lahar grey metallic

Specifications and features are subject to change