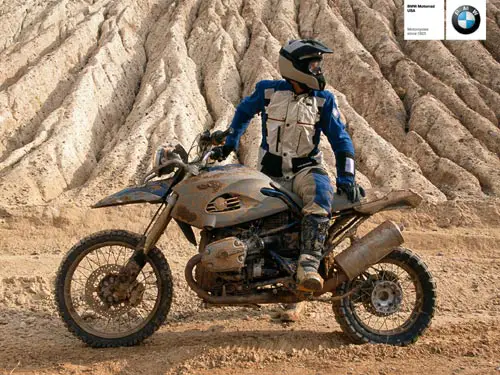 Back to 2007 BMW Motorcycle Index Page
Click photos to enlarge for detail.
They make great desktop images.
– 2007 BMW HP2 Enduro

2007 BMW HP2 Enduro
Type A all the way.
The mind-blowing 105 bhp HP2 Enduro, BMW Motorrad's monster dirt bike, is not for the meek. With a race-ready suspension and a lightweight body (386 lbs dry), this is the enduro bike that makes off-road maniacs rejoice and competitors get out of the way. Twenty-five years of rally racing experience have culminated in this edgy, breathtaking design. Shred away. Or throw street tires on it and have the ultimate super moto bike.

This is what off-road Boxer fans have been waiting for: a genuine BMW motorcycle enduro. Classical, uncompromising and well thought out, right down to the last detail. With the powerful Boxer engine, consistently lightweight construction and perfect ergonomic design, it meets all the requirements for the ultimate off-road performance. The jewel in the crown is the chassis. The front has WAD ² upside down fork and the rear – for the first time in mass-produced motorcycle construction – the BMW motorcycle air damping system ¹.
1) Maintenance-free, self-contained system that works with an air chamber. The same air volumes take over the suspension and damping function. Adjustment is made via the filling pressure.
2) The mechanism for the path-dependent damping (WAD).


MSRP*: $24,250.00 Canada
MSRP: $20,590 USA

*Freight, retailer preparation & taxes extra.
Standard Equipment
Hazard Warning Flashers

Single Key Locks

Closed Loop 3 Way Catalytic Converter

Stainless Steel Exhaust System

Magnesium Cylinder Head Covers

Rear Suspension Strut

Upside Down Front Fork with WAD System

Hand Protection

Handlebar, Conical, Aluminum,

Cylinder Guard

Carbon Filter

Brake Snake

Rear Axle Guard

Solid Undertray

Diagnostic Interface

Electronic Immobilizer

Low-Beam Headlamp Height Adjustment

Info Flat Screen

Power Socket

Tool Kit

Headlight Gaurd

Adjustable Handbrake and Clutch Levers

Integral Ignition Switch and Steering Lock

Single Seat, Height (36.2 Inches)

Street Wheel Kit
Specifications USA

Engine
Type Air-cooled/oil-cooled Boxer twin-cylinder
Bore x Stroke 101.0 mm x 73.0 mm
Displacement 1170 cc
Horsepower 105 bhp @ 7000 rpm
Torque 85 lb/ft @ 5500 rpm
Compression Ratio 11.0 :1
Valve Gear Chain-driven, high cam, OHV, w/adj. rocker arms
Valves 2 x 36 mm intake / 2 x 31 mm exhaust
Valves / Cylinder Four
Engine Oil Capacity 4.2 quarts
Engine Management BMW Engine Controller – BMS K
Fuel Requirement Premium Unleaded
Fuel Tank HDPE, internal pump and internal filter
Fuel Capacity 2.9 U.S. gallons including 1 gallon reserve
Charging System 600 Watts @ 14 Volts
Battery 12 Volts 12 Amps/hour
Cooling System Air and thermostatically controlled oil cooling
Drivetrain
Primary Drive 1:1.823
Clutch 180 mm dry, single plate with hydraulic actuation
1st Gear Ratio 2.28:1
2nd Gear Ratio 1.58:1
3rd Gear Ratio 1.26:1
4th Gear Ratio 1.03:1
5th Gear Ratio 0.90:1
6th Gear Ratio 0.81:1
Final Drive System Enclosed driveshaft with two universal joints
Final Drive Ratio 2.82:1
Frame and Suspension
Frame Tubular steel trellis frame
Front Suspension WAD UPSD fork 45 mm
Front Travel 10.6 inches
Rear Suspension BMW EVO Paralever
Rear Travel 9.8 inches
Brakes
Brake System Front single disc
Front Brakes One two piston caliper
Front Rotor 12.0 inch floating rotors
Rear Brake Single, two-piston floating caliper
Rear Rotor 10.4 inch single, fixed rotor
Actuation Method Hydraulic, DOT 4 fluid type
Wheels and Tires
Front Wheel 1.85 x 21 cross spoke
Rear Wheel 2.5 x 17 cross spoke
Front Tire 90/90 x 21 tubeless
Rear Tire 140/80 x 17 tubeless
Dimensions
Overall Length 92.5 inches
Overall Width 34.6 inches
Wheelbase 63.4 inches
Ground Clearance 12.6 inches
Seat Height 36.2 inches
Steering Angle 60.5 degrees
Front Wheel Trail 5.0 inches
Weight – Dry 389 lbs. excluding options & accessories
Weight – Wet 433 lbs. excluding options & accessories
Maximum Load 838 lbs. GVWR
Standard Colors
Code  Price Description
958     N / C Indigo Blue Metallic
Available Equipment
175     $-1000 Without street wheel kit
Specifications Canada:
BMW HP2 Enduro

Engine
Type . . . . . . . . . . . . . . . . . . . . . . . Air/oil-cooled, four-stroke two-cylinder boxer engine, dual camshaft
Bore x stroke . . . . . . . . . . . . . . . . 101 x 73 mm
Capacity . . . . . . . . . . . . . . . . . . . . 1,170 ccm
Output . . . . . . . . . . . . . . . . . . . . . 77 kW / 105 bhp at 7,000 rpm
Max. torque . . . . . . . . . . . . . . . . . 115 Nm at 5,500 rpm
Compression ratio . . . . . . . . . . . . 11.0 : 1
Fuel / engine management. . . . . . Electronic intake pipe injection,
BMS-K digital engine management with overrun fuel cut-off, double ignition
Emission control. . . . . . . . . . . . . . Regulated 3-way catalytic converter
Performance/fuel consumption
Maximum speed. . . . . . . . . . . . . . Over 200 km/h (124 mph)
Fuel consumption per 100 km (62 mls.)
at a constant 90 km/h (56 mph) . . 4.1 l
at a constant 120 km/h (75 mph) . . 5.5 l
Fuel type. . . . . . . . . . . . . . . . . . . . Super plus unleaded (98 octane)
Electrics
Alternator . . . . . . . . . . . . . . . . . . . 600 W generator
Battery . . . . . . . . . . . . . . . . . . . . . 12 V / 12 Ah (maintenance-free)
Power transmission
Clutch. . . . . . . . . . . . . . . . . . . . . . Single-disc dry clutch Ø 180 mm
Gearbox . . . . . . . . . . . . . . . . . . . . Synchromesh 6-speed gearbox with helical gearing
Secondary drive . . . . . . . . . . . . . . Cardan (shaft drive)
Final drive ratio. . . . . . . . . . . . . . . 2.82
Chassis/brakes
Frame. . . . . . . . . . . . . . . . . . . . . . Tubular steel space frame
Front suspension . . . . . . . . . . . . . WAD2) upside down fork Ø 45 mm;
Compression phase can be continuously
adjusted in two areas, traction phase continuously adjustable
Rear suspension . . . . . . . . . . . . . Die-cast aluminium single-sided swinging arm with BMW Motorrad Paralever; innovative air damping
system, traction phase damping can
be selected in two phases between
competition and sport
Travel front / rear . . . . . . . . . . . . . 270 / 250 mm
Wheelbase (in normal position) . . 1,610 mm
Castor (in normal position). . . . . . 127 mm
Steering head angle
(in normal position) . . . . . . . . . . . 60.5°
Wheels . . . . . . . . . . . . . . . . . . . . . Cross-spoke wheels
Rims, front . . . . . . . . . . . . . . . . . . 1.85 x 21
Rims, rear. . . . . . . . . . . . . . . . . . . 2.5 x 17
Tyres, front . . . . . . . . . . . . . . . . . . 90/90 – 21
Tyres, rear. . . . . . . . . . . . . . . . . . . 140/80 – 17
Brakes, front. . . . . . . . . . . . . . . . . Single disc brake Ø 305 mm
Brakes, rear . . . . . . . . . . . . . . . . . Single disc brake Ø 265 mm,
vibration-free
Dimensions / weights
Seat height, unladen . . . . . . . . . . 920 mm
Unladen, road ready, fully fuelled3) 195 kg
Dry weight4). . . . . . . . . . . . . . . . . . 175 kg
Max. permitted weight . . . . . . . . . 380 kg
Useable tank volume . . . . . . . . . . 13 l
Reserve . . . . . . . . . . . . . . . . . . . . Approx. 2 l
Length . . . . . . . . . . . . . . . . . . . . . 2,350 mm
Height (without mirrors). . . . . . . . 1,266 mm
Width (with mirrors) . . . . . . . . . . . 880 mm

Specifications and features are subject to change