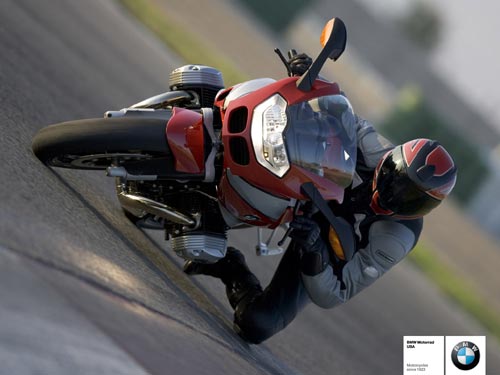 Back to 2007 BMW Motorcycle Index Page
Click photos to enlarge for detail.
They make great desktop images.
– 2007 BMW R1200S

2007 BMW R1200S
For passes on the track or in the mountains.
Even BMW fanatics are amazed at how our engineers were able to give the famed two cylinder Boxer engine even more power, topping the R 1200 S out to an incredible 122 bhp. The new S is also 22 lbs lighter than the previous model, and with a nimble Telelever front suspension, low center of gravity, optional ABS, hitting mountain passes or passes on the track is equally thrilling. The R 1200 S is the bike that won the Moto ST Eight Hours of Daytona endurance race in 2006, so if you want a sport bike with stamina as well as performance, there is no other choice.

BMW Motorrad's sportiest twin-cylinder is aiming for new best times. The new BMW R1200S boasts 122 bhp and a maximum torque of 112 Nm at 6,800 rpm. The BMW Motorrad Telelever and BMW Motorrad Paralever, combined with the exclusive Öhlins components, are extremely responsive, allowing optimal contact with the ground and transferring the power unerringly to the asphalt. It is immediately apparent from the dynamic design of the R1200S that here is a machine for true sports bike fans. The EVO brake system ensures that deceleration is finely regulated, thanks to the large discs and four-piston brake callipers. The new two-channel ABS can be deactivated . Just climb on and go for a sporty ride!


MSRP*: $18,500.00 Canada
MSRP: $14,300 USA

*Freight, retailer preparation & taxes extra.
Standard Equipment
Closed Loop 3 Way Catalytic Converter

Stainless Steel Exhaust System

Magnesium Cylinder Head Covers

Side Stand with Starter Inhibition

Diagnostic Interface

Jump Start Connection Point

Low-Beam Headlamp Height Adjustment

Power Socket

Adjustable Handbrake and Clutch Levers

Integral Ignition Switch and Steering Lock

Hazard Warning Flashers

Stainless Steel Clutch Lines

Specifications USA

Engine
Type Air-cooled/oil-cooled Boxer twin-cylinder
Bore x Stroke 101.0 mm x 73.0 mm
Displacement 1170 cc
Horsepower 122 bhp @ 8250 rpm
Torque 83 lb/ft @ 6800 rpm
Compression Ratio 12.5 :1
Valve Gear HC, chain-driven
Valves 2.0 x 36.0 mm intake / 2.0 x 31.0 mm exhaust
Valves / Cylinder Four
Engine Oil Capacity 4.2 quarts
Engine Management BMW Engine Controller – BMS K
Fuel Requirement Premium Unleaded
Fuel Tank HDPE, internal pump and internal filter
Fuel Capacity 4.5 U.S. gallons including 1 gallon reserve
Charging System 600 Watts @ 14 Volts
Battery 12 Volts 14 Amps/hour maintenance-free
Cooling System Air and thermostatically controlled oil cooling
Drivetrain
Primary Drive 1:1.824
Clutch 180 mm dry, single plate with hydraulic actuation
1st Gear Ratio 2.28:1
2nd Gear Ratio 1.58:1
3rd Gear Ratio 1.26:1
4th Gear Ratio 1.03:1
5th Gear Ratio 0.90:1
6th Gear Ratio 0.81:1
Final Drive System Enclosed driveshaft with two universal joints
Final Drive Ratio 2.75:1
Frame and Suspension
Frame Three-part, engine/cast aluminum/tubular steel
Front Suspension BMW Telelever
Front Travel 4.3 inches
Rear Suspension BMW Paralever
Rear Travel 4.7 inches
Brakes
Brake System BMW EVO
Front Brakes Two, four-piston fixed calipers
Front Rotor 12.6 inch dual floating rotors
Rear Brake Single, two-piston fixed caliper
Rear Rotor 10.4 inch single, fixed rotor
Actuation Method Hydraulic, DOT 4 fluid type
Wheels and Tires
Front Wheel 3.50 x 17 cast alloy, five double-spoke
Rear Wheel 5.50 x 17 cast alloy, five double-spoke
Front Tire 120/70 x 17 tubeless
Rear Tire 180/55 x 17 tubeless
Dimensions
Overall Length 84.7 inches
Overall Width 34.2 inches
Wheelbase 58.5 inches
Ground Clearance N/A
Seat Height 32.7 inches
Steering Angle 66.0 degrees
Front Wheel Trail 3.4 inches
Weight – Dry 419 lbs.
Weight – Wet 470 lbs.
Maximum Load 1014 lbs. GVWR
Standard Colors
Code  Price Description
716     N / C Night Black
954     N / C White Aluminum Metallic
N03     N / C Shine Yellow
Available Colors
N04     $590.00 Titan silver metallic/magma red
Standard Equipment
Available Equipment
519     $235 Heated Hand Grips
524     $925.00 ABS (Disconnectable)
530     $260 Tire Pressure Monitoring (TPM)
539     $275 On Board Computer (incl. Oil Level Warning)
547     $690.00 Sport Suspension "Ohlins"
603     $235 Anti-Theft Alarm
779     $205.00 6.0″ Rear Wheel
Specifications Canada:
BMW R1200S

Engine
Type . . . . . . . . . . . . . . . . . . . . . . . Air/oil-cooled, four-stroke two-cylinder
boxer engine, single camshaft and four
vents per cylinder, central balance shaft
Bore x stroke . . . . . . . . . . . . . . . . 101 mm x 73 mm
Capacity. . . . . . . . . . . . . . . . . . . . 1,170 ccm
Output . . . . . . . . . . . . . . . . . . . . . 90 kW (122 bhp) at 8,250 rpm
Max. torque . . . . . . . . . . . . . . . . . 112 Nm at 6,800 rpm
Compression ratio . . . . . . . . . . . . 12.5:1
Fuel / engine management . . . . . Electronic intake manifold injection/ BMS-K digital engine management system with overrun fuel cut-off, dual ignition
Catalytic converter. . . . . . . . . . . . Regulated 3-way catalytic converter
Performance / fuel consumption
Maximum speed. . . . . . . . . . . . . . Over 200 km/h (124 mph)
Fuel consumption per 100 km (62 mls.)
at constant 90 km/h (56 mph). . . 4.3 l
at constant 120 km/h (75 mph). . 5.6 l
Fuel type . . . . . . . . . . . . . . . . . . . Super unleaded, octane rating 98 (RON); by automatic knock control but can be operated up to minimum octane rating 95 (RON)
Electrics
Alternator. . . . . . . . . . . . . . . . . . . 600 W generator
Battery. . . . . . . . . . . . . . . . . . . . . 12 V / 14 Ah, maintenance free
Power transmission
Clutch . . . . . . . . . . . . . . . . . . . . . Single-disc dry clutch, hydraulically
operated
Gearbox . . . . . . . . . . . . . . . . . . . . Synchromesh 6-speed gearbox with
helical gearing
Secondary drive. . . . . . . . . . . . . . Cardan (shaft drive)
Chassis / brakes
Frame. . . . . . . . . . . . . . . . . . . . . . Three-section composite frame
consisting of front, middle and rear section, load-bearing engine
Front suspension. . . . . . . . . . . . . BMW Motorrad Telelever; stanchion
diameter 41 mm, central spring strut
Rear suspension . . . . . . . . . . . . . . . Die-cast aluminium single-sided
swinging arm with BMW Motorrad Paralever; WAD spring strut (travel-dependent damping), adjustable spring preload continuously variable, rebound damping adjustable
Travel front / rear . . . . . . . . . . . . . 110 mm / 120 mm
Wheel base (in normal position) . 1,487 mm
Castor (in normal position). . . . . . 87 mm
Steering head angle
(in normal position) . . . . . . . . . . . 66°
Wheels . . . . . . . . . . . . . . . . . . . . . Die-cast aluminium
Rims, front . . . . . . . . . . . . . . . . . . 3.50 x 17
Rims, rear. . . . . . . . . . . . . . . . . . . 5.50 x 17 (optional: 6.00 x 17
for wide tyres*)
Tyres, front . . . . . . . . . . . . . . . . . . 120 / 70 ZR 17
Tyres, rear. . . . . . . . . . . . . . . . . . . 180 / 55 ZR 17
(optional: 190 / 55 ZR 17
for wide tyres*)
Brakes, front . . . . . . . . . . . . . . . . EVO brake system with dual disc,
floating brake discs, 320 mm
diameter, four-piston fixed calliper
Brakes, rear . . . . . . . . . . . . . . . . . Single disc, diameter 265 mm,
two-piston floating calliper
ABS* . . . . . . . . . . . . . . . . . . . . . . BMW Motorrad Integral ABS (part-integral version), can be deactivated
Dimensions / Weights
Seat height, unladen . . . . . . . . . . 830 mm
Unladen, road ready, fully fuelled** 213 kg
Dry weight*** . . . . . . . . . . . . . . . 190 kg
Max. permitted weight . . . . . . . . . 410 kg
Max. load with standard equipment 197 kg
Usable tank volume . . . . . . . . . . . 17 l
Reserve . . . . . . . . . . . . . . . . . . . . Approx. 4.0 l
Length . . . . . . . . . . . . . . . . . . . . . 2,151 mm
Height (without mirrors). . . . . . . . 1,177 mm
Width (with mirrors) . . . . . . . . . . . 870 mm

Specifications and features are subject to change