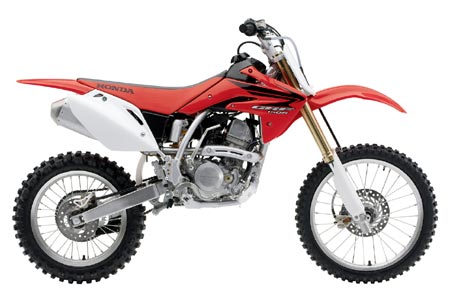 You are here: Home — New 2007 Models — 2007 Honda Motorcycle Models
2007 Honda CRF150R/CRF150R-Expert
Back to 2007 Honda Motorcycle Index Page
Click photos to enlarge.
They make great desktop images.


2007 Honda CRF150R/CRF150R-Expert

 
– 2007 Honda CRF150R/CRF150R-Expert

2007 Honda CRF150R/CRF150R-Expert
In keeping with the revolutionary CRF450R and CRF250R, Honda's new CRF150R and CRF150R-Expert four-stroke motocross machines are destined to redefine the small-displacement motocross category.
Features & Benefits
Engine/Drivetrain
– Powerful four-stroke 149cc liquid-cooled four-valve Unicam® engine produces impressive power across a wide rpm range for easy-to-control operation.
– Lightweight, compact, internal auto decompression and handlebar-mounted hot-start system provide easy starting, hot or cold.
– Compact, lightweight engine assembly weighs only 43.6 pounds.
– Unicam valve train provides the light weight of a compact single-cam drive and the optimum combustion chamber shape for maximum power at all engine rpm.
– Unicam valve train features a carburized single camshaft that directly actuates two 26mm steel intake valves. The steel 22.5mm exhaust valves are actuated by twin, low-friction rocker arms.
– Crankshaft is made of high-strength, low-carbon steel with carburized main journals for maximum durability at sustained high-rpm
operation.
– Forged 11.7:1-compression slipper piston and rings are lighter than a conventional design, revving quickly while maintaining excellent cylinder sealing and high-rpm power.
– Double-carburized connecting rod utilizes a big-end needle bearing for maximum high-rpm performance and durability.
– Nikasil cylinder lining is lightweight and provides cooler operation for extended engine life.
– Press-fitted aluminum spark plug pipe fits between the two exhaust rocker arms, further contributing to compact cylinder-head design.
– 32mm Keihin FCR carburetor features four rollers on the flat slide, resulting in very light throttle effort, smooth operation, crisp throttle response and excellent rideability.
– Carburetor features a throttle position sensor (TPS) that helps maintain a linear throttle response throughout the range.
– Twin-sump lubrication system separates the oil supply for the crankshaft, piston and valve train from the clutch and transmission. This ensures a cool supply of oil to the clutch, eliminates potential clutch and transmission material contamination of the engine oil, reduces the amount of circulating oil and permits the use of a smaller oil pump.
– Vertically split crankcases feature a built-in oil pump, reducing weight compared to a conventional design.
– Exhaust system uses a lightweight stainless exhaust header and repackable aluminum muffler.
– Dual radiators feature a refined core area for improved heat dissipation compared to conventional dual-radiator design.
– Gear-driven balancer reduces vibration and drives the water pump. A six-disc clutch provides the surface area necessary to handle the engine's impressive torque, while carefully matched clutch springs provide a light feel at the lever.
– Durable close-ratio five-speed transmission.
Chassis/Suspension
– Front and rear suspension settings unique to the CRF®150R deliver ideal bump-absorption characteristics.
– All-new handlebar bend optimizes rider position and comfort.
– Lightweight, high-tensile steel frame with large-diameter frame tubing and cross-member provides excellent turning performance and straight-line tracking.
– Box-section aluminum swingarm is lightweight and rigid.
– Removable subframe is strong and durable.
– 37mm leading-axle inverted Showa cartridge front fork features friction-reducing design to improve compression and rebound control.
– The fork offers adjustable compression and rebound settings.
– Wide-section aluminum top and bottom triple-clamps position fork tubes far apart for good turning and control.
– Tapered-roller steering-head bearings for durability.
– Pro-Link® rear-suspension system features a fully adjustable Showa shock for superb compliance and wheel control.
– Strong, lightweight wheels are durable and minimize unsprung weight.
– Lightweight front and rear disc brakes with high-performance pads offer powerful, precise braking.
– Stout 15mm front and 17mm rear axles incorporate a surface-treatment for added strength and durability.
Additional Features
– Large-capacity airbox and reusable two-stage foam air filter.
– Lightweight plastic body components (radiator shroud, sidecovers, rear fender, seat base, fuel tank, front fender and front number plate) offer a slim, aggressive style.
– Seat-cushion foam follows the shape of the fuel tank, providing a smooth transition to increase rider mobility and comfort.
– Non-slip seat cover for increased rider control.
– High-quality Dunlop tires.
– HRC works-type rear-brake system integrates the rear master cylinder and fluid reservoir, eliminating the separate rear master-cylinder reservoir and hose.
– Adjustable front-brake lever and master-cylinder assembly are the same as CR®125R/CR250R components.
– Stainless-steel clutch cable for long life and improved feel and action.
– Works-type handlebar grips add to rider comfort.
– Purchase of a new, previously unregistered Honda unit by an individual retail user in the United States qualifies the owner for a one-year complimentary membership in the Honda Rider's Club of America® (HRCA®). Benefits include online access to the Honda Common Service Manual, six issues of the bimonthly Honda Red Rider™ magazine, travel discounts, trip routing and MSF reimbursement, plus access to the HRCA Web site (www.hrca.honda.com). Look for the HRCA support team at select off-road events across the country. For details on the HRCA, dealers should call (310) 783-3958, 8:30 a.m. to 5 p.m. Pacific Time.
Specifications
Model: CRF150RB-Expert / CRF150R
Engine Type: 149cc liquid-cooled single-cylinder four-stroke
Bore and Stroke: 66mm x 43.7mm
Compression Ratio: 11.7:1
Carburetion: Keihin 32mm flat slide with throttle position sensor (TPS)
Ignition: Solid-state CD with electronic advance
Transmission: Close-ratio five-speed
Final Drive
CRF150RB: #420 chain; 15T/56T
CRF150R: #420 chain; 15T/50T
Suspension
Front: 37mm fully adjustable leading-axle inverted Showa cartridge fork; 10.8 inches travel
Rear: Pro-Link fully adjustable Showa single shock;
CRF150RB: 11.5 inches travel
CRF150R: 10.8 inches travel
Brakes
Front: Single 220mm disc
Rear: Single 190mm disc
Tires
CRF150RB:
Front: 70/100-19
Rear: 90/100-16
CRF150R:
Front: 70/100-17
Rear: 90/100-14
Wheelbase
CRF150RB: 50.6 inches
CRF150R: 49.6 inches
Rake (Caster Angle)
CRF150RB: 27°48′
CRF150R: 27°02′
Trail
CRF150RB: 96mm (3.85 inches)
CRF150R: 78mm (3.07 inches)
Seat Height
CRF150RB: 34.1 inches
CRF150R: 32.8 inches
Ground Clearance
CRF150RB: 13.2 inches
CRF150R: 11.9 inches
Dry Weight
CRF150RB: 169.7 pounds
CRF150R: 165.3 pounds
Fuel Capacity: 1.14 gallons
Color: Red
Consult owner's manual for optional racing parts.

2007 Honda Motocross Pricing
Name

2007 Model
("L" designates
California version)

Color

Suggested
Retail Price

CRF-R
CRF450R7
Red
$6,999.00
CRF-R
CRF250R7
Red
$6,349.00
CRF-R
CRF150R7
Red

$4,199.00

CRF150RB7
Red
$4,299.00
CR
CR250R7
Red
$6,449.00
CR
CR125R7
Red
$5,499.00
CR
CR85R7
Red
$3,149.00
CR
CR85RB7
Red
$3,249.00
Prices are subject to change without notice.