You are here: Home — New 2008 Models — 2008 Honda Motorcycle Models
2008 Honda Varadero XL1000VA
Back to 2008 Honda Motorcycle Index Page
Click photos to enlarge for detail.
They make great desktop images.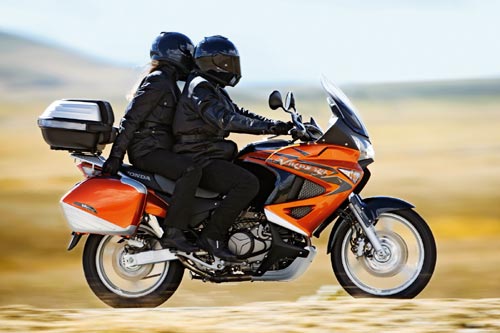 2008 Honda Varadero XL1000VA (Europe Model)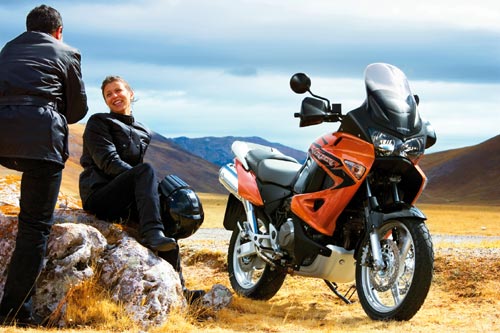 2008 Honda Varadero XL1000VA (Europe Model)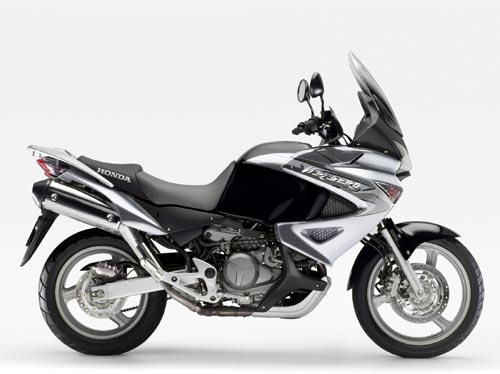 2008 Honda Varadero XL1000VA (Europe Model)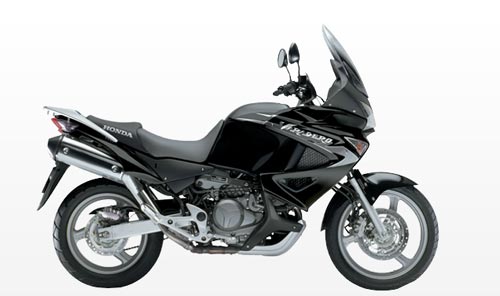 2008 Honda Varadero XL1000VA (Canadian Model)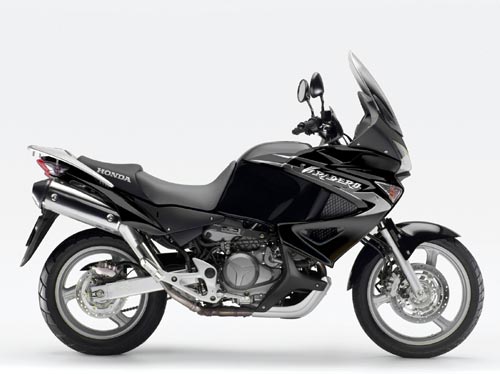 2008 Honda Varadero XL1000VA (Europe Model)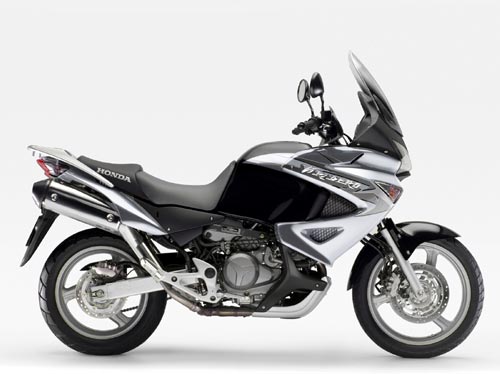 2008 Honda Varadero XL1000VA (Europe Model)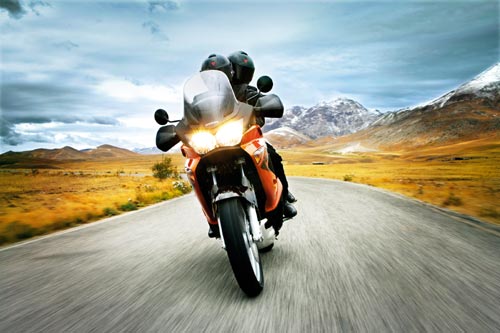 2008 Honda Varadero XL1000VA (Europe Model)
*I posted the Europe Model version photos as I could get really large sized photos of those.

– 2008 Honda Varadero XL1000VA

2008 Honda Varadero XL1000VA
Every time you get on a bike, it's a personal challenge. Doesn't matter where you're going or who's watching. All you care about is that your bike is as ready and as able as you are. The Varadero XL1000VA is a serious machine. It's as at home on the mountain switchbacks right across Europe as it is on the most out-of-the-way-how-did-I-get-hereboy- am-I-loving-this knotted, twisted, gnarled road you found one lucky Sunday afternoon. This bike is only available at Honda Powerhouse Dealers. And it's ready to take on almost any adventure that lies around the corner or is plotted in your GPS.
Kick-start your adventure. Honda is bringing a new breed of adventure to Canada. With the arrival of the Varadero and the CBF1000 from Europe, the road of possibility has just opened. Places you only dreamed about riding are now within your reach. And you suddenly have the perfect excuse to bond with old friends. Honda has the adventure bikes, the gear and accessories, and even some epic recommendations of places to point your compass. All you need to do is get yourself in gear and get out there.
Varadero XL1000VA is only available at HONDA POWERHOUSE DEALERS (see below) and only in Canada.
You re not ordinary. And neither is this bike. It's not made for milk runs, unless, of course, you plan on getting goat's milk in the Pyrenees. If you want something that can take you on the adventure of a lifetime then say hello to the Varadero. It's traversed the globe, proven its daily worth in Europe, and now it's ready to tackle the diverse and beautiful Canadian landscape. Wherever you want to go, wherever the road leads, the Varadero is up for the challenge. One ride and you will discover this is no ordinary bike. It's the most important tool in an arsenal of adventure riding gear and it's only available at Honda Powerhouse Dealers. So if you're serious about adventure, then this is the bike for you.

The feel. When your adventure is measured not merely in hours or days, but in time zones crossed, you'll love the Varadero's seating position that's as comfortable on the first kilometre as it is on the 10,000th. The seat, wide handlebar and just-right ergonomics put you in an upright and alert position that reduces fatigue on the longest rides and increases control when navigating challenging terrain
– it even helps make standing up over bumpy terrain easier. Threatening clouds on the horizon? The adjustable windscreen and wide-coverage fairing help keep Mother Nature from spoiling your fun. Integrated handguards help to deflect wind, water and even gravel and branches. With this much comfort and protection, you won't ever want to stop. And thanks to the Varadero's generous 25-litre fuel capacity, you'll hardly ever have to!

The ride. Some roads are smooth. Some roads are… well, barely roads at all. The Varadero's chassis isn't fussy about where you want to ride – it's ready for just about anything. Check out the big 19-inch front wheel that rolls over potholes, cracks, stones – you name it – more smoothly than a smaller wheel, and the ground clearance lets you explore difficult terrain with confidence. Ample suspension travel keeps you comfortable and in control over bumpy surfaces. And the entire chassis has a purposeful shape that tells you this bike takes adventure motorcycling as seriously as you do.

The power. Not just power. But power you can use. Power that comes on strong just above idle and never seems to end. The Varadero's 996 cc V-twin engine is tuned for the type of riding that you've dreamed about: Instant torque for pulling you out of tricky situations; a wide powerband for effortlessly climbing steep hills; loads of top-end power for carrying you, a friend and a week's worth of gear. And when you're snaking through a misty, cool mountain pass or cruising through the summer
heat of the prairies, you'll be glad to know that the Varadero's sophisticated fuel-injection system has the smarts to automatically compensate for changes in temperature and elevation.

Built for adventure. When you're heading for a place that's too small for any map, you want to have full confidence that your bike has the quality, reliability and performance to get you there and back, no sweat. And that's why you ride a Honda. You can see it in the design and construction of every component, in the user-friendly controls that inspire riding confidence and in the flawless fit and finish. Like all Hondas, these bikes are built with care, and built to go the distance. So go ahead and enjoy the ride wherever the road leads. This Honda is up to the challenge.


Built for safety. Because you can never be sure what surprise you might find around the next corner, both the Varadero and the CBF1000 are equipped with anti-lock brakes linked via Honda's Combined Braking System. By distributing balanced braking force whenever the brakes are applied, the Combined Braking System helps you stop quickly and in control. And with ABS, you can apply the brakes to the limit of available traction – even on wet or loose surfaces – with the confidence that the wheels won't lock up. And when you have confidence in your motorcycle, your next adventure is limited only by your imagination.
Features & Benefits
– From the Alps of Germany to the dunes of Africa and beyond, the Varadero has carved out a reputation as a bike that's fully equipped to take you on the adventure of your dreams

– 996 cc fuel-injected V-twin engine produces strong torque for tough conditions and effortless top-end horsepower for highway cruising, while also meeting strict Euro-3 emissions regulations

– When the weather turns from desert-like heat to mountain-top misty cool, you'll love the Varadero's wide-coverage fairing and its excellent rider protection and ergonomics

– Combined ABS braking system means strong and safe stopping power on everything from dirt cart paths to wet mountain roads

– Large 25-litre fuel tank and range-countdown fuel gauge help you cover long distances with confidence

– Optional durable, weatherproof saddlebags and other accessories allow you to pack up and head off at a moment's notice

Specifications

MSRP: $13,999 CDN
Engine Type Liquid-cooled 90-degree V-twin

Displacement 996 cc

Bore & Stroke 98 mm x 66 mm

Compression Ratio 9.8:1

Valve Train Chain-driven DOHC, 4 valves per cylinder

Fuel Delivery PGM-FI electronic fuel injection

Transmission Six-speed

Final Drive O-ring-sealed chain; 16T/47T

Front Suspension 43 mm telescopic fork; 155 mm (6.1 inches) travel

Rear Suspension Pro-Link single shock with spring preload and rebound-damping adjustability; 145 mm (5.7 inches) travel

Tires 110/80R–19 radial front; 150/70R–17 radial rear

Brakes Front dual 296 mm discs with triple-piston calipers and Combined Braking System with ABS; rear 256 mm disc with triple-piston caliper and Combined Braking System with ABS

Seat Height 838 mm (33 inches)

Seating capacity Two

Wheelbase 1,560 mm (61.4 inches)

Curb Weight 276.7 kg (610 pounds) including required fluids and full tank of gas – ready to ride

Fuel Capacity 25 litres

Colour Concours Black Pearl, Storm Silver Metallic

Specifications and features are subject to change
HONDA POWERHOUSE DEALERS (accurate as of May 2008):
Exclusive Edition Models
Varadero; CBF1000; CB R1000RR; CB R600RR; C RF450R; C RF250R and AquaTrax are available at the following


WESTERN CANADA

KOOTENAY HONDA POWERHOUSE
1027 Victoria Ave. N
Cranbrook, BC
250-489-4311

POINTE WEST HONDA POWERHOUSE
17860-102nd Avenue
Edmonton, AB
780-487-7433

QUESNEL HONDA POWERHOUSE
161 Marsh Drive
Quesnel, BC
250-992-8371

VI HONDA POWERHOUSE
1809 Bowen Road
Nanaimo, BC
250-754-6638

HONDA EXTREME
9103 – 31 Avenue
Edmonton, AB
780-435-0742

LLOYDMINSTER HONDA POWERHOUSE
Coming Soon
Lloydminster, AB

SCONA CYCLE
Coming Soon
9556 – 82nd Avenue
Edmonton, AB
780-432-0858

SHERWOOD HONDA POWERHOUSE
30 Automall Drive
Sherwood Park
Edmonton, AB
780-417-0005

MEIDL HONDA POWERHOUSE
Coming Soon
Saskatoon, SK

ONTARIO

CLASSIC HONDA POWERHOUSE
30 Van Kirk Drive
Brampton, ON
905-454-1434

LEGENDS HONDA POWERHOUSE
1701 Provincial Road
Windsor, ON
519-250-9003

TEAM HONDA POWERHOUSE
305A Steeles Avenue East
Milton, ON
905-864-8588

BARRIE HONDA POWERHOUSE
74 Mapleview Drive
Barrie, ON
705-733-2100

CLARINGTON HONDA POWERHOUSE
Coming Soon
Clarington, ON

DURHAM HONDA POWERHOUSE
Coming Soon
Whitby, ON

KANATA HONDA POWERHOUSE
Coming Soon
Kanata, ON

POWERSPORTS CANADA
Coming Soon
1 Laser Street
Nepean, ON
613-224-7899


QUEBEC

CENTRE HONDA DE GIRO
496 Ave. St. David
Montmagny, QC
418-248-2133

CENTRE HONDA EQUIPEMENT LAVERTU
4 St-Augustin
Breakeyville, QC
418-832-6143

CENTRE HONDA EXCEL
5480 Pare
Mount Royal, QC
514-342-6360

CENTRE HONDA FRANK & MICHEL
5788 Boul. St. Anne
Quebec City, QC
418-822-2252

CENTRE HONDA MAGOG
148 Boul. Bourque
Magog, QC
819-843-0099

CENTRE HONDA MOTO RIVE SUD
628 Route President Kennedy
Pintendre, QC
418-837-7170

CENTRE HONDA THETFORD
2319 Boul Frontenac
Thetford Mines, QC
418-338-3558

CHAMBLY HONDA
840 Boul de Perigny
Chambly, QC
450-658-2453

CENTRE HONDA DUFOUR
2060 Boul de Comporte
La Malbaie, QC
418-665-6431

CENTRE HONDA HAMEL
332 Dubois, voie 640
Saint-Eustache, QC
450-491-0440


ATLANTIC CANADA

BRIDGEWATER HONDA POWERHOUSE
366 Dufferin Street
Bridgewater, NS
902-543-7796

BATHURST HONDA POWERHOUSE
2300 St. Peter Avenue
Bathurst, NB
506-548-4569

CEILIDH HONDA POWERHOUSE
393 Westville Road
New Glasgow, NS
902-752-1330

CLARENVILLE HONDA POWERHOUSE
Coming Soon
Clarenville, NL

EDMUNDSTON HONDA
Coming Soon
475 Victoria Street
Edmundston, NB
506-739-7716

HONDA ONE
Coming Soon
1137 Topsail Road
Mt. Pearl, NL
709-364-5337