You are here: Home — New 2008 Models — 2008 Kawasaki Motorcycle Models
2008 Kawasaki Vulcan 900 Classic LT
Back to 2008 Kawasaki Motorcycle Index Page
Click photos to enlarge for detail.
They make great desktop images.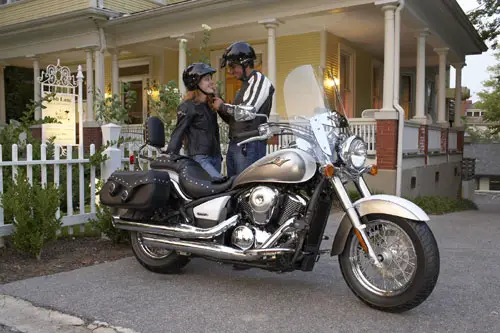 2008 Kawasaki Vulcan 900 Classic LT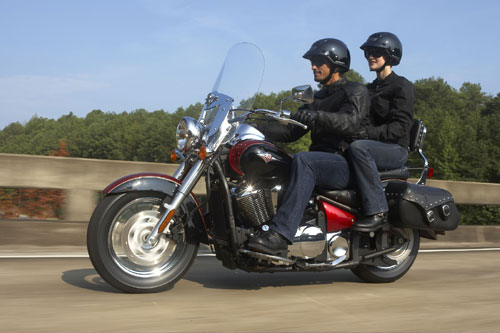 2008 Kawasaki Vulcan 900 Classic LT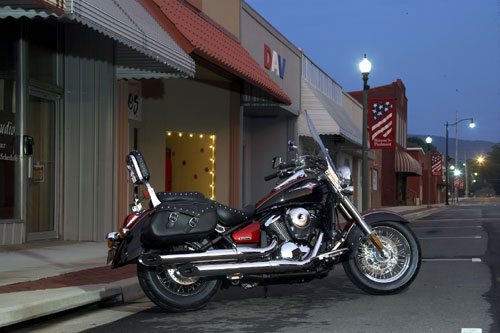 2008 Kawasaki Vulcan 900 Classic LT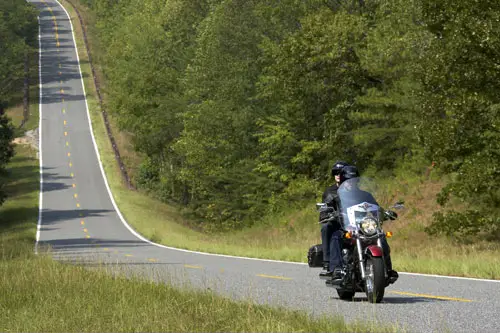 2008 Kawasaki Vulcan 900 Classic LT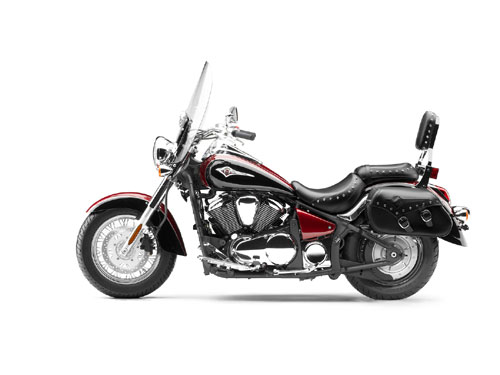 2008 Kawasaki Vulcan 900 Classic LT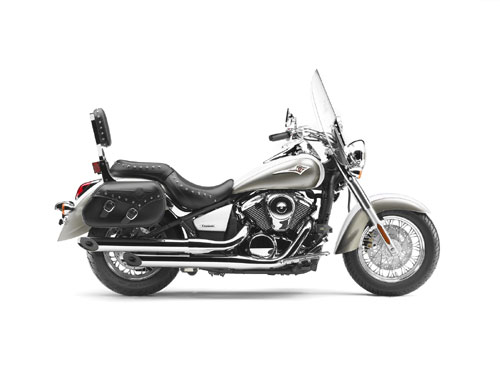 2008 Kawasaki Vulcan 900 Classic LT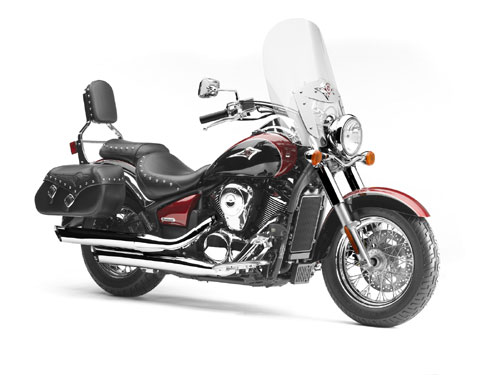 2008 Kawasaki Vulcan 900 Classic LT

– 2008 Kawasaki Vulcan 900 Classic LT

2008 Kawasaki Vulcan 900 Classic LT
KAWASAKI'S VULCAN® 900 CLASSIC LT: LUXURY CRUISING IN A WALLET FRIENDLY MID-SIZE PACKAGE
Fully-loaded cruiser is ready for open road adventures
The Kawasaki Vulcan® 900 Classic LT motorcycle builds upon the class-leading attributes of its Vulcan 900 Classic sibling with enhanced style and additional custom touring features. The Vulcan 900 LT arrives at the dealer already accessorized with saddlebags, special touring seat, passenger backrest and an adjustable windshield. The only add-on missing from the showroom floor is the riding enjoyment that this Vulcan provides its owners once they take delivery.
This mid-size Kawasaki offers the same excellent riding characteristics as the Vulcan 900 Classic –featuring a category-leading 903cc engine displacement and "big-bike" look and feel– and does it with eye-catching features for riders that think touring represents the ultimate get-away.
The stylish saddlebags are made of reinforced top grain cowhide carefully selected="true"="true"="true"="true" to minimize leather flaws and deep-dyed to prevent scraping off the finish. Perfectly sized, they provide a slant-top opening, fastened with two 1.5-inch wide leather straps that feature chrome buckles and stealth quick-release fasteners. Rounding out the look of these bags is an embossed Vulcan logo on the reinforced, dual panel lids, and chrome plated brass stud accents. Helping to protect both the bags and their contents are metal reinforced upper edges to help maintain shape, and rolled and riveted top lids to help keep unwanted moisture out.
The rider's seat and passenger backrest combine to offer both comfort and a look that places the Classic LT among the most stylish motorcycles on the highway. The seat and the classic, tombstone-shaped passenger backrest are detailed with chrome plated brass studs to match the bags. In addition to comfortable seating, this long, low cruiser offers some serious wind protection through a thick, optically correct, acrylic plastic windscreen that's shaped to smooth airflow around the rider.
In addition to appreciating the 900 Classic LT's good looks, riders will find themselves enjoying a ride that was previously found only on larger cruisers. Applying lessons learned on the Kawasaki's Vulcan 2000, the Vulcan 900 models deliver exceptional roll-on acceleration, easy maneuverability, and performance equal to larger displacement competitors.
A low-maintenance belt drive on the Vulcan 900 Classic LT keeps the overall weight down and improves the rear-end styling. Any mention of rear-end styling has to include its large, 180mm wide rear tire the largest in the category. The beefy, "big-bike" look of the larger tire accentuates the guttural, classic V-twin sound that is produced by the use of a single-pin crankshaft. Both look and sound evoke the feel of a much larger motorcycle.
The Vulcan 900's larger look and feel should not alarm a potential rider. Its low seat height, chassis rails that provide a narrowed shape and tapered seat design that flows comfortably into the tank offers plenty of accessible for shorter riders and comfort for all riders.
Equally at home around town or when the open road calls, this motorcycle is built for hour after hour of touring pleasure. The combination of wide handlebars and an ideal relationship between the bars, seat, and floorboards coupled with its roomy passenger accommodations make highway trips and long days in the saddle a real joy.
The Vulcan 900 Classic LT is available in the following two-tone color combinations: Candy Cardinal Red / Metallic Diablo Black, Luminous Polaris Blue / Atomic Silver or Pearl Crystal White / Metallic Titanium. Whatever the selection, Classic LT owners will be noticed by everyone they pass along the highway.

FEATURES:
Engine
– 903cc V-twin SOHC engine tuned to deliver healthy dose of torque at low rpm
– Smooth and reliable
– Gear-driven balancer allows use of single pin crankshaft without heavy vibration
– Rubber-mounted to eliminate engine vibration at all speeds
Four-valve Cylinder Head
– Provides maximum valve area for optimum flow more power and low-end torque
– Single overhead cam design is simple, lightweight and practical
– Extremely efficient intake tracts feature ports that narrow near the combustion chamber to increase intake flow speed for more efficient filling and increased torque
– Long intake tracts for great low-end response
Liquid and Air Cooling
– Exceptional thermal control with finned cylinders and head and liquid cooling combination
– Maintains consistent engine temperatures for long engine life and sustained power
– Automatic fan helps keep things cool
– Includes temperature warning light
Automatic Cam Chain Tensioner
– Maintains precise valve timing with maintenance
– Assures greater reliability
– Hidden from view to preserve the engine's clean, basic look
Dual Slash-Cut Mufflers
– Big slash-cut mufflers look great and contain honeycomb catalyzers to reduce emissions
Positive Neutral Finder
– Just lift the shift pedal from first gear at a stop to find neutral easy, every time
Electronic Fuel Injection
– Dual throttle bodies with sub throttles provide optimum performance and rideability
– The sub throttles, located behind the main throttle valve, are controlled by the ECU so that the DFI® system retains more precise throttle response, similar to a constant velocity carburetor
– Fine-atomizing fuel injectors produce a fine fuel mist for better acceleration, combustion and fuel consumption
Belt Drive
– Lower unsprung weight than shaft drive to improve ride quality and suspension action
– More efficient so more power reaches the rear wheel
– Low maintenance and low noise
Double Cradle Frame
– Very rigid large-diameter box section backbone allows a larger fuel tank, and helps contribute to high stability and lightweight handling at low speeds
– Triangular swingarm looks like a hardtail design, but acts on a single shock hidden beneath the seat
– Long and low for minimal seat height, maximum visual impact
– Fork offset and frame geometry combine for light, low-effort handling at ultra-low speeds
– Long wheelbase contributes to highway stability
41mm Front Fork
– Excellent rigidity and 5.9 inches of travel
– 32 degrees rake angle for excellent straight line ability
– Wide fork pitch for classic look
Front and Rear Disc Brakes
– A 272mm front and 242mm rear disc have twin-piston calipers for great power and feel
Spoke Custom Wheels
– Chromed steel rims and spokes
– "Spool-style" polished aluminum front hub
Wide Rear Tire
– 180mm rear tire provides added stability while projecting a powerful image
– Wider tire than that found on most large-displacement cruisers
Tank-Mounted Speedometer with Turn Signal Indicators and Caution Lamps
– Gives you the information you need at-a-glance
– Compact design complements the bike's clean look
Push-to-Cancel Turn Signals
– No fumbling, just a simple push on the switch cancels the turn signals
Windscreen
– Thick optically correct acrylic plastic windscreen is shaped for smooth airflow and cruiser style
– Strong chrome plated steel supports
– Adjustable height
Saddlebags
– Reinforced top grain cowhide carefully selected="true"="true"="true"="true" with minimal flaws and deep dyed so that the finish can't be scraped off
– Slant top opening lid, with two 1.5-inch wide leather straps, chrome buckles and quick release fasteners
– Dual panel lid construction with embossed Vulcan logo detail
– One-half inch diameter chrome plated brass stud accents
– Metal reinforced upper edge so bags hold their shape
– Rolled and riveted top lid minimizes water entry
Low Stepped Seat
– Ultra-low 26.8-inch seat height allows riders to easily plant both feet on the ground at stops
– Laid-back riding comfort for two
– Detailed with ½-inch diameter chrome plated brass studs
Passenger Backrest
– Classic tombstone shape
– Strong chrome plated steel supports
– Pad cover detailed with chrome plated brass studs

SPECIFICATIONS USA – 2008 Kawasaki Vulcan 900 Classic LT:
Engine: 4-Stroke, liquid-cooled, SOHC, 4-valve per cylinder, V-twin
Displacement: 903cc / 55.1 cu.in.
Bore x stroke: 88.0 x 74.2mm
Compression ratio: 9.5:1
Maximum torque: 60.8 lb/ft @ 3,700 rpm
Cooling: Liquid
Fuel Injection: EFI with dual 34mm Keihin throttle bodies
Ignition: TCBI with electronic advance
Transmission: Five-speed
Final drive: Belt
Frame: Semi-double cradle, high-tensile steel
Rake / trail: 32 degrees / 6.3 in.
Wheelbase: 64.8 in.
Front suspension / wheel travel: 41mm hydraulic telescopic fork / 5.9 in.
Rear suspension / wheel travel: Uni-Trak® swingarm / 4.1 in.
Front tire: 130/90×16
Rear tire: 180/70×15
Front brake / rear brake: Single 272mm hydraulic disc with two-piston caliper / 242mm hydraulic disc
Overall length: 97.0 in.
Overall width: 39.6 in.
Overall height: 58.3 in.
Seat height: 26.8 in.
Dry weight: 595.4 lbs.
Fuel capacity: 5.3 gal.
Color choices: Two Tone: Luminous Polaris Blue / Atomic Silver
Two Tone: Candy Cardinal Red / Metallic Diablo Black
Two Tone: Pearl Crystal White / Metallic Titanium
MSRP: $8,649
Warranty: 24 months

SPECIFICATIONS Canada – 2008 Kawasaki Vulcan 900 Classic LT:
TBA

Specifications and features are subject to change