You are here: Home — New 2008 Models — 2008 Kawasaki Motorcycle Models
2008 Kawasaki Vulcan 2000 Classic LT
Back to 2008 Kawasaki Motorcycle Index Page
Click photos to enlarge for detail.
They make great desktop images.

2008 Kawasaki Vulcan 2000 Classic LT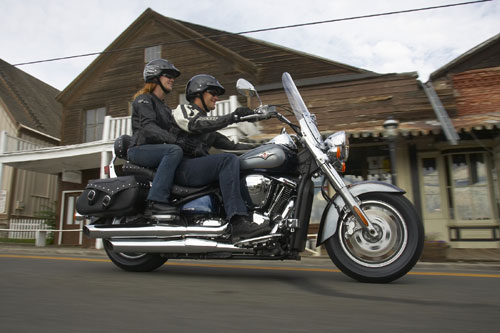 2008 Kawasaki Vulcan 2000 Classic LT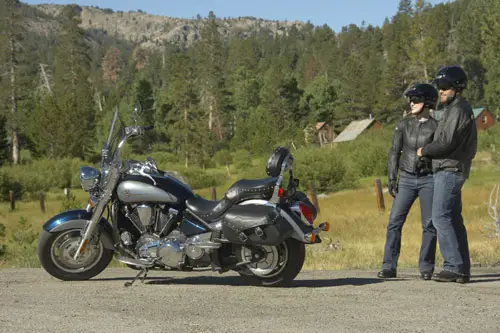 2008 Kawasaki Vulcan 2000 Classic LT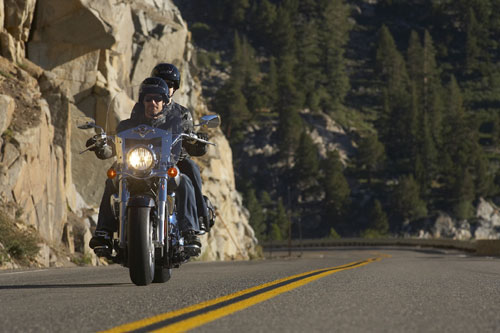 2008 Kawasaki Vulcan 2000 Classic LT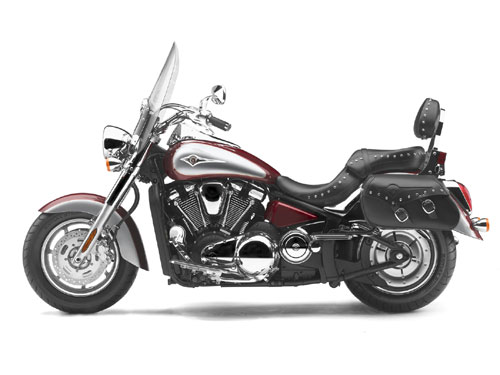 2008 Kawasaki Vulcan 2000 Classic LT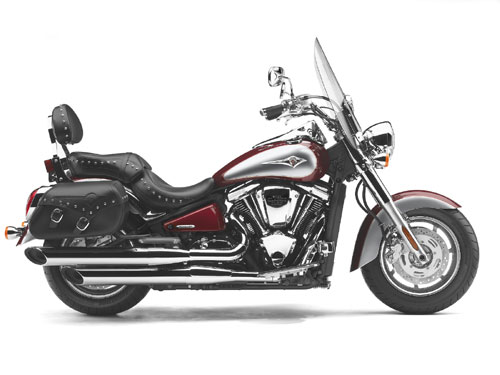 2008 Kawasaki Vulcan 2000 Classic LT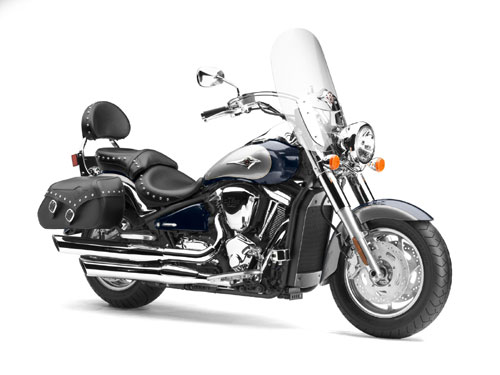 2008 Kawasaki Vulcan 2000 Classic LT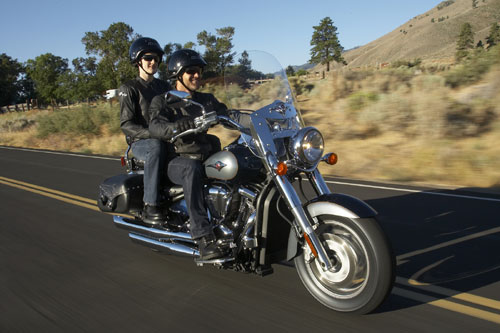 2008 Kawasaki Vulcan 2000 Classic LT

– 2008 Kawasaki Vulcan 2000 Classic LT

2008 Kawasaki Vulcan 2000 Classic LT
The perfect combination of touring comfort and superlative performance
Does the open road beckon? Then answer its call with the fully-dressed Vulcan® 2000 Classic LT cruiser. Already roaming America's back roads and highways, the popular Vulcan 2000 Classic LT is ready to tour straight off-the-showroom floor.
Building upon the inherent performance from the top-of-the-line 2,053cc family of cruisers, the Vulcan 2000 Classic LT raises the bar on the traditional cruiser style with extra features that are sure to appeal to those more interested in weekend jaunts than simply getting back and forth to work. While it comes with special features as part of the package, this motorcycle empowers further customizing. And the Kawasaki's broad selection of accessories gives Vulcan 2000 Classic LT owners plenty of opportunity to do just that.
Features standard with this stylish cruiser are saddlebags, passenger floorboards, passenger backrest, and a windshield. The bags are reinforced top grain cowhide (selected="true" with minimal flaws and deep dyed so the finish won't scrape off) with chrome plated brass stud accents on the bag lids and a slant top opening on the lid fastened with two 1.5-inch wide leather straps featuring chrome buckles and quick release stealth fasteners. The rolled and riveted top lid minimizes water entry and protects the contents. A metal-reinforced upper edge keeps the bags holding their shape.
Matching both of the bags, the special seat and passenger backrest are also adorned with chrome plated brass studs. Together, they provide an attractive and distinctive styling line. The classically styled backrest blends both visual appearance and comfort.
The adjustable height windshield is made of thick, optically correct acrylic plastic and is shaped for smooth airflow and classic cruiser lines.
Power for this stylish motorcycle comes from a massive 125ci V-twin engine featuring a 103 x 123.2mm bore and stroke, forged pistons, alloy-steel connecting rods, a huge 220mm flywheel, dual cams located within the one-piece crankcase and right-side pushrods actuating four valves per cylinder. The push rod design Kawasaki engineers chose to utilize reduces engine height and directly contributes to the Vulcan 2000 Classic LT's low center of gravity and relatively low seat height. Hydraulic valve lash adjusters automatically maintain zero valve clearance for smoother, quieter operation.
An electronic engine control unit (ECU) manages the fuel injection system with dual 46mm throttle bodies and sub throttle valves, combined with an iridium spark plug ignition system to provide sharp throttle response at any rpm. The sub-throttle valves and fine atomizing injectors help the Vulcan 2000 Classic LT fuel injection provide a smooth, linear power band with increased power and optimum fuel economy.
The top quarter of the V-twin engine is liquid cooled, while temperatures for the bottom three-quarters of the engine are managed by stylish and highly functional cooling fins. Additionally, the engine and transmission have built-in oil and water pumps, and the transmission serves as the oil tank.
The chrome air cleaner cover is nestled between the cylinders, which feature a black matte finish – artfully contrasting the polished bright metallic cooling fins. Cruiser fans will appreciate the Vulcan 2000 Classic LT's V-twin sound thanks, in part, to the single-pin crankshaft, while dual counterbalancers and rubber engine mounts keep it running smoothly. Dual exhaust pipes and mufflers emit that distinctive V-twin rumble, and include honeycomb catalyzers to reduce emissions.
To fully benefit from the Vulcan 2000 Classic LT's advanced electronics, a gear position sensor in the transmission sends signals to the ECU, further enhancing fuel injection volume and ignition timing, and thus improving performance. Final drive to the rear wheel is provided by smooth, quiet and low maintenance belt drive.
The engine is a member of the Vulcan's steel, double-cradle frame, which has a large-diameter, box-section single-tube backbone. A simple but elegant rear steel tube swingarm suspension with a direct-action single shock provides 3.9 inches of travel, and includes spring preload and rebound adjustment. Up front, a large 49mm fork provides precise steering feedback and 5.9 inches of travel.
The Vulcan 2000 Classic LT includes a bullet-style headlight, chrome instrument panel with a large-face speedometer — mounted on a stretched, 5.5-gallon fuel tank, the V-shaped panel keeps the rider informed with an LCD display and warning lamps.
This Vulcan motorcycle rides on bright, cast aluminum 16-inch wheels with a 150/80 front radial tire and a huge, 200/60 rear radial tire. Dual 300mm front disc brakes with four-piston calipers and a single rear disc brake with two-piston caliper bring this big cruiser to smooth, powerful stops.
FEATURES:
Engine
– 2,053cc (125 cu. in.) four-stroke engine produces massive torque across the entire rpm range
– Strong and light forged pistons and alloy connecting rods
– Huge 220mm flywheel smoothes power delivery
– Push-rod valve actuation contributes to lower engine height, low center of gravity and relatively low seat height
– Hydraulic valve adjusters reduce maintenance
– Engine Control Unit (ECU) manages electronic fuel injection and digital ignition system optimize throttle response
– Fuel injection system features sub throttle valves for smooth throttle response
– Fine atomizing injectors deliver ultra-fine fuel/air mixture for greater combustion efficiency, increased power and optimum fuel economy
– Center spark plugs enhance combustion for smooth, consistent power and reduced emissions
– Liquid and air cooling maintain consistent operating temperatures
– Single-pin crank contributes to a classic V-twin sound
Transmission / Final Drive
– A gear position sensor in the five-speed transmission sends signals to the ECU, further enhancing fuel injection and ignition performance
– Belt final drive is smooth, quiet, reliable and low maintenance
Frame and Suspension
– Steel double-cradle frame features large-diameter, box-section single-tube backbone for strength
– Engine is utilized as a stressed member of the frame to minimize chassis weight
– Steel pipe swingarm is simple and elegant
– Direct-action single shock features spring preload and rebound damping adjustment with 3.9 inches of travel for a smooth ride
– Large 49mm forks provide precise steering feedback and 5.9 inches of travel
Wheels and Tires
– 16-inch cast aluminum wheels add to the Vulcan 2000 Classic LT's high-quality look
– 200/60R series rear tire puts the power to the ground
– Radial tires enhance handling and give it a firm, "planted" feel
Brakes
– Dual 300mm front disc brakes with four-piston calipers and single rear disc brakes provide smooth, powerful stops
Styling
– Bullet-style headlight
– Spacious 5.5-gallon fuel tank provides for long-distance road trips
Windscreen
– Thick, optically correct acrylic plastic windscreen is shaped for smooth airflow and cruiser style
– Strong chrome plated steel supports
– Two-position height
Seat and Passenger Backrest
– Detailed with ½-inch diameter chrome plated brass studs
– Strong chrome plated steel supports
Saddlebags
– Made of reinforced top grain cowhide carefully selected="true" with minimal flaws and deep dyed to prevent scrapping off the finish
– Slant top opening lid, secured with two 1.5-inch wide leather straps with chrome buckles and quick release stealth fasteners
– Dual panel lid construction with embossed Vulcan logo detail
– Metal reinforced upper edge so bags hold their shape
– Rolled and riveted top lid minimizes water entry
– One-half inch diameter chrome plated brass stud accents

SPECIFICATIONS USA – 2008 Kawasaki Vulcan 2000 Classic LT:
Engine: Four-stroke, liquid cooled, OHV, four-valve cylinder head, 52 degrees V-twin
Displacement: 2,053 cc (125ci)
Bore x stroke: 103.0 x 123.2mm
Maximum torque: 141 lb-ft @ 3,000 rpm
Compression ratio: 9.5:1
Carburetor: DFI® with Keihin 46mm throttle bodies (2)
Ignition: TCBI with Digital Advance
Transmission: Five-speed with positive neutral finder
Final drive: Belt
Rake / trail: 32 degrees / 7.2 in.
Wheel travel, front: 5.9 in.
Wheel travel, rear: 3.9 in.
Tire, front: 150/80-16
Tire, rear: 200/60-16
Wheelbase: 68.3 in.
Suspension type, front: 49mm hydraulic telescopic fork
Suspension type, rear: Single shock, eight-way rebound damping
Brakes, front: Dual 300mm discs with four-piston calipers
Brakes, rear: Single 320mm disc with two-piston caliper
Fuel capacity: 5.5 gal.
Seat height: 26.8 in.
Dry weight: 796 lbs.
Colors: Two tone: Metallic Ocean Blue / Neutron Silver
Two tone: Candy Cardinal Red / Atomic Silver
MSRP: $14,599

SPECIFICATIONS Canada – 2008 Kawasaki Vulcan 2000 Classic LT:
TBA

Specifications and features are subject to change