You are here: Home — New 2008 Models — 2008 MV Agusta Motorcycle Models
2008 MV Agusta Brutale 910R
Back to 2008 MV Agusta Motorcycle Index Page
Click photos to enlarge for detail.
They make great desktop images.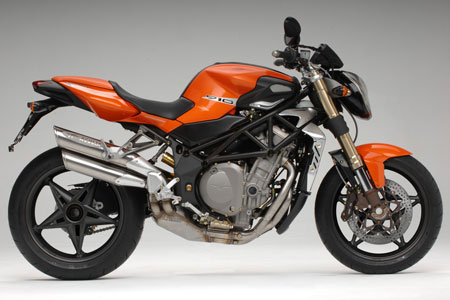 2008 MV Agusta Brutale 910R

2008 MV Agusta Brutale 910R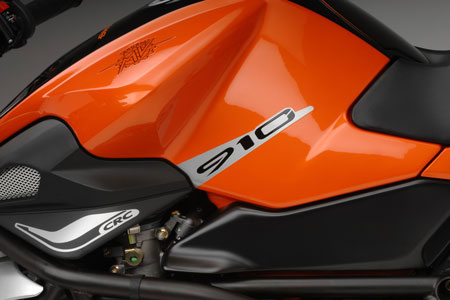 2008 MV Agusta Brutale 910R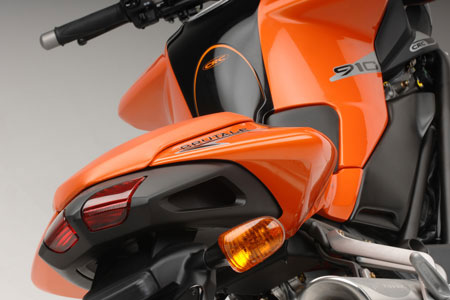 2008 MV Agusta Brutale 910R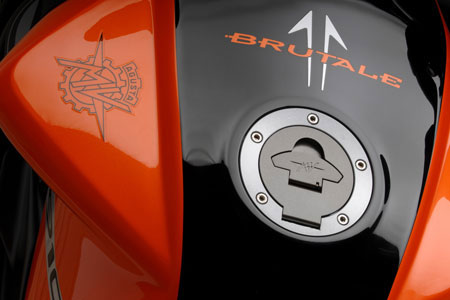 2008 MV Agusta Brutale 910R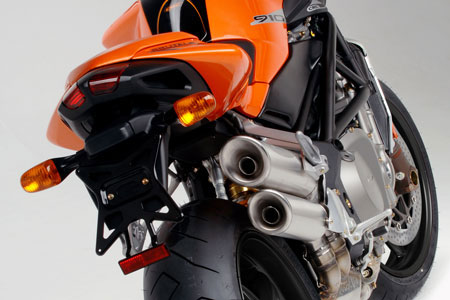 2008 MV Agusta Brutale 910R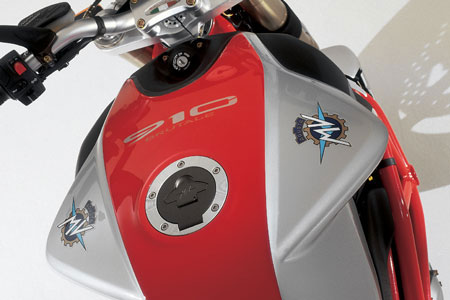 2008 MV Agusta Brutale 910R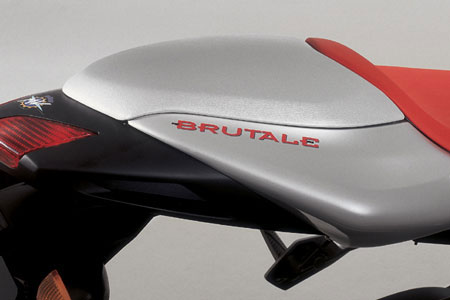 2008 MV Agusta Brutale 910R

– 2008 MV Agusta Brutale 910R

2008 MV Agusta Brutale 910R
For those real lovers of élite motorcycles, the arrival of the Brutale meant the fulfillment of a dream— the dream of having a machine capable of performing and handling like a Hypersport but as laid back and fun to ride as a Naked. The recent success story of the Brutale shows how just such a dream was fulfilled. In just two years these bikes are now to be found in the garages that matter. The Brutale has won over 5,000 new customers and the critics have repeatedly acclaimed her as "Motorcycle of the Year". The fact that they are widely used by people involved in the worlds of sport, show business and fashion, as well as being an icon of desire, has contributed greatly towards making this MV Agusta a true phenomenon and a symbol of all that is good about Made in Italy. The 750cc Brutale had no equal for style and sophistication and offered performance that none of its rivals could match. Recently they have resorted to increasing their engine capacities in the vain hope of making up lost ground. Now with a new 910cc engine, the MV Agusta once more leaves the opposition in her slipstream and goes back to her rightful position – leading the field. The engine unleashes 70.8 ft. lbs. of torque at 7,900 rpm and then goes on up to the 11,000 rpm limit to deliver its full power load of 136 horsepower.
The new 910cc engine quite simply outshines all other machines in this category. The massive 9.8 kgm of torque even more exuberant and ferocious, with the new Magneti Marelli 5SM engine management system and 139 HP are echoed in the incredible exhaust note from the four-cylinder, radial-valved engine. The proverbial lightness, maneuverability and style remain unchanged. The Brutale is a defiant combination of technical design and artistry. 910: magic in motion.
Engine & Chassis:
909.1cc liquid cooled inline four cylinder powerplant
76.0mm x 50.1mm bore/stroke with 13:1 compression ratio
136 HP @11,000 RPM – 70.8 ft/lb Torque @7,900 RPM
Chrome-Molybdenum Steel Tubular Frame
50MM Marzocchi Magnum upside-down front forks
SACHS rear single shock w/ rebound, compression and preload adjustment
Nissin brake calipers: 6-piston front w/ 2x 310mm discs and 2-piston rear w/210mm disc


Available color options:

Red Tank / Gray Frame

Silver Tank / Red Frame

Orange Tank / Black Frame


Distinguishing features:
910 logo on fuel tank
Tachometer w/ Brutale logo
Adjustable Footpegs
Quick-release rear sprocket
120/70 ZR 17 front tire


FRONT HEADLIGHT

One of the numerous innovative characteristics of the F4 Brutale is its distinctive front headlight. Inspired by the best designs from the automotive industry, CRC designers have coupled advanced lighting research with their own superior design aesthetic, resulting in unsurpassed style and performance. Incorporating double parabolic curves, the lens of the headlight provide superior horizontal light distribution in addition to offering greater depth of field from the high beam.

AIR BOX

Relying on practical and racing experience, CRC designers have created a dynamic air box incorporating an internal filter strategically positioned to allow for optimized airflow and intake resonance. The aggressive design of the fuel tank is also intended to allow for unrestricted handlebar clearance and maximum control of steering. The Brutale air box is designed to work seamlessly with the sophisticated injection control system offering great performance while simultaneously minimizing environmental pollution in accordance with the highest global standards.



LINE

The Mv Agusta Brutale motorcycle line reveals once again numerous elements which evoke passionate emotions. The shape, which is so aggressive, yet at the same time relaxed; its surface, which varies between being angled and smooth, creates a bold contrast from its savage nature to the pure elegance of its countenance. Designers and project managers at Mv Agusta conceived and designed a unique bike. Its inimitable style and smooth handling, make the Brutale the world's reference point in its class.



DUAL DIAMETER SLASH CUT SILENCERS

Manufactured in a satin matte-finish stainless steel with engraved Mv Agusta logo, the dual diameter slash cut silencers reinforce the unmistakable character of the Brutale. The evolutionary adaptation and positioning, both elevated and inclined, provides for tremendous ground clearance as well as ease of access and maintenance of the rear wheel.



FOUR CYLINDER ENGINE

Mv Agusta's four cylinder engine is the heart of the Brutale, the only engine in the world to have radial valves. The engine has been subject to numerous modification to enable it to give the right amount of power to the Brutale's use and personality. The focused redistribution of the Brutale's low end power guarantees stunning acceleration and control, capably addressing the most challenging conditions.


DRIVING POSITION

Based on the Mv Agusta F4, the Brutale inherits its many significant and unique characteristics form numerous industrial patents which have distinguished Mv Agusta throughout the world's markets. Mv Agusta has optimized and redesigned the F4 in nearly every technical aspect in order to recreate the most favourable driving position. As always, this is accomplished without sacrificing the aesthetics and technical style which makes Mv Agusta stand apart.



SPECIFICATIONS: 2008 MV Agusta Brutale 910R
MSRP: $14,495 USD
ENGINE
Type Four cylinder, 4 stroke, 16 valve
Timing system "D.O.H.C", radial valve
Total displacement 909 cm3 (55.4 cu. in.)
Compression ratio 13:1
Starting Electric
Bore x stroke 76,0 mm x 50,1 mm (2.99 in. x 1.97 in. )
Max. horse power – r.p.m. (at the crankshaft) 102.2 Kw (139 HP) at 11000 – Lim. 12000 r.p.m.
Max. torque – r.p.m. 96.0 Nm (9.8 Kgm) at 8000 r.p.m.
Cooling system Cooling with separated liquid and oil radiators
Engine management system "Weber Marelli" 5SM ignition – injection integrated system; induction discharge electronic ignition; sequential timed "Multipoint" electronic injection
Clutch Wet, multi – disc
Gear Box Cassette gearbox; six speed, constant mesh
Primary drive 50/79
Gear ratio
First gear: Speed* 13/38 105,5 Km/h (65.5 mph) at 12000 r. p. m.
Second gear: Speed* 16/34 145,1 Km/h (90.1 mph) at 12000 r. p. m.
Third gear: Speed* 18/32 173,4 Km/h (107.7 mph) at 12000 r. p. m.
Fourth gear: Speed* 20/30 205,5 Km/h (127.6 mph) at 12000 r. p. m.
Fifth gear: Speed* 22/29 233,9 Km/h (145.2 mph) at 12000 r. p. m.
Sixth gear: Speed* 19/23 262,0 Km/h (162.7 mph) at 12000 r. p. m.
Final velocity ratio 15×43

ELECTRICAL EQUIPMENT
Voltage 12 V
Alternator 650 W at 5000 r.p.m.
Battery 12 V – 9 Ah

DIMENSIONS AND WEIGHT
Wheelbase 1410 mm (55.55 in.)
Overall lenght 2020 mm (79.59 in.)
Overall width 760 mm (29.94 in.)
Saddle height 805 mm (31.72 in.)
Min. ground clearance 135 mm (5.32 in.)
Trail 101,5 mm (4.00 in.)
Dry weight 185 Kg (407.9 lbs)
Fuel tank capacity 19 l (5.02 U.S. gal.) – reserve fuel: 4 l (1. 05 U.S. gal. )

PERFORMANCE
Maximum speed* 262 Km/h (162.7 mph)

FRAME
Type CrMo Steel tubular trellis (TIG welded)
Rear swing arm pivot plates: material Aluminium alloy

FRONT SUSPENSION
Type "UPSIDE – DOWN" telescopic hydraulic fork with rebound-compression damping and spring preload adjustment
Rod dia. 50 mm (1.97 in.)
Travel on leg axis 126 mm (4.96 in.)

REAR SUSPENSION
Type Progressive, single shock absorber with rebound and compression (High speed / Low speed) damping and spring preload
Single sided swing arm: materiale Aluminium alloy
Wheel travel 120 mm (4.72 in.)

BRAKE
Front brake Double floating disc with Ø 310 mm (Ø 12.2 in.) diameter, with steel braking band and steel flange
Front brake caliper With 6 pistons – Ø 22,65 mm; Ø 25,4 mm; Ø 30,23 mm (Ø 0.89 in.; Ø 1.00 in.; Ø 1.19 in.)
Rear brake Single steel disc with Ø 210 mm (Ø 8.27 in.) diameter
Rear brake caliper With 4 pistons – Ø 25,4 mm (Ø 1.00 in.)

RIM
Front: Material / size Aluminium alloy 3.50 " x 17 "
Rear: Material / size Aluminium alloy 6.00 " x 17 "

TYRES
Front 120/65 – ZR 17 (56 W) or 120/70 – ZR 17 (56 W-58 W)
Rear 190/50 – ZR 17 (73 W) or 190/55 – ZR 17 (75 W)

FAIRING
Material Thermoplastic
MV Agusta Motorcycles is committed to the constant improvement of our products. Therefore the information and technical characteristics of the vehicles are subject to change without notice.