You are here: Home — New 2008 Models — 2008 Suzuki Motorcycle Models
2008 Suzuki Bandit 1250SEA ABS
Back to 2008 Suzuki Motorcycle Index Page
Click photos to enlarge for detail.
They make great desktop images.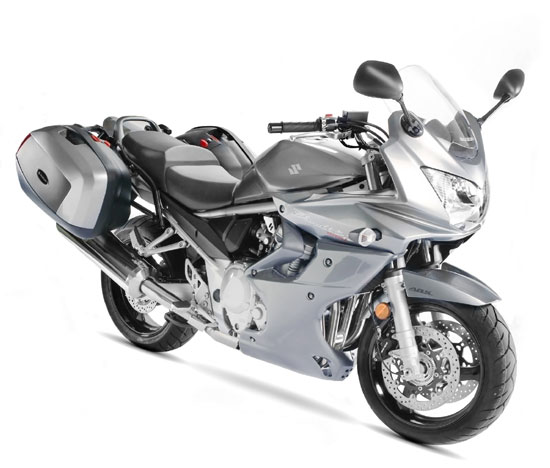 2008 Suzuki Bandit 1250SEA ABS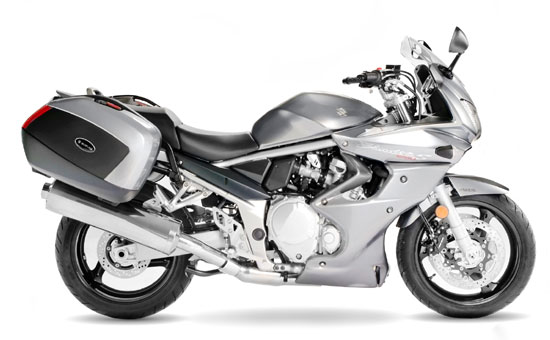 2008 Suzuki Bandit 1250SEA ABS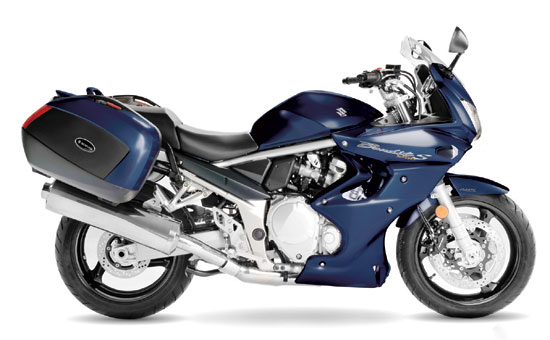 2008 Suzuki Bandit 1250SEA ABS


– 2008 Suzuki Bandit 1250SEA ABS

2008 Suzuki Bandit 1250SEA ABS
A Sport Touring Package That's Ready For The Long Haul

The Suzuki Bandit became a favourite for a wide range of riders worldwide by delivering an unmatched package of performance, style and value.

Smoother Power Delivery

The 2008 Bandit 1250 makes more torque from idle to redline and provides better throttle response for a smoother, more comfortable ride.

The liquid-cooled, fuel-injected DOHC engine features a full 1255cc of torque-producing displacement. This engine is built specifically for the Bandit, featuring a symmetrical layout that allows the exhaust head pipes to be routed around the frame downtube on each side, adding to the beautiful naked bike appearance. The transmission shafts are staggered vertically to make the engine shorter front to rear. Tighter spacing between the two pairs of cylinders makes the cylinder head and the throttle bodies 20mm narrower, which means the Bandit can be thinner at the front of the seat and at the rider's knees— making it easier for the rider to touch the ground at a stop. The hydraulically controlled clutch has a coil spring providing improved lever feel. The 6-speed transmission offers optimal spacing of the gear ratios for improved acceleration while reducing top-gear RPM and highway speeds.
Now Available In A Dressed Touring Model
WOW! That's the response we received when Suzuki Canada announced the Bandit 1250SEA Touring Edition. A motorcycle as equally comfortable on the Trans Canada Highway as it is on your favourite twisty back road. Understanding the versatility of the Bandit, we decided to make a great bike even better. It started off by adding stylish lower fairings to increase wind protection to the rider. Add to that a set of removeable colour matched hard bags and you have a bike that can do it all.
Advanced Digital Fuel Injection And Emissions Systems

The Bandit 1250 features state-of-the-art Suzuki Dual Throttle Valve (SDTV) digital closed-loop fuel injection, for better throttle response feel, smoother power delivery, improved mileage and reduced emissions.

An Ideal Chassis, Built For Sporting Comfort

– The Bandit 1250's classic tube-frame chassis features large diameter downtubes, providing maximum torsional rigidity. Seat height can be adjusted up or down 20mm by removing, flipping over and re-installing clever mounting spacers between the seat and the frame rails.
The front forks have 43mm in diameter stanchion tubes with damping designed to deliver smooth response over varying sections of pavement. The Bandit 1250S comes with a sleek half-fairing, with a built-in line-beam headlight, an effective windscreen and fairing-mounted mirrors.
Disc Brakes, With ABS Is Standard*
The Bandit 1250S features fully floating 310mm in diameter dual front brake discs with ABS (Antilock Braking System) assisted 4-piston calipers, along with a 240mm diameter rear disc and single-piston ABS assisted caliper. The digital ABS system monitors wheel speed and matches braking power to available traction.
ENGINE FEATURES: 1250SE

– Liquid-cooled, fuel injected, DOHC engine featuring a bore and stroke of 79.0mm x 64.0mm for a full 1254.8cc's of torque producing performance.

– Suzuki Dual Throttle Valve fuel injection system featuring 36mm throttle bodies for optimum performance and smooth accelerations.

– Engine compact engine design with a central cam chain, staggered transmission shafts, tighter spacing between the pairs of cylinders and a secondary balancer shaft for reduced vibration.

– Catalyzer equipped high-volume muffler combined with an effective engine management system, Suzuki PAIR system, and oxygen sensor for reduced emissions meeting tough Euro 3 standards.

– Suzuki Idle Speed Control (ISC) system for improved cold starting, consistent idle control and reduced emissions.

– Slick shifting six speed transmission improves acceleration while reducing top gear rpm at highway speeds.

– Hydraulic clutch with coil springs for improved lever feel and control.

– Liquid cooled oil cooler for reduced oil temperatures.

– Cylinder head featuring 31mm exhaust valves and 27mm intake valves set at a narrow 16 degree valve angle with updated intake and exhaust ports for maximum flow.



CHASSIS FEATURES: 1250SE

– The Bandit 1250SEA features a sleek full fairing, with built in line-beam headlights, an effective windscreen and fairing mounted mirrors. Designed for touring, the locking 2, side mounted hard bags and optional top bag allow ample storage and are easily removeable

– Innovative seat height adjustment system can be adjusted up or down by 20mm with a simple spacer seat mounting system.

– 43mm front forks combined with a single rear shock with preload adjustability for riding with or without passengers.

– Full floating 310mm dual front disc brakes with four piston calipers along with a 240mm rear disc and single piston caliper. Anti-Lock Braking (ABS) is also available and monitors wheel speed and matches braking power to available traction.

– Cast three spoke aluminum wheels carrying radial tires and a standard easy-to-use centerstand.

– Tube frame chassis featuring larger diameter down tubes for improved torsional rigidity designed for excellent balance of sporty handling and comfortable highway cruising.

– Wide, comfortable seat with low seat height.

– Large capacity fuel tank for long operating range.

– Easy-to-operate centerstand with high leverage ratio to reduce effort.


CANADA SPECIFICATIONS:
MSRP: $11,999.00

Engine Type Four-stroke, 4-cylinder, DOHC 16 valve, liquid cooled
Displacement 1,254.8 cc
Bore/Stroke 79 mm x 64 mm
Compression Ratio 10.5 : 1
Fuel System Fuel Injection
Lubrication Wet Sump
Ignition Digital/Transistorized
Transmission 6 speed
Final Drive #530 Chain
Overall LxWxH (mm) 2130 x 790 x 1225 mm
LxWxH (in) 83.9 x 31.1 x 48.2 in
Seat Height 790mm/810 mm (31.1/31.9 in) 2 way adjustable
Wheelbase 1480 mm (58.3 in)
Ground Clearance 130 mm (5.1 in)
Dry Weight 245 kg (540 lbs)
Front Suspension Telescopic, oil damped, preload adjustable
Rear Suspension Link-type suspension, 7-way adjustable preload, 4-way adjustable rebound
Front Brakes Dual hydraulic disc ABS
Rear Brake Single hydraulic disc ABS
Fuel Tank Capacity 19 liter (4.18 imp gal)
Front Tire 120/70ZR17MC
Rear Tire 180/55ZR17M/C (73W), Tubeless
Color Grey, Blue