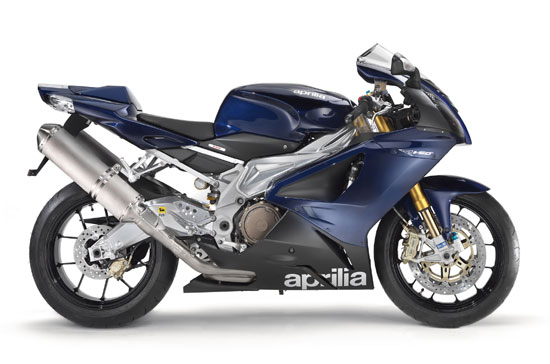 You are here: Home — 2009 Models — 2009 Aprilia Motorcycle Models
2009 Aprilia RSV 1000 R
Back to 2009 Aprilia Motorcycle Index Page
Click photos to enlarge.
They make great desktop images.
– 2009 Aprilia RSV 1000 R

2009 Aprilia RSV 1000 R
THE APRILIA RSV 1000 R IS THE TWIN CYLINDER HYPERSPORT THE OTHERS HAVE TO BEAT. WITH A POWERFUL ENGINE, HOMOLOGATION TO EURO 3 STANDARDS, AND A FRAME THAT IS ACKNOWLEDGED AS THE BEST PRODUCTION BIKE FRAME AROUND, THE RSV 1000 R REMAINS THE MEANEST AND FASTEST ONE LITER TWIN ON THE WORLD'S ROADS AND RACETRACKS.
APRILIA RSV 1000 R
Competition may come and go, but the Aprilia RSV 1000 R remains the unquestioned top dog among supersport motorcycles for its amazing handling on road and racetrack. The Aprilia RSV 1000 R has shown its competitive edge in world endurance racing, where it is the only production twin able to compete on even terms with the best four cylinder machines in the world, as demonstrated by the excellent results achieved. Legendary races like the Le Mans 24 hours and the massacring Bol d'Or 24 hours have shown exactly how effective the twin cylinder Aprilia RSV 1000 R is on the racetrack , and how totally reliable it is too.

Endurance racing has provided more than just an unforgettable experience. It has served as a valuable test bench for the latest technical solutions now appearing on Aprilia production bikes.
The Aprilia RSV 1000 R is determined to maintain its supremacy as the best sports twin money can buy, for its advanced technology and for its amazing performance.

But what counts the most is the fact that the Aprilia RSV 1000 R is still the bike to beat when it comes to ease of riding. Because riders feel so instantly confident on an Aprilia RSV 1000 R, they really can ride at the limits of their abilities and stay totally relaxed too.

The benefits are obvious in terms of less physical and mental stress, faster and safer motorcycling and the ability to remain fully concentrated for far longer, factors that contribute to success on the racetrack and safety on the road.
The main characteristics of the RSV 1000 R:
" Öhlins Racing fork with TiN (Titanium Nitride) coated stanchions and radial caliper mountings;
" The latest generation V60 Magnesium engine with Ø 33 mm exhaust valves;
" Larger diameter exhaust headers;
" External catalytic converters, installed nearer to the header pipes for improved efficiency and respect for the environment;
" Euro 3 homologation.
Constant technical development has enabled Aprilia's engineers to carry on improving the performance of the motorcycle that already represented the state of the art for twin cylinder supersport machines. In this latest RSV 1000 R, the V60 Magnesium engine is not only cleaner but even more powerful, confirming its reputation as the world's mightiest production twin. The modifications needed to achieve homologation to strict Euro 3 standards have not stopped Aprilia squeezing another 4 horsepower out of this amazing engine. The latest powerplant delivers 105.24 kW (143 HP) at the crank to push the bike to a top speed of over 280 km/h, aided by improved aerodynamics and even more efficient engine breathing.
Even the chassis has been updated using the experience gained from a year of international racing that has seen the RSV defeat all rivals on the world's stock racing circuits.
This unbeatable engine and chassis go hand in hand with top-quality components, and an even higher level of prestige equipment, placing the Aprilia RSV 1000 R in a class of its own not only in performance but in quality to price ratio too.
V60 MAGNESIUM ENGINE
The 1000 cc V60 Magnesium engine has long been the standard setter for production twins, but constant evolution and development at Aprilia's R&D department have now made it even better.
33 mm exhaust valves and new, larger diameter exhaust headers have been fitted to improve engine breathing. In this form the V60 Magnesium now puts out even more power, topping 143 HP at 10,000 rpm without losing any of its legendary usability and proverbial Aprilia reliability.
The new satin finish silencers have catalytic converters installed nearer to the collector pipes. This solution has reduced converter activation time by 50% while further reducing the level of exhaust emissions. The Aprilia RSV 1000 R conforms easily to the strict limits required for Euro 3 homologation. The second section of exhaust has also been extended by 200 mm to boost torque at low revs.
Optimised fluid dynamics inside the cylinder heads has been enhanced by improved mapping of the combined ignition and fuel injection systems to achieve higher power throughout the useful rev range.
The V60 Magnesium breathes through the 'Air Runner' dynamic air scoop located in the middle of the nose fairing. This has been redesigned to increase air flow to the engine's 'lungs'. The Air Runner scoop is located precisely where dynamic pressure is highest, exactly along the bike's centreline.
From the scoop, an air duct passes through the steering head to take ram air to the generous 10.3 litre airbox.
A choke valve inside the duct, controlled by the engine ECU, regulates flow to provide the engine with air at exactly the right volume and pressure. The engine therefore packs incredible punch right through its extended speed range, enabling the rev limiter to be set at 11,000 rpm.

The mighty roar of the V60 Magnesium is muffled by two differential volume Helmotz resonators to reduce intake noise at the most critical engine speeds.

The airbox also houses an idling motor. This operates an electronically controlled valve that deviates air downstream of the butterfly valve to make it easier to start the engine from cold and to stabilise engine idling.

The Air Runner also performs a structural function. It incorporates two lightweight aluminium arms to hold the cockpit fairing and headlight so that there is no need for ugly brackets.

A new panel type air filter reduces pressure drop and improves engine efficiency.

The engine's fuel injection system features 57 mm throttle bodies and one injector per cylinder.

Thank to the Air Runner ram air scoop, pressure in the airbox increases as the bike accelerates, leading to a 3% gain in power at maximum speed.
A new generation engine management unit, made in conjunction with Siemens VDO, controls all engine parameters. The ECU receives real time signals from 15 parameter sensors and processes these to control the actuators in real time too. (Parameters include air and coolant temperature; atmospheric, airbox and oil pressure; Lambda sensor oxygen level; crankshaft, camshaft, and rear wheel speed; throttle position, side stand, clutch and neutral position; and battery voltage.)

The flash EPROM already contains racing mapping for unrestricted exhausts. Aprilia service engineers can easily change mapping on request from customers who intend to use their bikes exclusively on the racetrack.

All engine data passes through a CAN (Controlled Area Network) line to the instrument panel, which also acts as a diagnostic terminal. In the unlikely event of a malfunction, it is a simple job for service engineers to identify problems. The CAN line uses only two wires to transmit all data. This simplifies the electrical system enormously as well as reducing the total weight of the bike.
The RSV 1000 R also has a close ratio gearbox, to make it easier to make full use of the amazing power of the V60 Magnesium engine.
Despite so much technical evolution, the characteristics that made the original RSV stand out are still there.
– Longitudinal 60° V twin engine with 4 valves per cylinder and double overhead camshaft, driven by a mixed chain and gear system.
– Electronic fuel injection with 57 mm throttle bodies, one injector per cylinder, and an 'Air Runner' ram air scoop.
– CDI ignition with one plug per cylinder. Ignition is controlled by the same integrated engine management system that also controls fuel injection.
– Dry sump lubrication with double trochoid pump, separate oil tank and oil cooler.
– Mixed gear/chain valve timing drive with the two gears (one per timing chain) located in the crankcase to reduce cylinder head dimensions.
The RSV 1000 R's sophisticated twin cylinder engine also incorporates the following exclusive Aprilia patents:
– AVDC (Anti Vibration Double Countershaft).
– Hydraulic action clutch with radial master cylinder assisted by the patented PPC (Pneumatic Power Clutch) system to control rear wheel bounce during fierce braking.
FRAME
Years of racing at the highest levels have allowed Aprilia's R&D section to design a frame that is acknowledged as the best production bike frame around.
One of Aprilia's fixed objectives when designing the RSV 1000 R frame was to achieve perfectly centralised mass. In line with Aprilia practice, the frame incorporates aluminium-silicon castings and Peraluman 450 pressings. The frame has been optimised by extensive finite element analysis and boasts excellent torsional rigidity though it weighs only 9,650 grams, a figure matched only by specialist racing frames.
Aprilia's obsessive search for perfection, plus the experience gained from production bike racing has nevertheless led to small but important improvements to what was already the best frame on any machine of this type. The steering head's rake angle has increased from 24° 45′ to 25° to give a slightly longer trail. Stability is better as a result, so that the new RSV 1000 R inspires even more confidence than before, without losing out on its acclaimed agility.
The new RSV 1000 R swingarm is made from extruded Peraluman and Al Si7 castings. Its double arch design provides a clear passage for the new twin silencer exhaust system.
Here too, cross-sections and wall thicknesses have been optimised using finite element analysis. The RSV 1000 R swingarm weighs only 4,860 grams, well under the swingarm weight benchmark of 5 kg.
SUSPENSION
The fantastic Öhlins Racing fork fitted as standard to the RSV 1000 R represents the state-of-the-art for this most important of all components in determining how a motorcycle handles. The new fork has 43 mm stanchions with titanium nitride coating for a friction-free sliding action. Its advanced design with longer sleeves and shorter fork bottoms reduces load at two critical points, the slide bush and the stanchion to fork bottom joint). Wheel travel is 120 mm.
Like all top racing forks, the Öhlins allows precision adjustment of compression and rebound damping as well as spring preload.
The Sachs rear monoshock incorporates a separate piggy back nitrogen cylinder and is also adjustable in preload, compression and rebound. A characteristic unique to Aprilia is that the length of the monoshock can be adjusted directly from the unit itself so that the rear end of the bike can be raised or lowered to achieve whatever setup may be required and to match rider preferences and other suspension adjustments.
BRAKES
Top supersports demand top quality brakes. The RSV 1000 R is again at the cutting edge of technology, and is equipped with Triple Bridge, radial caliper front brakes developed by Aprilia in conjunction with Brembo. The 320 mm floating steel discs on the front wheel feature narrower braking bands for reduced wheel weight and inertia and therefore more agile handling.

The RSV 1000 R's radial calipers are combined with a radial master cylinder to form the most sophisticated braking system fitted to any current production bike.
The front and rear braking circuits both use aeronautical metal braid hoses to eliminate the pressure variations associated with conventional rubber brake lines, guaranteeing maximum braking precision.
COMPONENTS
What places the Aprilia RSV 1000 R in a class of its own is the care taken in its design and manufacture and the attention paid to every single component on the bike. The result is increased performance and functionality, with reduced weight and a quality of finish that no other bike can equal.
The following components deserve a special mention:
– Öhlins Racing fork with titanium nitride (TiN) coated stanchions.
– Aluminium steering pin and bottom yoke.
– Brembo Triple Bridge radial front brake calipers.
– Forged caliper mounting blocks for greater rigidity and stability under braking.
– The combined digital and analog instrument panel receives data on all engine control parameters over a CAN line and incorporates memory to allow it to act as an integral part of the self-diagnostics system. The instrument panel provides the same readouts as the previous model (including a self timer with a 40 lap memory), but is now extremely modern and compact in design and weighs only 220 grams. All functions are controlled by three conveniently located keys. The LED backlighting may be set to three levels and is white for the analog instruments and red for the digital display.
– The headlight cluster incorporates four lights for perfect night riding vision. The great care taken over the design and finish of the RSV 1000 R also transpires from little but important details like bulb holders made from blue anodised aluminium.
– The white lens direction indicators are fully integrated in the bike's body. The front indicators are moulded into the rear view mirrors while the rear indicators are built into the tail. This means that there is no need to remove them for track use. The rear number plate holder can also be removed quickly and easily to comply with competition regulations.
– Even the ignition key is specially made for the RSV 1000 R and carries an internal identification code. The ignition block has an immobiliser fitted as standard.
– The alloy wheels share the same forked spoke design as the exclusive forged wheels of the RSV 1000 R Factory
COLOURS
White Ice, Grey Platinum, Blue Planet
ACCESSORIES
" Akrapovic Aprilia Racing EVO6 complete exhaust system for racetrack use only;
" Akrapovic complete homologated exhaust system
" Akrapovic homologated slip-on silencers
" Racing anodised forged aluminium wheels
" Öhlins Racing steering damper
" Öhlins Racing rear monoshock
" Carbon parts
" Ergal reverse shifter
" Adjustable aluminium footrests
" Tank bag
" Rear fairing bag
" Electronic anti-theft system
" Comfort passenger seat (with deeper padding and integrated grab handles)
" Paddock stand
" Z15 pinion for racetrack use only
" Road bike cover
2009 Aprilia RSV 1000 R – Press Release Specifications

Engine
V60 Magnesium four stroke longitudinal 60° V twin. Liquid cooling with three way pressurised circuit. Double overhead camshaft with mixed gear/chain drive; four valves per cylinder. Patented AVDC (Anti Vibration Double Countershaft). Euro 3.
Fuel 95 RON unleaded petrol.
Bore and stroke 97 x 67.5 mm.
Displacement 997.62 cc.
Compression ratio 11.8 : 1.
Maximum power at the crank 105.24 kW (143 HP) at 10,000 rpm.
Maximum torque at the crank 10.3 kgm (101 Nm) at 8,000 rpm.
Fuel system Integrated electronic engine management system. Indirect multipoint electronic injection. 57 mm throttle bodies.
10.3 litre airbox with Air Runner air scoop.

Ignition
Digital electronic ignition, with one spark plug per cylinder, integrated with fuel injection system.

Starting
Electric.

Exhaust
Double silencer with three way catalytic converter and lambda probe oxygen sensor (Euro 3).

Alternator 12 V – 500 W.
Lubrication Dry sump with separate oil tank.
Double trochoid pump with oil cooler.
Steel oil tank.

Gearbox Six speed.
Transmission ratios:
1st 34/15 (2.27)
2nd 31/19 (1.63)
3rd 26/20 (1.3)
4th 24/22 (1.091)
5th 24/25 (0.96)
6th 23/26 (0.88)
Clutch Multi-plate clutch in oil bath with patented PPC power-assisted hydraulic control.
Metal braided clutch line.
Radial master cylinders with 15 mm piston.
Primary drive Spur gears. Transmission ratio: 60/31 (1.935).
Final drive Chain.
Transmission ratio: 40/16 (2.5).

Frame
Box section sloping twin-spar frame in aluminium alloy.
Front suspension 43 mm Öhlins titanium nitride (TiN) coated upside-down fork. Adjustable in compression, rebound and preload. 120 mm wheel travel. Shortened fork bottoms with radial caliper fittings.
Rear suspension Aluminium alloy double arched member swingarm. Aprilia Progressive System (APS) linkages.
Sachs monoshock with adjustable compression, rebound, preload and length. 133 mm wheel travel.

Brakes
Front: double stainless steel floating disc, 320 mm. Radial calipers with four 34 mm pistons and four sintered pads.
Metal braided brake line.
Rear: Brembo stainless steel disc, Ø 220 mm. Twin 32 mm piston caliper. Sintered pads. Metal braided brake line.

Wheels
Aluminium alloy.
Front: 3.50 x 17″.
Rear: 6.00 x 17″.
Tyres Radial tubeless.;
Front: 120/70 ZR 17.
Rear: 190/50 ZR 17 (alternative: 180/55 ZR 17 or 190/55 ZR 17).

Dimensions
Overall length: 2,035 mm
Overall width: 730 mm (at handlebars)
Overall height: 1,130 mm (at windshield)
Seat height: 810 mm
Handlebar height: 830 mm (at bar ends)
Wheelbase: 1,418 mm
Trail: 101.7 mm
Rake angle: 25°
Dry weight 189 kg, dry
Tank Capacity 18 litres, 4 litre reserve.
Colours White ice, Grey Platinum, Blue Planet

2009 Aprilia RSV 1000 R – USA Specifications
MSRP: $TBD USD

TBA


2009 Aprilia RSV 1000 R – Canada Specifications
MSRP $TBD CDN
TBA
2009 Aprilia RSV 1000 R – UK Specifications
MSRP: £TBD
TBA