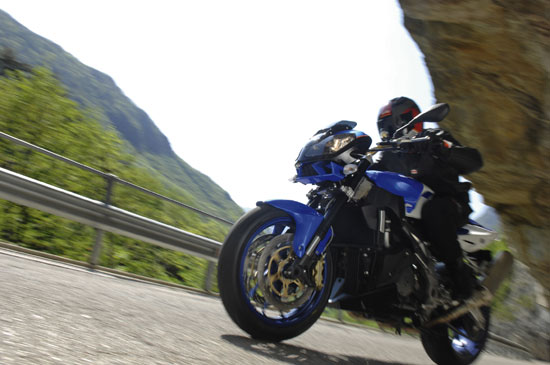 You are here: Home — 2009 Models — 2009 Aprilia Motorcycle Models
2009 Aprilia Tuono 1000 R
Back to 2009 Aprilia Motorcycle Index Page
Click photos to enlarge.
They make great desktop images.
– 2009 Aprilia Tuono 1000 R

2009 Aprilia Tuono 1000 R
THE TUONO IS RE-ASSERTING ITS SUPERIORITY IN TECHNOLOGY AND PERFORMANCE! THE WORLD'S ONLY PRODUCTION STREET FIGHTER, THE SUPERBIKE WITHOUT A FAIRING THAT REVOLUTIONISED THE WAY WE THINK ABOUT NAKEDS NOW BOASTS DYNAMIC BALANCE THAT DEFIES IMITATION!
APRILIA TUONO 1000 R / R FACTORY
Ever since it first appeared on the motorcycling scene, the Tuono has embodied Aprilia's genius and amazing technical know-how, accumulated through victory after victory in motorcycle racing. The Tuono has come to mean flair and technology more than any other road-going motorcycle.

The fact is that the Tuono is simply unique. Not just another naked, the Tuono is a 1000 cc superbike. Only the fairing has been removed, and the handlebars raised. Maximum control is also guaranteed by a host of high-tech 'racing' components. The Tuono has exceeded all expectations. It has proved unbeatable as a road bike, and the Factory version has been invincible on the racetrack, literally dominating the Italian naked racing scene. Not satisfied with success at home, the Tuono has also carried the Aprilia flag on the international racing scene, achieving prestige in epic races like the Isle of Mann Tourist Trophy, Macao and Daytona, to name just a few events in which the Aprilia Tuono has fearlessly taken on production bikes and competition superbikes too. The Tuono is a street fighter with racing in the blood.

The Tuono 1000 is refined, powerful, and precise. It holds all the records for this class of motorcycle, and is the unquestioned leader on the twin cylinder scene. To put it simply, the Tuono 1000 is the bike that all other nakeds have to beat. It is a machine for the demanding motorcyclist, the rider who seeks maximum performance from a naked, on the road and on the track.
The meanest, most aggressive naked on the road really reveals its true racing nature In the Factory version. The Tuono 1000 R Factory offers a level of performance that no other twin can match. And an amazingly sophisticated chassis means that it need not fear competition even from genuine superbikes. Here is a truly professional motorcycle for riders in search of state-of-the-art technology and ultimate performance. Even the most demanding and refined motorcyclist will appreciate the record-breaking performance of the stupendous street fighter.
The engine makEShis bike equally at home on the road and the racetrack. The Aprilia Tuono remains faithful to the concept of total ridability that has always characterised Aprilia's high performance motorcycles.

Manically precise ergonomics combine with amazingly easy control to let you establish a perfect feeling with the bike the moment you ride off, and to help you maximise your own potential with the minimum physical and mental effort.
The improvements made by Aprilia's engineers mean that the Tuono 1000 continues to set the pace for high performance nakeds.

Let's look at some of the main changes:
" V 60 Magnesium Evolution engine;
" dnamic air intake (the only naked with ram air technology),
" electronic fuel injection system with 57 mm throttle bodies;
" 16 bit engine management unit;
" exhaust system with twin silencers and three way catalytic converter with Lambda probe oxygen sensor;
" aluminium alloy perimeter frame;
" double banana aluminium swingarm,
" lighter steering yoke;
Like the RSV, the Tuono has been perfected on the track to satisfy the most demanding and refined motorcyclists. Each individual part has been developed to maximise the performance and riding pleasure of a naked that is already a legend in racing circles.
Maximum power is 102 kW (139 HP) at the crank and maximum torque 10.9 kgm at only 8,500 rpm. The Aprilia Tuono is therefore among the most powerful of all nakeds.
STYLING
On the Tuono 1000, design is at the service of performance and comfort. Every little detail has been developed not only to attract admiration for its refined style, but to be totally functional too.

The new, aggressive nose fairing, with closely mounted twin headlights, has been developed in wind tunnel testing to provide effective protection for the rider and to kill lift at high speeds, ensuring maximum precision and control.

The two lateral spoilers, for example, not only look great but also serve an important aerodynamic purpose. They help keep the bike stable at high speed and keep the wind off the rider's legs. It is partly thanks to these spoilers that the Tuono 1000 provides better aerodynamic protection than any other naked.
The design team has also gone to great lengths to ensure that, unlike other nakeds, the Tuono 1000 benefits from race-tuned engine breathing. The Tuono 1000 is the only naked with a dynamic air intake located directly under the nose fairing, and a duct to channel ram air through the frame to the airbox. Yet more proof of the Tuono 1000's uncompromising racing soul!
On the Tuono, ergonomics is one of the bike's strong points. The seating position has been carefully designed to give the rider maximum control over the front end. The handlebar risers are lower and the footrests have been moved further back, so that the riding position is sportier and more effective. Despite this, overall comfort has even improved, so that riding is less tiring.

THE V60 MAGNESIUM EVOLUTION ENGINE
The latest 1000 cc V 60 Magnesium Evolution engine is derived from that of the RSV 1000 R Factory, with only a few minor changes to improve torque and muscle at low revs. The engine has been thoroughly redesigned to maintain its reputation as the best twin cylinder engine in production. So performance is more amazing than ever, with 100% usable power and, of course, that proverbial Aprilia reliability.
Engine breathing has been improved by bigger exhaust valves (enlarged from 31 to 33 mm in diameter) and new, larger diameter exhaust collector pipes. Thanks to these improvements, the V60 Magnesium Evolution that drives the Tuono 1000 puts out more power than ever, 139 HP at 9,500 rpm, while also boosting torque to an impressive 10.9 Kgm at 8,500 rpm, a figure that tells you all you need to know about the muscle that Aprilia's V twin can deliver even at low revs.
The silencers have catalytic converters installed nearer to the collector pipes. This solution has reduced converter activation time by 50% while further reducing the level of exhaust emissions, keeping tem well within the strict limits required for Euro 3 homologation.
Optimised fluid dynamics inside the cylinder heads are enhanced by improved mapping of the combined ignition and fuel injection systems to achieve higher power throughout the useful rev range.
So let's have a look at the main characteristics of the new V 60 Magnesium Evolution engine:
" Optimised cylinder heads with bigger valves and one spark plug per cylinder;
" 57 mm throttle bodies with one injector per cylinder;
" high strength conrods;
" minimum weight thanks to the extensive use of magnesium;
" close-ratio gearbox;
" dry sump lubrication with a double trochoid pump, separate oil tank and oil cooler;
" mixed gear and chain valve timing. The drive gears (one for each timing chain) are located inside the crankcase to keep the cylinder heads as compact as possible;
" AVDC (Anti Vibration Double Countershaft);
" Aprilia's patented PPC (Pneumatic Power Clutch) hydraulically operated, power assisted clutch system for controlling rear wheel bounce under deceleration
The Tuono 1000 inherits the RSV's dynamic air intake, locating it just under the headlight cluster, in the centre of the bike where ram air pressure is highest. The Air Runner duct (which also supports the nose fairing and instruments) channels the air to a 10.3 litre airbox, designed to allow the engine to develop its full potential. The Air Runner duct ensures that pressure in the airbox increases with speed, and generates a 3% increase in engine power at maximum speed.

An engine control unit developed in conjunction with Siemens VDO provides integrated engine management. The ECU receives all essential engine parameters in real time from 15 different sensors, processes the data and, again in real time, controls the various actuators that keep the engine functioning perfectly at all times.

The unit's flash EPROM comes with the mapping for unrestricted racing exhausts ready loaded. Aprilia's Technical Assistance Service can therefore enable race mapping in next to no time on request.
FRAME
Every aspect of the frame, fork and suspensions has been fine tuned for perfect weight distribution. The frame is a combination of aluminium-silicon alloy castings and Peraluman 450 pressed parts. This highly sophisticated structure is not only more rigid than the previous version but lighter too. The latest frame weighs under 10 kg (9650 grams) setting an impressive new record for its class. The wheelbase is shorter too, and at 1410 mm – another record for the category – accounts for the Tuono 1000's crisper than even handling and more instinctive ride.

The new double banana swingarm provides a clear passage for the exhaust system and weighs only 4860 grams, well under the 5 kg figure considered by experts to be the reference weight for this component.

SUSPENSION
The fork is a Showa upside down unit, with 43 mm stanchions for a perfect balance between precision on the racetrack and comfort on the road. And to ensure that the ideal setup can be achieved for all styles and conditions, on the road and on the track alike, the fork is fully adjustable in spring preload and in compression and rebound damping.
The Sachs monoshock at the rear is likewise adjustable in spring preload and rebound damping.
With the arrival of the Factory version, the meanest, most aggressive naked on the road really reveals its true racing nature. The Tuono 1000 R Factory offers a level of performance that no other twin can match. And an amazingly sophisticated chassis means that it need not fear competition even from genuine superbikes.
On the Tuono 1000 R Factory, the suspension is designed to respond instantly to input from the most expert riders. No compromises have been made to ensure ultimate handling on the racetrack. The Tuono Factory is equipped with state-of-the-art suspension. The 43 mm Öhlins upside down fork gives you unrivalled precision and sliding action. And of course, the fork is fully adjustable in spring preload, and in hydraulic compression and rebound damping. Every rider can therefore find exactly the right setup for his own level of skill and experience.
The fully adjustable Öhlins monoshock at the rear also offers perfect action and precision, and plays an essential part in ensuring the unique handling of the Tuono 1000 Factory on road and track alike.

BRAKING SYSTEM
The braking system has undergone a number of major changes. The Tuono 1000 is equipped with Brembo Gold radial calipers featuring two separate sintered pads.

The two 320 mm floating steel discs feature a narrower braking band to minimise inertia and weight and are fixed in place by Aprilia's exclusive six spoke flange.
The rear braking system is Brembo Gold too, with a 220 mm stainless steel disc and a caliper with two 32 mm pistons.
The front and rear brakes both use aeronautical metal braided hoses to eliminate the sponginess inevitably associated with conventional brake hoses and to ensure maximum braking precision.
COMPONENTS
The following components deserve special mention.

– The dashboard is a mixed (digital-analog) unit. It uses the data received over the CAN line to perform an essential autodiagnostic function for which it incorporates a dedicated memory. The new dashboard control unit performs the same functions as the previous unit (including the 40 lap timer) but is more compact and modern in design and extremely lightweight. User friendliness has improved too, with all functions controlled from two practical push-buttons on the left hand light switch.
The LED backlighting can also be adjusted to three levels of intensity.

" The headlight cluster is derived from that of the RSV, and incorporates four light units for perfect night-time visibility.
" The new tail light cluster features the innovative design and LED lighting of the RSV.
" The ignition key is internally coded, and the ignition block is fitted with an engine immobiliser as standard.
The Tuono 1000 R Factory is the ultimate expression of the almost maniacal attention to detail and component quality that distinguishes all Aprilia sports motorcycles. Carbon fibre and lightweight aluminium magnesium alloys abound. These advanced materials contribute to the creation of a motorcycle that combines power and lightness in a way that is unique on the naked bike market.

Reduction of unsuspended mass has contributed to a level of handling and control beyond the reach of the competition. The Tuono 1000 R Factory is equipped with ultra-light forged aluminium wheels, made to Aprilia's own specifications. The major saving in weight that these wheels provide minimises inertia and makes the bike even more responsive and precise in setting up trajectories through bends.

Lighter wheels also offer less resistance to acceleration and braking forces, improving handling and performance even further.
The belly pan, side panels and mudguards are all made from this prestigious material and, in conjunction with the forged wheels contribute to reducing weight to truly record levels (181 kg dry weight*).
COLOUR SCHEMES
Total attention to detail and design is also evident in the colour schemes and graphics that underline the aggressive nature of the Tuono 1000.

The Aprilia Tuono 1000 R Factory is finished in the Dream Black colour scheme.

2009 Aprilia Tuono 1000 R – Press Release Specifications

Engine
V60 Magnesium longitudinal 60° V twin, four stroke. Liquid cooling with three-way pressurised circuit. Double overhead cams, mixed gear/chain timing drive, four valves per cylinder. Patented AVDC anti-vibration double countershaft.

Fuel
95 RON unleaded petrol.

Bore and stroke 97 x 67.5 mm.
Displacement 997.62 cc.
Compression ratio 11.8:1.
Maximum power at the crank 102 kW (139 HP) at 9,500 rpm.
Maximum torque at the crank 10.9 kgm (107 Nm) at 8,500 rpm.
Fuel system Integrated electronic engine management system. Indirect multi-point electronic injection. 57 mm diameter throttle bodies.
10.3 litre airbox with Air Runner ram air scoop.

Ignition
Digital electronic ignition, integrated with the injection control system. One spark plug per cylinder.
Starting Electric starter.

Exhaust system
Two silencers with three way catalytic converter and lambda probe oxygen sensor (Euro 3).
Generator 12 V – 500 W.
Lubrication Dry sump with separate oil reservoir.
Double trochoid pump with oil cooler.
Steel oil reservoir.

Gearbox
6 speed. Transmission ratios:
1st 34/15 (2.27)
2nd 31/19 (1.63)
3rd 26/20 (1.3)
4th 24/22 (1.091)
5th 24/25 (0.96)
6th 23/26 (0.88)
Clutch Multiple disc in oil bath with patented PPC power-assisted hydraulic control.
Metal braid clutch line.
Radial master cylinder.
Primary drive Spur gears. Transmission ratio: 60/31 (1.935:1).

Final drive
Chain.
Transmission ratio: 40/16 (2.5:1).
Frame Box section sloping twin-spar frame in aluminium alloy.

Front suspension
Öhlins Racing 43 mm upside-down fork with adjustment for spring preload, compression and rebound damping. 120 mm wheel travel.
Rear suspension Aluminium alloy double banana swingarm. APS (Aprilia Progressive System) rising rate linkages.
Öhlins Racing hydraulic monoshock with piggy back cylinder, adjustable in spring preload, compression and rebound damping. Wheel travel 133 mm.

Brakes
Front: double floating disc in stainless steel, Ø 320 mm.
Brembo Triple Bridge radial caliper with four 34 mm pistons and four sintered pads.
Metal braided brake line.
Rear: Brembo stainless steel disc, Ø 220 mm. Twin piston calliper, 32 mm diameter pistons, sintered pads. Metal braided brake line.

Wheels
Aluminium alloy.
Front: 3.50 x 17″
Rear: 6.00 x 17″.
Tyres Radial tubeless.
Front: 120/70 ZR 17.
Rear: 190/55 ZR 17 (alternatives: 190/50 ZR 17 and 180/55).

Dimensions
Maximum length: 2,025 mm
Maximum width: 830 mm (at handlebars)
Maximum height: 1,100 mm (at handlebars)
Seat height: 810 mm
Handlebar height: 1,020 mm at bar ends
Wheelbase: 1,410 mm
Trail: 103.7 mm
Steering angle: 25°

Tank Capacity
18 litres, 4 litre reserve.

Colours Dream black.

Accessories
Aprilia by Akrapovic Street Legal slip-on silencers
Aprilia By Akrapovic Street Legal complete exhaust system
Öhlins adjustable steering damper
Adjustable ergal footrests, ergal reversed gearshift
Pair of OZ forged magnesium wheels (red)
15 tooth sprocket
Crash bobbins
Carbon fibre expansion chamber cover
Carbon fibre oil tank cover
Carbon fibre LH side cover
Carbon fibre seat cowl
Carbon fibre RH-LH heel guards
Larger Plexiglass screen
Tank bag
Seat bag
Paddock stand
Aprilia electronic alarm (+ installation kit).

2009 Aprilia Tuono 1000 R – USA Specifications
MSRP: $TBD USD

TBA


2009 Aprilia Tuono 1000 R – Canada Specifications
MSRP $TBD CDN
TBA
2009 Aprilia Tuono 1000 R – UK Specifications
MSRP: £TBD
TBA